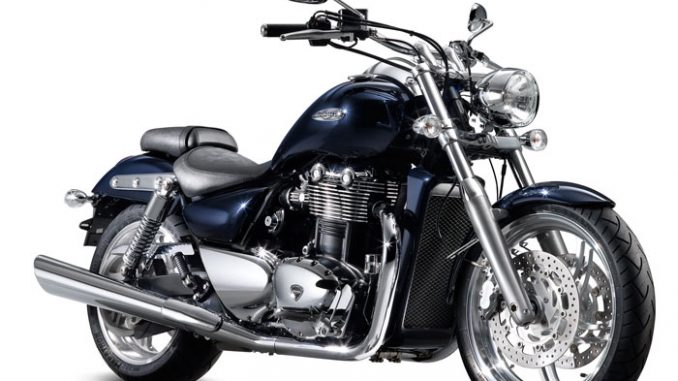 Back to 2011 Triumph Motorcycle Index Page
Click photos to enlarge.
They make great desktop images.
– 2011 Triumph Thunderbird

2011 Triumph Thunderbird
With its strong, muscular lines the Thunderbird oozes cruise from every angle.
But there is more to the Thunderbird than meets the eye. This critically acclaimed motorcycle, voted 'Cruiser of the Year' by top US magazine Cycle World, rewrites the rules on the way that cruisers should perform, bringing Triumph's reputation for handling and engineering excellence to the mainstream cruiser market for the first time.
Thunderbird devours curves and laughs in the face of those who say cruisers don't handle. From the very first corner you take, the Thunderbird will pay you the ultimate complement, flattering the rider with its impeccable handling and dynamic qualities in acceleration, handling and braking. An ABS braking option has been offered as an option too, offering additional security in all conditions.
Powered by the all-new 1600cc T-16 parallel-twin engine, the Thunderbird delivers class leading power, torque and fuel economy figures, with a refinement previously unheard of in the mainstream cruiser class. And if the 85bhp and 108 ft.lbs. of the standard bike is not enough, Triumph is also offering a 1700cc dealer-fit big bore kit to boost power to 100bhp and torque to 118 ft.lbs. for a truly memorable experience.
Triumph has also endowed the Thunderbird with a range of over 100 other accessories to allow owners to add their personal touch to the Thunderbird. From stripped down street rod to a soft touring bagger, Triumph's Genuine Accessories further enhance this award winning motorcycle's character and style. It truly is what cruiser riders have been waiting for.

Go on a legend reborn.
Strong, muscular lines. Impeccable manners. Outstanding engineering. A tour de force. Voted 'Cruiser of the Year' by Cycle World magazine in the USA, Thunderbird rewrites the rules and brings Triumph's reputation for handling and engineering excellence to the cruiser market. Personalisation? No problem, with great paint schemes and over 100 accessories. It's what cruiser riders have been waiting for.


Triumph Thunderbird

Twice awarded eCruiser of the Yearf by leading US magazine Cycle World, Triumph's Thunderbird
cruiser has been an unbridled success since its introduction in the summer of 2009.

Designed from the ground up as Triumph's first entry in the mainstream premium cruiser sector, the
Thunderbird combines classic cruiser styling and ergonomics with the British companyfs engineering
and design excellence.

At the heart of the Thunderbird is the 1600cc T-16 parallel-twin engine, a unique feature in a class
of V-twins. The character-laden engine features a 270-degree crankshaft and delivers a mountainous
146Nm of torque at just 2750rpm.

Triumph has used the knowledge gained developing class leading sports bikes like the Daytona 675
and Speed Triple to endow the Thunderbird with levels of control and precision previously unheard
of in a cruiser. The tubular twin spine steel frame features chunky 47mm forks up front with five-way
adjustable twin shocks at the rear, which can be adjusted to cater for everything from spirited solo
riding to two up touring. Powerful twin 310mm floating discs up front are grabbed by powerful
four-piston brakes for progressive stopping power, with optional ABS for increased rider security.

The Thunderbird comes dripping with acres of chrome adorning the high-quality cycle parts. The high
specification includes five-spoke cast alloy wheels adorned with bespoke Metzeler tyres, while the tank mounted speedo includes a comprehensive on-board computer which includes a clock, two trip meters and fuel gauge, in addition to a small and stylish tachometer and self-cancelling indicators.

A large, 22 litre, fuel tank has been fitted to the Thunderbird which, when combined with class-leading
fuel economy (around 17% better than the competition according to Triumph's internal tests) ensures
that long rides in the low and comfortable saddle will not be interrupted by inconvenient fuel stops.

Part of the Thunderbirdfs attraction is its ability to be customised to the riderfs personal taste. A range
of almost 100 accessories are available for the Thunderbird and allow it to be turned from an all-road
cruiser to a stripped down power cruiser or even a bagged-up light tourer. Among these accessories is a 1700cc big bore kit, screens, panniers and a wide range of chrome and leather items for even more presence and pizzaz.

For 2011 the Thunderbird comes with a wide range of standard and limited run special colours.

Standard options include the ever popular metallic Phantom Black and two-tone Pacific Blue with
Fusion White centre stripe and Aluminium Silver with Phantom Black centre stripe.

Special colour options include the Phantom Red Haze and Phantom Blue Haze, hand painted
flamboyant schemes that change form near black to resplendent red or blue depending
on the sunlight.

A new highly graphical scheme based on the new Cranberry Red paint will also be available
in 2011, alongside two variants of a Crystal White and Sapphire Blue design which feature bold
new Triumph graphics.

A special edition Thunderbird SE is also available and comes complete with a range of
touring-orientated factory fitted accessories as standard and a unique Carnival Red colour option.
2011 Triumph Thunderbird Highlights

Engine: 1597cc Liquid-cooled, DOHC, Parallel-twin, 270º firing interval

Instruments: Analogue speedometer featuring integrated rev counter, scroll button on handlebars, LCD trip computer, fuel gauge and clock.

Rear Suspension: Showa chromed spring twin shocks with 5 position adjustable preload, 95mm rear wheel travel

– Cycle World Cruiser of the Year in 2009 and 2010

– Bespoke 1,600cc parallel-twin powerplant delivers 146Nm torque

– Class leading handling and braking characteristics

– Low, 700mm, seat height for classic looks and easy riding

– Almost 100 official accessories for limitless customisation options

– SE version comes with dedicated light touring accessories

– Large, 22 litre fuel tank for long-distance cruising

– Special new colour options available for 2011

– Two year unlimited mileage warranty as standard
2011 Triumph Thunderbird Features and Benefits
The critically acclaimed new Thunderbird is a revelation. The bike that cruiser riders have been waiting for. But its turning heads among other types of rider too. Why? Because it delivers – on looks, on power, on handling, on comfort, on everything.
On the road or on the spec sheet, Thunderbird leads the way. Sit astride the well appointed low seat and enjoy the high quality chrome that dominates the design.
The tank mounted speedo includes a small built in tacho and on-board computer which includes clock, two trip meters and a fuel gauge. Low maintenance belt drive, Triumph's first in the modern era, delivers the torque smoothly and cleanly, while the cycle parts ooze class and quality. Anti-lock brakes are an option for the Thunderbird, offering extra reassurance on all road conditions.
But riding a cruiser is all about individuality and with over 100 accessories you can personalise your Thunderbird and find your own unique look. From stripped down street rod to a soft bagged tourer, the Thunderbird delivers with style and charisma.

Engine
The new Triumph Thunderbird, powered by an all new parallel twin 1600cc/98 inch water cooled engine, beats a rhythm of primal appeal. Open up the throttle to enjoy immense torque at low revs, because you want the shove without the scream and the glide without the grate. But it'd be a crime not to ride slow enough now and again for everyone to cast a long, envious stare in your direction.


Transmission & Gearbox
Each gear change feels positive, smooth and satisfying. And with a sixth to slip into you can enjoy those soothing, deep, booming low-rev tones to their full even at higher speeds. The first belt drive to appear on a Triumph since 1922 grabs all that torque from the engine and plants it firmly into the road. But in conforming to cruiser drive expectations, the team just couldn't resist exceeding them by engineering a low-maintenance rear pulley that lasts up to 3 times longer than standard.


Brakes
All that 'go' is balanced out with a whole world of 'stop'. Dual front discs deliver the message from hand to wheel so smoothly and progressively that braking feels more intuitive than responsive. And those seeking the ultimate in control and peace of mind have the option of adding ABS.


Suspension
Supple enough to let you eat up mile upon mile of Tarmac with all the comfort and control you demand. Triumph brings its legendary engineering to the cruiser market to produce a revelation in suspension performance. The finely calibrated system blends effortlessly to complement rather than hinder the bike's looks and with the rear being adjustable for preload, it's ready to go whether you're two-up or in serious solo mode.


Instruments
Fitting that a bike which tells you more about the road also tells you more about your journey, with class-leading functionality. The tank has a large speedo, integrated tacho, two trip meters and fuel gauge, set in a chromed nacelle and proudly bearing the unique Thunderbird logo. This detailing is carried through to the indicators, which have clear lenses so as not to spoil the monochrome look and are self-cancelling – because you'd rather just concentrate on enjoying the ride.


Seat
Get right down in the thick of the action on a seat just 700mm off the ground. But as expected from Triumph this low seat height, amongst the lowest in its class, isn't at the expense of padding. Cruise with a partner in comfort – or alone – and still plant both feet firmly on the ground at lights. And when you return to your Thunderbird, you can do so in the knowledge that taped seams for extra waterproofing mean you're in for a comfortable ride even if it's been caught in a shower.

---
2011 Triumph Thunderbird – USA Specifications
American MSRP: $12,499 USD
Engine
Type
Liquid-cooled, DOHC, Parallel-twin, 270 degree firing interval
Capacity
1597cc / 1700 Big Bore Edition – 1700cc
Bore/Stroke
103.8 x 94.3mm
Compression Ratio
9.7:1
Fuel System
Multipoint sequential electronic fuel injection, progressive linkage on throttle

Transmission
Final Drive
Toothed belt
Clutch
Wet, multi-plate
Gearbox
6-speed constant mesh, helical type 2nd – 6th

Cycle Parts
Frame
Tubular steel, twin spine
Swingarm
Twin-sided, steel
Front Wheel
Cast aluminum alloy 5-spoke 19 x 3.5 in
Rear Wheel
Cast aluminum alloy 5-spoke 17 x 6 in
Front Tyre
120 / 70 R19
Rear Tyre
200 / 50 R17
Front Suspension
Showa 47mm forks. 120mm travel
Rear Suspension
Showa chromed spring twin shocks with 5 position adjustable preload. 95mm rear wheel travel
Front Brakes
Twin 310mm floating discs. Nissin 4-piston fixed calipers
Rear Brakes
Single 310mm fixed disc. Brembo 2-piston floating caliper

Dimensions
Length
92.1 in
Width (Handlebars)
34.6 in
Height
44.1 in
Seat Height
27.5 in
Wheelbase
63.5 in
Rake/Trail
32 degree / 151mm
Wet weight
746 lbs
Fuel Tank Capacity
5.8 US gals
Performance (measured at crankshaft to 95/1/EC)
Maximun Power EC
85bhp @ 4,850rpm
Maximum Torque EC
108ft.lbs @ 2,750rpm

Colours

Phantom Black
Pacific Blue/Fusion White
Cranberry Red/Phantom Black
Crystal White/Sapphire Blue and Red Decals
Crystal White/Sapphire Blue and Blue Decals

Special Edition: Cardinal Red
1700 Big Bore Edition: Phantom Haze Red
---
2011 Triumph Thunderbird – Canada Specifications
Canadian MSRP: $TBA CDN

Engine
Type
Liquid-cooled, DOHC, Parallel-twin, 270 degree firing interval
Capacity
1597cc
Bore/Stroke
103.8 x 94.3mm
Compression Ratio
9.7:1
Fuel System
Multipoint sequential electronic fuel injection, progressive linkage on throttle

Transmission
Final Drive
Toothed belt
Clutch
Wet, multi-plate
Gearbox
6-speed constant mesh, helical type 2nd – 6th

Cycle Parts
Frame
Tubular steel, twin spine
Swingarm
Twin-sided, steel
Front Wheel
Cast aluminium alloy 5-spoke 19 x 3.5 in
Rear Wheel
Cast aluminium alloy 5-spoke 17 x 6 in
Front Tyre
120 / 70 R19
Rear Tyre
200 / 50 R17
Front Suspension
Showa 47mm forks. 120mm travel
Rear Suspension
Showa chromed spring twin shocks with 5 position adjustable preload. 95mm rear wheel travel
Front Brakes
Twin 310mm floating discs. Nissin 4-piston fixed calipers
Rear Brakes
Single 310mm fixed disc. Brembo 2-piston floating caliper

Dimensions
Length
2340 mm (92.1 in)
Width (Handlebars)
800 mm (34.6 in)
Height
1120 mm (44.1 in)
Seat Height
700 mm (27.5 in)
Wheelbase
1615 mm (63.5 in)
Rake/Trail
32 degree / 151mm
Wet weight
339 kg (746 lbs)
Fuel Tank Capacity
22 litres (5.8 US gals)

Performance (measured at crankshaft to 95/1/EC)
Maximun Power EC
98PS / 97bhp / 72kW @ 5200rpm
Maximum Torque EC
156Nm / 115ft.lbf @ 2950rpm

Colours

Phantom black, pacific blue/fusion white, aluminium silver/phantom black, cranberry red, crystal white/sapphire blue/blue decals, crystal white/sapphire blue/red, white and blue decals
---
2011 Triumph Thunderbird – UK Specifications
United Kingdom MSRP £TBC OTR
Engine and Transmission
Type Liquid-cooled, DOHC, Parallel-twin, 270º firing interval
Capacity 1597cc
Bore/Stroke 103.8 x 94.3mm
Fuel System Multipoint sequential electronic fuel injection, progressive linkage on throttle
Exhaust Chromed twin-skin stainless steel 2 into 1 into 2, tandem large-volume catalysts in centralised catbox, chrome-plated silencers
Final Drive Toothed Belt
Clutch Wet, multi-plate
Gearbox 6-speed constant mesh, helical type 2nd – 6th
Oil Capacity 4.2 litres (1.1 US gals)

Chassis, Running Gear and Displays
Frame Tubular Steel, twin spine
Swingarm Twin-sided, steel
Wheel Front Cast aluminium alloy 5-spoke 19 x 3.5 in
Rear Cast aluminium alloy 5-spoke 17 x 6 in
Tyre Front 120/70 R19
Rear 200/50 R17
Suspension Front Showa 47mm forks. 120mm travel
Rear Showa chromed spring twin shocks with 5 position adjustable preload. 95mm rear wheel travel
Brakes Front Twin 310mm floating discs. Nissin 4-piston fixed calipers
Rear Single 310mm fixed disc. Brembo 2-piston floating caliper
Instrument Display/Functions Analogue speedometer featuring integrated rev counter, scroll button on handlebars, LCD trip computer, fuel gauge and clock

Dimensions and Capacities
Length 2340 mm (92.1 in)
Width (handlebars) 880 mm (34.6 in)
Height without mirrors 1120 mm (44.1 in)
Seat Height 700 mm (27.5 in)
Wheelbase 1615 mm (63.5 in)
Rake/Trail 32º/151mm
Fuel Tank Capacity 22 litres (5.8 US gals)
Wet Weight (ready to ride) 339 kg (746 lbs)

Performance (measured at crankshaft to 95/1/EC)
Maximum Power 86PS / 85bhp / 63 kW @ 4850rpm
Maximum Torque 146Nm / 108 ft.lbs @ 2750rpm