Motorcycle Artist Extraordinaire
Total Motorcycle is very proud to present the motorcycle artwork of this great artist who has done so much for the motorcycle industry in our Total Motorcycle Artwork Gallery.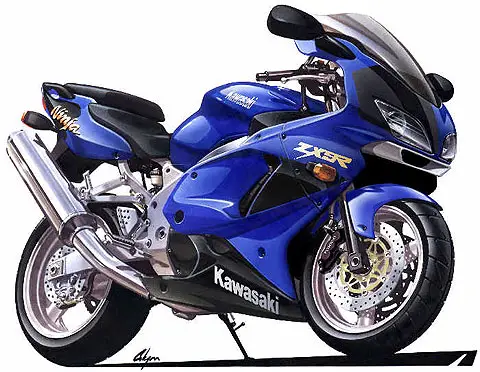 View and Enjoy Glynn's artwork in our Total Motorcycle Artwork Gallery.

"Motorcycle Design is not a question of line.
It is primarily about proportion…" – Glynn Kerr
Glynn Kerr, a graduate of Transport Design at Coventry University, England, has specialized in motorcycle design for eighteen years. Initially a car bodywork designer with British sportscar manufacturers TVR he joined BMW in 1982, working at first in the car division, then later as senior designer with BMW's motorcycle division in Munich.


From 1987-90 he was chief designer with Amsterdam-based Global Design, part of the Japanese GK Design Group, working mainly on Yamaha's production models such as the TDR 125 & TDM 850. Since then he has worked as an independent consultant with most of the world's major motorcycle manufacturers, including Ducati, Triumph, Aprilia, Honda, Bajaj, Kymco, and Kawasaki. Recent designs include the Boxer Voxan VB-1 and B2, and the Midual Roadster.


In addition to his design activities he was lecturer at the Art Center College of Design, Europe, and gives regular seminars on bike design and rendering techniques. In June 2001, he co-founded the Motorcycle Design Association, of which he is President. Aged 44, Glynn works from his studio deep in the Bordeaux vineyards in south-west France, and is perhaps best known as a regular contributor of articles and illustrations to over thirty motorcycling magazines worldwide.



View and Enjoy Glynn's artwork in our Total Motorcycle Artwork Gallery.