Back to Total Motorcycle Dunlop Tire/Tyre Guide
Click photos to enlarge.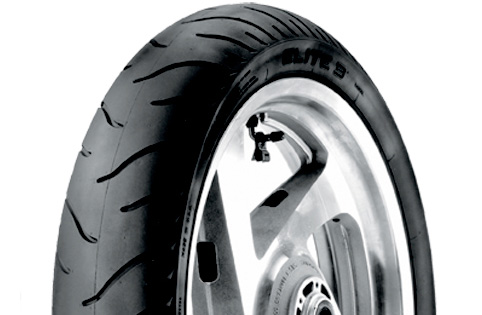 Dunlop Elite 3
– Dunlop Elite 3
Also known as the E3, this new tire delivers improved performance and longer wear in a radial construction tire for big road bikes such as the Honda Gold Wing, Valkyrie and VTX1800, plus a bias-ply model for all of the major touring motorcycles and large cruisers.
Touring Radial/Custom Wide
The new Elite 3 radial line of tires revolutionize the touring and custom
bike market.

FEATURES
New range of radial touring tires deliver great mileage and handling for all big radial-shod touring motorcycles.





Wear resistance is now substantially improved with more even-wear characteristics providing increased mileage, plus great traction.





The new E3 tread pattern provides class-leading wet-pavement performance, even while riding through large puddles of standing water.





New tread pattern is not affected by rain grooves, steel bridge decks, or tar stripes, resulting in less front-end hunting and more consistent feel.





The E3's sport-derived profile provides a livelier response in turn transitions and a solid feel through turns for confident cornering.





Includes extra-wide 250/40R18, with good looks and great handling and performance for custom motorcycles.
Sizes
 

SIZE

LOAD/ SPEED INDEX

SIDEWALL

PART #

APPLICABLE RIMS


RECOMMENDED RIM

OVERALL DIAMETER

OVERALL WIDTH

FULL TREAD DEPTH

MAXIMUM LOAD @ PSI

  Elite 3 Radial Touring Front

 150/80R17

 72H

 BW

 4080-92

 3.50

 26.77

 6.16

 5/32

 783 @ 41

 130/70R18

 63H

 BW

 4080-78

 3.50

 25.26

 5.08

 6/32

 600 @ 41

  Elite 3 Radial Touring Rear

 180/60R16

 74H

 BW

 4080-56

 5.00

 24.39

 7.16

 9/32

 827 @ 41

 180/70R16

 77H

 BW

 4080-82

 5.00

 26.06

 7.13

 10/32

 910 @ 41

 250/40R18

 81V

 BW

 4080-99

 9.00  

 26.20

 10.02

 8/32

 1019 @ 42

BW = Black Sidewall