You are here: Home — Tire/Tyre Guide — Pirelli — Pirelli Dragon Supercorsa PRO SC
Pirelli Dragon Supercorsa PRO SC
Back to Total Motorcycle Pirelli Tire/Tyre Guide
Click photos to enlarge.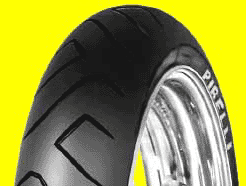 Pirelli Dragon Supercorsa PRO SC Front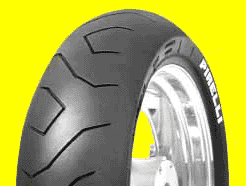 Pirelli Dragon Supercorsa PRO SC Rear
– Pirelli Dragon Supercorsa PRO SC
FEATURES

DRAGON SUPERCORSA PRO SC


Supercorsa Pro tread range underlines the strong commitment of Pirelli as Official Tyre Supplier of Supersport World Championship, setting new boundaries to the performances of race-track tyres.

– New 120/70 17 Front with a sharper profile for more precise tip-in, line holding and cornering speed at professional levels.
– Stretched 180/55 17 Rear tread design for more stability in performance lap after lap and regular wear.
– Race-driven materials and compounds for a wide range of applications from fast laps to endurance races.
– Improved special compound formulations, in their specific range of operating temperature and severity of application.

Sizes
Front: DRAGON SUPERCORSA PRO
110/70ZR17M/CTL 54WSC1 DRGSCP
110/70ZR17M/CTL 54WSC2 DRGSCP
120/70R17M/CTL 58VSC0 DRGSCP
120/70ZR17M/CTL (58W)SC3 DRGSCP *
120/70ZR17M/CTL 58WSC1 DRGSCP
120/70ZR17M/CTL 58WSC2 DRGSCP

Rear: DRAGON SUPERCORSA PRO
180/55R17M/CTL 73VSC0 DRGSCP
180/55ZR17M/CTL (73W)SC3 DRGSCP *
180/55ZR17M/CTL 73WSC1 DRGSCP
180/55ZR17M/CTL 73WSC2 DRGSCP
180/55ZR17M/CTL 73WSC3 DRGSCP
190/55R17M/CTL 75VSC0 DRGSCP
190/55ZR17M/CTL 75WSC1 DRGSCP
190/55ZR17M/CTL 75WSC2 DRGSCP
190/55ZR17M/CTL 75WSC3 DRGSCP
150/60ZR17M/CTL 66WSC1 DRGSCP
150/60ZR17M/CTL 66WSC2 DRGSCP
160/60ZR17M/CTL 69WSC1 DRGSCP
160/60ZR17M/CTL 69WSC2 DRGSCP

( * ) Close out