You are here: Home — Tire/Tyre Guide — Pirelli — Pirelli MT410
Pirelli MT410
Back to Total Motorcycle Pirelli Tire/Tyre Guide
Click photos to enlarge.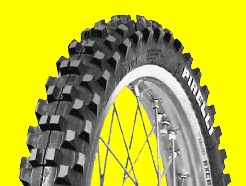 Pirelli MT410 Front
– Pirelli MT410
FEATURES

New off-road tyre for usage on muddy and sandy terrain.


– SPECIAL HP (=HIGH MODULUS) POLYESTER CARCASS for constant performances in long lasting GP usage conditions.
– IMPROVED COMPOUND RESISTANCE to offer more temperature stability and less knob erosion.
– NEW PADDLE DESIGN with more ground contact to avoid "dig-in"-problems giving the best power transmission in deep mud.
– SPECIAL U-SHAPED FRONT CENTRAL BLOCKS with different spacing for improved front wheel control and steering precision.


Alternative tyres
– MT44 LAGUNACROSS
– MT320

Sizes
Front: MT410 FRONT
80/100-21M/C 51RMST MT410F

Rear: MT410
100/90-19NHS MT410
110/90-19NHS MT410