You are here: Home — Tire/Tyre Guide — Pirelli — Pirelli MT480
Pirelli MT480
Back to Total Motorcycle Pirelli Tire/Tyre Guide
Click photos to enlarge.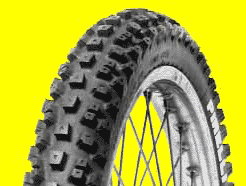 Pirelli MT480 Front
– Pirelli MT480
FEATURES

OFF-ROAD TYRE for usage on hard terrains or "Supercross" races.


– Special STIFF CARCASS WITH PET TEXTILE CORD to provide good damping performances, optimised stability and better puncture-resistance.
– REDUCED CENTRAL KNOB HEIGHT to prevent knobs bending under strong acceleration and to have a wider contact area for grip also at lean angle.
– Front tyres KNOBS WITH DIFFERENT STIFFNESS to guarantee safe braking and maximum lateral grip, even on rock faces.


Alternative tyres
– MT450

Sizes
Front: MT480
80/100-21M/C 51R MT480F

Rear: MT480
100/90-19NHS MT480
110/90-19NHS MT480