You are here: Home — Tire/Tyre Guide — Pirelli — Pirelli MT60
Pirelli MT60
Back to Total Motorcycle Pirelli Tire/Tyre Guide
Click photos to enlarge.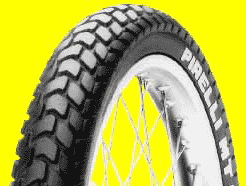 Pirelli MT60 Front
– Pirelli MT60
FEATURES

STREET ORIENTED ON-OFF TYRE for modern high performance Enduro bikes, still with excellent off-road performances.


– MODERN BIAS CONSTRUCTION for exceptional comfort and stability, even if bike is loaded.
– SPECIAL ON-OFF KNOB DESIGN for more grip and traction on all surfaces and in all weather conditions.

Alternative tyres
– SCORPION MT90 S/T
– MT80RS
– MT60 R CORSA
Sizes
Front: MT60
100/90-19M/CTL 57H MT60F
90/90-19M/C 52P MT60F
90/90-19M/C 52T MT60F
90/90-21M/C 54T MT60F
90/90-21M/C 54S(A) MT60F
90/90-21M/CTL 54H MT60F

Rear: MT60
110/80-18M/C 58T MT60
120/80-18M/CTL 62T MT60
130/80-17M/C 65S MT60 *
130/80-17M/CTL 65H MT60
140/80-17M/CTL 69H MT60
110/90-17M/C 60P MT60
120/90-17M/C 64S MT60
120/90-17M/C 64T MT60

( * ) Close out