You are here: Home — Tire/Tyre Guide — Pirelli — Pirelli SL36 DJ
Pirelli SL36 DJ
Back to Total Motorcycle Pirelli Tire/Tyre Guide
Click photos to enlarge.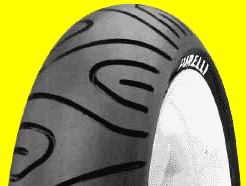 Pirelli SL36 DJ Front
– Pirelli SL36 DJ
FEATURES


The Pirelli SL 36 DJ is a SPORTY TYRE for the scooter generation from 10″ up to 13″.


– Tread pattern directly coming from High-performance motorcycle-tyre PIRELLI DRAGON CORSA.
– EXCELLENT COMPOUND for high grip level in wet and dry.
– SINGLE RADIUS LINE for the tyres contour to assure extreme handling performances and steering precision.
– MILEAGE assure by depth of 5.2 mm.

Alternative tyres
– SL90
– MANDRAKE MT15
– SL26
– SL38 UNICO
– SL60
– SC30
Sizes
Front: SL36
140/60-12REINFTL 62L SL36
120/70-11TL 50L SL36
120/70-12TL 51L SL36
130/70-11REINF TL 60L SL36
130/70-12TL 56L SL36

Rear: SL36
140/60-12REINFTL 62L SL36
120/70-11TL 50L SL36
120/70-12TL 51L SL36
130/70-11REINF TL 60L SL36
130/70-12TL 56L SL36