You are here: Home — Tire/Tyre Guide — Pirelli — Pirelli Scorpion MT90 S/T
Pirelli Scorpion MT90 S/T
Back to Total Motorcycle Pirelli Tire/Tyre Guide
Click photos to enlarge.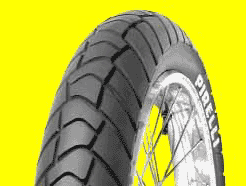 Pirelli Scorpion MT90 S/T Front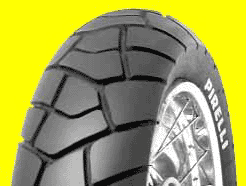 Pirelli Scorpion MT90 S/T Rear
– Pirelli Scorpion MT90 S/T
FEATURES

Dual-purpose tyre for travelling Enduro bikes with radial or conventional carcass depending on bike type.

– Stiff carcass for EXCELLENT HIGH-SPEED STABILITY even when the bike is fully loaded.
– SPECIAL TREAD PATTERN with solid shoulder blocks to increase mileage and rolling comfort and to have stable cornering behaviour.
– OPTIMISED COMPOUND for superb wet/dry grip.
– BEST ON ON-ROAD PERFORMANCE can be used also on on/off tracks.



Alternative tyres
– MT80RS
– MT60 R CORSA
– MT60
Sizes
Front: MT90 SCORPION S/T FR
110/80R19TL 59HFRONT MT90SF
110/80R19TL 59V MT90SF
100/90-18M/CTL 56PFRONT MT90SF
100/90-19M/C 57SFRONT MT90SF
100/90-19M/CTL 57HFRONT MT90SF
90/90-21M/C 54SFRONT MT90SF
90/90-21M/CTL 54HFRONT MT90SF

Rear: MT90 SCORPION S/T
150/70R17TL 69H MT90ST
150/70R17TL 69V MT90ST
130/80-17M/C 65S MT90ST
130/80-17M/CTL 65P MT90ST
130/80R17TL 65H MT90ST
140/80R17TL 69H MT90ST
120/90-17M/C 64S MT90ST