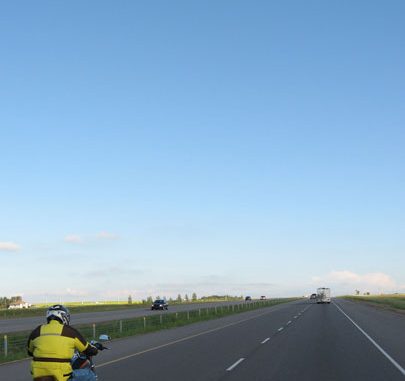 Back to Motorcycle Review Page

The long road home
Page 9 of 12
<< Page Back – Page Forward >>
The long road home can sometimes be the shortest.
..

..

Riding to Calgary, Alberta
The long road home can sometimes be the shortest.
For me, the ride back to Calgary was a sentimental ride. I haven't been back home (Calgary) in two years and riding in on a Harley-Davidson is the perfect way to arrive. The ride from Banff to Calgary along the Trans Canada Highway 1 is pretty much like the ride from Edmonton to Jasper, just in reverse. A long straight-ish stretch of highway with some nice scenes along the way, but it's more of a point A to B road.
I was fortunate enough to get my favourite Harley-Davidson motorcycle model (out of the three I tested on this trip) for this nostalgic journey. (Can you guess which one? If you said the CVO Fat Bob, you are right on the money.) The Harley-Davidson CVO Fat Bob definitely found a place in my heart on this trip and I'm looking forward to taking out the regular Harley-Davidson Fat Bob and see if it has the magic the CVO version does. Harley-Davidson was kind enough to fulfill my special request to keep the CVO Fat Bob for the rest of the day and tour around and outside of Calgary on it, which I did and put another 350km on the bike enjoying the highways, byways and rural roads. Even at a rushed pace an the roads the Fat Bob never let me down as I returned it back to Kane's Harley-Davidson just in time before they closed. This should give you a good idea of how much I really enjoyed the bike as I wanted every last minute with it. The only thing I couldn't fit in was a ride down Calgary's main cruiser boulevard, 17th Ave SW (aka. The Red Mile), but there is a great reason to jump on the Fat Bob again, like I needed one…
I do hope that Harley-Davidson makes another CVO version of the Fat Bob in the future and that this 2010 CVO Fat Bob isn't just a one-off model. I would like to see H-D use the 110 cubic inch engine in all their big models as it offered that little extra power, smoothness and sound over the already great 96 cubic inch engine. Kane's did say if you "free up" the 96 you'd get it very close to the 110…
In my opinion the Harley-Davidson Fat Bob has a great future in the H-D motorcycle model lineup and if you (the reader) have not been to a Harley-Davidson dealership recently you should go and check the Fat Bob out. The CVO Fab Bob comes in 3 different colours, the regular Fab Bob in 5, so there is a colour to suit everyone…
Riding a Harley-Davidson definitely made this trip much more exciting than it would have otherwise been. The great sleeps and comfort at Best Western "Rider Friendly" Hotels made sure I could wake up refreshed and enjoy each day to the maximum. Try either of them out, you won't be disappointed.
As I said at the start of this review, "Sometimes the most successful part of the trip isn't the trip itself. It's who you are with." Riding Harley-Davidson's through the Canadian Rockies on a multiday ride with new friends was just the perfect spice for this recipe.
Total Motorcycle would like to thank the kindness and hospitality of the following:
Harley-Davidson Canada
http://www.harley-davidson.com

Heritage Harley-Davidson/Buell
1616 Calgary Trail SW Edmonton, Alberta
(780) 430-7200
www.heritageharley.com/
Kane Harley-Davidson
914 11 Street Southeast
Calgary, Alberta, T2G 3E8
www.kanesharleydavidson.com/
Best Western Denham Inn (Edmonton area)
5207 50th Avenue
Leduc, Alberta, T9E 6V3
(780) 986-2241
http://www.bestwesterndenham.com/
Best Western Jasper Inn & Suites (Jasper)
98 Geikie Street
Jasper, Alberta, T0E 1E0
(780) 852- 4461
http://www.bestwesternjasperinn.com/
Best Western Siding 29 Hotel
453 Marten Street,
Banff, Alberta, T1L 1B3
(403) 762-5575
http://www.bestwesternsiding29.com/

Lux Steakhouse
10150 101 Street Northwest
Edmonton, Alberta T5J 4G8?
(780) 424-0400?
www.luxsteak.com/

Ernie O's in Edson, Alberta
2 Avenue
Edson, Alberta, T7E 1B8
(780) 723-3600
http://www.ernieos.com/

Jasper Brewing Company
624 Connaught Drive
Jasper, Alberta, T0E 1E0
(780) 852-4111
www.jasperbrewingco.ca/

The Bison Restaurant & Lounge
211 Bear Street
Banff, Alberta, T1L 1E4
(403) 762-5550
www.thebison.ca/
Jasper Tramway
Jasper, Alberta
T0E 1E0 Canada
Tel: 780-852-3093
http://www.jaspertramway.com/
<< Page Back – Page Forward >>
---

Harley-Davidson
If you would like Total Motorcycle, North America's leading motorcycle information website to do a test ride and ride review of your motorcycle or scooter models just contact us for information or to book a date, location and time. It is a great way to promote your model and your company to over half a million visitors worldwide each month for no cost! Contact us today to inquire.
---