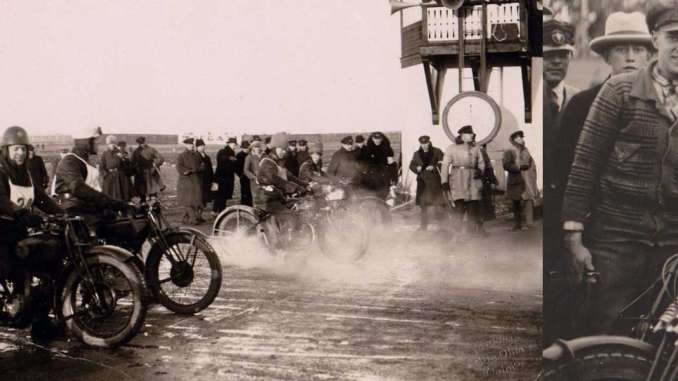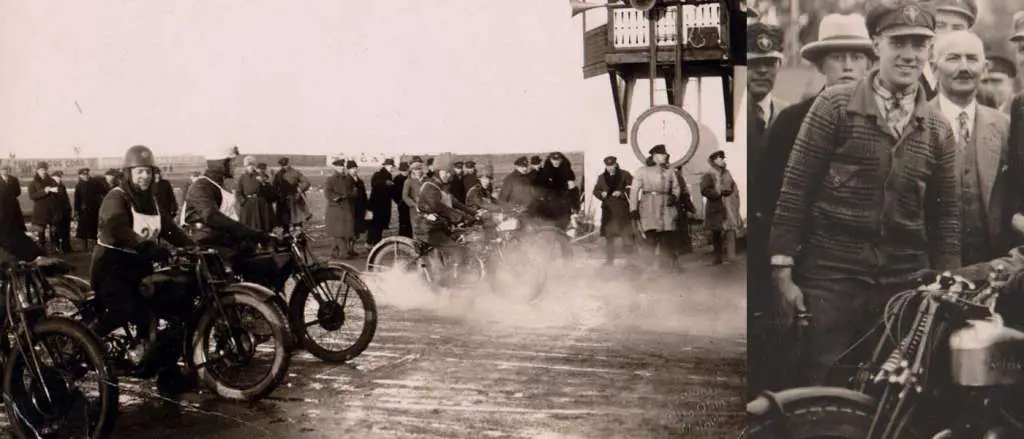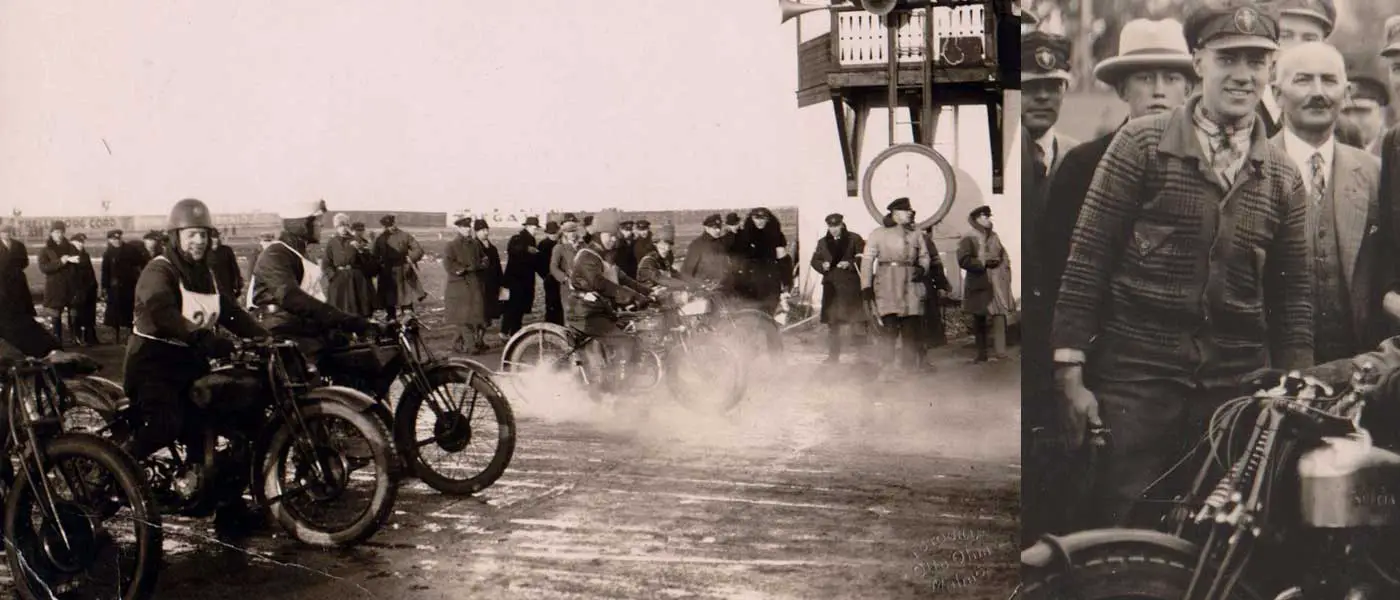 Rider Inspiration: A Dad's Dream – Becoming a motorcycle man
Daddy was born in Norrköping in the hot summer of 1911. After three years he was adopted and moved south with his new parents. Tore Olausson grew up in Malmö, situated in the Scania province. Like any other kids on the block, Tore took an early interest in motorcycles and occasionally he saw them passing by in the streets of his home town. There were not so many bikes at the time and when my father was seven years old, Husqvarna only sold 27 units for the year, in 1918. But the two-wheelers attracted interest – not only from young kids on the block, but from grown-ups who also stared as the adventurous machines hit the road.
Taking out an old album of clippings – its cover a brownish, semi-thick wrapping-paper, spiral-bound – Dad was already listed in the dailies at the age of 18 from articles published in 1929. When the results of this season were counted, he was the eighth best rider in our country. Gunnar Kalén, the winning big star from Malmö, would later be Husqvarna's leading rider during the early parts of the 30s. Kalén had 19 victories while his opponent Olausson could proudly count six wins, two second places and three third positions after his very successful year.
On August 22nd in 1930, Tore Olausson was one of 80 starters in the famous Bedinge hillclimb race in southern Sweden. He rode his 500cc AJS in the solo class, where he finished second behind the winner. His time for the one-kilometre track was 21.8 seconds – some five seconds slower than the overall winner in the 750cc class for racing machines. 15,000 spectators were thrilled to see so many records being beaten on this summer day.
In the early stages of motorcycle racing, there were few people who enjoyed factory support with specially manufactured or tuned engines. Instead, people were racing with ordinary street machines. After some years of racing Tore's mother Bothilda had endured enough heart attacks through her son's motorcycle maniac ideas.
"I dearly wanted him to stop racing before something bad happened," she once told me. "Some of the friends of my sons were killed in motorcycle accidents."
So, what to do? As an alternative to medium-sized bikes, Bothilda figured Tore would stop racing if he received a heavy, big-bore Harley-Davidson. "That should keep him on ordinary roads," she reasoned.
She was of course right, but only for the time being. My father was a stubborn man and he soon started to practice broad-sliding with his latest mount. It wasn't long before he took up racing with his American machine – mother Bothilda was devastated.
Daddy's dream of achieving a competitive racing machine finally came through when he got hold of a 350cc lightweight Husqvarna racer from the factory back in 1933. As opposed to so called 'catalogue machines' the racers were more professionally built and had a greater capacity for setting good lap times at racing events. My Dad bought a 350DT – a development of the previous so called 'Special Racer' and also 'The Poor Man's Racer', built between 1931 and 1933. It was a big moment for him – having reached a near-professional level in motorcycle racing.
Practicing in these days meant riding a bike as much as possible. Nobody had ever thought of their physical condition in connection with performance. But my daddy was fit and had good stamina for bike racing. In an old inherited photo album, I found a fantastic picture of Tore with his two buddies. His riding gear is incredible, but adequate for its purpose. Helmets did exist at the time, but were not mandatory for riding. There are photos of my dad with a cap, or sometimes with a club hat, but there are also pictures where he really does wear real protection. A shirt and a sweater are at hand while his bike trousers were wide at his legs – just like horse-riding pants. The leather boots stick out as well as being long and reach just below his knees. What a sight!
One of Tore's major successes came in the hill-climb at the Lyckas track, situated near the slopes in the vicinity of the city Helsingborg. After heavy rainfalls there were two factors to consider on race day; the spectators were absent with only a crowd of 1,500 persons present and the hill-climb track was tricky as it was wet and slippery to conquer. However, despite this fact there were thankfully no major crashes during the event. The track facing the hill was only 575 meters long, so one could expect riding times close to half-a-minute under existing conditions.
Race day started on time at two o'clock in the afternoon with up-and-coming riders making their debut. After their performance the 'catalogue riders', ten in total, made their contribution with finishing times around 38 seconds. Last but not least, the category 6 class for racing machines followed. Six riders were scheduled to race, but only four of them made it to the start. And it was here that Tore Olausson set the record with his Husqvarna lightweight bike. He scored first place with a set time of 32.9 seconds. The margin to the second man was 3.2 seconds which meant that Tore was 10 percent faster than anybody else. Hats and handkerchiefs flew in the air from a cheering crowd. He had the fastest set of wheels on this memorable day!
"It was a great moment," my father used to share with me when looking through his scrapbook. "I was really happy and proud when I received the trophy from the hands of countess Piper," he said with a smile and an owlish blink. Except in my world, daddy never became a legendary racer. Instead, Tore was a humble man who went after his dreams and experienced racing life such as it was nearly a century ago. Being fond of his competition machines, be it at any size or cylinder capacity, he cherished his lightweight Husqvarna racer as his favourite machine.  Look at the shot in his newly-ironed suit. Dad was a true scrambler, racing to the marrow in his bones. And it was his big-time love affair in a stone age…
– Special thanks to Husqvarna, Kenneth Olausson, (Tore Olausson's son) for bringing this week's Rider Inspiration Story "Rider Inspiration: A Dad's Dream – Becoming a motorcycle man" to our Total Motorcycle readers!