You are here: Index — Shop Online —- Motorcycle Magazines
Motorcycle Magazine Rack
Great deals, Great selection!
NOW: NO TAXES AND FREE SHIPPING ON ALL ORDERS!*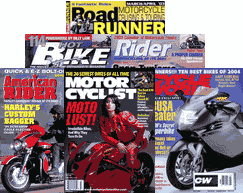 Welcome to the Total Motorcycle Magazine Rack. We have searched high and low on your behalf to find you the very BEST prices on the motorcycle magazines you love to read! Over 47 of the most popular motorcycle magazines can be at your door in just a few clicks. At these special low low (did we mention LOW) prices why not subscribe to more than just one?
Best of all, they are available to you no matter where you live in the world (international subscriptions!)

---
American Rider Magazine has filled the needs of Harley riders since 1993. Each issue of American Rider features extensive information on factory and aftermarket parts and accessories and performance parts.



 

Subscribe or renew to American Rider today

NOT CURRENTLY AVAILABLE
| | |
| --- | --- |
| Order from Amazon (US Orders Only) |   |
Australian Motorcycle News provides road tests, motorcycle news, articles on new products and modification, touring information, maintenance tips, and classified ads.



25 Issues Per Year

Subscribe or renew to Australian Motorcycle News today

For the best price check the following companies below:
ATV Trail Rider is Canada's leading quad magazine.



6 Issues Per Year
As low As:
$10.66 per year

Subscribe or renew to ATV Trail Rider today

For the best price check the following companies below:
ATV Rider serves as the premier news vehicle for the quad racing community. Coverage includes everything from detailed articles on adventure trail rides and events to professional rider interviews and profiles. In every issue, you'll find action-packed photographs and features on all-terrain vehicles, new quads and custom ATVs. Read up on tips for enhancing your riding skills and working on your quad. With information on a variety of models and in-depth action articles that keep you on the edge of your seat, ATV Rider is the ultimate publication for the ATV enthusiast.

6 Issues Per Year
As low As:
$9.97 per year

Subscribe or renew to ATV Rider today

For the best price check the following companies below:
Order from MagazineAgent (US Orders Only)