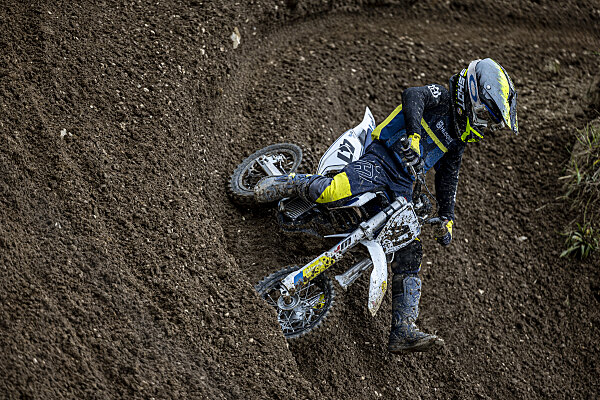 HUSQVARNA MOTORCYCLES RENEWS ITS SUPPORT FOR THE EUROPEAN JUNIOR E-MOTOCROSS SERIES
THE ALL-ELECTRIC FIVE-ROUND SERIES RETURNS FOR ITS THIRD YEAR WITH VISITS TO SOME OF EUROPE'S BEST RACE TRACKS
Husqvarna Motorcycles is proud to continue its partnership with the European Junior e-Motocross Series with the pioneering series today revealing its 2023 racing calendar. Returning for its third term after it was created in-part by Husqvarna Motorcycles and in conjunction with Infront Moto Racing in 2021, the series continues to grow with every passing year. Registration for the five-round series will open on March 3 via the official website.
The 2023 European Junior e-Motocross Series kicks off at the MXGP of Spain on May 7, with the remaining four rounds taking place alongside three other events on the MXGP calendar with visits to France, Germany, and the Czech Republic. The last of which will host a two-day event over the weekend of July 15-16 where the overall series winner will be decided.
The series is open to any rider aged 6-8 years old (age taken from January 1, 2023) mounted on a Husqvarna EE 5 or equivalent machine. In addition, every competitor racing aboard an EE 5 will receive a selection of Husqvarna Motorcycles merchandise and Technical Accessories. For the series winner, should they be mounted on an EE 5, their prize will be an exclusive training day with Husqvarna Factory Racing.
Parents/guardians of interested riders should visit the official website – www.junioremotocross.com – for full information on the series, with registrations opening on March 3.
Calendar – 2023 European Junior e-Motocross Series
Round 1: 7 May MXGP of Spain – intu Xanadú – Arroyomolinos
Round 2: 21 May MXGP of France – Villars sous Ecot
Round 3: 11 June MXGP of Germany – Teutschenthal
Round 4: 15 July MXGP of Czech Republic – Loket
Round 5: 16 July MXGP of Czech Republic – Loket
Andrea Dadanova – Head of Husqvarna Motorcycles Global Marketing: "The European Junior e-Motocross Series is really important as the world continues to head towards an electric-powered future and the series shows just what is possible regarding offroad e-mobility. I am glad that we continuously support this exciting series where we see young riders competing aboard the Husqvarna EE 5 fulfilling their dreams. We look forward to kicking off another racing season in Spain and hope to see new riders entering the races to get an unforgettable experience. On behalf of Husqvarna Motorcycles, I´m proud that we play a key role in establishing the championship and I wish all the riders best of luck."