Back to 2009 Honda ATV Quad Models Index Page
Click photos to enlarge.
They make great desktop images.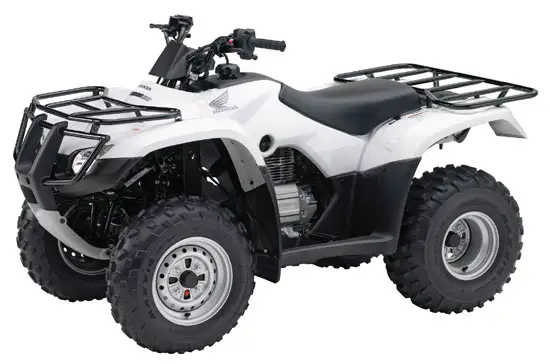 2009 Honda FourTrax Recon ES TRX250TE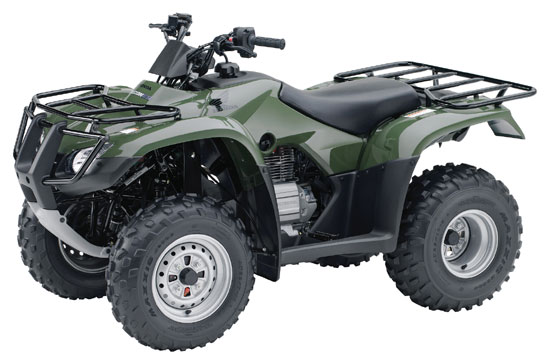 2009 Honda FourTrax Recon ES TRX250TE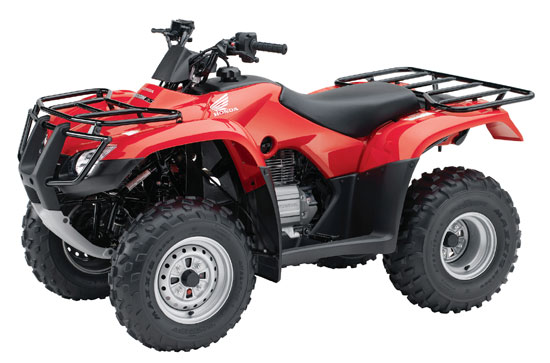 2009 Honda FourTrax Recon ES TRX250TE
– 2009 Honda FourTrax Recon ES TRX250TE

2009 Honda FourTrax Recon ES TRX250TE
FourTrax Recon ES. Shift with a push of your thumb, and let your foot come along for the ride. That's Honda's Electric Shift Program (ESP) technology at work—a great boost when you're riding in bulky, mud-covered boots. And it's typical of Honda's innovative technology.
The Honda TRX250TE'S fun and frisky personality comes from a combination of a powerful four-stroke engine and class-leading light weight. Just like on our bigger ATVs, the air-cooled OHV engine sits sideways in the chassis to provide direct driveshaft alignment to the rear wheels. It's a rugged powertrain with an easy-to-use powerband and the convenience of Electric Shift Program™ (ESP) push-button shifting — great for riders of all levels. And compact overall dimensions make the TRX250TE a perfect fit for smaller riders or those just getting up to speed. For big fun in a user-friendly package, the TRX250TE is all the ATV you really need.

FourTrax Recon ES/FourTrax Recon
Available with a manual gearbox or pushbutton electric shift, the Recon® is one rugged midsize ATV that continues to be a best seller thanks to its stylish appearance and get-it-done credentials.
Features & Benefits
New for 2009
– New White color joins Red and Olive.

Unique Features
– ES model features Electric Shift Program (ESP®) for pushbutton upshifting and downshifting (see Technology Section).
– Both the Recon ES and Recon feature the high-performance cylinder head from the TRX250X for increased performance.
– An oil cooler is standard equipment on both Recon ES and Recon models, ensuring optimal engine temperatures under difficult operating conditions.
– Both the Recon and Recon ES have uniquely designed floorboards, which allow the rider's feet to grip the footrests while helping keep mud and debris away from the rider's feet.
– The Recon ES features a gear indicator in addition to the Neutral and Reverse lights provided on the Recon.
Engine/Drivetrain
– Lightweight, OHV air-cooled 229cc engine is longitudinally mounted to allow direct driveshaft alignment to rear wheels for fewer frictional losses (see Technology Section).
– 22mm carburetor with light throttle control offers good engine response and excellent fuel economy.
– Overhead-valve design offers a wide, easy-to-use powerband and compact engine dimensions.
– Closed-crankcase vent system safeguards against engine oil contamination.
– Rubber-cushion engine mounting reduces vibration.
– USDA-qualified spark arrester/muffler is constructed of stainless steel.
– Automatic cam-chain tensioner reduces maintenance.
– Convenient electric starter with auxiliary recoil starter.
– Wet-sump engine design with 1.6-quart oil capacity.
– CD ignition system with electronic advance features an rpm limiter for added durability.
– Five-speed transmission with Reverse and automatic clutch on the Recon.
Chassis/Suspension
– Plush front and rear suspension for comfortable all-day riding.
– Lightweight double-cradle steel chassis.
– Maintenance-free shaft drive routes power directly from the longitudinally mounted engine without inefficient directional changes.
– Independent double-wishbone front suspension gives 5.1 inches of travel.
– Steel swingarm and single rear shock absorber give 4.9 inches of travel.
– Dual sealed front hydraulic drum brakes and sealed mechanical rear drum.
– Tires feature aggressive tread patterns for excellent traction.
Additional Features
– Meets current EPA and California Air Resources Board (CARB) emissions levels.
– Ergonomically designed seating and control layouts provide a comfortable operating position for a wide range of rider sizes.
– Large cargo racks front and rear allow payloads of 33 and 66 pounds, respectively.
– Large, lightweight plastic fuel tank with 2.6 gallon-capacity.
– Snorkel-type air-intake system is specially designed for water crossings.
– Dual-headlight system with 25-watt lights.
– LED taillight and brake light.
– Maintenance-free battery.
– Powerful 110-watt AC generator.
– Washable foam air filter for easy maintenance and consistent performance.
– Durable, comfortable, easy-to-use controls.
– Keyed ignition switch for added security.
– Easy-to-use parking brake.
– Standard tool kit includes a tire-pressure gauge.
– Assembled in Timmonsville, South Carolina.
– Transferable one-year limited warranty; extended coverage available with a Honda Protection Plan.
– When you buy a new Honda Powersports Product, you may be eligible to receive a complimentary one year membership in the Honda Riders Club of America, which includes an exclusive Members-only magazine, rider training benefits, access to the Members-only Clubhouse website and much more. Some limitations apply. For more information on the HRCA, log on to hrca.honda.com.
Honda Genuine Accessories
– Flag Kit.
– Trailer Hitch.

2009 Honda FourTrax Recon ES TRX250TE – USA Specifications
American MSRP $3,999 USD
Model: TRX250TE (with ESP) / TRX250TM
Engine Type: 229cc air-cooled OHV longitudinally mounted single-cylinder four-stroke
Bore and Stroke: 68.5mm x 62.2mm
Induction: 22mm carburetor
Ignition: CD with electronic advance
Starter: Electric with auxiliary recoil
Clutch: Automatic
Transmission: ESP five-speed with Reverse (TRX250TE) / Five-speed with Reverse (TRX250TM)
Driveline: Direct rear driveshaft
Suspension
Front: Independent double-wishbone; 5.1 inches travel
Rear: Swingarm with single shock; 4.9 inches travel
Brakes
Front: Dual sealed hydraulic drum
Rear: Sealed mechanical drum
Tires
Front: 22×7-11
Rear: 22×10-9
Length: 75.0 inches
Width: 40.7 inches
Height: 42.1 inches
Seat Height: 31.2 inches
Ground Clearance: 6.0 inches
Wheelbase: 44.5 inches
Turning Radius: 8.5 feet
Fuel Capacity: 2.6 gallons (including 0.7-gallon reserve)
Colors: White, Red, Olive
Curb Weight*: 439 pounds (TRX250TE) / 432 pounds (TRX250TM)
*Includes all standard equipment, required fluids and full tank of fuel-ready to ride.
Recommended for riders 16 years of age and older.
2009 Honda FourTrax Recon ES TRX250TE – Canada Specifications
Canadian MSRP $6,019 CDN
Engine Type Air-cooled longitudinally mounted single-cylinder four-stroke

Displacement 229 cc

Bore & Stroke 68.5 mm x 62.2 mm

Compression Ratio 9.2:1

Valve Train OHV, 2 valve

Fuel Delivery Single 20 mm carb

Transmission Electric-shifting five-speed with automatic clutch and reverse

Final Drive 2WD; direct rear driveshaft

Front Suspension Independent double-wishbone with hydraulic shocks; 130 mm (5.1 inches) travel

Rear Suspension Swingarm with single hydraulic shock; 125 mm (4.9 inches) travel

Tires 22×7 – 11 front; 22×10 – 9 rear

Brakes Front sealed dual hydraulic drums; rear sealed mechanical drum

Length 1,905 mm (75 inches)

Width 1,035 mm (40.7 inches)

Ground Clearance 150 mm (5.9 inches)

Seat Height 793 mm (31.2 inches)

Wheelbase 1,131 mm (44.5 inches)

Curb Weight 199 kg (439 lb) including required fluids and full tank of gas – ready to ride

Fuel Capacity 9.1 litres, including 2.6-litre reserve

Colour White