You are here: Home — 2009 ATV Models — 2009 Kawasaki Motorcycle Models
2009 Kawasaki Mule 610 4X4 Camo
Back to 2009 Kawasaki ATV Quad Models Index Page
Click photos to enlarge.
They make great desktop images.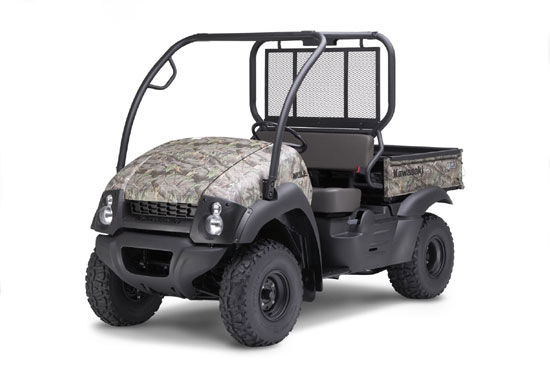 2009 Kawasaki Mule 610 4X4 Camo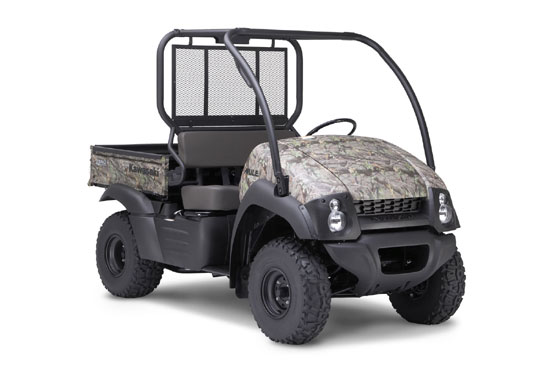 2009 Kawasaki Mule 610 4X4 Camo
– 2009 Kawasaki Mule 610 4X4 Camo

2009 Kawasaki Mule 610 4X4 Camo
The rugged, off-road hunter's utility vehicle of choice
With the application of the REALTREE™ Hardwoods Green® HD™ camouflage, the Kawasaki Mule™ 610 4×4 (Camo) adds another dimension to the versatile Mule™ 610 4×4. The compact utility vehicle and its selectable four-wheel drive make this the ideal tool for the adventurous hunter; able to haul people and equipment almost anywhere, regardless of how remote. Enhancing its flexibility is its size and the ability to transport it in the back of a full-size pickup truck.
At the heart of the Mule 610 4×4 is a single-cylinder engine coupled to a continuously variable transmission (CVT). The model also features a dual-mode rear differential, independent front suspension, swing-frame rear suspension and sealed hydraulic drum brakes.
A spacious cab, factory camouflage covered, curved body panels and a large-diameter steel tube frame structure—that meets ROPS requirements—present a clean, modern look, with automotive-type controls and the gear selector that are within easy reach on the Mule 610 4×4 dashboard. Comfort features include two large cup holders, a passenger-side glove box and grab handle, and more storage space located beneath the hood.
The Mule 610 4×4 utilizes a durable air-cooled, single-cylinder 401cc four-stroke engine with a cooling fan to help maintain an ideal operating temperature. For 2009, the flap in the rear left tire housing was widened slightly to minimize mud entering the engine area. Equally important, the sturdy engine can be started in any gear, provided the brakes are applied, and starting is easy thanks to an enrichening system that partially opens the throttle during starting.
The Mule 610 4×4 utility vehicle transfers its power through the CVT, which features durable materials and a long-lasting drive belt to best deliver the engine's power and get it out of a slippery situation. Another enticing aspect of the Mule 610 4×4 is the selectable four-wheel drive that along with the high and low range forward, and reverse gears, makes the utility vehicle virtually unstoppable. A dependable, low-maintenance shaft drive and a lockable dual-mode rear differential and a limited-slip front differential expand its traction abilities in adverse terrain.
The Mule 610 4×4 rides on MacPherson strut front suspension, while rear suspension duties are handled by a unit swing-axle. Triple-sealed hydraulic drum brakes at all four wheels provide ample stopping power, and large 24-inch tires provide improved off-road handling. A plastic front differential/axle guard and steel rear differential guard are standard, helping to protect important powertrain components.
Increasing its work versatility more are the bright 35w headlights and the 400-pound capable tilting cargo bed, which features tailgate latches that are easy to fasten quickly and securely. Plus, the Mule 610 4×4 can tow up to 1,100 pounds with an optional Kawasaki draw bar. Popular accessories include an enclosed cab, snow plow, winch, and soft or hard tops. These and many other Authentic Kawasaki Accessories are available through Kawasaki dealers.
Features and Benefits:

At a glance…
– REALTREE™ Hardwoods Green® HD™ Camouflage
– Best compact off-road 4×4 utility vehicle
– New tread pattern on the large 24-inch tires
– Can be easily transported in the back of a full-size pickup truck
– Can tow up to 1,100 lbs. with optional Kawasaki draw bar
Fan-Cooled, Single-Cylinder Engine
– Simple, lightweight, durable, and quiet 401cc four-stroke engine
– Modern 4-stroke overhead valve design for efficient running and good fuel economy
– Fan cooling helps the engine maintain an ideal operating temperature
Easy Starting
– Choke opens throttle during starting so accelerator pedal does not need to be depressed
– Can be started in gear by stepping on brake pedal
Gear Driven Engine Balancer
– Balanced weight opposite the piston cuts vibration dramatically and minimizes noise and wear
– Maximizes operator comfort, and diminishes fatigue
Environmentally Friendly Emissions
– Carburetor settings cut exhaust emissions
– Positive crankcase ventilation system recycles blow-by gasses to the intake tract to be burned in the engine
– Muffler has USFS-approved spark arrestor
– California models have a check valve on the fuel tank to charcoal canister connector hose for preventing gasoline from entering the canister when operating on inclines or over rough terrain
Kawasaki Automatic Power-Drive System (KAPS)
– Based on well-received Brute Force® 650 4×4 ATV continuously variable transmission (CVT)
– Simple and lightweight CVT is fully automatic and keeps engine speed in most efficient range for any selected="true"="true"="true"="true"="true" vehicle speed, load, or terrain
– Fully Automatic Transmission With Selectable 2- or 4-Wheel Drive
– An open-sided drive pulley cools better for longer belt life.
– Belt deflection can easily be adjusted by changing shim thickness of the adjuster bolt located on the outside of the driven converter
– Cooling air flows in from a vent in the cab frame through a special air filter, which keeps out water and dust for increased belt life
– Long wearing double cog CVT belt
Dual-Mode Differential
– Locked mode for maximum traction in difficult conditions
– Unlocked mode decreases turning radius and minimizes ground disturbance – great for use on grass.
Rack and Pinion Steering
– Rack-and-pinion steering helps to keep steering light and accurate, which makes maneuvering in tight working quarters a snap
– Durable, simple and easy to maintain
MacPherson Strut Independent Front Suspension
– Comfortable ride and excellent load-carrying capability
– Simple, rugged single A-arm design offers tight turning radius for extra maneuverability
Unit Swingarm Rear Suspension
– Unique design places engine and rear wheels on a sub-frame with a mid-point pivot
– Isolates vibration
– Can handle heavy loads, yet provides comfortable ride with an empty cargo bed
New Tires
– New tread pattern on the large 24-inch tires improve off-road traction, ride quality and reduce tire wear
Chassis
– Self-Adjusting, Hydraulic drum brakes at all four wheels provide ample stopping power
– Front grille includes space for mounting a 3000-pound capacity winch
– Compact, lightweight, and easy to transport to the job, easily fitting in the bed of a full-sized pickup
– REALTREE™ Hardwoods Green® HD™ Camouflage covers durable ABS body panels that resist dents
Safety Equipment
– Meets federal Roll Over Protective Structure (ROPS) requirements for wheeled tractors under SAE J1194, 7.1.1, 7.1.2, 7.4, and 7.5, and also meets FMVSS 216 roof crush resistance requirement
– Two Seat Belts
– Speed limited to 25 mph
Ample Storage
– Large storage tub under the hood with four D-rings to secure the load
– Passenger side glove box
– Cup holders located at each side of the front hood by the dash
Tilting Cargo Bed
– Steel cargo bed can carry up to 400 pounds and tilts for quick unloading
– Thick tailgate panel and secure latching tailgate locking pins reduces vibration and noise, and adds durability
Simple Maintenance
– Crankcase oil level dipstick
– Dual element air cleaner
– CVT cover has a convenient drain plug
Cab Features
– Bench seat is spacious and comfortable for two
– Automotive style dash designed for ease of use with easy reach controls
– Standard equipment hour meter makes maintenance intervals easy to track
– Fuel gauge
– Oil temperature warning light
– Gear selector for HI, Low, Neutral, and Reverse
– Differential locking lever
– Convenient parking brake
– Headlight switch for powerful and stylish 35w headlights
Popular Accessory Items
– Soft or Hard Top
– Windshield
– Winch
– Enclosed Cab
– Snow Plow
2009 Kawasaki Mule 610 4X4 Camo – USA Specifications
American MSRP: $7,499
Engine: Four-stroke, air-cooled single
Displacement: 401cc
Bore x stroke: 82 x 76mm
Compression ratio: 8.6:1
Carburetor: Nikki 6C1026
Air filter: Snorkel-type with two-stage dry replaceable element
Oil filter: Automotive-type spin-on canister
Ignition: Magneto and transistor
Electrical: 12V DC, 14 amp-hour battery, alternator
Transmission: Continuously variable transmission with high and low range, plus reverse
Final drive: Shaft-driven selectable four-wheel drive, dual-mode rear differential
Exhaust: Muffler with USFS-approved spark arrestor
Front tires: 24×9-10 tubeless
Rear tires: 24×11-10 tubeless
Front suspension / wheel travel: MacPherson strut / 3.0 in.
Rear suspension / wheel travel: Unit swing axle / 3.1 in.
Steering: Rack-and-pinion
Brakes: Four-wheel hydraulic drums, triple sealed
Fuel capacity: 4.1 gal.
Curb weight: 1023 lbs.
Overall length: 107.1 in.
Overall width: 52.6 in.
Overall height: 70.9 in.
Wheelbase: 70.0 in.
Ground clearance: 6.7 in.
Roll over protective structure (ROPS): This structure meets ROPS requirements for wheeled tractors under SAE J1194, 7.1.1, 7.1.2, and 7.5 and also meets FMVSS 216 Roof Crush resistance requirement
Cargo bed dimensions (LxWxH): 41.1 x 35.4 x 9.6 in. / 10.9 cu. ft.
Load capacity: 926 lbs.
Cargo bed capacity: 400 lbs.
Towing capacity: 1,100 lbs.
Turning radius: 10.8 ft.
Top speed: 25 mph, governed
Instruments: Oil temperature meter, hour meter, 35w headlights, taillight and stoplight
Color: REALTREE™ Hardwoods Green® HD™

2009 Kawasaki Mule 610 4X4 Camo – Canada Specifications
Canadian MSRP $9,399 Camouflage Hardwoods Green® HD™

ENGINE
Type 4-Stroke, Single, Fan-Cooled, OHV
Displacement 401 cc
Bore and Stroke 82 x 76mm
Starting Electric

DRIVETRAIN
Transmission Kawasaki Automatic Power-Drive System (KAPS), with Reverse

DIMENSIONS
Front Tire Size Tubeless 24 x 9-10
Rear Tire Size Tubeless 24 x 11-10
Wheelbase 1779 mm
WheelbaseTurning Radius (Differential Unlocked) 3.3 m
Ground Clearance 170 mm
Fuel Tank Capacity 15.5 L.
Track Front/Rear 1052/998 mm.
Bed Length x Width x Height 1044 x 899 x 246 mm
Curb Weight 460 kg/465 kg. (C9F)

SUSPENSION
Front Suspension Type Independent MacPherson Struts
Rear Suspension Type Unit Swing Axle, Adjustable Shocks
BRAKESFront Sealed Hydraulic Drums
Rear Sealed Hydraulic Drums

PERFORMANCE
Towing Capacity 500 kg.
Vehicle Load Capacity 420 kg.
Bed Load Capacity 181.8 kg.
Seating Capacity 2
Maximum Torque 29.7 N – m @ 2,400 rpm
Top Speed 40 km/h (Governed)

DETAILS
Colours Woodsman Green, Dark Royal Red, Camouflage Hardwoods® Green HD™
Warranty 12 months
Good Times Protection Plan 12 or 24 month



The specifications mentioned here apply to and have been achieved by production models under standard operating conditions. We intend only to give a fair description of the vehicle and its performance capabilities but these specifications may not apply to every machine supplied for sale. Kawasaki Heavy Industries, Ltd. reserves the right to alter specifications without prior notice. Equipment illustrated and specifications may vary to meet individual markets. Available colours may vary by market. Note: Specifications and pricing are subject to change.