You are here: Home — 2009 ATV Models — 2009 Kawasaki Motorcycle Models
2009 Kawasaki Teryx 750 FI 4×4 NRA Outdoors
Back to 2009 Kawasaki ATV Quad Models Index Page
Click photos to enlarge.
They make great desktop images.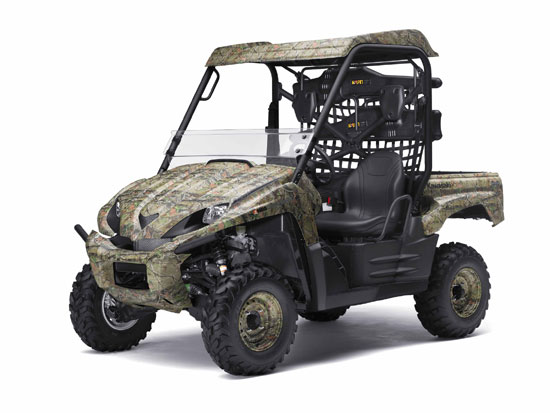 2009 Kawasaki Teryx 750 FI 4×4 NRA Outdoors

2009 Kawasaki Teryx 750 FI 4×4 NRA Outdoors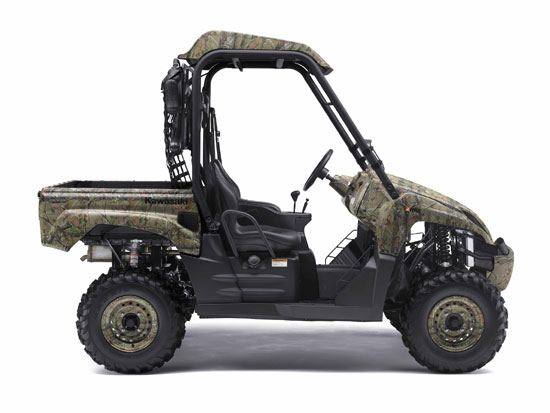 2009 Kawasaki Teryx 750 FI 4×4 NRA Outdoors
– 2009 Kawasaki Teryx 750 FI 4×4 NRA Outdoors

2009 Kawasaki Teryx 750 FI 4×4 NRA Outdoors
The ultimate fuel injected, fully camouflaged, hunting partner
The officially licensed Kawasaki Teryx™ 750 FI 4×4 NRA OUTDOORS recreation utility vehicle (RUV) features serious camouflage to help keep outdoorsmen hidden. Starting with a standard Teryx 750 FI 4×4 LE, the Teryx 750 FI 4×4 NRA OUTDOORS adds dual Kolpin gun scabbards and Realtree® APG HD™ camouflage to the bodywork, dashboard, roll cage, hard top, and all four wheels, to make it a perfect compliment to the hunting lifestyle. For 2009, the Teryx 750 FI 4×4 NRA OUTDOORS adds digital fuel injection to this winning formula.
A wide chassis, big V-twin power, efficient CVT, superior ground clearance, impressive cargo capacity and sport handling made the original Teryx one of the most talked-about RUVs on the planet. The addition of a new digital fuel-injection (DFI) system to its mid-mounted 749cc 90-degree V-twin engine, helps add even more fun and utility to the Teryx, giving it a clear edge over its rivals.
The enhanced response provided by the Teryx's new digital fuel injection system means its strong and proven V-twin engine is quicker-revving than ever. Kawasaki engineers kept much of the engine's likeable character when they added DFI, but still found ways to improve it – such as changing the ignition timing to boost low and mid range torque and improve response at higher rpm. Other inherent benefits gained from adding DFI include automatic altitude compensation, automatic idle adjustment and easy, choke-free starting.
The fuel injection system's sophisticated array of sensors includes an inlet air pressure, throttle position, crankshaft position, rpm, water temperature and a vehicle down sensor. As part of the DFI upgrade, the Teryx 750 FI 4×4 NRA OUTDOORS also received a new fuel tank with an internal fuel pump.
Mated to the engine is Kawasaki's superb continuously variable transmission (CVT), which transfers the smooth power and quick response from the big V-twin to the wheels smoothly and quickly. The healthy output of this powertrain provides true sport performance, in a controlled manner that allows the driver to harness the full potential of this impressive vehicle. The CVT also received refinements for 2009. Both the intake and exhaust cooling ducts were revised to better prevent water or mud from entering the drive belt area. The new intake duct flows air to the CVT more effectively for better cooling while the intake air temperature is reduced via heat shielding on the exhaust pipe located below the intake duct.
Throttle Position Sensor (TPS) data was added to the CVT Belt Protection System's sensor inputs. Other inputs include a gear sensor (not in neutral), vehicle speed (measured from the rear wheel), and engine speed. The extra input permits the system to better prevent tire freewheel and offer upgraded rock section performance with less belt overloading. Should the system detect engine operation at high rpm for more than two seconds while the rear wheels remain motionless (i.e. rear wheels are immobilized and the belt is slipping), it automatically retards ignition timing and warns the rider via a flashing belt warning lamp.
Power is nothing without control — big power demands a chassis to compliment it and once again the Teryx delivers with an ideal body width that is narrow enough to be useful and able to navigate the trail, yet wide enough to offer a roomy cab and additional stability. The wide track Teryx 750 FI 4×4 NRA OUTDOORS design exploits a large-diameter, thin-walled tubular frame offering the necessary rigidity without performance draining weight. It also meets SAE requirements as a roll-over protective structure (ROPS) with an arrangement spacious enough to comfortably fit two full-sized adults.
The Teryx 750 FI 4×4 NRA OUTDOORS shares the long A-arm and narrow frame concept of its sport brethren to give it the maximum travel while minimizing wheel camber change. For 2009, the adjustable Kayaba gas-charged shocks have revised settings combined with a new stabilizer bar to improve ride quality. Combined with the mid-ship engine, the balanced package offers superb control and cornering performance, even at top speed.
When the terrain requires it, the driver can activate 4WD with a simple servo-control switch. Further traction management is achieved via an ATV-style front differential control that lets the driver select how much the wheels are locked together. The rear wheels stay locked and always turn together — much like a sport ATV — allowing the RUV to slide around corners easier in a drift style.
It continues its dominance in the field with 26-inch Maxxis tires developed specifically for the Teryx that enable superb forward and sliding traction. The tall tires offer good rough terrain handling and contribute to its class leading ground clearance and ability to overcome obstacles.
A powerful RUV wouldn't be much fun without equally capable stopping power and Teryx 750 FI 4×4 NRA OUTDOORS delivers. It employs a combination of dual 200mm discs up front and a sealed wet brake in the rear. The front brakes are tucked into the wheels for protection from debris and their 27mm twin-piston calipers are rigid-mounted for optimum feel and control. The advantage of the sealed rear brake is most apparent when it's able to keep working even in the wettest or muddiest of environments. Its compact profile further adds to the remarkable amount of ground clearance.
Of course, this substantial performance is matched by Kawasaki's legendary durability and reliability that starts on the surface – tough Thermo-Plastic Olefin (TPO) bodywork covered with Realtree® APG HD™ camouflage, that is. Steel skid plates underneath to shield the engine from the ride stopping obstacles. For the trip to and from the ride spot, the Teryx 750 FI 4×4 NRA OUTDOORS sports a stronger roof.
Inside, bucket seats and retractable three-point seat belts help the driver and passenger stay relaxed; the Teryx 750 FI 4×4 NRA OUTDOORS has plenty of shoulder and leg room to provide a comfortable ride. Rider comfort and conveniences are enhanced with a half-windshield and retractable cup holder. It also has a steering wheel that is positioned low for better driver control. Standard equipment on all Teryx models, the multi-function digital meter adds a fuel gauge and parking brake indicator to the hour meter, clock, odometer, dual trip meters and warning lights.
Don't mistake it for just another camouflaged player. The Teryx 750 FI 4×4 NRA OUTDOORS has plenty of working skills too. Its standard 500-pound capacity, gas-assisted tilting cargo bed is ideal for recreational users, yet versatile enough for work and hauling. A cargo net and tie down hooks in all four corners keep the goods secure. Its 1300-pound towing capacity expands those cargo abilities further. Dual gun cases top off a package that is just about answers every rugged outdoorsman's needs, whether he's heading out or coming back from a successful hunt.
The action isn't limited to daylight hours only thanks to dual 40W headlights showing the way and dual rear taillights letting it be seen. A 7.4-gallon fuel tank allows the Teryx to operate longer so the journey isn't cut short either. With such a cargo-carrying and transportability potential, it is an able partner for leisure/recreation activities, such as camping, hunting or day trips
Features and Benefits:
High-performance 749cc V-Twin Engine
– Liquid-cooled, SOHC, fuel-injected, 90-degree V-twin is the most powerful engine in its class
– Ample torque output contributes to the Teryx's superb acceleration and allows powerslides on command
– Oversquare design with an 85mm bore x 66mm stroke help enable reliable high-rpm operation
– The 90° V-Twin configuration offers perfect primary balance, resulting in low engine vibration
– Aluminum cylinders are Electrofusion-plated for light weight, long wear and excellent heat dispersion
– Engine can be started in any gear when the brakes are applied
– Electronically controlled Kawasaki Engine Brake Control helps to slow the RUV when descending steep hills
– Positioned mid-ship for optimum front/rear balance – good for power slides and cornering control
– Ducts located by the cargo bed direct cooling air to the engine
– Radiator is compact and placed high in the chassis for maximum protection against mud and debris
Digital Fuel Injection system
– High output 750cc V-twin engine includes a digital fuel injection (DFI) system, which enhances throttle response and automatically adjusts for changes in temperature and altitude
– DFI system (controlled by a 32-bit CPU) continually monitors coolant temperature, air intake temperature, throttle position, air intake pressure, vehicle speed and crankshaft angle to automatically meter out the ideal amount of fuel via two 34mm throttle bodies for extremely stable power delivery – regardless of the conditions
– Quick and precise fuel delivery makes the Teryx Sport's engine response sharper than ever
– DFI system permits easy engine starting at low temperature and utilizes an Automatic Idle Speed Control and Automatic Fast Idle function to ensure smooth starting and engine warm-up
– High-pressure fuel pump is located inside the tank and features a unique reservoir chamber at the bottom of the pump housing, to ensure air does not get into the fuel system
– Teryx-specific throttle body sizes, engine timing and ignition timing are set for increased low and mid-range torque as well as improved response at higher rpm
Continuously Variable Transmission
– Featuring a high and low range, plus reverse, the CVT provides a very direct feel from the engine and nearly instantaneous acceleration – ideal characteristics for sport riding
– Transmission utilizes a high-grade belt that's highly durable and designed to handle the high output of the engine
– CVT Belt Protection System helps prevent tire freewheel, and reduce belt overloading when rock-crawling, by adding a Throttle Position Sensor (TPS) to the CVT's sensor array

Selectable Four-wheel-drive / Variable Front Differential Control
– Rider can select two- or four-wheel-drive operation by pressing a switch located on the dash
– Electrically "selectable†2WD/4WD system engages instantly
– Limited-slip front differential reduces steering effort under normal four-wheel drive operation, while Variable Front Differential Control permits rider to distribute torque equally to left and right front wheels for maximum traction via a hand lever located between the seats
– Rear wheels are locked and always turning together for controllable power slides
Wide-body Chassis
– Large-diameter thin-walled tubular steel frame offers high rigidity – a perfect base for performance riding
– Meets SAE requirements as a roll-over protective structure (ROPS)
– Wide track helps provide additional stability
– Chassis has 11.7 inches of ground clearance for clearing tough off-road obstacles
– Chassis offers the right balance of bump absorption while limiting understeer
– Able to tackle corners in either a drift or grip style and operate beyond the limits of its rivals
Sport-focused Suspension
– Utilizes long dual front A-arm suspension and narrow frame concept to maximize the length of the front and rear suspension's lower A-arms, contributing to excellent road-handling performance
– Features increased rear suspension damping and spring rate and decreased stabilizer stiffness to contribute to improved traction and handling
– First with sport performance-focused suspension – low-speed comfort not a main design priority
– High-performance, single-chamber, adjustable gas-charged Kayaba shocks offer excellent fade-resistant damping performance, even in hard conditions, while providing 7.5 inches of travel
– Both front and rear shocks are preload-adjustable and feature piggy-back reservoirs, further reducing the tendency of oil to froth under hard conditions
– Independent rear suspension provides the best balance of rider comfort and handling at high speeds
High-performance Brakes
– Dual front 200mm disc brakes gripped by 27mm twin-piston calipers and Kawasaki's sealed, oil-bathed, multi-disc rear brake system provide maximum stopping power in all conditions
– Compact size of the rear brake design contributes to a favorable ground clearance
– Front discs are recessed in wheels for protection from debris, while the rigid-mount calipers deliver enhanced brake feel and increased control
Large 26-inch Tires
– 26-inch MAXXIS tires were specifically developed for the Teryx to maximize forward traction while offering excellent characteristics for both aggressive cornering and sliding
– Mounted on 12-inch rims, the largest tires available in the RUV category provide good rough terrain performance and obstacle clearance
Ergonomics
– Plenty of shoulder and legroom to comfortably accommodate two adults
– Form-fitting bucket seats and retractable three-point seatbelts hold rider and passenger firmly in place
– Steering wheel positioned low for optimum control when sport riding
– Dual retractable cup holders

Multi-Function Digital Display
– Includes a digital fuel gauge, speedometer, clock, dual trip meters plus parking, 4WD, water temperature and fuel injection warning indicators
– Additional indicator lamps include CVT belt warning, neutral, reverse and oil pressure warning
Bodywork
– Revised rear mud guard shape
– Body work is made of high-gloss scratch-resistant Thermo-Plastic Olefin
– Steel floor boards and engine guards for maximum protection
– Battery and electric parts located higher, further out of the way of water and mud
– Dual 40W headlights and 8/27W dual taillights
Cargo Capability
– Cargo bed offers substantial carrying capacity with a 500 lb capacity, tie down hooks in all four corners, standard cargo net and sizeable dimensions
– Gas-assisted tilting cargo bed facilitates dumping cargo and is now a standard feature on all Teryx models
Range / Transportability
– Large 7.4 gal. (28L) fuel tank offers the range for plenty of fun
– Teryx is compact enough to fit in the bed of most full-size pickup trucks
Monster Energy Edition
– Special Monster Energy graphics package
– Molded black Thermo-Plastic Olefin (TPO) bodywork provides ultra-high gloss appearance and is scratch-resistant
– Special matte black aluminum alloy wheels

2009 Kawasaki Teryx 750 FI 4×4 NRA Outdoors – USA Specifications
American MSRP NRA OUTDOORS: $12,149
Engine: Liquid-cooled, 90-degree, four-stroke V-twin
Valve system: SOHC, four valves per cylinder
Displacement: 749cc
Bore x stroke: 85 x 66mm
Compression ratio: 8.8:1
Fuel system: 2 x Mikuni 34 mm throttle bodies
Ignition: Digital DC-CDI
Transmission: Continuously variable belt-drive transmission with high and low range, plus reverse, and Kawasaki Engine Brake Control
Final drive: Selectable four-wheel drive with Variable Front Differential Control, shaft
Frame: Large diameter, thin-walled, high-tensile tubular steel
Front suspension / wheel travel: Adjustable dual A-arm with gas charged shocks / 7.5 in.
Rear suspension / wheel travel: Adjustable Independent Rear Suspension (IRS) with gas charged, reservoir shocks / 7.5 in.
Front tires: Maxxis 26×8-12
Rear tires: Maxxis 26×10-12
Front brakes: Dual 200mm hydraulic discs with 2-piston calipers
Rear brake: Sealed, oil-bathed, multi-disc
Overall length: 116.4 in.
Overall width: 58.5 in.
Overall height: 79.0 in.
Wheelbase: 79.6 in.
Ground clearance: 11.7 in.
Lighting: (2) 40W headlights, (2) 8W taillight, 27W stoplight
Cargo bed capacity: 500 lbs, 44.2 W x 32.7 L x 11.1 in. H
Towing capacity: 1300 lbs
Curb weight: 1438 lbs
Fuel capacity: 7.4 gal.
Overall length: 116.4 in.
Instruments: Multi-Function Digital Meter with speedometer, fuel gauge, clock hour meter, odometer, dual trip meter and parking brake, R/N/P/4WD, water temp and oil pressure indicators
Color: Realtree® APG HD™ camouflage



2009 Kawasaki Teryx 750 FI 4×4 NRA Outdoors – Canada Specifications
Canadian MSRP $0
Not available in Canada
The specifications mentioned here apply to and have been achieved by production models under standard operating conditions. We intend only to give a fair description of the vehicle and its performance capabilities but these specifications may not apply to every machine supplied for sale. Kawasaki Heavy Industries, Ltd. reserves the right to alter specifications without prior notice. Equipment illustrated and specifications may vary to meet individual markets. Available colours may vary by market. Note: Specifications and pricing are subject to change.