Back to 2010 Kawasaki ATV Quad Models Index Page
Click photos to enlarge.
They make great desktop images.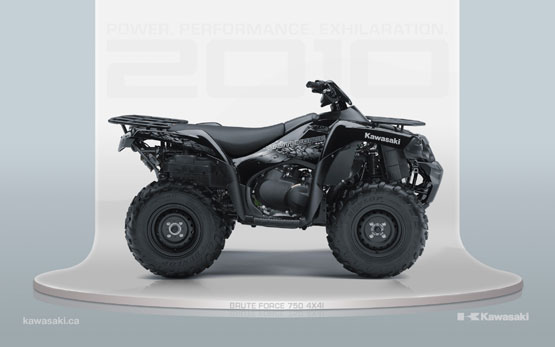 2010 Kawasaki Brute Force 750 4x4i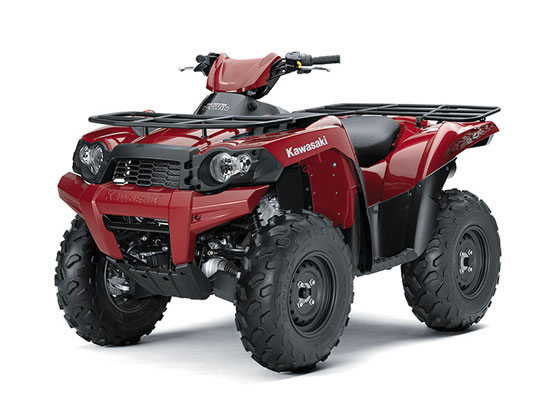 2010 Kawasaki Brute Force 750 4x4i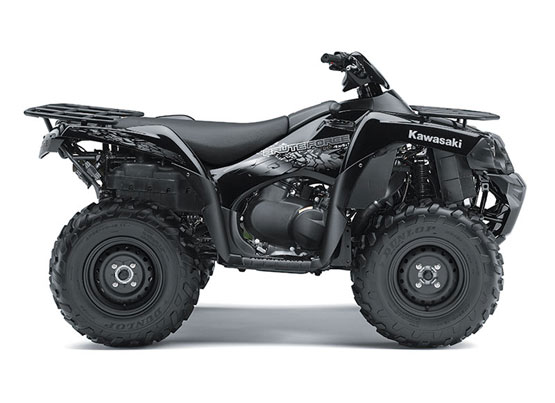 2010 Kawasaki Brute Force 750 4x4i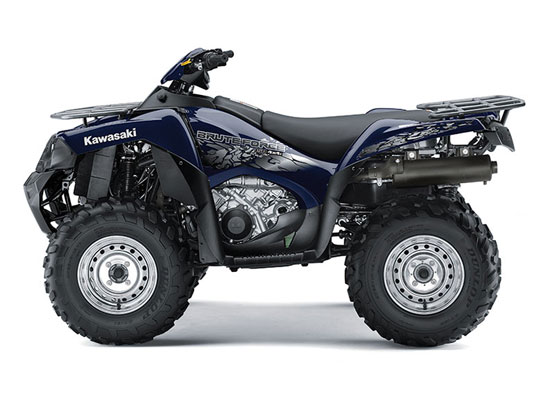 2010 Kawasaki Brute Force 750 4x4i
– 2010 Kawasaki Brute Force 750 4x4i

2010 Kawasaki Brute Force 750 4x4i
The 2010 Brute Force 750 4x4i maintains its high level of sport riding performance incorporating all the key features.
Whatever the task calls for, the Brute Force® 750 4x4i has the muscle to tackle it; whether it's lugging supplies around a rugged job site or fording a deep mud bog. Wrapped in aggressive bodywork, this burly leader of Kawasaki's V-twin powered, sport-utility ATV pack utilizes an A-arm front and independent rear suspension to keep the ride remarkably civilized. It's the perfect choice for adventure enthusiasts and sportsmen alike.

2010 Kawasaki Brute Force 750 4x4i Details & Features

Fuel injected 90-degree 749cc V-twin engine
o Digital fuel injection provides the perfect delivery throughout the rpm range with fast throttle response
o 36mm throttle bodies are controlled by a 32-bit CPU, which monitors coolant temperature, air intake temperature, throttle position, air intake pressure, vehicle speed and crankshaft angle to help ensure the perfect air fuel mixture
o Low spring rate for the throttle return springs and ball bearing equipped throttle body reduce friction and throttle action
o High-pressure fuel pump located inside tank
o Aluminum cylinders are Electrofusion-plated for light weight, long wear and excellent heat dispersion
o Highly efficient and compact rare-earth magnets in the generator help contribute to reduced engine width
o Engine can be started in any gear when a brake is applied
o Access to the air filter requires removing only one cover
o Radiator is compact and placed high in the chassis for better protection against mud and debris
o New for 2010, the reservoir cooling hose is 90mm shorter and the hose end is positioned 100mm higher to prevent mud from clogging the hose
Transmission and Powertrain
o Fully automatic Kawasaki Automatic Powerdrive System (KAPS) continuously variable transmission (CVT) has high and low forward gears plus reverse
o Limited-slip front differential reduces steering effort under normal four-wheel drive operation, while Variable Front Differential Control permits rider to distribute torque equally to front wheels for maximum traction
o Air for the CVT and airbox enter from a reverse-facing snorkel located beneath the handlebars to help protect against water and mud
o Rider can select two
o or four-wheel-drive operation by pressing a button located on the handlebar
o Cardan joints on drive shafts absorb torque fluctuations and reduce vibration
o Plastic front and rear axle boots provide protection from debris
Chassis
o Double-cradle frame is made of sturdy, tubular steel
o Offers 9.7 inches of ground clearance
o Fitted with pre-routed tubing and mounting brackets for easy winch wiring and installation
Braking
o Dual front disc brakes with two-piston calipers and Kawasaki's sealed, oil-bathed, multi-disc rear brake system provide maximum stopping power
o Electronically controlled Kawasaki Engine Brake Control helps to slow the ATV under certain conditions
Rugged Bodywork
o High-gloss, scratch resistant Thermo-Plastic Olefin bodywork stays looking good longer
o Waterproof storage box in the left front fender that compliments the easy-access storage pocket on the right side
o Bumper design provides an effective handgrip position
Relaxed Cockpit
o Comfortable, upright seating position combined with the independent rear suspension for a plush ride
o Rider comfort is enhanced via soft, yet firm urethane seat foam that provides lasting support for long hours in the saddle
o Automotive-style instruments include digital speedometer, odometer, twin trip meters, clock, hour meter and fuel gauge and are mounted for easy viewing
Additional features
o Tire and wheel design provides an integrated look with aggressive bodywork as well as superb traction
o Four-bulb 40-watt headlights provide maximum lighting power for nighttime rides
o Aluminum footpegs help keep weight low
o Trailer hitch bracket with 1,250 lbs. towing capacity is standard equipment
Independent Front Suspension
o Double A-arm and preload adjustable shocks with adjustable preload provide a comfortable ride with 6.7 inches of suspension travel
o A-arm caster angle provides light steering
o Upper and lower front A-arms utilize a combination of needle bearings and ball joints for smooth suspension action, stability and excellent rider comfort
Independent Rear Suspension
o Double A-arm and preload adjustable shock for each rear wheel provides superior ride comfort and ground following ability
o Lower rear A-arms utilize a combination of needle bearings and ball joints for smooth suspension action, stability and excellent rider comfort
o Independent rear suspension provides 7.9 inches of travel
o Torsion bar helps control body roll
2010 Kawasaki Brute Force 750 4x4i Technology

Engine

The ATV industries most powerful, liquid-cooled, 749 cm3, SOHC, 4-valve V-twin engine churns out a substantial 50.4 PS @ 6,500 rpm.
Torque output 59.4 N m @ 4,500 rpm lets the KVF750D/E/F accelerate with ease.
Offsetting the cylinders by 90° results in perfect primary balance, for low vibration levels and comfortable riding. It's so smooth there's no need for a separate extra engine balancer, saving power and weight.
Oversquare bore and stroke measure 85 x 66 mm.
All-aluminum cylinders feature electrofusion-coated bores for light weight, long wear and excellent heat dispersion. The electrofusion bores save 1.5 pounds of engine weight.
Fuel injection with 36 mm throttle bodies and 32-bit ECU automatically meters out the ideal amount of fuel for extremely stable power delivery – no matter what the conditions.
Reduced throttle spring rate and ball bearings for the throttle shafts provides lighter throttle for reduced rider fatigue.
The four valve heads use large, 30 mm intake and 26 mm exhaust valves.
Efficient, SOHC (Single OverHead Cam) design operates forked rocker arms with screw type lash adjusters for ease of maintenance.
Air filter frame is easier to remove for cleaning/oiling.
Air routed to the air filter (and to the CVT) enters a cavity located in front of the air box via a rear-facing intake passage under the handlebars. This helps prevent the ingress of water, mud, dust, etc. A 3-piece shroud box further reduces the possibility of water and mud entering the air box and CVT cavity in harsh conditions.
Powerful rare-earth magnets used in the AC generator are highly efficient and lighter weight than traditional magnets. Lighter flywheel effect aids in the quick revving engine character.
AC generator output at slower speeds is enhanced with the rare-earth magnets making more power available to run accessories when driving at slower speeds. Peak AC generator output is 340W.
High-mount radiator is less likely to be filled with mud and is accessible for cleaning.
Large, thermostatically controlled fan keeps cooling air moving through the radiator even at slow vehicle speeds.
A circuit breaker ensures the cooling fan's motor does not overheat in the event the fan does become clogged with debris. The under-seat breaker switch can be reset without changing parts.

Transmission

Convenient mono-shifter enables quick shifting between Reverse, Neutral, High, and Low range thanks to the unique single sliding detent mechanism inside the transmission case.
The engine can be started in any gear if one of the brakes is applied.
The KAPS (Kawasaki Automatic Powerdrive System) is a high-durability automatic CVT combined with a straight shifting High/Low/Reverse transmission designed to handle the massive power output of the Brute Force 750 engine.
KAPS takes advantage of the Brute Force 750's strong low end torque by engaging just off idle (approximately 1500 rpm) which contributes to the relaxed low speed riding and very smooth belt engagement.
The drive converter uses a four-finger spider that distributes loads better than a traditional three-finger spider. With the reduced loads per finger, CVT response is smoother and wear is reduced.
Hard chrome plating on the drive converter shaft improves surface texture to reduce bushing wear and to further improve CVT action.
Cooling fan cast into the drive sheave draws air from a cavity located below the handlebars via a rear-facing intake passage. This helps prevent the ingress of water, mud, dust, etc.
The driven converters' movable sheave slides on sealed, greased bushings for smoothest operation and longest wear. Four steel guide pins also operate within the sealed grease.
The two power pulses of the Brute Force 750's V-twin engine reduce stress on the CVT components compared to the one large power pulse of a big-bore single cylinder engine extending belt and CVT service life.
CVT sheaves are manufactured of high-pressure cast, high silicon aluminum (same as pistons) for best durability.
Kawasaki Engine Brake Control uses speed and direction sensors along with an electric servo for smooth operation. This system detects the ATV's speed, direction, and deceleration electrically. When the conditions are satisfied, the electric servo moves out to hold the CVT drive pulley closed thereby connecting the driving pulley with the driven pulley through the belt and then generating braking force from the engine.
The Kawasaki Engine Brake Control is an automatic engaging system. There's no need to apply throttle for the system to engage. Coasting forward in gear, the Kawasaki Engine Brake Control automatically engages to provide engine braking force. Additionally, whenever the key is turned off, a learner program in the engine brake controller measures and then self adjusts for belt wear to ensure consistent engine braking operation.
Kawasaki Engine Brake Control safety features ensure that the engine braking force only works when the ATV is moving forward and vehicle speed is more than 3 km/h.

Final Drive

Efficient "through engine" propeller shaft is lubricated using the same oil shared with the engine and transmission. The all-in-one case saves weight and controls the exacting tolerances between components.
"Through engine" design allows for very short, light, rigid drive shafts for thefront and rear final drives. Straight alignment of the drive shaft tothe front final drive case delivers power through sealed splines withno U-joints required.
Front and rear final drives use sturdy CV joints to feed power to the wheels.
Front outboard CV joints have an operating range of 50°.
Front CV joints can be independently disassembled, greatly easing outboard CV boot replacements.
Efficient "through engine" propeller shaft is lubricated using the same oil shared with the engine and transmission. The all-in-one case saves weight and controls the exacting tolerances between components.
Compact final gear case design contributes to incredible ground clearance allowing the KVF750 to go where others fear to tread.
Dual Cardan joints to the rear drive absorb torque fluctuations and reduce vibration through the rear drive shaft.
Electrically "selectable" 2WD/4WD system allows fast, easy switching between two andfour wheel drive to suit changing terrain and applications.
Rider controlled, variable front differential makes it much easier to get the ATV through difficult or slippery situations.
With the hand lever released, the system functions as a light limited slip differential providing excellent steering feel.
Pulling the lever increases the torque on the limited slip plates until the differential effectively locks. This fast acting, wide range offine-tuning ability is a technological feature unseen in otherindustries, let alone on competitors' ATV's.
Lever operation puts the rider in control. The rider decides how strong the system functions. Also, there's no delay as in some electrically switched systems; the system engages and disengages immediately as the rider pulls or releases the lever.
Reverse limiter (3600 rpm) automatically engages when reverse is selected to prevent excessive speeds or acceleration in reverse. An override push button on the left handlebar control assembly allows the rider to easily increase to fullpower if needed.

Chassis

High-tensile steel, double-cradle frame is very rugged.
New urethane seat offer increased ride comfort. The seat feels softer initially, but offers
firm support for comfort after long hours in the saddle.
Double wishbone suspension used front and rear ensures high ride comfort and ground
following ability, especially in the low and medium speed ranges.
Revised Suspension: Front & rear dual-rate springs enable sport performance with
increased comfort. Relatively firm settings maintain chassis composure at higher speeds.
Upper and lower front A-arms and lower rear A-arms use a combination of needle bearings
and spherical joints for high stability, smooth suspension action and superb ride comfort.
Reinforced rear knuckles are resistant to harsh riding conditions.
Tuned sway bar controls roll yet allows smooth independent movement of the rear wheels.
5-position adjustable spring preload, front and rear, allows tuning for varying loads.
The 4-bulb headlight cuts an impressive swath through dark nights.
Large 19 L fuel tank is located beneath the rear fender and operates via a high-pressure fuel
pump is located inside the tank. A unique reservoir chamber at the bottom of the fuel pump
ensures air does not get into the fuel system.
Instrument package mounts the instruments more vertically to suit the upright-seated
riding position. Multi-purpose, digital instrumentation includes speedometer, odometer,
tripmeter, fuel gauge, engine temperature indicator, clock, and hour meter. Indicator
lamps for neutral, reverse gear, 2WD/4WD, belt indicator, and oil warning are also fitted.
Fenders and body parts are made of thermo-plastic olefin (TPO) material featuring a
scratch resistant finish for long-wearing good looks. Fit and finish is excellent.
Accessory mounting brackets available for either a Super Winch or Warn brand
winch. In addition, North American models come standard with pre-routed tubing that
facilitates wiring routing.
Polished wheels make the Brute Force stand out from the crowd. The new wheel design
offers a large, flat surface that is easy to buff to a high sheen.
Dual-piston front brake calipers deliver powerful, progressive braking.
A "vehicle down" sensor automatically shuts off the fuel supply if the machine's attitude
becomes extreme. If the vehicle tips over or leans more than 65 degrees, the sensor
operates, cutting the ignition spark. The system automatically resets once the ATV is upright again.
Electrical equipment is conveniently located under the seat for easy access.
Convenient 12 V accessory outlets are provided at the front (10 Amp switched, cigarette
type) and rear (5 Amp unswitched, bullet type).
Carriers (especially front) are smaller, lighter, contributing to weight reduction. Hold 40 kg
up front and 80 kg in the rear, and are ideal for work, camping and many other tasks.
Standard equipment trailer hitch bracket is fitted with a standard ¾" bolt hole for a traditional trailer ball.
Colours
Woodsman Green
Super Black
Dark Royal Red
Camouflage Realtree APG
Metallic Nocturne Blue
2010 Kawasaki Brute Force 750 4x4i – USA Specifications
US MSRP* $8,699 – 9,049 USD
Engine Liquid-cooled, 90-degree, four-stroke V-twin

Valve system SOHC, four valves per cylinder

Displacement 749cc

Starting system Electric

Bore x Stroke 85 x 66mm

Compression ratio 8.8:1

Ignition TCBI with digital advance

Transmission Continuously variable belt-drive transmission with high and low range, plus reverse, and Kawasaki Engine Brake Control

Final drive Selectable four-wheel drive with Variable Front Differential Control, shaft

Frame Type Double-cradle, high tensile tubular steel

Front suspension / wheel travel Dual A-arm / 6.7 in.

Rear suspension / wheel travel Fully Independent, dual A-arm / 7.9 in.

Front Tire Size AT25x8-12

Rear Tire Size AT25x10-12

Front brakes Dual hydraulic 200mm discs with 2-piston calipers

Rear Brakes Sealed, oil-bathed, multi-disc

Overall length 86.4 in.

Overall width 45.9 in.

Overall height 48.5 in.

Wheelbase 50.6 in.

Ground clearance 9.7 in.

Seat height 35.6 in.

Lighting (4) 40W headlights, 5W taillight, 21W stoplight

Rack capacity, front / rear 88 / 176 lbs.

Towing capacity 1,250 lbs.

Curb weight 652.7 lbs.

Fuel capacity 5.0 gal.

Instruments Speedometer, odometer, dual trip meters, clock, hour meter, fuel gauge, 2×4/4×4 indicator, neutral indicator, reverse indicator, low fuel warning light, low oil warning light

Color Choices Woodsman Green, Metallic Nocturne Blue, Super Black and Dark Royal Red

Good Times™ Protection Plan 12, 24, 36 or 48 months

Warranty 12 Months

Fuel System DFI; (2) 36mm Mikuni throttle bodies

*Note: Specifications and pricing are subject to change.
2010 Kawasaki Brute Force 750 4x4i – Canada Specifications
Canadian MSRP* $11,799 ($12,199 – Camouflage Realtree APG or Metallic Nocturne Blue) CDN
ENGINE
Type 4-stroke 90° V-twin
Displacement 749 cc
Bore and Stroke 85 x 66 mm
Compression Ratio 8.8:1
Valve System SOHC, 4 valves per cylinder
Fuel System Fuel injection: ø36 mm x 2 (Mikuni)
Ignition Digital DC-CDI
Starting Electric (optional re-coil available)
Cooling Liquid

DRIVETRAIN
Transmission Dual range CVT with reverse
Primary Drive Belt converter
Final Drive Shaft, Electric 2WD / 4WD, rider controlled locking front differential
Primary Reduction Ratio 3.122 ~ 0.635 (belt converter)
Overall Drive Ratio: Forward (High) 42.32 ~ 8.61
Forward (Low) 66.02 ~ 13.43
Reverse 55.01 ~ 11.19

FRAME
Type Double cradle, high-tensile tubular steel
Suspension: Front Double wishbone, stepped spring preload adjustment
Rear Double wishbone, stepped spring preload adjustment
Wheel Travel: Front 171 mm
Rear 200 mm
Tires: Front AT 25 x 8-12
Rear AT 25 x 10-12
Tread (Front/Rear): 930 mm / 895 mm

BRAKES
Front Dual hydraulic with twin-piston calipers with 200 mm drilled discs
Rear Enclosed wet multi-plate
Parking Enclosed wet multi-plate

ELECTRICAL EQUIPMENT
Battery 12 V, 12 Ah, Maintenance Free
Charging Output 24.3 A, 14 V @ 6,000 rpm
Headlights (High/Low) 12 V, 40/40 W x 2
Headlight Marker Lights 3/3 W x 2
Tail/Brake Light 12 V, 5/21 W

DIMENSIONS
Overall Length 2,195 mm
Overall Width 1,166 mm
Overall Height 1,233 mm
Wheelbase 1,284 mm
Seat Height 903 mm
Curb Mass 296 kg (652.6 lbs.)
Fuel Capacity 19 litres

DETAILS
MSRP* $11,799 ($12,199 – Camouflage Realtree APG or Metallic Nocturne Blue)
Colours Woodsman Green, Dark Royal Red, Super Black, Camouflage Realtree APG, Metallic Nocturne Blue
Warranty 12 months

ADDITIONAL COST OPTIONS
Good Times Protection Plan 24 or 36 months (Kawasaki GTPP coverage begins after the standard limited warranty expires)
* The Manufacturer's Suggested Retail Price does not include freight, pre-delivery inspection or applicable taxes. The final price is at the discretion of the dealer. Prices and Specifications are subject to change without prior notice.
The specifications mentioned here apply to and have been achieved by production models under standard operating conditions. We intend only to give a fair description of the vehicle and its performance capabilities but these specifications may not apply to every machine supplied for sale. Kawasaki Heavy Industries, Ltd. reserves the right to alter specifications without prior notice. Equipment illustrated and specifications may vary to meet individual markets. Available colours may vary by market.