Back to 2011 Honda ATV Quad Models Index Page
Click photos to enlarge.
They make great desktop images.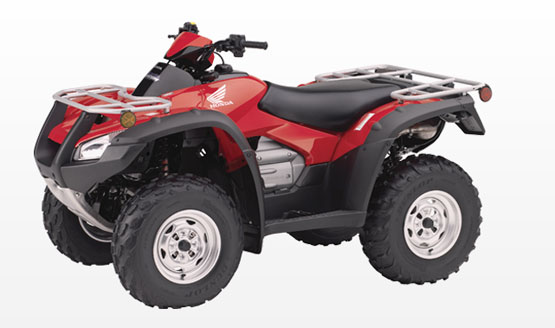 2011 Honda FourTrax Rincon TRX680F
– 2011 Honda FourTrax Rincon TRX680F

2011 Honda FourTrax Rincon TRX680F
For big performance that's easy to handle, the Honda TRX680F Rincon runs circles around the open-class competition. With its fuel-injected 675 cc liquid-cooled engine, rugged automotive-style automatic transmission, and independent front and rear suspension, the Rincon is built to handle tough trails with ease. But what really sets the Rincon apart is how its low weight and low centre of gravity combine to let you float over bumps with amazing comfort and control. You get all the performance of a big ATV plus the sure handling of a middleweight. It's the perfect combination for ATV fun.

2011 Honda FourTrax Rincon TRX680F Features:

Engine/Drivetrain

Liquid-cooled overhead-valve single-cylinder fuel injected 675 cc four-stroke engine is mounted longitudinally in the frame, allowing direct driveshaft alignment to front and rear wheels for improved drivetrain efficiency.

Liquid cooling provides consistent engine operating temperature in extreme conditions for maximum power output and long engine life.

Camshaft is located adjacent to the cylinder head, reducing engine height. Together with the semi-dry sump, engine height is further reduced for a low centre of gravity and excellent handling.

Four-valve cylinder head with two short pushrods provides a broad powerband for optimum performance and engine efficiency.

PGM-FI electronic fuel-injection system features a 40 mm throttle body, 12-hole two-pattern injector, and Idle Air Control Valve (IACV) providing reliable cold-weather starting and consistent engine performance at high altitudes.

IACV valve maintains consistent idle in all conditions.

Remote-mounted fuel pump with internal fuel reservoir maintains consistent fuel-injection performance in rough and varying terrain.

Engine design meets California Air Resources Board (CARB) off-road emissions standards.

Stainless steel exhaust system provides superior corrosion resistance and minimizes noise levels. The muffler includes a spark arrester that is USDA Forest Service certified for use in regulated or sensitive environments.

Unique semi-dry-sump oiling system locates the oil tank inside the engine cases, lowering engine height and allowing optimum engine placement for excellent ground clearance and superb handling.

Standard high-flow oil cooler assures optimal engine lubrication under difficult operating conditions.
The multiple-scavenging oil system utilizes an oil pump with three sintered steel rotors (one for feed, two for scavenge) to provide a stable oil supply in diverse riding conditions.

Unique temperature indicator uses two sensors to monitor both oil and coolant temperatures.

High-capacity coolant radiator is rated at 20.2 kW for efficient engine cooling in extreme operating conditions.

Compact, flat-shaped radiator fan motor is lightweight and contributes to optimum engine placement.

Rubber-cushion engine mounting system and gear-driven counterbalance shaft reduce engine vibration.

A closed crankcase vent system safeguards against engine oil contamination.

Switchable 2WD/4WD is easily engaged with a simple thumb-switch on the right handlebar. An electromagnetic mechanical clutch unit located on the centre of the propeller shaft engages 4WD with a quiet two-way roller clutch. The system ensures smooth operation by employing a magnetic switching mechanism that engages when front and rear wheel speeds vary by less than 9.6 km/h.

Torque-sensitive front differential provides superior traction compared to conventional limited-slip designs, and reduces torque steer substantially for less steering effort in 4WD mode.

The rear driveshaft joins the rear final-drive gearcase at a 77-degree angle, eliminating the weight and complexity of an additional shaft and joints. The design also contributes to the Rincon's considerable 203 mm (8 inches) of rear-wheel travel.

The automotive-style Honda automatic transmission features a hydraulic torque converter, three hydraulic clutches and an electronic control unit (ECU) to automatically select one of three forward gears and one reverse gear. The ECU monitors throttle opening, vehicle speed, engine rpm, gear selector position, brake application and engine oil temperature.

The Honda automatic transmission shifts electronically — eliminating unsightly and trouble-prone vacuum lines — and features engine braking, unlike conventional belt-drive designs.

The transmission features a filtration system to protect against external contamination. The compact and maintenance-free design means there are no belts to wear out and replace. Using multi-filtered engine oil as hydraulic fluid, the design also simplifies maintenance and ensures an adequate oil supply in all operating conditions.

Electric Shift Program (ESP) allows the rider to manually select gears by simply pressing either the arrow up or the arrow down push-buttons mounted on the left handlebar to upshift or downshift.

A handlebar-mounted control switches the automatic transmission between ESP mode and automatic operation.

A convenient column-style shift lever permits the rider to easily select Drive, Neutral or Reverse.
Chassis/Suspension

A rugged steel perimeter frame and four-wheel independent suspension provide an exceptional 234 mm (9.2 inches) of ground clearance.

Extensive weight-saving measures include the use of aluminum for the following components: forged front upper control arms, rear upper and lower control arms, rear knuckles, front and rear wheels.

A separate rear frame utilizes the final-drive gear case as a stressed member, reducing overall vehicle weight.

The Rincon's steering mechanism design allows light steering effort and a tight turning radius of 3.3 metres (10.8 feet).

Independent double-wishbone front suspension uses premium shock absorbers to provide 175 mm (6.9 inches) of suspension travel for a plush, comfortable ride.

Honda's Independent Rear Suspension (IRS) uses a double-wishbone design and features forged aluminum knuckles and upper/lower A-arms to substantially reduce unsprung weight. The rear knuckle pivots use lightweight metal bushings in place of conventional ball joints and radius arms, eliminating toe-in as the rear suspension travels through its stroke. This simple design maintains rear wheel alignment and further reduces unsprung weight, contributing to responsive overall handling.

Lightweight single-tube gas-charged rear shocks and an anti-sway bar provide plush, well-controlled damping throughout the Rincon's exceptional 203 mm (8 inches) of wheel travel.

Dual front disc brake calipers feature a patented built-in scraper system to remove mud and snow from inside the front wheel to help prevent build-up of debris between caliper and rim to ensure consistent braking performance.

Brake pads feature thick, long-wear material with improved mud durability, feel and control. Pads feature internal scraper that gives audible warning when pad life is low.

A rear centre hydraulic disc brake and self-adjusting mechanical rear parking brake are mounted on the rear driveshaft, further reducing unsprung weight and contributing to the Rincon's considerable ground clearance.

Radial tires provide a smooth ride and exceptional handling. Tough, large-diameter 25 x 8 – 12 front tires and 25 x 10 – 12 rear tires provide added ground clearance.

Attractive large-diameter 12-inch aluminum wheels further reduce unsprung weight and contribute to superb handling.
Additional Features

Multi-function LCD digital instrumentation is compact, tough and waterproof, featuring large readouts for gear selector position, speedometer, odometer, resettable tripmeter and hourmeter/clock. Instrument housing includes LED lights for Drive, Neutral, Reverse, temperature warning and EFI warning indicator and a fuel gauge.

Durable, comfortable, easy-to-use controls include a keyed ignition switch for added security and a parking brake.

Convenient electric start plus a lightweight auxiliary recoil starter and an engine's automatic internal decompression system ensure an easy start every time.

A tough rubber cover protects the gear-shift button from dirt, water and mud.

Waterproof accessory socket provides 12-volt, 10-amp power with a built-in temperature-type fuse.

Thickly padded seat uses dual-density foam to provide excellent riding comfort.

Large, lightweight plastic fuel tank with 16.3-litre capacity, including 4.3-litre reserve.

Side-opening compartment has 4 litres of storage capacity and can be opened when the rider is seated.

1 year, transferable limited warranty.
2011 Honda FourTrax Rincon TRX680F – Specifications
American MSRP: Model Not Available
Canadian MSRP: $9,999 CDN
Engine Type Liquid-cooled longitudinally mounted single-cylinder four-stroke

Displacement 675 cc

Bore & Stroke 102 mm x 82.6 mm

Compression Ratio 9.2:1

Valve Train OHV, 4-valve

Fuel Delivery PGM-FI electronic fuel-injection

Transmission Fully automatic electronically controlled automotive-type three-speed with selectable ESP and reverse

Final Drive 2WD/4WD; direct front and rear driveshafts with switchable 2WD/4WD and torque-sensing front differential

Front Suspension Independent double-wishbone with hydraulic shocks; 175 mm (6.9 in.) travel

Rear Suspension Independent double-wishbone with hydraulic shocks; 203 mm (8 in.) travel

Tires 25×8 – 12 front; 25 x 10 – 12 rear

Brakes Front dual 180 mm hydraulic discs; rear single hydraulic disc

Length 2,113 mm (83.2 in.)

Width 1,189 mm (46.8 in.)

Ground Clearance 234 mm (9.2 in.)

Seat Height 875 mm (34.5 in.)

Wheelbase 1,289 mm (50.8 in.)

Curb Weight 294 kg (648 lb) including required fluids and full tank of gas – ready to ride

Fuel Capacity 16.3 litres, including 4.3-litre reserve

Colour Red