Back to 2011 Honda ATV Quad Models Index Page
Click photos to enlarge.
They make great desktop images.

2011 Honda TRX500PG CTE Canadian Trail Edition Rubicon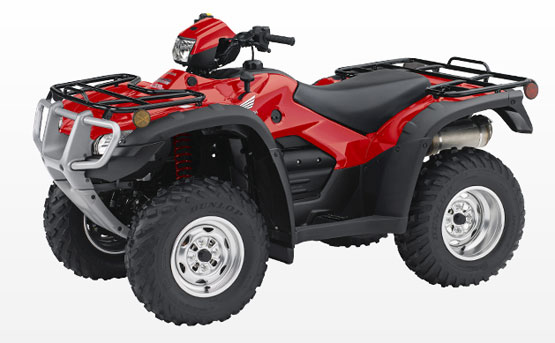 2011 Honda TRX500PG CTE Canadian Trail Edition Rubicon
– 2011 Honda TRX500PG CTE Canadian Trail Edition Rubicon

2011 Honda TRX500PG CTE Canadian Trail Edition Rubicon
With its tough-as-granite durability, strong engine performance at work or at play, and confident, comfortable handling, the Honda TRX500PG Canadian Trail Edition Rubicon has become a favourite among ATV riders right across this big country. Venture onto a rugged trail, and right away you'll appreciate the Rubicon's light weight, stable suspension geometry and low centre of gravity. And thanks to Honda's Electric Power Steering (EPS) and specially calibrated and adjustable front and rear shocks developed and tested right here in Canada, that rock-solid stability doesn't come at the expense of rider comfort and ease of use. So set the Rubicon's GPScape to guide you to your favourite fishing hole, then get ready to enjoy ATV performance that's as big and bold as this country of ours.


2011 Honda TRX500PG CTE Canadian Trail Edition Rubicon Features:

Engine/Drivetrain

Liquid-cooled overhead-valve single-cylinder 499 cc four-stroke engine is mounted longitudinally in the frame, allowing direct driveshaft alignment to front and rear wheels for improved drivetrain efficiency.

Liquid-cooling provides consistent engine operating temperature in extreme conditions for maximum power output and long engine life.

Camshaft is located adjacent to the cylinder head, reducing engine height. Together with the external engine-oil tank, engine height is further reduced for a low centre of gravity and excellent handling.

Four-valve cylinder head utilizes two short pushrods to provide a broad powerband for optimum performance and engine efficiency.

Unique dry-sump oiling system attaches the oil tank to the front of the engine cases, lowering engine height and allowing optimum engine placement for excellent ground clearance and superb handling.

Standard high-flow oil cooler ensures optimal engine lubrication under difficult operating conditions.

The multiple scavenging oil system utilizes an oil pump with three sintered steel rotors (one for feed, two for scavenge) to provide a stable oil supply in diverse riding conditions.

Unique temperature indicator uses two sensors to monitor both oil and coolant temperature.

High-capacity coolant radiator is rated at 17.2 kW for efficient engine cooling in extreme operating conditions.

Compact, flat-shaped radiator fan motor is lightweight and contributes to optimum engine placement.

Rubber-cushion engine mounting and gear-driven counterbalance shaft reduce vibration.
. Integral electric carburetor heater system improves driveability and ensures smooth operation in cold conditions.

Convenient electric starter plus a lightweight auxiliary recoil starter and an engine's automatic internal decompression system ensures easy start every time.

Solid-state CD ignition with electronic advance for excellent performance and reliability.

Stainless steel exhaust system provides superior corrosion resistance.

A closed crankcase vent system safeguards against engine oil contamination.

Switchable 2WD/4WD enables the rider to shift between 2WD and 4WD with the simple push of a switch. Quiet operation and smooth engagement are key features of the system. An electromagnetic mechanical clutch unit located on the centre of the propeller shaft engages 4WD with a quiet two-way roller clutch. Unlike mechanical designs, this ensures smooth operation by employing a magnetic switching mechanism that engages when front and rear wheel speeds vary by less than 9.6 km/h.
The Hondamatic transmission utilizes variable hydraulic pressure and mechanical torque amplification to provide seamless job-handling power and excellent acceleration. Engine power drives a hydraulic pump. The pump, in turn, drives a hydraulic motor with variable fluid capacity. Utilizing pump and motor pistons and a variable-pitch motor-side swash plate, hydraulic capacity and pressure are varied, producing continuously variable output speed. In addition, torque is increased as output-shaft speed is reduced.

The Hondamatic is extremely efficient, with operating efficiencies ranging from 75-81 percent in full-reduction mode and from 87-92 percent when input and output speeds are the same (1:1 ratio).

The Hondamatic is fully sealed, compact and maintenance-free, with no belts to wear out and replace.

The Hondamatic allows true engine braking — using the resistance produced by the compression of the engine when off throttle to slow the vehicle — unlike conventional belt-drive designs.

Versatile rider controls provide a shift lever to select Drive, Low, Neutral and Reverse.

The Hondamatic uses multi-filtered (one large-capacity filter and three strainers) engine oil as hydraulic fluid, simplifying maintenance and ensuring an adequate oil supply in all operating conditions.

Unique torque-sensitive front differential provides superior traction compared to a conventional limited-slip design, and reduces torque steer substantially for less steering effort.
Chassis/Suspension

Honda's revolutionary Electric Power Steering (EPS) system monitors steering torque and vehicle speed to adjust the levels of steering assist and feel. When stopped or at low speeds, it provides more assistance for light steering effort. As speed increases, the amount of assistance is reduced to provide the appropriate level of feedback. The most significant benefit is that the system will provide light and consistent steering feel in both 2WD and 4WD operation. As a secondary benefit, the EPS system acts as a steering damper to greatly reduce undesirable kickback through the handlebars in rough or rocky terrain, thereby helping to reduce rider fatigue.

Dual front disc brake calipers feature a patented built-in scraper system to remove mud and snow from inside the front wheel to help prevent build-up of debris between caliper and rim and ensure consistent braking performance.

Brake pads feature thick, long-wearing material with improved mud durability, feel and control. Pads feature internal scraper that gives audible warning when pad life is low.

Rugged frame and suspension provide 190 mm (7.5 inches) of ground clearance.

Steering mechanism design features light effort and a tight turning radius of 3.3 metres (10.8 feet).

Suspension calibrated specifically for Canadian trail conditions, offering improved comfort and control. Canadian Trail Edition features different suspension springs, different spring rates, different rebound and compression damping settings, as well as revised front to rear balance. Together these suspension settings provide improved ride, handling and control in Canadian trail conditions.

Independent double-wishbone front suspension uses premium adjustable shock absorbers to provide 170 mm (6.7 inches) of suspension travel for a plush, comfortable ride.

Steel swingarm and dual rear adjustable shock absorbers provide 170 mm (6.7 inches) of suspension travel for superb comfort and compliance.

Attractive, large-diameter 12-inch aluminum wheels reduce unsprung weight for excellent ride and handling.

Tough, large-diameter 25 x 8 – 12 front, 25 x 10 – 12 rear tires for precise handling.
Additional Features

GPScape global positioning system is contained within the standard meter assembly and features storage for up to 100 waypoints, digital compass function indicating travel direction and an automatic compensating clock. When travelling or returning to a designated waypoint, GPScape will tell the rider distance and direction from present location.

Available NaturalGear camouflage colour scheme offers a pattern that's soft, open, and shadow-free for superior camouflage performance in a wide variety of conditions. A special application process ensures superior durability.

Water-resistant storage is integrated into body work.

Engine design produces low emissions and meets California Air Resources Board (CARB) off-road emissions standards.

Multi-function LCD digital instrumentation is compact, tough and waterproof, featuring large readouts for Hondamatic transmission modes, gear selector position, speedometer, fuel gauge, odometer, resettable tripmeter and hourmeter/clock. Instrument housing includes LED lights for Reverse, Neutral and temperature warning indicator.

Waterproof accessory socket provides 12-volt, 10-amp power with a built-in temperature-type fuse.

Large, lightweight plastic fuel tank with 15-litre capacity, including 2.5-litre reserve.

Digital fuel gauge.

Snorkel-type air intake system is specially designed to admit air without water intrusion during water crossings.

Thickly padded seat provides excellent comfort.

Uniquely designed floorboards allow the rider's feet to grip the footrests while keeping mud and debris away.

Over-fenders give excellent mud protection.

Reusable foam air filter.

Quiet spark arrester/muffler.

Powerful 361-watt alternator.

Tough 12-amp-hour maintenance-free battery.

Triple headlight system with single directional 45-watt steering mounted upper light and dual 30-watt lower lights with multi-reflector lenses for optimal light distribution plus a 21-watt stoplight and taillight.

Large front and rear cargo racks are rated at 30 kg (66 pounds) and 60 kg (133 pounds), respectively.

Heavy-duty trailer hitch with towing capacity of 385 kg (850 pounds) .

Unique rear-opening storage compartment allows access when rack is loaded.

Constant-velocity-joint boot guards help prevent damage to boot covers.

Durable, comfortable, easy-to-use controls.

Keyed ignition switch for added security.

Triple skid plates.

Easy-to-use parking brake.

Top-mounted choke lever for simple operation.

Standard tool kit includes a tire-pressure gauge.

1 year, transferable limited warranty.

2011 Honda TRX500PG CTE Canadian Trail Edition Rubicon – Specifications
American MSRP: Model Not Available
Canadian MSRP: $9,699 solid, $10,049 camo CDN
Engine Type Liquid-cooled longitudinally mounted single-cylinder four-stroke

Displacement 499 cc

Bore & Stroke 92 mm x75 mm

Compression Ratio 9.2:1

Valve Train OHV, 4-valve

Fuel Delivery Single 36 mm CV carb

Transmission Fully automatic electronically controlled hydromechanical with selectable ESP and reverse

Final Drive 2WD/4WD; direct front and rear driveshafts with switchable 2WD/4WD and torque-sensing front differential

Front Suspension Independent double-wishbone with adjustable hydraulic shocks; 170 mm (6.7 in.) travel

Rear Suspension Swingarm with dual adjustable hydraulic shocks; 170 mm (6.7 in.) travel

Tires 25 x 8 – 12 front; 25 x 10 – 12 rear

Brakes Front dual 180 mm hydraulic discs; rear sealed mechanical drum

Length 2,108 mm (83 in.)

Width 1,188 mm (46.8 in.)

Ground Clearance 190 mm (7.5 in.)

Seat Height 861 mm (33.9 in.)

Wheelbase 1,285 mm (50.6 in.)

Curb Weight 294 kg (648 lb) including required fluids and full tank of gas – ready to ride

Fuel Capacity 15 litres, including 2.5-litre reserve

Colour Red, Camo (optional)