Back to 2011 Kawasaki ATV Quad Models Index Page
Click photos to enlarge.
They make great desktop images.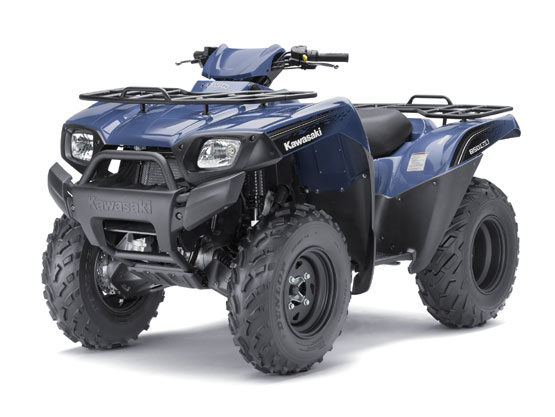 2011 Kawasaki Brute Force 650 4x4i
– 2011 Kawasaki Brute Force 650 4x4i

2011 Kawasaki Brute Force 650 4x4i
Power and plushness
Buyers seeking a middleweight workhorse ATV that also offers a comfortable and refined ride should look no further than the Kawasaki Brute Force® 650 4x4i. Its combination of independent front and rear suspension and V-twin power means it can easily handle both outdoor chores and a fun trail rides. All this is available in a surprisingly economical package.
The Brute Force's 90-degree V-twin puts out ample low-to-mid range torque and high rpm power, perfect to meet challenges presented by adventure enthusiasts and outdoor sportsmen. Power is transferred from the engine to the wheels through a fully automatic, dual range continuously variable transmission (CVT). With low and high forward, neutral and reverse gears, this dependable transmission provides excellent control for both low- and high-speed work or recreational riding.
Two- or four-wheel drive is selectable by simply pressing a handlebar-mounted button. In four-wheel drive mode, the rider can manage the amount of power to both front wheels with Kawasaki's Variable Front Differential Control by pulling a small control lever on the left handlebar. This is a definite advantage for traversing deep mud, slippery uphill trails or large objects such as logs or rocks.
Prudent use of aluminum in the construction of the front exhaust pipe cover, two-piece center exhaust pipe cover, and the muffler cover helps keep the weight down. Other features designed to enhance the Brute Force 650 4x4i's power-to-weight ratio include drilled transmission gears to lower their overall weight.
An optimized caster angle for the front A-arms provides both light and responsive steering and excellent ground-following abilities. The 650 4x4i shock absorber spring rates and initial preload settings for both front and rear are set to deliver excellent ride comfort. Further ride enhancement comes from the plush urethane seat foam.
Like its Kawasaki IRS-equipped brethren, the rugged, take-on-anything styling of the Brute Force 650 4x4i will both attract onlookers and satisfy owners. It shares front/rear racks, skid plate and head light cover with its larger sibling. Designed for easily manhandling the Brute Force when the need arises, the 650 4x4i sports a steel front bumper.
Stopping the 650 4x4i is a combination of dual 200mm front discs and Kawasaki's sealed, oil-bathed, multi-disc rear brake system. As an integrated part of the shaft drive, the enclosed rear braking system is sealed in the aluminum swingarm where it operates in an oil bath. This protects the brake pads from mud, dust and debris, and is virtually maintenance-free.
Enhancing the high-performance brakes is the Kawasaki Engine Brake Control system, which electronically monitors ground speed and uses the engine's compression to help slow the Brute Force 650 4x4i under certain conditions.
The able ATV can pull a hefty 1,250 pounds, and it can carry a combined 264 pounds on its front and rear racks. Owners can expand the versatility of their Brute Force 650 4x4i via the extensive line of Authentic Kawasaki Accessories, available through Kawasaki dealers.
As with all off-highway vehicle recreation, Kawasaki encourages ATV riders to ride responsibly and to respect the environment. Kawasaki will pay first-time buyers of a new Kawasaki ATV $100 for completing an ATV rider safety course conducted by the ATV Safety Institute (ASI). Interested consumers can call ASI toll-free at 800-887-2887.
Key Features:

633cc Liquid-cooled, Four-stroke V-twin Engine
– 90-degree V-twin with four valves per cylinder produces massive torque yet is exceptionally smooth running
– V-twin design and 80mm x 63mm oversquare bore and stroke help produce high torque with a broad, user-friendly curve
– Durable all-aluminum cylinders with electrofusion coating help the engine produce more power
– Using aluminum bores instead of cast iron cylinder liners improves heat dispersion and reduces weight
– Large-capacity radiator provides consistent cooling, allowing close engine tolerances, quiet running, and ultimate durability
– The reservoir cooling hose end is positioned to prevent mud clogging
– Thermostatically controlled fan keeps engine cool regardless of vehicle speed
– Twin CVKR-34 carburetors are mounted in a downdraft position, providing the fuel mixture with a straight shot into the combustion chamber for improved efficiency, quicker throttle response and more power
– Electronically controlled Kawasaki Engine Brake Control helps to slow the ATV under certain conditions
Snorkel Air Intake
– Airbox design provides easy access to simplify maintenance
– Oval-type air filter provides large intake area and reduces dust build-up on the filter
Transmission and Powertrain
– Fully automatic Kawasaki Automatic Power-drive System (KAPS) continuously variable transmission (CVT) has high and low forward gears plus reverse
– Shifting timed in higher rpm range for snappy throttle response and aggressive acceleration
– Water drain hole in drive pulley cover prevents mud from clogging the release bearing for added durability
– The drive converter shaft is hard chrome finished for durability
– Belt Check indicator lamp is easy to see
– Exclusive variable front differential allows riders to control the amount of power delivered to both front wheels with the limited-slip front differential for maximum traction on difficult terrain
– Selectable two
– or four-wheel drive for changing terrain and applications done with the flip of a switch
Independent Front Suspension
– Double wishbone and coil-over-shock absorbers with adjustable preload provide a comfortable ride with 6.7 inches of suspension travel
– A-arm caster angle provides light steering
– Aluminum steering knuckles are tough and feature added protection for the CV boots
– Constant velocity joints at the front wheels have a wide operating range for durability. The joints can also be independently disassembled to simplify maintenance
Independent Rear Suspension
– Double wishbone and preload adjustable shock for each rear wheel provides superior ride comfort and ground following ability
– Torsion bar helps minimize body roll
Brake System
– Dual-piston caliper front disc brakes provide aggressive stopping power
– Multi-disc rear brake system is totally enclosed within the rear gear case
– Compact design provides more ground clearance at the rear end
– An integrated part of the shaft drive, the virtually maintenance-free rear braking system is protected from mud, dust and debris
Rugged Bodywork
– Thermoplastic Olefin (TPO) bodywork has a high gloss finish for great looks and is more scratch resistant than polyethylene, so it stays looking good longer
– Dual compartments on the front fenders provide convenient storage. Optional storage cylinder at the rear matches the muffler shape for a sporty, balanced appearance
Spacious Cockpit
– Comfortable, upright seating position combines with the independent rear suspension for a luxurious ride
– Wide seat for increased rider comfort
Additional Features
– Trailer hitch bracket with 1,250-pound towing capacity is standard equipment
– Digital speedometer, odometer, twin trip meters, clock, hour meter and fuel gauge are mounted at a steep angle and have a visor to make the instruments more visible from the upright seating position
– Tire and wheel design provides an integrated look with aggressive bodywork as well as superb traction
– Recoil starter available as an an optional part
2011 Kawasaki Brute Force 650 4x4i – Specifications
American MSRP $8,099 US
Canadian MSRP $9,999 CDN
Engine: Four-stroke, V-twin, liquid-cooled, SOHC, four-valve
Displacement: 633cc
Bore x Stroke: 80 x 63mm
Compression ratio: 9.9: 1
Carburetion: (2) Keihin CVKR-D32
Starting system: Electric
Ignition: DC-CDI
Transmission: KAPS, Dual Range with Reverse, 2WD/4WD, and Kawasaki Engine Brake Control
Final drive: 2×4 / 4×4 shaft
Frame Type: Double cradle, tubular steel
Front suspension / wheel travel: Dual A-arms, two shocks with five-way preload adjustment / 6.7 in.
Rear suspension / wheel travel: Dual A-arms, two shocks with five-way preload adjustment / 7.9 in.
Front Tire Size: AT25x8-12
Rear Tire Size: AT25x10-12
Front brakes: (2) Dual-piston disc
Rear Brakes: Sealed, oil-bathed, multi-disc
Overall length: 86.4 in.
Overall width: 45.9 in.
Wheelbase: 50.6 in.
Ground clearance: 9.7 in.
Seat height: 35.6 in.
Lighting, headlights: (2) 40W headlights, 5W taillight, 21W stoplight
Total rack capacity: 264 lbs.
Towing capacity: 1,250 lbs.
Curb weight: 652.7 lbs.
Fuel capacity: 5.4 gal.
Instruments: Digital speedometer, odometer, dual trip meters, clock, hour meter, fuel gauge, 2×4 / 4×4 indicator light, neutral indicator light, reverse indicator light, low fuel warning light, low oil warning light
Color Choices: Dark Royal Red
Good Times™ Protection Plan: 12, 24, 36 or 48 months
Warranty: 12 Months