Back to 2011 Kawasaki ATV Quad Models Index Page
Click photos to enlarge.
They make great desktop images.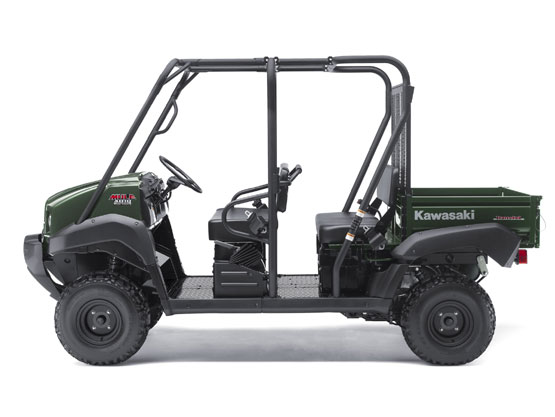 2011 Kawasaki Mule 4010 Trans 4×4 Diesel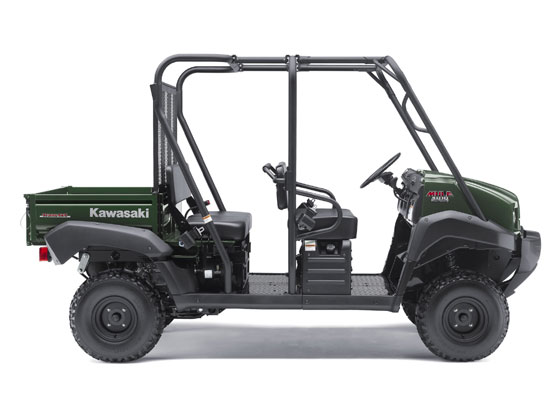 2011 Kawasaki Mule 4010 Trans 4×4 Diesel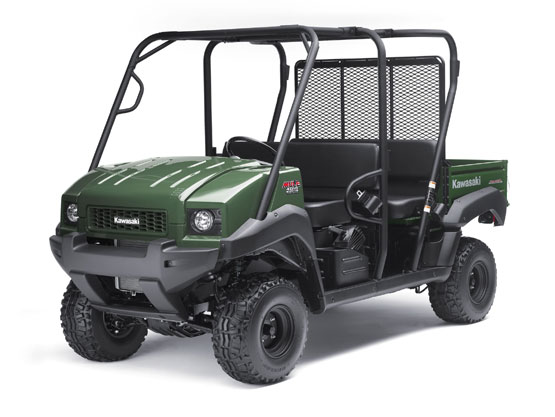 2011 Kawasaki Mule 4010 Trans 4×4 Diesel
– 2011 Kawasaki Mule 4010 Trans 4×4 Diesel

2011 Kawasaki Mule 4010 Trans 4×4 Diesel
The Max-Function, Max-Torque, Max-Durability Utility Vehicle
This one's a no-brainer: If you're looking for the most functional, most useful and most durable utility vehicle on the market, look no further than the 2011 Kawasaki Mule™ 4010 Trans4x4® Diesel.
The Trans4x4 truly does it all, from people hauler to cargo hauler to everyday workhorse. The key to all this functional flexibility is the Trans4x4's convertible design, as it only takes a moment to go from two-passenger, long-bed, cargo-hauler configuration to four-person, short-bed mode. Plus there's the peace of mind that comes with a diesel engine, a design renowned for its long-haul durability and reliability. This powerful and torquey three-cylinder engine teams up with selectable four-wheel drive, electric power steering (EPS) system, a fully automatic transmission and locking rear differential to make the handy Mule 4010 Trans4x4 Diesel an outstanding choice for practically every utility vehicle role. Producing 38.3 lb.-ft. of torque @ 2,800 rpm, this 953cc engine has enough low-end pulling power to tackle the heaviest workloads.
This diesel engine is matched to the Kawasaki Automatic Power-Drive System (KAPS), a continuously variable transmission (CVT) that features a high and low range, reverse, and the ability to keep engine rpm in the most efficient range for any selected vehicle speed, load, or terrain. It yields a wide drive ratio spread for ample pulling power and quick acceleration.
Large torque converters maximize belt engagement area for optimal heat dissipation, strength and durability. Wear is reduced by the use of a thick, strong drive belt and sheaves with high silicon-type material. Tuned specifically to accommodate higher payloads, the KAPS' durability is further aided by cooling the torque converter with filtered air from a special air cleaner with an easily replaceable element and an efficient fan to move sufficient cooling air through the CVT. A high-flow cover also helps lower CVT temperatures while providing superb splash protection and resistance to water intrusion.
This reliable system transmits power to a dual-mode locking rear differential through a dependable, low-maintenance shaft drive. The Trans4x4 Diesel also sports a limited slip front differential and two-speed transfer case for the four-wheel drive system, allowing the operator to engage four-wheel drive for extra traction and pulling power in difficult conditions.
A cyclone-type Donaldson® air filter system with a replaceable paper element supplies the engine with clean air. This efficient design needs less frequent cleaning, even with repeated use in extremely dusty off-road conditions. Helping the filter stay clean and last longer – especially in the rugged conditions for which this Kawasaki was built – is a design in which engine air and converter cooling air are both drawn from the top of the cab frame, where there's less dust.
The wheelbase of the Mule 4010 Trans4x4 Diesel may be 85.2 inches, but it still offers a tight turning radius and excellent rough terrain capabilities. Electric power steering (EPS) makes the low-effort rack-and-pinion steering system even easier to turn. The EPS reduces steering effort by up to 30 percent, and is a significant boost at low speeds in four-wheel drive, using input from vehicle speed and torque sensors to determine how much assistance is provided by the system's electric motor. It also harnesses the electric motor's inertia to dampen much of the bump steer and kickback associated with front wheel impacts. The system works immediately after the engine is started, but doesn't create a power drain on the engine.
With the forward/reverse, high/low-range gear lever and the four-wheel drive selector all within easy reach on the dash, drivers can focus more attention on negotiating rough or fragile terrain. The operator-friendly Mule 4010 Trans4x4 Diesel dashboard also features a digital hour meter, horn, speedometer, a 12-volt, 10-amp DC outlet and a push-button switch for the headlights. A parking brake and coolant temperature warning light in plain view, dual sealed glove boxes plus retractable rear seat belts and a padded rear-passenger grab handle round out the cab features.
Maintenance chores are simplified with an air restrictor gauge in the cab to indicate when the air filter needs to be cleaned or replaced, and the fuse box and oil dipstick are conveniently located underneath the seat for quick access.
With its modern and rugged bodywork, this four-wheel drive utility vehicle is a natural in tough work environments. Its body panels are manufactured from durable, color-molded plastic that helps hide minor scuffs and scratches. The extendable cab is surrounded by the large-diameter steel tube frame structure.
The front hood can be opened with the pull of a dash-mounted knob and allows access to a deep storage space equipped with convenient D-rings to help secure cargo. Additionally, two levers make opening and closing the tailgate a secure and easy process. The convenience factor on the Trans4x4 Diesel extends beyond easy-access latches or controls; it also boasts owner-friendly features like the winch-ready tabs located under the front grille, which greatly simplify the winch-mounting process.
A smooth-riding MacPherson strut front suspension works in conjunction with a heavy duty DeDion-type leaf spring rear suspension system to provide the Trans4x4 with a extended-bed 1,100-pound cargo capacity, or a 400-pound cargo capacity when in four-passenger mode. Large 23-inch low-pressure tires provide additional ride comfort, great traction and help minimize impact over a variety of terrain. Effective stopping power is provided by four hydraulically operated, self-adjusting, sealed drum brakes designed to resist contamination from water, mud and other debris.
In addition to its stellar payload capacity, the Mule 4010 Trans4x4 Diesel utility vehicle can tow up to 1,200 pounds with an optional draw bar. Other popular accessories include an enclosed cab, cab heater, snow plow, and soft or hard tops. These and many other Authentic Kawasaki Accessories are available through Kawasaki dealers.
Key Features:

At a glance…
– Renowned diesel performance, reliability and economy
– Two or four seats with revolutionary transformable design
– Fully automatic transmission with selectable two
– or four-wheel drive
– Modern styling and low operating costs
– Electric power steering system (EPS)
Four-passenger, Off-road, Four-wheel Drive Utility Vehicle with Transformable Cargo Bed
– Two rows of seats easily accommodate up to four persons
– Rear seat can be folded down and the cargo bed expanded to carry larger payload – 1,100 pounds with two passengers, 400 pounds with four passengers
– Retractable lap belts
Engine
– Liquid-cooled, three-cylinder diesel engine produces substantial torque – 38.3 lb-ft @ 2,800 rpm – and exceptional fuel economy
– Perfect for commercial job sites where diesel fuel is readily available
– Exhaust pipe routing allows easy hydraulic lift kit installation
– Overhead valve design maximizes efficiency
– Cast iron block and head help ensure extreme durability
Environmentally Friendly Emissions
– Positive crankcase ventilation system sends blow-by gases to the intake tract to be burned in the engine
– Muffler has a U.S. Forest Service-approved spark arrestor
Cyclone-type Engine Air Cleaner
– Cyclone design is effective and needs less frequent cleaning even in extremely dusty conditions
– Restriction gauge tells when to change the filter
– Donaldson® air cleaner has a replaceable paper element
Cab Frame Air Intake
– Draws engine air and converter cooling air from the top of the cab frame where there is less dust, so air filters last longer
Heavy-duty Battery and Alternator
– 52 amp-hour battery provides positive starts while the high-output, 40-amp alternator keeps the battery charged
Kawasaki Automatic Power-drive System (KAPS)
– Fully automatic continuously variable transmission (CVT) features forward high and low and reverse, and helps keep the engine in the right operating rpm for a variety of vehicle speeds, loads or terrain
– The CVT has a wide spread of drive ratios for quick acceleration and ample pulling power
– Tuned to accommodate higher loads
– Large drive and driven torque converters maximize engagement area of the thick and strong drive belt for improved heat dissipation and added durability
– High-flow cover helps cool the CVT while providing superb splash protection and waterproofing
– Sheaves with high silicon type material for increased durability
– An open-sided drive pulley cools better for longer belt life
– Offers adjustable belt deflection
Torque Converter Air Filter
– Efficient intake cooling fan draws plenty of air into the CVT
– Special air cleaner with easily replaceable filter element cuts torque converter wear by cooling it with filtered air
Dual-mode Differential
– Strong bevel gear set and rear axle offer increased durability
– Locked mode maximizes traction, unlocked mode minimizes ground disturbance
Limited-slip Front Differential
– Allows great traction with little steering effort
Four-wheel Drive with Two-speed Transfer Case
– Selectable four-wheel drive gives the operator traction options
– Shift to four-wheel drive and low range for maximum traction in adverse conditions, or select two-wheel drive and high range to cut gear wear and increase fuel economy
Electric Power Steering (EPS)
– The EPS system reduces steering effort, especially at low speeds when turning effort is greatest
– The electric motor's inertia significantly reduces bump steer and kickback to the steering wheel caused by shocks to the wheels for a more comfortable and controlled ride
– Input from vehicle speed and torque sensors determine the amount of steering assistance required from the system's motor
– No power steering pump means no power loss from the engine
– EPS only operates when the engine is running to keep from draining the battery
Independent Strut-type Front Suspension
– Stiffer springs prevent bottoming and increase ground clearance
– Comfortable ride and excellent load-carrying capability
DeDion Rear Suspension
– Overload-style leaf springs allow a comfortable unladen ride and is durable under maximum loads
– Semi-independent action
Four-wheel, Self-adjusting Sealed Hydraulic Drum Brakes
– Brake drums have an added flange and seal to keep out mud and water
– Low maintenance and powerful
– Keeps productivity up and operating costs down
Wheels and Tires
– 23-inch tires have stiff sidewalls to improve the ride and add ground clearance
– Rear wheel bearings use two rollers in one large bearing for added durability
– Seals on all four wheels have three lips to better protect the wheel bearings
Front Hood with Storage Tub
– Large under hood storage tub holds cargo out of sight
– Offers quick, easy access with a push-button latch
– Includes four D-rings for securing loads
Tilting Cargo Bed
– Steel cargo bed can carry up to 1,100 pounds and tilts for quick unloading
– Thick tailgate panel and secure latching tailgate locking pins reduce vibration and noise, and add durability
Rugged and Capable
– Bodywork is a rugged, modern design with truck-like styling
– Can tow up to 1,200 pounds with optional Kawasaki draw bar
– Meets Roll Over Protective Structure (ROPS) requirements for wheeled tractors under SAE J1194, 7.1.1, 7.1.2, 7.4, and 7.5, and also meets FMVSS 216 roof crush resistance requirement
– Bench seat can carry up to three
– Durable chassis includes winch-ready mounts to simplify winch installation
Simple Maintenance
– An automatic-style fuse box is convenient and uses blade-type fuses
– Crankcase oil level dipstick under the seat
– Automotive-type, spin-on oil filter
– Coolant, battery electrolyte level sight gauges
Cab Features
– 12V DC outlet with 10-amp capacity
– The 2WD / 4WD lever is mounted on the dash for easier access
– Parking brake and coolant temperature warning lights are easy to see
– Shift lever with Y-gate pattern eliminates need for High-Low switch lever
– Push-button headlight switch activates 35-watt cat-eye headlights
– Hour meter and a horn are standard equipment
Popular Accessory Items
– Soft or Hard Top
– Windshield
– Winch
– Enclosed Cab
– Cab Heater
– Snow Plow
2011 Kawasaki Mule 4010 Trans 4×4 Diesel – Specifications
American MSRP $12,199 USD
Canadian MSRP $NA CDN
Engine: Four-stroke, three-cylinder, liquid-cooled, OHV, diesel
Displacement: 953cc
Bore x Stroke: 72.0 x 78.0mm
Compression Ratio: 24.8: 1
Air Filter: Snorkel-type with cyclone-type two-stage dry replaceable element
Oil Filter: Automotive-type spin-on canister
Ignition: Compression with glow plugs for starting
Electrical: 12V DC, 52 amp-hour battery, 40 amp alternator
Transmission: Kawasaki Automatic Power-Drive System (KAPS), with reverse, dual range, 2WD/4WD
Final Drive: Shaft, selectable four-wheel drive with dual-mode rear differential
Exhaust: Muffler with USFS-approved spark arrestor
Tires: Tubeless 23 x 11-10
Suspension, front: Independent MacPherson strut / 3.9 in.
Suspension, rear: Semi-independent, DeDion axle with leaf springs and shocks / 2.8 in.
Steering: Electric power steering assisted rack-and-pinion
Brakes: Four-wheel hydraulic drums, sealed
Fuel capacity: 6.4 gal.
Curb weight: 1737 lbs.
Overall Length: 130.1 in.
Overall Width: 58.5 in.
Overall Height: 75.8 in.
Wheelbase: 85.2 in.
Ground clearance: 7.1 in.
Roll over protective structure (ROPS): This structure meets ROPS requirements for wheeled tractors under SAE J1194, 7.1.1, 7.1.2, and 7.5. This structure also meets FMVSS 216 Roof Crush resistance requirement
Cargo bed dimensions (LxWxH): 50.4 x 47.7 x 11.3 in. / 15.6 cu. ft. (2-person) ; 30.3 x 47.7 x 11.3 in. / 10.2 cu. ft. (4-person)
Load capacity: 1,632 lbs.
Cargo Bed Capacity: 400 lbs. (4-person mode) / 1,100 lbs. (2-person mode)
Towing capacity: 1,200 lbs.
Turning radius: 12.5 ft.
Top Speed: 25 mph (Governed)
Lighting: (2) 35-watt sealed-beam headlight, (2) 5/21-watt taillight/brakelight
Instruments: Parking brake warning light, coolant temperature warning light, horn, 12V DC outlet, speedometer
Color Choices: Woodsman Green
Warranty: 12 Months
Good Times™ Protection Plan: 12 or 24 months