Back to 2011 Polaris ATV Quad Models Index Page
Click photos to enlarge.
They make great desktop images.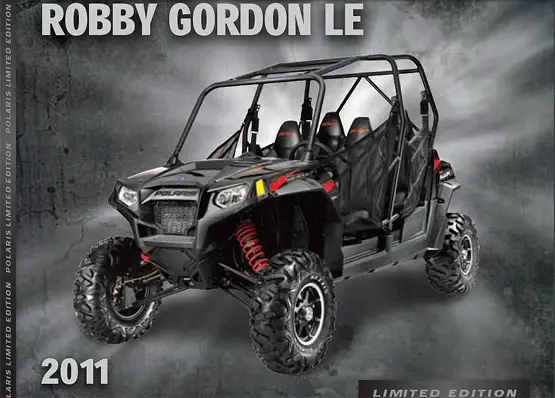 2011 Polaris Ranger RZR 4 800 Robby Gordon LE
– 2011 Polaris Ranger RZR 4 800 Robby Gordon LE

2011 Polaris Ranger RZR 4 800 Robby Gordon LE
The 2011 RANGER RZR® 4 Robby Gordon Edition is the world's first 4-seat sport side-by-side. Built for extreme, Razor-Sharp Performance and agility in the dunes, desert and wide-open spaces.
Key features are:
– Maxxis Bighorn tires on 12″ black Crusher aluminum rims
– Gloss Black painted dash with Carbon Fiber hood and rear panel graphics
– Indy Red painted front and rear suspension springs
– Custom cut and sew black and carbon fiber seats with red RZR emblem

– 800 Twin-Cylinder High Output EFI Engine
– Fox Podium X® 2.0 Racing Shocks with Piggyback Reservoirs
– Maxxis® Bighorn® 26 in. Radial Tires With 12 in. Aluminum Rims

2011 Polaris Ranger RZR 4 800 Robby Gordon LE Features:
Power And Agility For 4
The world's first multipassenger sport side-by-side, and the industry's only four-seat high-performance machine. Razor-sharp performance is now enjoyed by up to four people, and everyone gets a great view.

New! Glove Box Storage
Passenger-side glove box has 3 gallons of space for convenient, water-resistant storage.

On-Demand True All-Wheel Drive (AWD)
True AWD keeps you moving, automatically engaging all four wheels when you need more forward traction and reverting back to 2WD when you don't.

New! Redesigned Body Style
The front end has new styling for an even more aggressive look when you're riding on the trails. The redesign also increased the cooling airflow area by 29%.

Long Travel Suspension
Features a 60.5″ width, obstacle-clearing 11.5″ of ground clearance, and compression- and preload-adjustable suspensions to soak up deep ruts and deliver a smooth, precise ride every time. Plus it has the longest travel in the industry: 12″ front and 12″ rear.

New ! Electronic Power Steering (EPS)
The smoothest, most responsive electronic power steering available, with Variable Assist for easier steering at lower speeds and greater responsiveness at higher speeds. Our EPS lets you ride all day with less fatigue.

800 High-Output Twin EFI—Fastest Acceleration
High-Output engine cranks out 53 hp and deliversthe fastest acceleration, from 0 to 35 mph in 4.4 seconds.

Comfortable Ergonomics
Everyone rides in comfort, thanks to adjustable and interchangeable bucket seats, plus the adjustable front passenger handrail and full rear passenger handrail. Comfortable driver operation is enhanced by tilt steering with the highest range of motion (10″).
2011 Polaris Ranger RZR 4 800 Robby Gordon LE – Specifications
American MSRP $14,999 USD
Canadian MSRP $17,999 CDN
Engine
Engine Type 4-Stroke Twin Cylinder
Displacement 760cc High Output (H.O.)
Fuel System Electronic Fuel Injection
Cooling Liquid

Drivetrain
Transmission/Final Drive Automatic PVT P/R/N/L/H; Shaft
Drive System On-Demand True AWD/2WD

Suspension
Front Suspension Dual A-Arm 12″ (30.5 cm) Travel
Rear Suspension Dual A-Arm, Rolled with Anti-Sway Bar 12″ (30.5 cm) Travel

Brakes
Front/Rear Brakes 4-Wheel Hydraulic Disc with Dual-Bore Front Calipers
Parking Brake Park in Transmission

Tires Wheels
Front Tires / Model 26 x 9-12; Maxxis Bighorn
Rear Tires / Model 26 x 12-12; Maxxis Bighorn
Wheels Cast Aluminum

Dimensions
Wheelbase 103.0″ (261.6 cm)
Dry Weight 1,255 lbs. (569.3 kg)
Overall Vehicle Size (LxWxH) 130 x 60.5 x 75″ (330.2 x 153.7 x 190.5 cm)
Ground Clearance 11.5″ (29.2 cm)

Capacities
Fuel Capacity 7.25 gal (27.4 L)
Bed Box Dimensions (LxWxH) 22 x 42 x 6.5″ (56 x 107 x 16.5 cm)
Box Capacity N.A./300 lb (136.1 kg)
Payload Capacity 900 lb (408.2 kg)
Hitch Towing Rating 1,500 lb (680.4 kg)
Hitch/Type Standard/1.25″ Receiver

Features
Cargo System Lock & Ride
Lighting 55W low/ 60W high
Electronic Power Steering Equipped
Instrumentation Digital Gauge, Speedometer, Odometer, Tachometer, Tripmeter, Hour Meter, Clock, Gear Indicator, Fuel Gauge, Hi-Temp/Low-Batt Lights, DC Outlets (2)