You are here: Home — 2012 ATV Models — 2012 Kawasaki Teryx 750 FI 4×4 LE Camo
2012 Kawasaki Teryx 750 FI 4×4 LE Camo
Back to 2012 Kawasaki ATV Quad Models Index Page
Click photos to enlarge.
They make great desktop images.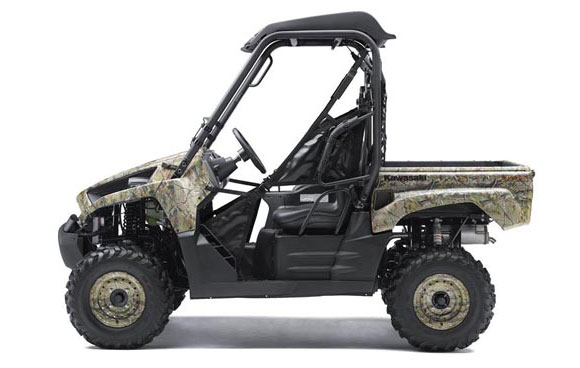 2012 Kawasaki Teryx 750 FI 4×4 LE Camo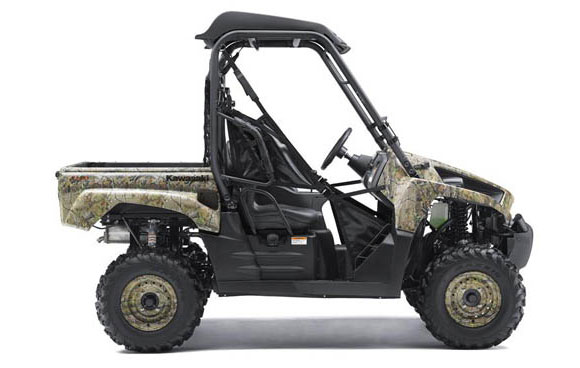 2012 Kawasaki Teryx 750 FI 4×4 LE Camo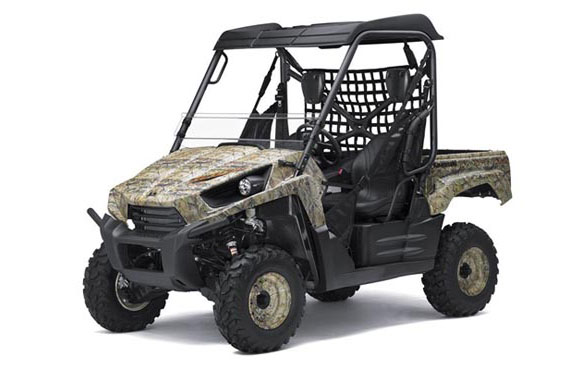 2012 Kawasaki Teryx 750 FI 4×4 LE Camo
– 2012 Kawasaki Teryx 750 FI 4×4 LE Camo

2012 Kawasaki Teryx 750 FI 4×4 LE Camo Review
Luxury and Stealth
Now the outdoor enthusiast who wants both the luxury of a fully equipped recreation utility vehicle and the stealth offered by camouflage can get the best of both worlds with Kawasaki's Teryx™ 750 FI 4×4 LE Camo. This RUV is endowed with a coating of high-tech Realtree® APG™ HD® – an innovative pattern that helps the Teryx meld into a wooded environment.
The Teryx 750 FI 4×4 LE has been the leading RUV since its introduction, with its outstanding performance, comfort and technology. The addition of Realtree APG HD graphics on the Camo model's bodywork, wheels, bumper, roof and dash makes the Teryx even more appealing. Luxury extras that are sure to please even seasoned hunters include a deflector windscreen, protective cab roof and retractable cup holders. The rest of the package includes a high-tech liquid-cooled V-twin engine surrounded by an advanced chassis with sport-focused suspension.
The original Teryx 750 FI 4×4 LE bested the competition immediately after its introduction a few years ago, scoring big with journalists and buyers all over America. Receiving continual improvements since its introduction, including digital fuel injection, a forward-tilting hood, and a better cooling system, among other refinements, the Teryx RUV continues to be at the top of its class.
Power is key when it comes to a performance RUV like the Teryx LE Camo, and when it comes to power, no other RUV can touch this one's 749cc 90-degree 8-valve V-twin. Not only is this engine plenty powerful down low and higher in its rev range, its 90-degree configuration gives it perfect primary balance for unmatched smoothness at any rpm—and a great exhaust note that sets the Teryx LE Camo apart from lesser RUVs.
Feeding that impressive engine its cocktail of fuel and air is the Teryx LE Camo's advanced digital fuel-injection system. The system offers automatic elevation compensation, automatic idle adjustment and easy, choke-free starting via a sophisticated array of sensors for inlet air pressure, throttle position, crankshaft position, rpm, water temperature and a vehicle down sensor. There's also an ignition cut-out feature that won't allow the Teryx Camo to be ridden away when the parking brake is engaged. That new braking system technology complements the Teryx's CVT Belt Protection System, which automatically retards ignition timing if the system detects engine operation at high rpm for more than two seconds while the rear wheels are motionless (i.e., the belt is slipping) and warns the rider via a flashing belt warning lamp on the dash.
All that electronically enhanced performance is packaged in an advanced chassis narrow enough to navigate most trails (and fit in a standard pickup bed), yet wide enough to offer a roomy cab and a great ride. The wide-track design frame uses large-diameter, thin-walled tubing to combine tremendous rigidity with light weight. And the upper frame combines cool style and protection with enough room inside to fit two full-sized adults in a comfortable but supportive pair of bucket seats with retractable three-point seat belts.
Once comfortably buckled in, the rider can choose 2WD or 4WD with the flip of a switch, and Kawasaki's super-efficient continuously variable transmission takes it from there, taking you practically anywhere you feel like going. A cockpit-adjustable variable front differential control even lets you fine-tune front-end traction. And while you're doing all that, the Camo's half windshield and cab top shield you from the elements, while its retractable cup holders make it easy to grab a refreshing drink on the go.
Long-travel four-wheel independent suspension, adjustable Kayaba gas-charged shocks at all four corners, a rear stabilizer bar and mid-ship engine placement all work together to tame tough trails, while a high-performance long A-arm double-wishbone suspension design that reduces camber changes offers sharp steering at all times. When it's time to slow down, dual discs up front and a high-tech sealed oil-bath brake system in back get the job done with power to spare, while Kawasaki Engine Braking Control uses clever electronics to assist with engine braking while driving down hills.
Specially designed 26-inch Maxxis tires custom-built for the Teryx LE Camo's design characteristics are the final ingredient in its amazingly potent handling package.
The end result is an amazingly capable machine for outdoorsmen of all stripes. And when it comes to beating mother nature, capability is the name of the game.
A large selection of authentic Kawasaki Accessories are available through Kawasaki dealers for the 2012 Teryx 750 FI 4×4 LE Camo. As with all off-highway vehicle recreation, Kawasaki encourages RUV drivers to drive responsibly and to respect the environment.



2012 Kawasaki Teryx 750 FI 4×4 LE Camo Features and Benefits:
Exclusive LE Camo Features:
– Realtree® APG™ HD® camouflaged bodywork, dash, roof, wheels and bumper help make the LE Camo the perfect choice for serious sportsmen
– Half windscreen
– Rigid and protective sun top
– Retractable dual cup holders

Liquid-cooled 749cc V-twin engine
– Teryx's liquid-cooled, 749cc SOHC, 4-valve-per-cylinder, fuel-injected, 90-degree V-twin engine cranks out class-leading power
– Oversquare engine dimensions (85 x 66mm) and 4-valve cylinder heads contribute to the Teryx's superb acceleration and overall power
– The 90-degree V-Twin configuration offers perfect primary balance, resulting in low engine vibration
– Aluminum cylinders are Electrofusion-plated for low weight, long wear and excellent heat dispersion
– Engine can be started in any gear, as long as the brake pedal is depressed
– Electronically controlled Kawasaki Engine Brake Control helps to slow the RUV when traversing down hills
– Mid-ship engine positioning provides optimum front/rear balance and traction
– Ducts located by the cargo bed direct cooling air to the engine, while a heavy-duty liquid-cooling system keeps temperatures under control in the harshest conditions
– Large-capacity radiator is compact and placed high in the chassis for protection against mud and debris; a large cooling fan maximizes cooling capacity in slow going
– An ignition cut-out feature protects the brake system by preventing riding with the parking brake on
– Large-diameter hoses maximize coolant flow and overall capacity, and the coolant reserve tank is located under the front cover for easy maintenance

Digital Fuel Injection System
– Digital fuel injection enhances throttle response and automatically adjusts for changes in temperature and elevation for optimum performance in a wide range of environments
– The fuel injection system is controlled by a 32-bit CPU and continually monitors coolant temperature, air intake temperature, throttle position, air intake pressure, vehicle speed and crankshaft angle to automatically meter out the ideal amount of fuel via two 34mm throttle bodies for extremely stable power delivery – regardless of conditions
– FI systems permits easy engine starting at low temperatures and utilizes an Automatic Idle Speed Control and Automatic Fast Idle function help to ensure smooth engine warm up
– High-pressure fuel pump located inside the tank features a unique reservoir chamber at the bottom to help ensure air does not get into the fuel system
– Specific Teryx-sized throttle bodies and revised ignition timing maximize low and mid-range power and provide crisp response at higher rpm

Kawasaki Automatic Power-Drive System CVT
– Featuring high and low ranges, plus reverse, this advanced and continuously variable transmission provides a direct feel from the engine and instantaneous acceleration – ideal characteristics for sporty riding
– Transmission utilizes a high-grade, super-durable Kevlar-impregnated belt designed to handle the engine's high output. The drive converter shaft is hard chrome-finished for durability
– The CVT Belt Protection System prevents tire freewheel, improves rocky terrain performance and reduces belt overloading by adding Throttle Position Sensor (TPS) data into the system
– Unnecessary belt wear is minimized with a system that reduces engine speed if the engine operates at high rpm for more than two seconds while the rear wheels are motionless
– A large intake duct, located to keep water and debris out, provides plenty of cooling air to the CVT
– Exhaust pipe heat shielding below the intake duct reduces intake temperatures

Snorkel Air Intake
– Voluminous air-cleaner box containing an oval filter with substantial surface area feeds the engine plenty of clean air while reducing intake noise. Easy maintenance design promotes long engine life

Selectable Four-wheel-drive / Variable Front Differential Control
– Selecting two
– or four-wheel-drive is as easy as pressing a switch located on the dash; electrically selectable 2WD/4WD system engages instantly
– Limited-slip front differential reduces steering effort under normal four-wheel drive operation, while Variable Front Differential Control permits the rider to distribute torque equally to left and right front wheels for maximum traction via a hand lever located between the seats
– Rear gear case keeps rear wheels locked and turning together for maximum forward thrust

Wide-body Chassis
– Large-diameter thin-walled tubular steel frame combines high rigidity, light weight and mid-engine placement – a perfect combination for performance riding
– Tubular cab frame meets SAE J1194, 7.1.1, 7.1.2, 7.4, and 7.5, requirements as a roll-over protective structure (ROPS)
– Sport-focused suspension is designed for high-performance riding
– Wide track helps provide an excellent ride, but the unit still fits in a standard pickup truck bed
– Chassis has 11.6 inches of ground clearance and strikes a perfect compromise between superb low-cg handling and the ability to clear tough off-road obstacles
– Narrow frame design maximizes the length of the front and rear suspension's lower A-arms for excellent road-handling performance and minimal geometry change throughout the suspension's travel
– Chassis serves up a near-perfect balance of bump absorption and taut steering
– Hinged, forward-tilting front hood and headlight assembly offer aggressive styling and allows quick access to the radiator and front suspension components for easy maintenance and suspension tuning
– Rigid tilt bed frame is engineered for a high degree of durability

Large, 26-inch Tires
– Custom 26-inch MAXXIS tires specially developed for the Teryx provide outstanding traction and handling characteristics
– Mounted on 12-inch rims, the largest tires available in the RUV category provide outstanding rough terrain performance and obstacle clearance

Sport-focused Suspension
– High-performance, single-chamber, preload-adjustable gas-charged Kayaba shocks provide fade-resistant damping performance in the toughest conditions while providing 7.5 inches of plush, controlled wheel travel
– Independent rear suspension provides an ideal balance of rider comfort and high-speed handling along with 7.5 inches of sport-tuned wheel travel
– Preload-adjustable gas-charged Kayaba rear shocks feature piggy-back reservoirs, further reducing the tendency of oil to froth under hard conditions, while a torsion bar out back helps minimize body roll

High-performance Brakes
– Dual front 200mm disc brakes gripped by rigid-mount 27mm twin-piston calipers provide powerful, fade-free braking and solid feel. The discs are tucked inside the wheels, where they're protected from debris
– Kawasaki's sealed, oil-bathed multi-disc rear brake system provides maximum stopping power in almost any condition along with reduced maintenance thanks to being completely sealed from outside contaminants
– The sealed rear brake's compact design contributes to excellent ground clearance

Tilting Cargo Bed
– With 500-pound capacity in its tilting bed, tie-down hooks in all four corners, a standard cargo net and generous dimensions, the Teryx is as functional as it is fun to ride
– Gas-assist struts help facilitate bed cleaning and maintenance
– Reinforced bed frame offers increased rigidity for even greater durability

Ergonomics
– Making maximum use of its cockpit space, the Teryx RUV provides plenty of shoulder and legroom to comfortably accommodate two adults
– Form-fitting bucket seats and retractable three-point seatbelts help provide a comfortable ride
– Padded steering wheel is positioned low for sport riding and provides additional driver protection

Multi-Function Digital Display
– Standard on all models, the Multi-Function Display includes a digital speedometer (mph or kph), clock, dual trip meters plus 2WD/4WD indicator, water temperature and fuel-injection warning indicators, digital fuel gauge, hour meter, parking brake indicator, CVT belt temperature warning, neutral, reverse and low oil pressure warning lights

Bodywork
– Thermo-Plastic Olefin bodywork has a beautiful high-gloss finish that's more scratch-resistant than polyethylene—so it stays great-looking longer
– Engine and undercarriage guards provide maximum protection from rocks and debris
– Teryx's battery and electric parts are located higher and further away from water and harm's way
– Dual 40W headlights and 8/27W dual taillights mean you'll see and be seen

Range / Transportability
– Large, 7.4-gal. (28L) fuel tank and excellent fuel efficiency provide the range campers and hunters need to get deep into the bush and back again
– Even with its wide-track and large tires, the Teryx is compact enough to fit in the bed of most full-size pickup trucks



---
2012 Kawasaki Teryx 750 FI 4×4 LE Camo – Specifications and Technical Details
US MSRP*: $11,599 USD
Canadian MSRP*: $TBA CDN
Engine Liquid-cooled, 90-degree, four-stroke V-twin

Valve System SOHC, four valves per cylinder

Displacement 749cc

Starting System Electric

Bore x Stroke 85 x 66mm

Compression Ratio 8.8:1

Fuel System 2 x Mikuni 34 mm throttle bodies

Ignition Digital DC-CDI

Transmission Continuously variable belt-drive transmission with high and low range, plus reverse, and Kawasaki Engine Brake Control

Final drive Selectable four-wheel drive with Variable Front Differential Control, shaft

Frame type Large diameter, thin-walled, high-tensile tubular steel

Front suspension / wheel travel Adjustable dual A-arm with gas charged shocks / 7.5 in.

Rear suspension / wheel travel Adjustable Independent Rear Suspension (IRS) with gas charged, reservoir shocks / 7.5 in.

Front Tire Size Maxxis 26×8-12

Rear Tire Size Maxxis 26×10-12

Front brakes Dual hydraulic discs with 2-piston calipers

Rear Brakes Sealed, oil-bathed, multi-disc

Overall length 116.3 in.

Overall width 58.5 in.

Overall height 79.5 in.

Wheelbase 76.0 in.

Ground clearance 11.6 in.

Lighting (2) 35W headlights, (2) 8W taillight, 27W stoplight

Cargo Bed Capacity 500 lbs., 44.2 W x 32.7 L x 11.1 in. H

Towing Capacity 1,300 lbs.

Curb weight 1,428 lbs.

Fuel capacity 7.4 gal.

Instruments Multi-function Digital Meter with speedometer, fuel gauge, clock hour meter, odometer, dual trip meter and parking brake, CVT belt, R/N/P/4WD, water temp and oil pressure indicators

Color Choices Realtree® APG™ HD®

Warranty 6 months base warranty

Good Times™ Protection Plan 12, 24,36, & 48 months

*Note: Specifications and pricing are subject to change.