You are here: Home — 2012 ATV Models — 2012 Yamaha Grizzly 700 FI Auto 4×4
2012 Yamaha Grizzly 700 FI Auto 4×4
Back to 2012 Yamaha ATV Quad Models Index Page
Click photos to enlarge.
They make great desktop images.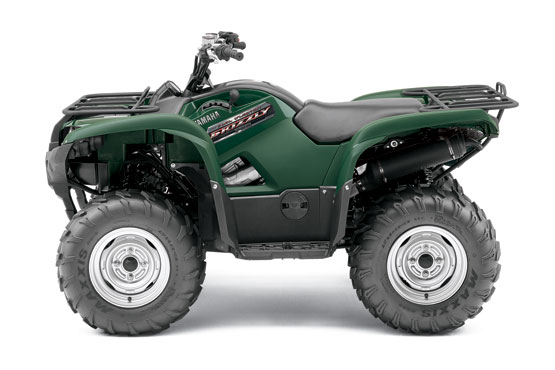 2012 Yamaha Grizzly 700 FI Auto 4×4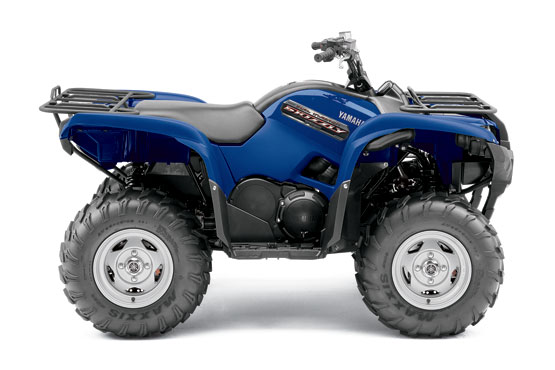 2012 Yamaha Grizzly 700 FI Auto 4×4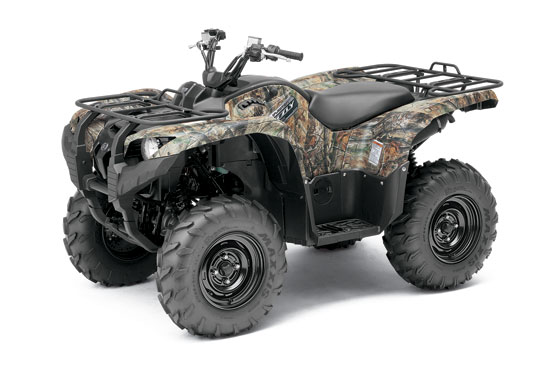 2012 Yamaha Grizzly 700 FI Auto 4×4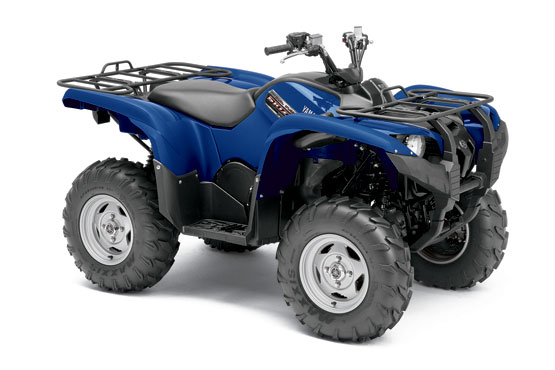 2012 Yamaha Grizzly 700 FI Auto 4×4
– 2012 Yamaha Grizzly 700 FI Auto 4×4

2012 Yamaha Grizzly 700 FI Auto 4×4 Review
The original and Still the beast…
Lightweight and proven durability combine to help this feature-laden ATV navigate the toughest terrain.
For its powerful, fuel injected big bore engine to Yamaha's exclusive Ultramatic transmission and On Command 2WD / 4WD with diff lock, this one's got so many top of the line features, it's tough to beat.
2012 Yamaha Grizzly 700 FI Auto 4×4 Highlights:
Key selling points:
1
This most powerful Grizzly ever: 686cc liquid-cooled,
four-stroke engine and light weight has the best
power-to-weight ratio of any Yamaha utility model.

2
Steel Blue model includes cast aluminum wheels.

3
Yamaha Fuel Injection means instantaneous
cold starts and optimal performance in nearly any
condition, from sea level to 15,000 feet.

4
Industry-exclusive, fully automatic Ultramatic®
transmission is the most advanced drive system in
ATVs. An automatic centrifugal clutch maintains
constant belt tension for reduced belt wear and uses
a sprag clutch for all-wheel downhill engine braking
in 4WD mode.

5
Three-position On-Command® In/Out 4WD feature
lets you switch between 2WD, limited-slip 4WD and
fully locked differential 4WD-all with the simple
push of a button.

6
Fully independent long-travel four-wheel
suspension with WideArc™ A-arms up front and
five-way preload-adjustable shocks provides
maximum ground clearance for unparalleled
comfort over rough terrain.

7
Advanced digital instrument panel boasts a
multifunction LCD display with speedometer,
odometer, dual tripmeter, hour meter, 4WD status,
transmission position, clock and fuel gauge.

8
The Grizzly 700 boasts the lightest weight in its class
at 648 pounds wet weight.

2012 Yamaha Grizzly 700 FI Auto 4×4 Key Features:

New for 2012:
o New oil access cover allows easy access to check oil level.
o Fenders have a textured finish that resist scratching and scuffing.
o Gas charged rear shocks offer a quality damping feel and excellent
performance over a long period of time.
o Rugged Maxxis® tires get the Grizzly moving over the gnarliest
terrain.

ENGINE:
o Raptor®-based four-valve combustion chamber design produces
a potent combination of low-rev torque, instant throttle response
and high horsepower.
o Gear-driven crankshaft balancer shaft and rubber-damper engine
mounts reduce vibration.
o Ceramic-composite cylinder liners provide outstanding durability
and heat dissipation; forged piston is light and strong and rides a
carburized, chrome-moly connecting rod.
o Two-lobe overhead cam and a pair of needle-roller rocker
arms reduce friction by 50 percent for increased fuel efficiency
and torque.
o Mikuni® fuel injection with 44mm bore and throttle position
sensor means easy cold starts and flawless fuel delivery in
nearly any condition.
o Pushbutton electric start with seven-disc torque-limiting damper
assembly to protect the starter motor.
o Straight driveshaft layout to the front differential eliminates
U-joints for reduced friction, noise, vibration, and maintenance.
o Stainless steel exhaust system features aluminum heat shields
and a screen-type spark arrestor for great power with minimum
noise output.
o High-capacity aluminum radiator with fan-assist delivers
maximum cooling efficiency and is positioned high in the frame
for optimal protection.
o Automatic cam chain tensioner reduces engine maintenance and
helps extend engine life.
o Five-position shift lever with H, L, N, R and P gates provides
positive Ultramatic transmission operation.
o Override button allows engine to make maximum rpm in full Diff.
Lock mode.
o Sealed drive case keeps out water and debris to help
increase durability.

CHASSIS/SUSPENSION:
o WideArc™ front suspension A-arms provide outstanding
ground clearance.
o Five-way preload-adjustable shocks provide a comfortable ride,
whatever the load or trail conditions.
o Four-wheel hydraulic disc brakes serve up consistent,
long-lasting braking power under all sorts of nasty conditions.
o 5.3-gallon fuel tank is located under the seat for excellent mass
centralization and handling; there's a 4.8-liter waterproof storage
compartment under there, too.
o 11.8 inches of ground clearance and full-length composite
skidplate deliver maximum underbelly protection while
enhancing terrainability.
o 25×8-12 front and 25×10-12 rear Maxxis® tires provide responsive
steering and handling along with excellent comfort.
o Rugged injection-molded front bumper and CV joint guards
protect against rock and debris damage.

ADDITIONAL FEATURES:
o LCD instrument display contains fuel injection, as well as
bar-type fuel gauge, speedometer, odometer, trip meter, clock
and Diff. Lock indicator.
o Rugged steel cargo racks with special, extra-durable wrinkle
paint finish can pack a total of 286 pounds combined (99 front,
187 rear).
o Center-mounted, heavy-duty trailer hitch comes standard and can
tow more than 1300 pounds.
o Large, specially designed seat is extra plush and widely
contoured for all-day rider comfort.
o Dual 35-watt multireflector halogen bulb headlights with high/
low beams light up the night.
o Assembled in Newnan, GA, U.S.A.

Available Accessories:
Please refer to the 2011 Spring Big Book

* Wet weight includes the vehicle with all standard equipment and all
fluids, including oil, coolant (as applicable) and a full tank of fuel.
It does not include the weight of options or accessories. Wet weight
is useful in making real-world comparisons with other models.
ATVs with engine sizes over 90cc are recommended for use only by riders age
16 years and older.

---
2012 Yamaha Grizzly 700 FI Auto 4×4 – USA Specifications
US MSRP* $8,899 (Hunter Green) Available from July, 2011
$9,149 (Steel Blue) Available from July, 2011
$9,349 (Realtree® AP™ Camouflage) Available from September, 2011

ENGINE
Type 686cc, 4-stroke, liquid-cooled single; SOHC, 4 valves
Bore x Stroke 102.0mm x 84.0mm
Compression Ratio 9.2:1
Fuel Delivery Yamaha Fuel Injection (YFI), 44mm
Ignition 32-Bit ECU
Starting System Electric
Transmission Yamaha Ultramatic® V-belt with all-wheel engine braking/H, L, N, R, P
Drive Train Yamaha On-Command® pushbutton; 3-way locking differential; 2WD, 4WD, locked 4WD; shaft drive

CHASSIS
Suspension / Front Independent double wishbone; 5-way preload adjustment, 7.1-in travel
Suspension / Rear Independent double wishbone; 5-way preload adjustment, 9.5-in travel
Brakes / Front Dual hydraulic disc
Brakes / Rear Dual hydraulic disc
Tires / Front AT25 x 8-12
Tires / Rear AT25 x 10-12

DIMENSIONS
L x W x H 81.3 x 46.5 x 48.8 in
Seat Height 35.6 in
Wheelbase 49.2 in
Turning Radius 126 in
Ground Clearance 11.8 in
Fuel Capacity 5.3 gal
Wet Weight 648 lb
Rack Capacity 99 lb Fr./187 lb Rr.
Towing Capacity 1322 lb

OTHER
Instrumentation Digital LCD multifunction display: speedometer, odometer, dual tripmeter, hour meter, clock, fuel gauge, gear position, and EFI function
Lighting Dual 35W Halogen multireflector headlights & 21W/5W brakelight
Warranty 6 Month (Limited Factory Warranty)
2012 Yamaha Grizzly 700 FI Auto 4×4 – Canadian Specifications
Canadian MSRP* $NA CDN
Model not available in Canada


Specifications, appearance, and price of product are subject to change without notice.
* MSRP does not include freight, PDI (Pre Delivery Inspection), pre-rigging (boats), or taxes. Dealer may sell for less.