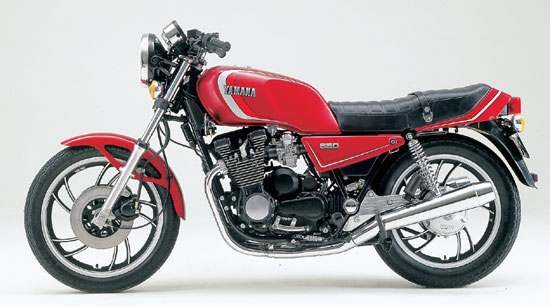 "Hope"
YAMAHA XJ650R SECA
1980-83(85?) – 653cc DOHC four,
Horse Power: 73hp @ 9000 rpm
Torque 42lb/foot @ 7200 rpm
Top Speed: 122mph /..193km/h
1/4 Mile: 12.7 @ 103.68 mph – 0-60mph: 4.8sec
Fuel Milage (avg): 49mpg – Weight (full): 503lbs
Only 800 Made for Canada
---
My Bike:
History: My bike's history
Reviews: Personal review of my own 1982 XJ650RJ Seca
Reviews: Experiences running a K&N Performance Stage 3 jet kit on the XJ
XJ Information:
Reviews/Information: Parts and Accessories – Oil filteres, Air filters, Power Kits, Spark plugs, Fork braces, batteries, brakes, Engine Oil, Shocks, Lighting, Tires…

Photos:
First Photos: When I got the bike
Second Stage: After a few weeks of prep, polish, and wax.
Third Stage: Modifications & Stock vs. Mod XJ650 Comparo – Stainless steel brake lines, K&N stage 3 jet kit, Individual K&N pod filters, small windshild. (photos soon)
Fourth Stage: Repaint and fix up. New PPG poly red paint job and decals. (this winter)
---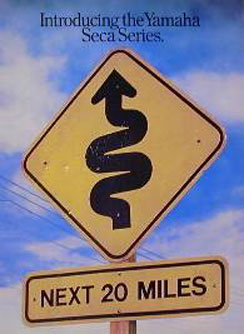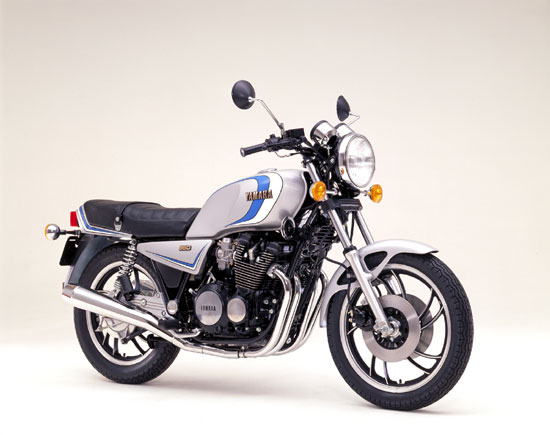 Just picked this one up on Saturday, June 29th, 2002. Gave her a full tune up and replaced the 4 spark plugs and spark plug caps. Also changed the motor oil and filter (Wix) as well as the shaft drive oil (80w90). New rear tire as well (Cheng Shin 120/90-18 Marquis) recommend by the mechanic. The cheng-shin is a great tire so far with no complaints (3,000km) in fact I'll most likely get another one when it wears out next year.
I've purchased a small windshield for the front of the bike and some Pro Grip gel grips to replace the standard grips.I find them both very nice additions to the Seca.
Currently, I'm changing the motor oil (motormaster motorcycle 20w50) and shaft drive oil (80w90) every 1,500km and replace the oil filter (Wix or UAP/NAPA brand) on every 3,000km. Note on the Wix oil filter, you really have to try this brand, it finished #1 on construction and design on the net from 20+ ones. I just took it out after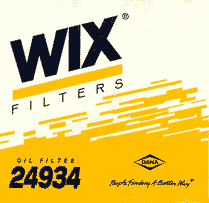 3,000km and it still looks like it could easily do another 2,000km. The old oil looked in really good shape considering being in there for that long. Very few foreign deposits in the oil as well thanks to the filter. You can get them in Canada at UAP/NAPA dealers for cheaper than a FRAM filter (which finished near last in quality). Turns out that WIX makes the NAPA oil filter as well.
Two up on the highway works out great so far, the seat is JUST long enough for 2 full sized adults and the power is great for passing still. I do a lot of 400km+ rides in and around Calgary, Alberta, Canada and find the seating position comfortable enough to go 4 hours and still not be that sore. On the highway, the engine purrs along at 4,500rpm at 100km/h and 5,000rpm at 110km/h in top (5th) gear.
Fuel milage so far has been in 3,000km: 181 liters, 5.869 L/100Km – 47.934 MPG fuel economy. I use regular (87 octane in Canada) gasoline all the time from any petrol station along the way.
UPDATE: Friday the 13th of April, 2007: After almost 5 years of owning Hope I sold it today to a new owner, Jay for $2200. I've maintained it the best I could for the years I owned her and she has been a wonderful motorcycle and a shining example of a very fine 1980's UJM. Powerful, easy to ride, lots of range, comfortable and a low maintenaince shaft drive to boot. In in the end I added upgrades like individual K&N pod air filters, A DynoJet Stage III jet ket, Progressive suspension springs, new PPG showroom paint job and stainless steel braided brake lines amoung the numerous other new parts to keep her in better than 1982 shape. She has been all over with me on trips and never let me down.
I'm sad to see her go, but glad she will be going to a good new home and a caring ner owner.
Sold to purchase the next bike in my life, a 2007 Suzuki V-Strom 650 (DL650). I choose this model because I really enjoy the comfort, versitility and practicality of the standard motorcycle. I also enjoy good fuel miliage and riding distance before needing to fill up. Some of the 2 things I wanted to try was fuel injection (for those cold morning starts) and a V-Twin engine for low down torque.
---
First Photos: When I got the bike
The day I got the bike (below photos)
The following photos are of my actual bike the day I got her. (Wash, wax, polish and shine came later).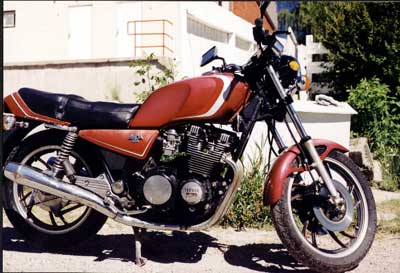 ---
Second Stage: After a few weeks of prep, polish, and wax.
I love doing this to a bike you just bought. Use the right stuff (polish, wax etc) and it will make a HUGE difference in appearance! Tip: Always do this to your bike BEFORE you sell it, you'll get more for it.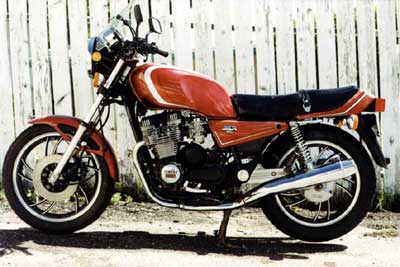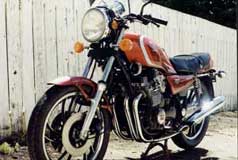 ---
Third Stage: Modifications & Comparo – Stock Vs. Modified
I found that I like adding upgrades to a motorcycle. I find that I'm the type who enjoys adding more practical things to a bike, rather than chome and leather do-dads, everyone is different and it is a way to personalize your bike. This season (2003) I've added Stainless steel brake lines (mix of Russle and Goodrich), a K&N stage 3 jet kit, Individual K&N pod filters and small windshild.
I got the very lucky opportunity to ride another XJ650R Seca recently that was stock and kept that way by its original owner. The silver paint still looked great even though it's never seen polish and wax!
This test ride gave me the opportunity to compaire the two (Stock vs. modified) bikes back to back. Here are some of my impressions:
Acceleration:
The stock XJ650R's engine feels "weak" in lower RPM's (the bane of In-line 4's lack of torque in low RPMs) and there isn't a lot of pull below 4,000rpm. From 4,000-6,000rpm you get a good shot of acceleration, from 6-7,000rpm the acceleration again isn't there and from 7,000+ you better hang on. So the seca engine is smooth all the way, but it just likes to squirt power out in weird ways.
The modded XJ650R engine feels very strong and that is responsible by the K&N Stage 3 jet kit. Gone is the "squirty" power band, and it is replaced by a hold on powerband that is smooth acceleration all the way without any noticeable deal zones. Another big improvment was from idle to 4,000rpm, the thottle was much more responsive, and there was acceleration and torque. (K&N Products:
Stage 3 Jet Kit w/ Filter: 23-9021)
fortunately (or unfortunately depending on how you look at it), the K&N Stage 3 jet kit installation requires removal of the stock air box and boots. This allows the carbs to each get their own individual K&N pod filter as well as the crankcase getting its own filter as well. This is a very practical step to increase horsepower and torque as well as decrease weight.
Brakes:
The stock XJ650R was still equiped with front factory brake lines (rubber) and there isn't a way to say it nicely, but they do not have the best feel or power to them. The front brakes are a dual disc setup and I'm glad for that, the original design is a good one. Using the brakes in soft or hard stops, you can feel the rubber brake lines swell and give a distant spongy feeling. Braking power is adaqute for one or two up but nothing more.
The moddified XJ650R with stainless steel brake lines from Russle and Goodrich feel much more (x3?) powerful, and can even lock up the front wheel when used too agressively. There was no question what brakes you'd want in case of an emergency stop.
The stainless steel brake lines not only looked really good on the Seca over the rubber black ones but preformed better all around as well.
Handlebars:
The stock XJ650R was still equiped with a factory handlebar. It is lower and less angled (more straight) and because of this it makes the bike feel more sporty. Your weight is more on your hands but nicely distrituted as well. This would be a good handlebar for more sport oriented riding.
The modified XJ650R handlebar is a little higher and just a little more angled (more curved) than the stock handlebar. I call it a modified one because it is unclear if this is an aftermarket handlebar or it was a stock option as well. The handle bar puts less weight on the hands and while you are still in a sport riding position, it is more likely more comfortable for sport touring.
Handlebars are very subjective to the rider and really not one is "better" than the other, it is what you are more comfortable with and used to using.
Conclusions:
It is amazing that there is really only 2 major modifications (and 2 minor) from the stock bike to the modified one, but it noticeably makes a big improvement all around.
---
Fourth Stage: Repaint and fix up.
I can't wait for it to be done this winter. All the plastic and metal primer, base coat paint and showroom clear coat has been purchased. I decided to go with a top of the line brand (PPG) because it will look the best. It will be painted PPG poly red with decals (haven't decided what ones to use yet). PPG poly red is like the sample below.
Also it will have the body work restored as well (small dents, cracks etc). Should look great when it is done! 🙂
UPDATE: It looks awesome. 🙂
---
Fifth Stage: Some more recent photos
2005 Drumheller, AB: https://www.totalmotorcycle.com/ridephotos/Badlandsface-Seca.jpg
2005 Drumheller, AB: https://www.totalmotorcycle.com/ridephotos/HussarSnowRiding-Seca.jpg
2006 riding season: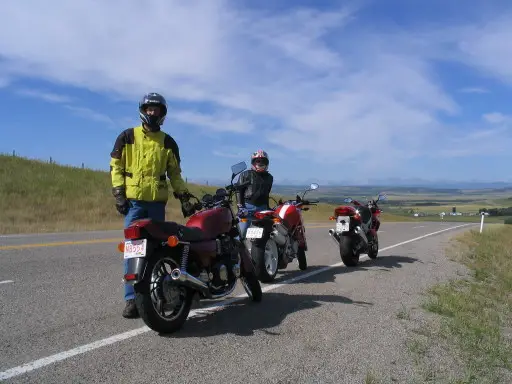 Looking good out there!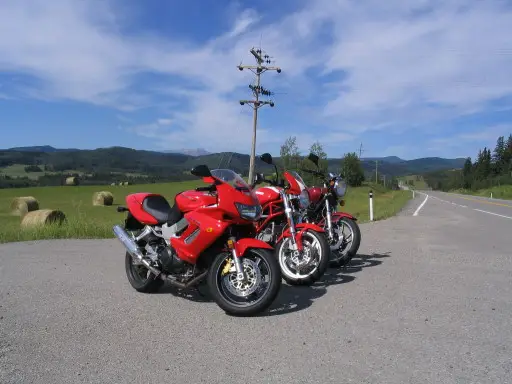 3 Reds in a Row. Looks great next to the new Ducati and Honda VTR.
---
Experiences running a K&N Performance Stage 3 jet kit on the XJ
I figure that it must be uncommon if not rare to install a K&N Performance Stage 3 jet kit on the XJ650, but I needed new needles anyways and the Kit was the best way to go, so I bought it and got it installed, setup and tuned professionally.
The K&N Stage 3 Jet Kit, in case you are not familiar with it, K&N says: STAGE THREE KITS Intended for motorcycles with stock or mildly tuned engines using K&N individual clamp-on air filters and an aftermarket pipe. In most cases power increases of 10 – 15 % can be achieved. My kit came with 2 different sized jets 112 and 120, as well as new needles (with 5 positions, stock Yamaha ones are NON adjustable!), instructions with photos as well as 4 individual K&N filters and a K&N crankcase filter, they even had a hat in the box!
I helped the mechanic out (learning you know) as much as I could and watched a lot, here are my observations:
-It can be installed without the help of a mechanic, but I don't suggest it. Too much tuning, adjusting, setup, sync'ing the carbs and all.
-You HAVE to remove the air box, air box boots, air box hoses, filter.
-You need to "customize" a little the side panels so they fit better next to the outside individual air filters. You just need to shave the sides a little (you can't notice the change when its done)
-Need to do quite a bit of carb work, adjusting the butterfly valves, needle, air/fuel mixture screws etc.
-Need to test ride the bike quite a few times in different throttle, speed and gear positions to make sure everything is setup for maximum power and torque from the kit.
After it was all done (1.5 days), I have to say that the power curve of the XJ650R Seca is very strong all the way up to redline. The torque from the engine is VERY noticeably higher. It also cures the low-mid range lack of power! From 2,000rpm the bike pulls like it did without the kit at 6,000rpm. No more low RPM weak
acceleration. 🙂 I haven't full tested the horsepower aspect of the bike, I have been up to 90km/h and but haven't went on the highway just yet since I just got the bike back last night.
The individual filters make the whole bike just a little louder with a very sweet growl out of them the closer you get to wide open throttle (WOW). LOVE the sound, I'll have to tape it.
Overall: Highly recommended. More torque, more acceleration, less weight, new great engine sound. I'm sold.
Hope that helps anyone out there. 🙂
---
Personal review of my own 1982 XJ650RJ Seca
When looking for my 3rd/4th bike I wanted something reliable, powerful, able to take 2 up and touring. My mechanic told me to find one of these bikes. He recommended this bike to me because out of the 100's of bikes he gets a year to fix up in his shop, he gets in very few of these if any at all and they only come in for routine maintenance rather than more major repairs or rebuilds.
My last 2 bikes a 80′ Honda CB400T Hawk and a 78′ Suzuki GS550 helped me get here by understanding what I wanted in a bike. The standard naked bike suits me best and that's what I went looking for.
Luckily, I did find a very nice condition and well taken care of 1982 Yamaha XJ650RJ Seca. So far I have put on 3,000+ km's and look forward to many 1,000's more. I do about 50/50 touring and city travel and in both situations is has enough power to get out of trouble and to be able to handle 2 up riding. With over 73 hp on tap and a generous amount of torque I can wiz up long hills 2up and keep accelerating without much trouble.
Handling is super with very neutral steering and its ability to both corner hard and remain highly stable at speed is a boon. Fuel mileage is favorable and my average (both city and hwy) is 5.869 L/100Km – 47.934 MPG.
On the highway, the bike shows its power in this area. 5th gear at 100km/h is 4,400rpm and is vibration free and smooth. 120km/h is 5,200 and just a touch of vibration is creeping into the bars but is no where near uncomfortable. Seating position is upright and is very comfortable, in fact after 200km I don't need a rest stop and only after 5 hours on the bike do I need to stretch my legs (6'4″ tall). Passing is good with a nice pickup a 6,000+rpm from 120km/h and you have the quick ability to pass anything in the way and picking up an additional 40km/h only takes 2-3 seconds.
So far after 3,000km on the bike I've had no major repair work done on anything. In fact the only repair job was to replace a fault 20A fuse! Other than gas and 2 oil and filter jobs on the bike (every 1,500km) the bike so far is proving its reliability in the field.
The biggest concern for riders of the Seca was its brakes. I find the 2 piston double front disc brakes good and with 2 up it is satisfactory. This winter I will try to improve the braking by adding stainless steel brake hoses, softer pads and a front fork spring job.
Since the bike has not drained any cash in maintenance this year I will be getting the valves and carbs done, replacing the cup-and-cone steering-head bearings with tapered-roller bearings and maybe add a fork brace as well.
The bike is a blast of fun to ride and to live with. I can only highly recommend this Yamaha Seca XJ650R to anyone looking for a fun bike to own.
Enjoy,
Mike
Calgary, Alberta, Canada
Total Motorcycle Website
---
Oil filters:. WIX 24934 $9.27cdn (at UAP/NAPA) (Application Chart)


………………….Purolator $X.XXcdn (Application Chart)
………………….Fram CH6003 $X.XXcdn (Application Chart, 2)
………………….Yamaha OEM
………………….K&N: KN-144
………………… EMGO: 10-28401 $2.38
………………… Sudco Racing H: 631-201
Air Filters for 1982 Yamaha XJ 650R Seca
EMGO: 12-94400
K&N Air Filters: YA-1650 (fastfreddie)

Other K&N Products:
Stage 1 Jet Kit: 81-9105
Stage 1 Jet Kit w/ Filter: 23-9105
Stage 3 Jet Kit: 81-9105
Stage 3 Jet Kit w/ Filter: 23-9021 (fastfreddie)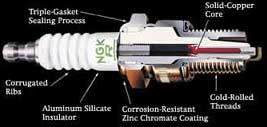 NGK SparkPlugs: (Chart)

1982 YAMAHA XJ650 650cc
Spark Plug ….. Part No. ….. Stock No. ….. Plug Gap
Standard ….. …..BP7ES ….. ….1034 ….. ….. ….. .032
VX Platinum …..BP7EVX ….. ..7270 ….. ….. …...032

Fork Brace:
TELEFIX FORK BRACES: FS7
Fork Brace Measurement Worksheet
Tires: (Chart)
Front: 100 / 90 – 19
Rear: 120 / 90 – 18
What I am currently using with no complaints on either so far:
Front: Bridgestone Spitfire S11 (Average Cost $97cdn)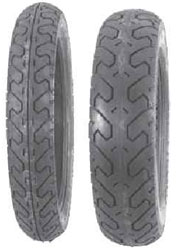 The Bridgestone Spitfire S11 came with my motorcycle when I purchased it in early 2002, there was 1,000's of previous kilometers on the front tire at the time and were 2 years old. Since then the tires have an additional 6,000km's on them without any signs of concern. They perform excellent in wet riding weather and have quite a bit of traction, in fact, I've never pushed them past it so far. They also have very good traction riding on gravel, dirt, mud and loose rock roads for a street tire.

Back: Cheng Shin Marquis (C833/C822) (Average Cost $68cdn)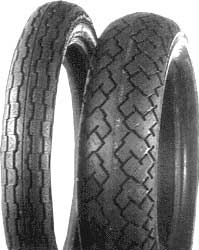 I am quite pleased with this rear tire that was recommended to me by a motorcycle mechanic friend to try out. Since they were so cheap I figured why not but was worried about putting cheap rubber on my bike as well. My worries soon turned out unfounded as these tires offer quite a sticky grip, great rain riding traction and excellent highway speed riding/passing handing. So far I've put on over 6,000km's on them and I'm happy. The "Marquis" is their Sport-Touring tire. They are not very good for riding in the snow. I've heard average tire life is 7,000km's for these tires but I'm almost half that now and they do not look very worn at all so actual milage may vary.
Other tires I've used in the past:
Carlisle Tires: –
Front tire was a Carlisle tire I purchased used for my 1978 GS550. For those that do not know about Carlisle, they stopped making motorcycle tires in the early 80's. Probably the only motorcycle in Canada still using a Carlisle motorcycle tire! Not sure how old that tire was, but it was "like new" when I bought it and started cracking after 1,000km. Good to pay attention when you buy a tire you never heard of (unlike myself) and learn to read the side wall DOT date code. Carlisle motorcycle tires were really something in the day! I called Carisle up on the phone and they didn't even know they made motorcycle tires until someone who worked there for 15 years reminded them of that. haha.
Kenda Tires: –

Rear tire tire that came with the GS550. Never had a problem with it and it was supposedly only 3 years old. Grip was OK, though I never did push it or the bike and with these 2 tires stayed under 100km/h. Did not inspire much confidence to run it hard.
Dunlop Gold Seal Tires:

– Front and Rear tires that came with my 1980 Honda CB400T, put on 1,000km's on the front (needed to replace it from wear), and over 5,500+km on the rear. Never had a problem with either except that they are not very good wet riding tires to say the least. Replaced the front with a Bridgestone Spitfire S11 and didn't notice any difference in dry traction over the Dunlop.

Yuasa Battery Type:



Battery Family: YuMicron ….. ….. ..Battery Type: YB12A-A
Battery Family: Conventional ….. …Battery Type: 12N12A-4A-1


Brake Pads and Shoes:
EBC: Front Pad Disc Brakes:
EBC: Rear Shoe Drum Brakes:
Vesrah: Front Pad Disc Brakes:
Vesrah: Rear Shoe Drum Brakes:
SBS Brakes: Front Pad Disc Brakes: SBS 547
SBS Brakes: Rear Shoe Drum Brakes: SBS 2065
FERODO Brakes: Front Pad Disc Brakes: PFM-Y001 (soft-compond #2453)
FERODO Brakes: Rear Shoe Drum Brakes:
LOCKHEED Brakes: Front Pad Disc Brakes:
LOCKHEED Brakes: Rear Shoe Drum Brakes: ?
Brake Lines: Russell Performance Product's braided stainless hose PDF Catalogue

Lighting:
Great the best H4 (also called: 9003) bulbs you can afford. You probaly only have one headlight, so go for the best like: High Performance Headlight Test
Sylvania Halogen Xtravision (review)
Model: Sylvania Xtravision 9003XV

Shocks:
Progressive Suspension, 2: -Fork Springs- 11-1106 (82′ Seca XJ650.)
Other bikes that use this: XJ650 Maxim 80-83, XJ650 Turbo 82-83, GS550 79-80, GS550 77-78, GS650G/GL 81-83, GS1000 78-82, GS1100G 82-84, KZ550 Spectre/LTD 80-83, GPZ550 84-86, KZ650SR 78-79, KZ650 77-83, CSR650 82-83, KZ750H/E 80-83, KZ750 (Twin) 76-80, CB550F/K 74-78, CB750C 80-82, CB750A/C 76-82, CB750A 76-78,
Progressive Suspension: -Rear Shocks-
OE Shock (14 Series): 14-1282B (82′ Seca XJ650) Also:
Twin Shock (12/13 Series) 12-1201B, 03-1394B/C, 03-1367B/C (82′ Seca XJ650)
Twin Shock (412/413 Series) 412-4205C, 412-4206C (82′ Seca XJ650)
Twin Shock (418 Series) 418-1005B/C, 418-1006B/C (82′ Seca XJ650)
Alternator Output for Yamaha XJ650
The maximum output is 19A, 14v @ 5,000 rpm.
Now, amps x volts = watts. So maximum output is 266 watts @ 5,000 RPM.
Looking again at page J01, the stock tail light is 8 watts, brake = 27
watts, and turnsignals are 27 each. Horns are a one-time thing, so we'll
ignore them, but the ignition may take up to 15 watts, and dash lights are
about 3 watts each. That all adds up to 113 watts, leaving a maximum of 153
watts available. At idle it will be less. There should be no problem going
with a 100 watt H4, but if you add driving lights, you could be pushing it
depending upon the wattage.
In practice, I have the 750 Seca, and I replaced the stock H3 fog lamp bulb
with a 100 watt unit. Idling at a light with the turn signal going, it
maintains the battery, but just barely. (I opted not to up the headlight
because of the computer monitor — the extra current might burn the computer
out).
Engine Motor oil:
Motormaster 4-Stoke (Canadian Tire) 20w-50 & 10w-40
Motomaster 4 Stroke Motorcycle Oil – (from Shell Canada) Shell brand oil. Formulated to meet JASO T903 MA quality (a motorcycle spec). As well, since they are formulated for gasoline engines, they also meet API SJ (typically known as
a 'car' spec).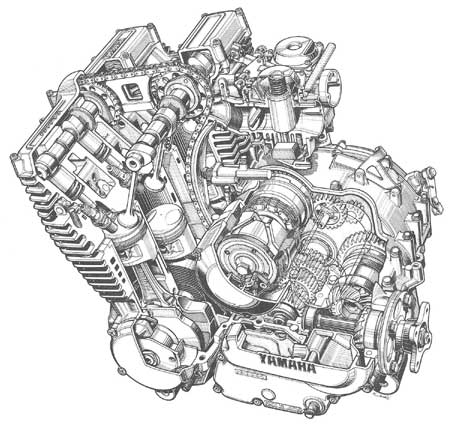 The Seca XJ650 engine is a marvously piece of technology being both fun and highly reliable. As my mechic said to me, he rarely sees a XJ650 in the shop for anything but minor repairs and normal maintenance and that's saying something really positive about the bike. Producing 73 hp it provides great acceleration with or without a passenger on the highway.
Canadian Engine & Frame Numbers (Where they are)
15U-000598 XJ650RJ 1982 650 Seca – My Seca
15U-000352 XJ650RJ 1982 650 SECA – At GT Snow & Cycle (wrecking)
Yamaha Links (XJ650)

The Yamaha XJ Electrical Help! Page
XJ Technical Specs and stuff
NGK Spark Plugs
Yuasa Battery (Battery Type: )
Yamaha XJ Owners Website (in German) (Great photos)
GGJaguar's Yamaha 650 Seca Page
The Yamaha XJ Owners Page (English)
YAMAHA XJ-650 Seite (German)
Yamaha Seca 650 & 750 Tire Recommendations
Yamaha XJ650 Page (in German)
Motorbikes.be (100's of bikes and stats) XJ650
Lone Biker (on XJ650 seca) traverses South America
XJ Drivers List (Worldwide)
Top Speed of Yamaha XJ
Alternator Output for Yamaha XJ650
European XJ650 Seca's 1, 2, 3, 4, 5
XJ650 and XJ750 Frame Numbers and Years Produced – Though my frame and engine number are not there. (15U-000598)
CLICK to go to our Maintenance Section for much more information
Information
How-To: Changing your Motorcycle's Oil and Oil Fiter yourself
XJ650R Seca Modifications
More XJ650 Specs
Kelly's Motorcycle Blue Book (motorcycle values)
Red Book (motorcycle values)
Conversions (HP, Torque, fuel, metric, imperial etc)
Changing to Steel Braided Brake Lines on the XJ bikes


XJ Global Rally
XJ Global Relay Rider's Page
XJ World Relay 2000 – European Site
Yamaha XJ Global Rally Mid-West USA / Western Canada info
Parts
Progressive Suspension USA Home Page Application Chart
Wix Oil Filters (HIGHLY recommended) Motorcycle Application Chart
Late Evening Reads
Yamaha XJ650 SECA Magazine Reviews
Cycle Magazine November 1981
Cycle Guide September 1982
Motorcyclist March 1982
Saving old Standards
Motorcycle Best Buy
Yamaha Seca 650 Specs and Info
GGJaguar's Yamaha 650 Seca Page
Motorcycle oil filters exposed!
Engine Oil Filter Study
Oil Filter Alternatives – Honda Motorcycles
Winter Maintenance Series-Part One: Winter Preparation
Buying a Used motorcycle (Tips, what to look for etc) – Great read
Electric and Hybrid Motorcycles – The wave of the future
German motorcyclist bike experiences
Torque vs. Horsepower (excellent article)
XJ650 websites on the 'net
XJ650.de
Blue XJ650 with luggage rack
XJ owners of the world list
XJ-IG Picturegalery
Another Michael's XJ650 website
YAMAHA XJ-650 Seite
XJ650 Discussion board (english and german)
XJ650/750 tire recommendations + more on tires
Bike base XJ650
XJ Power.com No fair! They get XJ1200 and XJ1300 versions!
Another XJ site
International XJ site and bike listings
Swedish XJ650 Site
German XJ650 site
European XJ Gallery
French XJ650 Site
Michael's XJ650 (with drooling red paint job)