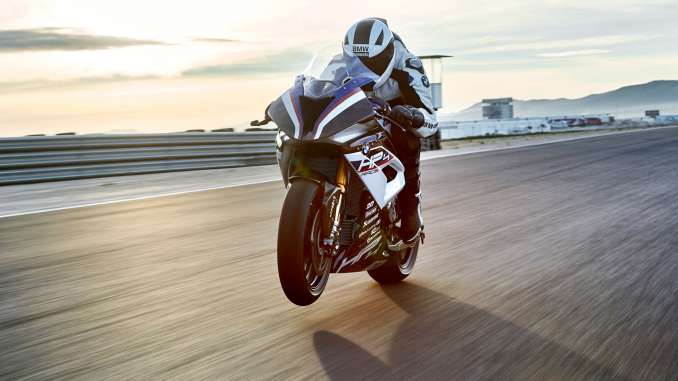 Vote and Discuss on this week's Total Motorcycle Cool Wall Bike of the Week #331! Vote Now.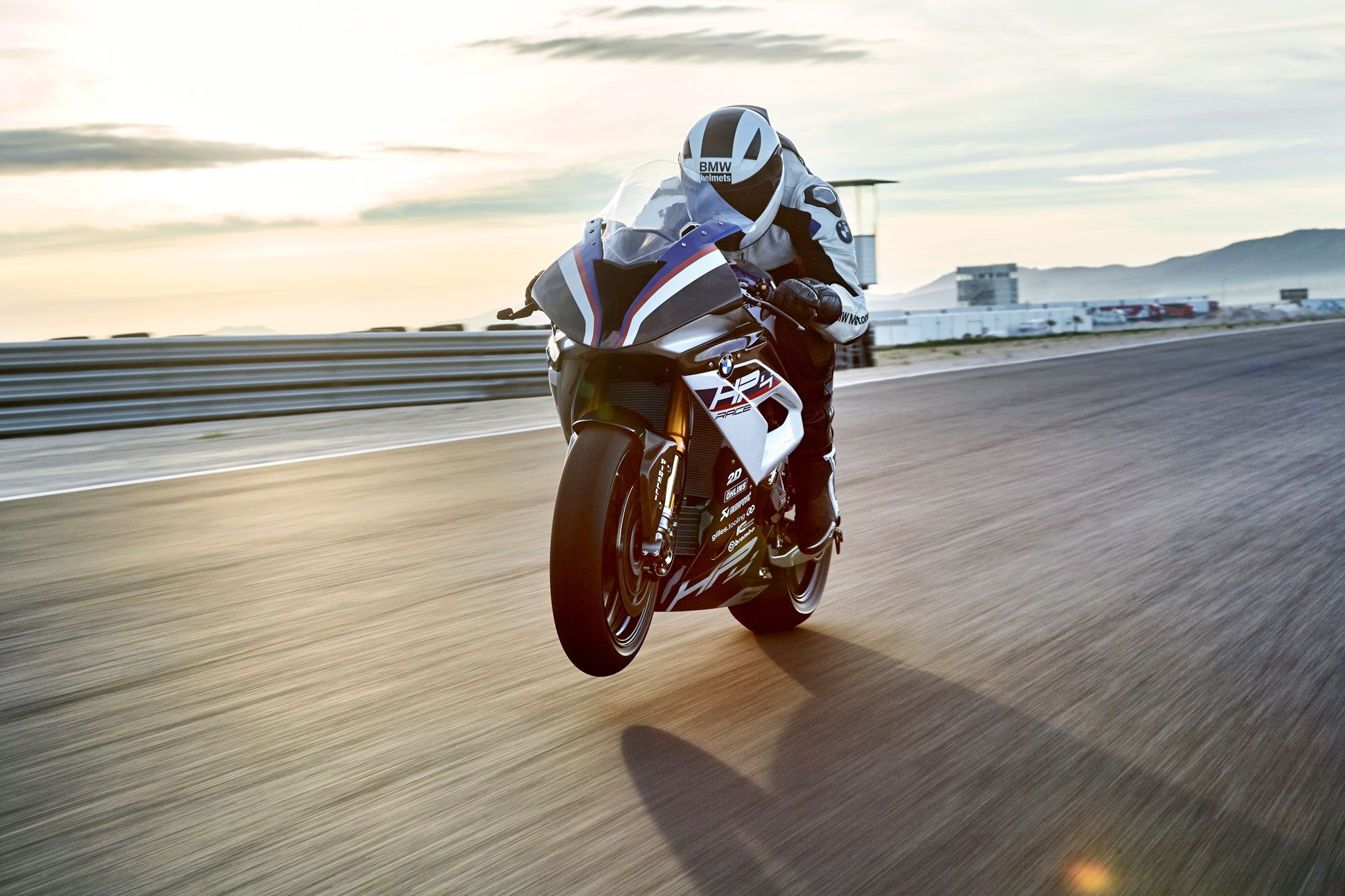 MAXIMIZED TO THE ESSENTIALS.
2018 BMW HP4 Race Review by TOTAL MOTORCYCLE
The HP4 RACE is more than the sum of its parts. This bike is pure emotion. From the development right up to the racetrack, passion is what has made this race bike what it is-an innovation driver designed to push the limits.
The HP bike is the first motorcycle in the world to offer a fully carbon frame and fully carbon wheels. With 215 hp (158 kW), it weighs just 322 lbs (dry weight). A handmade dream come true for 750 enthusiasts.
Pure performance 750 times over.
The HP4 RACE is a masterpiece of engineering prowess. Each and every one of the 750 limited-edition racing machines was handmade by our specialists and fitted with a numbered sticker. This is for those who have no limits and always go further. We only produce this kind of concentrated passion for those who share it. This is reserved for frontier crossers whose requirements are not only satisfied by the HP4 RACE, but have to redefine their requirements. There are only a few like this. More precisely: seven hundred and fifty.
New benchmark in lightweight construction.
The frame of the HP4 RACE is made of endless carbon fiber and is a continuous component from the steering head to the swing arm pivot. Compared to the standard frame, it saves almost 9 pounds in weight. It's not about the looks, rather, its characteristics when it comes to the BMW HP4 RACE's carbon technology. The designers facilitated pre-calculation and incorporated function-dependent torsion and rigidity. As rigid as aluminum, as hard as steel. All advantages of the carbon material were fully exhausted on the wheels, including its flexibility.
Perfection right down to the smallest detail.
Developed for the racetrack through and through, the HP4 RACE has a self-supporting carbon front that practically devours the headwind with its aggressive splitface with the ram air behind. The dome-shaped windscreen offers riders optimal protection and keeps them in the streamline. The perfect interplay between paintwork and carbon material is a highlight of the HP4 RACE, especially when it is at a standstill. A new era is dawning for color too. With the HP4 RACE, we present the new HP motorsport colors Light White / Racing Blue Metallic / Racing Red.
Built by hand. Configured for maximum performance.
Built by hand in Berlin, the HP4 RACE engine is an enhanced version of the engine from the long-distance WM and the World SBK. It produces 215 hp (158 kW) and the maximum rotational speed was increased to 14,500 rpm. The maximum torque of 88 lb-ft is at 10,000 rpm.
2018 BMW HP4 Race – Totalmotorcycle.com USA Specifications/Technical Details
US MSRP Price: $78000 USD
Canada MSRP Price: $ See Dealer for Pricing in CDN
Europe/UK MSRP Price: £68,000 GBP (On The Road inc 20% Vat)
Engine
Type Water/oil-cooled 4-cylinder four-stroke in-line engine, four titanium valves per cylinder, two overhead racing camshafts, milled oil sump, Pankl connecting rod, precision-balanced and lightened crankshaft
Bore x stroke 80 mm x 49.7 mm
Capacity 999 cc
Rated output 215 hp (158 kW) at 13,900 rpm (maximum speed 14,500 rpm)
Max. torque 88 lb-ft (120 Nm) at 10,000 rpm
Compression ratio 13.7-13.9 : 1
Mixture control / engine management Electronic racing injection, variable intake pipe length, four selectable modes
Emission control Akrapovic full titanium 4 in 2 in 1 WSBK exhaust system
Performance / fuel consumption
Maximum speed Over 186 mph
Fuel type Superplus unleaded, minimum octane number 98 (RON)
Electrical system
Alternator 406 W
Battery 12 V/5 Ah, Li ion maintenance-free
Power transmission
Clutch Multi-disc clutch in oil bath, anti-hopping clutch, mechanically operated
Gearbox Constant-mesh 6-speed racing transmission (EVO) with straight-cut gears (gears 1, 2, 4, 5 and 6)
Drive 16/43 (adjustable as part of equipment pack: sprocket 15, 16, 17, chainwheel 41, 42, 43, 44, 45)
Chassis / brakes
Frame Carbon monocoque RTM frame with steering head angle and swing-arm pivot adjustment, load-bearing engine
Front wheel location / suspension Öhlins FGR 300 WSBK fork, adjustable rebound and compression-stage damping, adjustable spring preload, Öhlins SD052 adjustable steering damper, front wheel quick-change system thanks to rotatable forklegs with front-wheel cover mounted (brake calipers need not be removed to change a wheel) spring stiffness 10.5 N/mm
Rear wheel location / suspension Aluminum WSBK swing arm, Öhlins TTX 36 GP central spring strut, adjustable rebound and compression-stage damping, adjustable spring preload, top spring strut pivot point adjustable (0/3 mm), adjustable spring strut deflection (tension strut), contact surfaces for wheel spacer bush on chain tensioners for simple/hands free wheel fitting, chain tensioner titanium on outside, aluminum on inside, CFRP auxiliary stand mountings on swing arm, spring stiffness 95N/mm
Suspension travel front / rear 5.1" / 4.7" (130 mm / 120 mm)
Wheelbase 56.7" (1440 mm)
Castor 4.0" (adjustable between 3.7" – 4.4")
Steering head angle 65.5° (adjustable 0.0°, +/-0.5°, +/-1°)
Wheels Carbon wheels including press-fitted wheel spacer bushes for easy wheel fitting
Rim, front 3.50 x 17″
Rim, rear 6.00 x 17″
Tires, front 120/70 ZR 17 Pirelli Diabolo Superbike Slick SC2
Tires, rear 200/60 ZR 17 Pirelli Diabolo Superbike Slick SC2
Brake, front Brembo Racing twin disc brake, T-floating racing brake discs, 320×6.75 mm diameter, 4-piston monobloc WSBK GP4-PR fixed caliper with titanium pistons, Brembo Racing RCS19X18 master cylinder, including adjustable Brembo Racing brake lever, Brembo Racing clutch lever (without clutch switch)
Brake, rear Brembo Racing single-disc brake, 4-piston WSBK fixed caliper with titanium pistons, brake disc diameter 220×4.0 mm
Dimensions / weights
Length 81.6" (2,070 mm)
Width (incl. mirrors) 30.6" (777 mm)
Height (excl. mirrors) 47.0" (1,193 mm)
Seat height, unladen weight 32.7" (831 mm) rider seat low / high, 32.1" / 33.3" (816 / 846 mm)
Inner leg curve, unladen weight Approximately 73.2" (1,859 mm) rider seat low/ high, 72.0" / approx. 74.4" (1,829 mm / approx.. 1,889 mm)
Unladen weight, road ready, fully fueled 1) 378 lbs (171.4 kg)
Dry weight 322 lbs (146 kg)
Usable tank volume 4.6 gal (17.5 l)
Reserve Approx. 1 gal (4 l)
Technical data relate to the unladen weight (DIN)
1) According to guideline 93/93/EWG with all fluids, fueled with at least 90% of usable tank volume
THE RESULTS:
2018 BMW HP4 Race – Coolness Factor = 74.4%
Featured: August 25th, 2017 – August 30th, 2017
Most popular vote category: Cool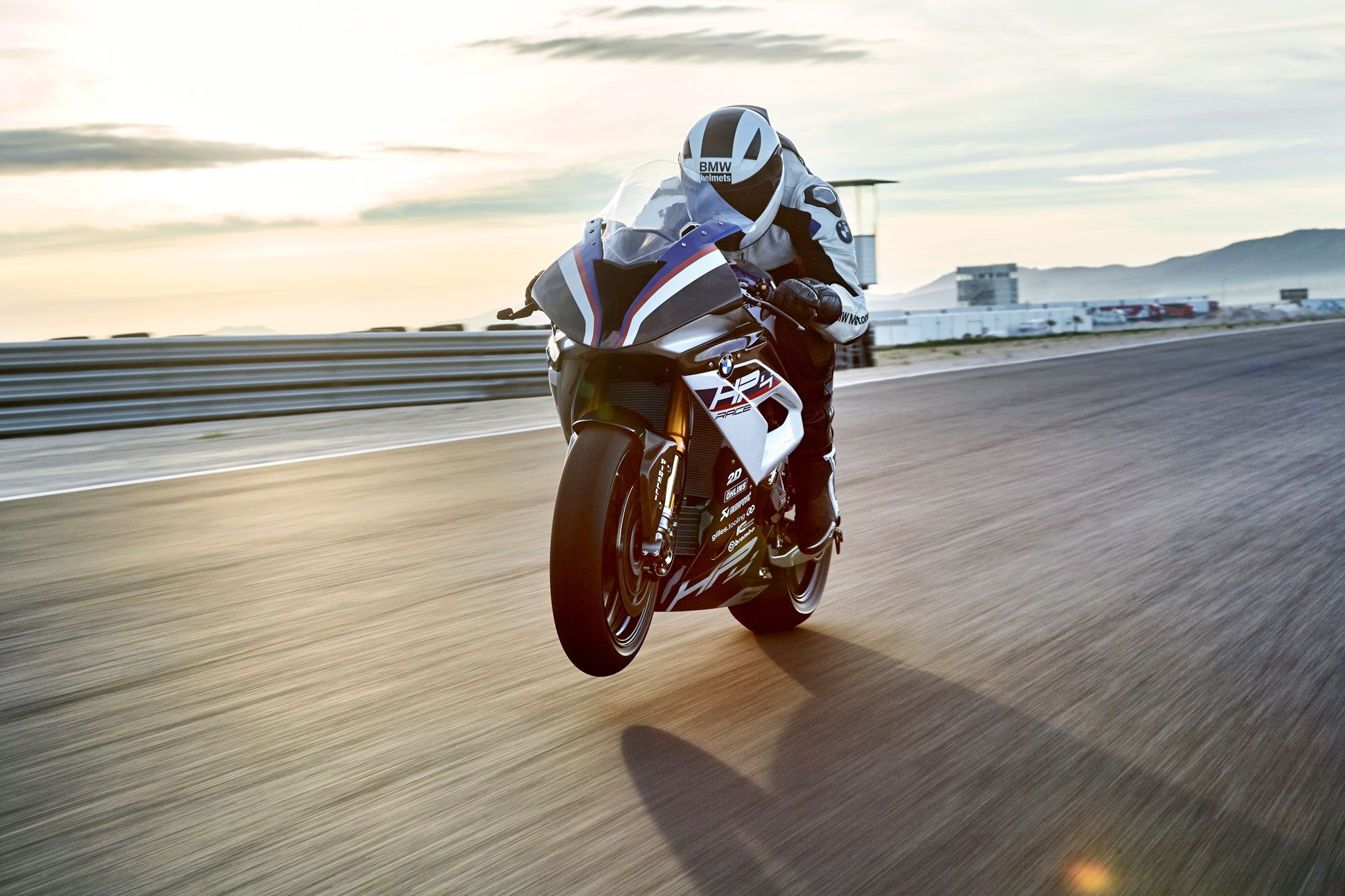 Motorcycle Cool Wall discussion: viewtopic.php?f=61&t=54470
Total Motorcycle model page: https://www.totalmotorcycle.com/motorcy … ace-review
Your Coolness Factor of the 2018 BMW HP4 Race
Awesome (3 points) 5
Cool (2 points) 7
Uncool (1 point) 0
Fail (0 point) 1
Total votes: 13
= a Coolwall Factor of 74.4%
Total Motorcycle's Take-a-way: "I live my life a quarter mile at a time. Nothing else matters". If you like your life like Vin Diesel then BMW has a motorcycle for you! The 2018 BMW HP4 Race is exclusive, incredibly fast, handles like it is on rails and did I mention… super expensive? 322lbs and 215hp says it all.
Best comments of the week: "Sweet bejesus. 78 grand? AMERICAN?" – NorthernPete