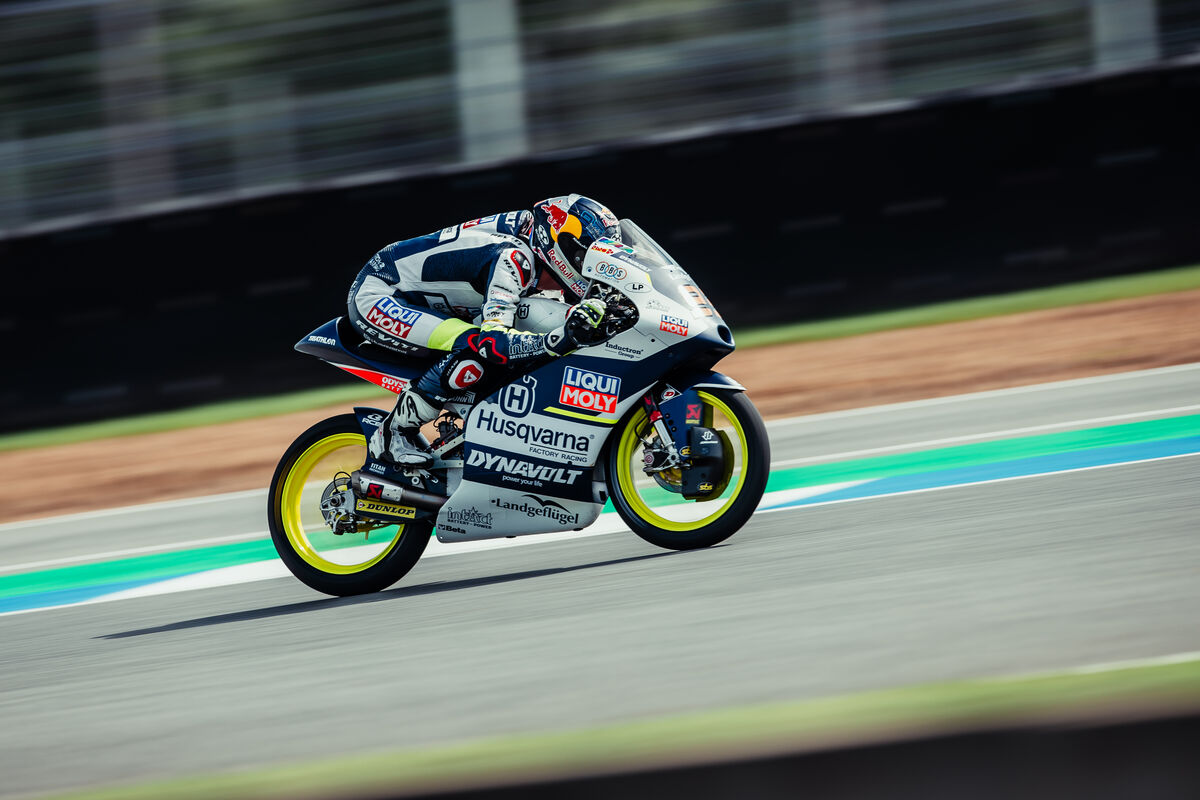 MotoGP unpacked in a world championship race circuit for the third week in a row and in the intense heat of Thailand after demanding events in Indonesia and Australia. The LIQUI MOLY Husqvarna IntactGP Team were glad to find drier, warmer and sunnier conditions for racing at the relatively new Chang International Circuit in Buriram, a hefty distance east of Bangkok. The Thai climate was not without its challenges however with the increased temperatures and humidity meaning a contrasting set of demands to the cold and wind of Phillip Island the previous weekend.
The Thai layout was flat and fast with three decent-sized straights separated by a twisty section. Lap-times were impossibly close as the teams worked on refining their race settings to master the braking and accelerating demands but also enough to thread through the weave from corners 5-10 on the 12-turn trajectory. Friday was sunny and sweltering and Vejier made his mark with the 4th fastest time and Sasaki was 10th but just 0.7 from Provisional Pole.
On Saturday the skies contained more clouds, but the threat of showers remained mostly absent. Fifteen riders were split by eight tenths of a second and both Sasaki and Veijer were in the mix. Sasaki made the front row with 3rd position and Veijer secured the second thanks to 5th spot.
The group surged away for 19 laps on Sunday morning but Sasaki's race did not last longer than two laps. David Muñoz had a technical problem while charging through the final part of the course and Sasaki could not avoid the Spaniard. Ayumu escaped injury and the crash but suffered his third non-score of the season. The onus was left on Veijer to push for his first silverware and help repel Sasaki's main rivals in the championship. The youngster led several times in the close dispute and then survived a massive 'moment' on the final lap to seize 3rd by just three tenths of a second! It was Veijer's first GP podium in his maiden Moto3 campaign and gives the team a total of ten appearances in 2023.
Sasaki is 2nd in the Moto3 Riders World Championship with 17 points separating him from 1st and with a margin of 8 over 3rd place. Veijer's consistency has pulled him up to 9th. The Teams contest continues to be fronted by IntactGP; they have a 16 point advantage while Husqvarna Motorcycles is the 3rd best manufacturer. With three Grands Prix left to run, a maximum of 75 points remain up for grabs.
MotoGP enters a much-needed reprieve of duties for the teams and riders this week but the final rally to Malaysia, Qatar and Spain to end 2023 will begin with the trip to the Sepang International Circuit for round eighteen on November 9-12th.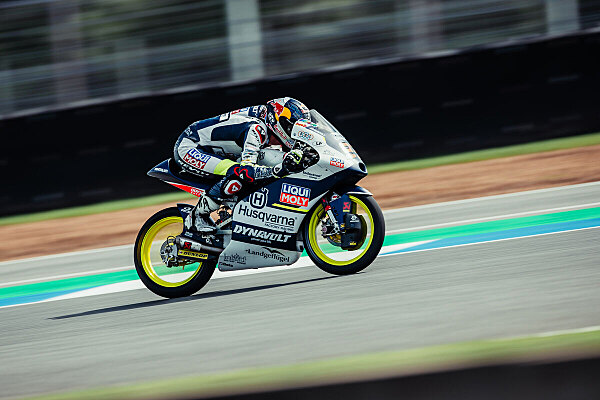 Collin Veijer: "This feels amazing. Better than a Pole Position! At the end my tyre was finished because I tried to lead all the way. I almost highsided at the end but I thought 'I'm not going to give it away now…' so I tried my best and I was perfect out of the last corner. This feels great and I'd love to thank my team and all my sponsors, family and friends."
Ayumu Sasaki: "A very disappointing day. We were so unlucky. It was a racing accident. Nothing more we can say. We just need to try to come back in the next race stronger. We have 17 points to catch and we are capable of doing that. We'll try our best to make it happen."
The IntactGP crew affronted far better racing conditions for Moto2™ compared to the blustery winds, rain and cold air that blighted the shortened outing in Australia. The proximity of the Thai event meant a chance for both Darryn Binder and Lukas Tulovic to forget the adversity of Phillip Island and get their positive momentum back on the boil.
Binder, still a rookie to the Moto2 division, fared better in qualification on Saturday but only marginally. The South African was 25th and Tulovic, who is working his way back to full fitness, throttled around Buriram as hard as he could for the 26th best lap-time and the same slot on the grid.
Moto2 laid rubber around the Chang International Circuit for 22 laps early Sunday afternoon. Binder had made a bright start and burst into the GP points zone. The South African had a close duel with Bo Bendsneyder and won the dispute for 15th and the last world championship point on the day. Tulovic ranked 23rd after a late fall. Similar heat and unpredictable weather could affect round eighteen and the Malaysian Grand Prix in two weeks' time.
Darryn Binder: "It's been a difficult weekend. I set out in the race today just to try and gain some information, learn as much as I could and take as many positions as I could! In the beginning I made quite a good start but I reached a point where I could not make much more progress. I did my best and made it to the flag with one point today. Disappointed. It has been a tough one but I did what I could. We'll try again in Malaysia."
Lukas Tulovic: "It was very annoying that I crashed on the last lap. I wanted to defend this 19th place. Unfortunately, I lost it minimally over the bumps. I wish I could name even one thing that explains why we are struggling so much at the moment. Unfortunately, it is very complex, so I will try to clear my head in the short break before Malaysia. I will prepare well and then we will start with a different strategy in there.".
Results Moto3 Thailand Grand Prix
1. David Alonso (COL) GASGAS 32:45.307, 2. Taiyo Furusato (JPN) Honda +0.266, 3. Collin Veijer (NED) Husqvarna +0.359, DNF. Ayumu Sasaki (JPN) Husqvarna
World championship standings Moto3
1. Jaume Masia (ESP) Honda 230 points, 2. Ayumu Sasaki (JPN) Husqvarna, 213, 3. David Alonso (COL) GASGAS, 205, 9. Collin Veijer (NED) Husqvarna, 105
Results Moto2 Thailand Grand Prix
1. Fermin Aldeguer (ESP) 35:20.880, 2. Pedro Acosta (ESP) +3.481, 3. Somkiat Chantra (THA) +9.794, 15. Darryn Binder (RSA) Husqvarna +33.565, 23. Lukas Tulovic (GER) Husqvarna 1:27.793
World championship standings Moto2
1. Pedro Acosta (ESP), 300.5 points, 2. Tony Arbolino (ITA), 237.5, 3. Jake Dixon (GBR), 172, 19. Darryn Binder (RSA) Husqvarna, 32.24. Lukas Tulovic (GER) Husqvarna 12