You are here: Home — Interviews — 2004 Victory Motorcycle Canada Interview

Total Motorcycle Interviews

2004 Victory Motorcycle Canada Interview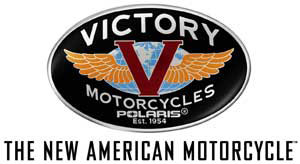 Total Motorcycle's interview with Victory Motorcycle Canada:
by Andrea Le Pard and Mike Le Pard.
Polaris, the company that owns Victory, has been around for over 50 years. Victory, its motorcycle division, is now in its 5 year of production. Amazing how time files when Victory is having fun!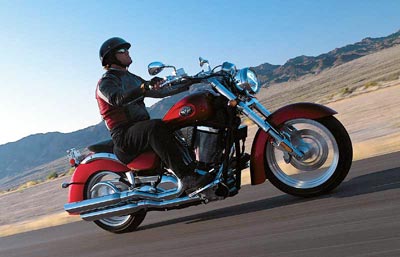 Total Motorcycle interviewed Rene St. Croix, Victory Motorcycle's sales specialist for Canada, at the 2004 Calgary Motorcycle Show on January 10th, 2004. Rene is the man to talk to if you want the inside lane on what's happening at Victory. And he is a super friendly guy to talk to as well.
Rene told us that Victory is on the move, BIG TIME. In the beginning, Victory saw and liked the style of Harley-Davidson cruisers. Who can blame them, Harley-Davidson's style is hard to beat in the market. But they wanted to follow their own path, one they feel is a better path to go down. Today, they are moving away from the Harley-Davidson design and into current and future technology. With Inverted forks, Bembo brakes, and loads of other technological goodies only found on Japanese motorcycles, Victory is looking to score on the technological and styling front. The Victory Kingpin is a great example (more on that later) of a higher technology cruiser that has still maintained a great classic image.
Victory's cruisers are marketed for "more sophisticated riders" who appreciate a good cutting-edge bike with a style to match. It seems to be working well, with pre-sales of the new Victory Kingpin in January 2004 greater than their total sales of 2003!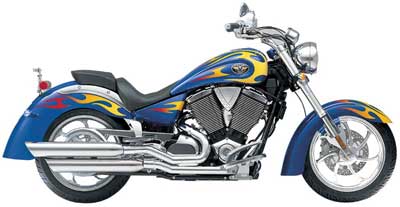 The Kingpin is based on the Victory Vegas chassis, but with a smaller tire. This helps the bike to respond faster in tighter corners. The new 2004 Kingpin features longer skirted fenders, a nice smoothed out seat area some great paint choices. With pre-sales already through the roof for the Kingpin, there is no guessing that Victory has a big winner on their hands.
With the demise of Indian Motorcycle in 2003, we really wanted to know what Victory's future was and how shaky it could be. Well, Rene assured us that Victory is in a much better financial position than Indian Motorcycle was. Because Victory is a Polaris company, they have a lot of financial backing. For those who don't know, Polaris makes the majority of its money on ATV's, snowmobiles and watercraft. Because Victory does not want to rely on Polaris, they are converting some Indian Motorcycle dealerships into Victory ones to help those businesses out. Victory has also worked on ways to increase production to super levels. At present, a complete motorcycle assembly (from start to finish) in 25 minutes, that's quite an accomplishment.
Polaris is currently promising 1-2 NEW bikes per year and since it now only takes them 25 minutes to make each bike, production is booming. Rene let us know that they are more American built than any other production motorcycle manufacturer, including Harley-Davidson. That "made in the USA" ideal can make a big difference in sales to some buyers.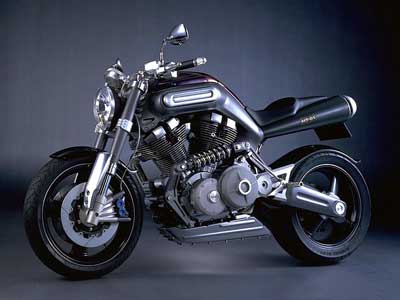 Pictured is the Yamaha MT-01,
but the Victory Naked V-Twin model may not look so different.
Victory was kind enough to let us know what is coming down the pipe for 2005 and 2006. These new Victory 2005 and 2006 motorcycle models could have buyers running to the nearest Victory dealership!!
For the 2005/2006 model year, Victory is probably going to be introducing both a naked standard and a sport bike based off its now legendary V-Twin engine! Well, at least that is what was hinted at with a wink and a nudge. With Victory's technological attitude, it could give the new motorcycles a great platform with lots of low down torque (power) and massive "made in the USA" styling. Looks for the Victory standard naked motorcycle should not be unlike Yamaha's MT-01 concept motorcycle from years ago. The Yamaha MT-01 is based on the 1600cc cruiser engine.
Victory's 2005/2006 sport bike could take the "king of torque" title when it comes out. One thing is for sure, Buell won't be the only ones offering a big V-Twin sport bike.
Keep your eyes open and your bank account full, because Victory is on the move for 2004, 2005 and 2006!
---
Unbiased, helpful, personal, friendly and useful motorcycle resource