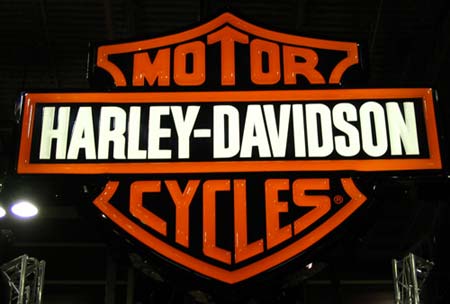 Total Motorcycle's interview with Harley-Davidson Motorcycle
by Mike & Andrea Le Pard.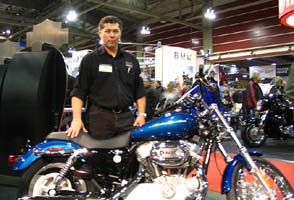 Few people would argue that Harley-Davidson has loads of style, heritage and tradition. With 101 years in the marketplace, Harley-Davidson has perfected what they believe is "what a cruiser should look like." Style, heritage and tradition aside, H-D is forging down new and not so traveled roads for the future. Let's go with them and see what is down their road.

Total Motorcycle interviewed Ric Marrero, Deeley Harley-Davidson Canada's Marketing and Communications Director on January 8th at the 2005 Calgary Motorcycle Show. Deeley is the exclusive distributor for Harley-Davidson and Buell in Canada. Ric is the nicest, most down to earth, rider-oriented corporate fellow we have ever met. Ric was extremely helpful in unraveling the complexities of what is coming in the future for Harley-Davidson.



TMW: Ric, what sets Harley-Davidson apart for the rest of the competition?

Ric: The Company has 101 years of rich History, Heritage and Tradition, which cannot be said by any other manufacturer still producing today. Harley-Davidson is very proud of where it has come from and what it has accomplished in those years. Harley-Davidson is one of the most enduring icons and proud to be a North American brand.



TMW: What were Harley-Davidson's most successful models for 2004?

Ric: Ever since the Harley-Davidson Fat Boy (FLSTF/FLSTFI) has been introduced in Canada, it has been one of the most successful models. Riders love the stylish appearance and the quality ride of the motorcycle. In 2004, there was a re-engineering of the entire Sportster line and the current Sportster lineup is more popular than ever.



TMW: Out of all of Harley-Davidson's 2005 models, which ones are Harley Davidson most excited about and why?

Ric: The 2005 Harley-Davidson Softail Deluxe (FLSTN/FLSTNI) and Softail Springer (FXSTS) immediately come to mind. They both reflect the tradition, retro image and heritage of Harley-Davidson. The Softail Deluxe offers a retro look and whitewall tires. Best of all, it features a new lower seat height at just 24.5 inches off the ground so even more riders can enjoy this motorcycle. The 2005 Softail Springer features a black powder-coated engine with chrome covers, tombstone style taillight and a Badlander® seat.

TMW: What do you foresee Harley-Davidson focusing on more in the future?

Ric: Harley-Davidson will still continue to focus on Heritage and Tradition, but this doesn't mean they will be stagnant in motorcycle design. The Factory will probably focus on designing models that will appeal to urban and younger riders. Harley-Davidson will also focus more on growth in female buyers. Female riders love Sportsters and are currently 35% of Canadian Sportster owners. By designing future models with lower seat heights, Harley-Davidson can better accommodate these new market segments.
TMW: What things might we expect to see from Harley-Davidson in the future?

Ric: The future will be very exciting for Harley-Davidson as it always is. The recent Harley-Davidson V-Rod (VRSC) liquid cooled V-Twin engine is a big technological advance and we look forward to more applications of this excellent Revolution engine. The Factory is responsive to its customers' needs and more horsepower and improvements are possibly in future scenarios. And let's not forget Buell, an up and coming motorcycle line inspired by the genius of Erik Buell. With the success of the XB platform, you can probably look forward to many new enthusiasts on the roads this year.
Finally, let's keep in mind that Harley-Davidson provides the ultimate opportunity for accessorizing and customization. Harley customers can make their bike an individual statement.

TMW: Is there anything else you would like to share with our readers?

Ric: Harley-Davidson is not sitting still and remains one of the most famous success stories on the planet. There are efforts underway to increase brand profile to new markets and grow the Harley-Davidson name to new customers. We are looking forward to a very exciting future and invite everyone to join us.

This concludes our 2005 Interview with Harley-Davidson Motorcycles. We would like to thank Deeley Harley-Davidson Canada and Ric Marrero for providing the interview. We look forward to our next meeting.

---
Unbiased, helpful, personal, friendly and useful motorcycle resource