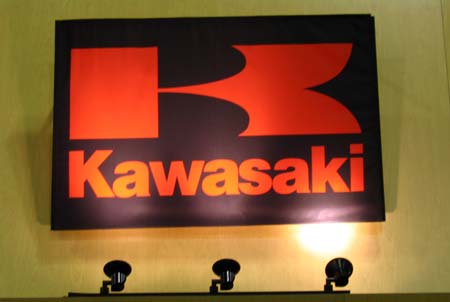 Total Motorcycle's interview with Kawasaki Motorcycle Canada:
by Mike & Andrea Le Pard.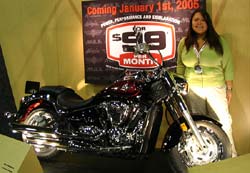 In March of 1966, in an old meat warehouse in Chicago, Kawasaki Motorcycles set up its USA headquarters. They practically started with nothing – no customers, no distributors and no image. But they had something more important: a strong desire to succeed, and a promise from the factory to supply the best products to consumers. Today, Kawasaki Motorcycles annual revenue tops 750 million dollars.

Total Motorcycle interviewed Christina De Guzman, Kawasaki's Marketing Manager from Special Projects on January 8th at the 2005 Calgary Motorcycle Show. While short on description, Christina provided us with a glimpse of what Kawasaki has in store for motorcyclists in 2005 and beyond.
TMW: Christina, what sets Kawasaki apart from the rest of the competition?

Christina: Kawasaki sets itself apart by providing the customer the leading edge of "power, performance and exhilaration." This is our new motto, and we believe that it describes all of our products, including our entire motorcycle lineup.
TMW: What were Kawasaki's most successful models for 2004?

Christina: All of our new 2004 models produced very powerful sales. Kawasaki increased its market share in the motorcycle market with the introduction of our new innovative models for 2004. Motorcyclists loved our brand new yet very popular ZX-10R so much that it became our best seller. This bike offered category leading power-to-weight ratio, and a powerful engine with advanced technology and MotoGP styling.

Our Kawasaki Z750 was a mid-weight naked sports bike aimed at a broad range of riders and riding applications. The Z750 has good power, lightweight handling and dynamic styling.
Our race circuit-inspired 2004 Ninja ZX-6RR was another one of our best sellers. The Ninja ZX-6RR is different than that of the street-use 6R as it is even more race-oriented. New in 2004 was a series of engine and chassis upgrades and a more track oriented focus.

Finally, the 2004 Kawasaki Vulcan 2000 was also a great model for us. Made to be a super-macho new cruiser, it was the largest displacement V-Twin in the world at 2033cc. Even in 2005, it will still be the largest mass-produced V-Twin cruiser available.


TMW: Out of all of Kawasaki's 2005 models, which ones are Kawasaki most excited about and why?

Christina: The model we are most excited about is our revamped 2005 Ninja ZX-6R. This bike exemplifies Kawasaki's commitment to developing the world's leading-edge sportbikes, strongly reaffirming Kawasaki as the brand of choice for hardcore sportbike enthusiasts. The new NINJA ZX-6R is the most aerodynamically efficient sportbike Kawasaki has ever created – even more streamlined than our leading edge ZX-10R. New reworked higher performance engine, improved transmission, streamlined body work, shortened wheelbase, relocated and redesigned fuel tank, larger air box, more centralized mass (results in quicker roll-on acceleration and higher top speeds at the race track), as well as enhanced rider comfort and control. We have even added an under seat muffler to give it racer looks to match its performance. In 2005, this bike will be offered in a new color as well – Titanium Silver Matte. Like the ZX-10R, the NINJA ZX-6R is oriented toward serious sport riding and track performance.

For those interested in our cruiser line, our new Limited Edition Vulcan 2000 features all the power, performance and style of the 2005 Vulcan 2000, but includes several eye-catching accents that make this exclusive, heavy-weight cruiser the envy of the boulevard.
Built in limited numbers, the 2005 Kawasaki Vulcan 2000 Limited Edition includes the Vulcan "2000 LIMITED" insignia etched on the right side of the airbox to denote its special status, while a high-quality, two-tone paint job details the tank. And yes, the Vulcan 2000 Limited includes even more chrome parts than our normal Vulcan 2000.

TMW: What is Kawasaki currently focusing on in the market and why?

Christina: Our new corporate motto of "power, performance and exhilaration" focuses Kawasaki in the direction we want to go. Some customers may have noticed that our logo has changed to reflect this new motto as well. Kawasaki is passionate about motorcycles; it's who we are, it's what we do.


TMW: What do you foresee Kawasaki focusing on more in the future?

Christina: Kawasaki will continue to focus on the path of revamping our products regularly by introducing changes to our models every 4 years. Focusing on leading edge design and technology to provide the Kawasaki motorcyclist the ultimate in power, performance and exhilaration, we will aim to stay on top of the market. On a side note, at Kawasaki we are committed to keeping the motorcycle industry strong. We believe that growth in any company is good for the industry on the whole.
TMW: What things might we expect to see in the future from Kawasaki?

Christina: Kawasaki will be introducing even more models in our Super Sport lineup in the near future. Unfortunately, I cannot share with you any detail on future designs.
TMW: Is there anything else you would like to share with our readers?

Christina: New for 2005, Kawasaki has announced our new owners club – Riders of Kawasaki (ROK) that replaces our previous owners club the Good Times Owners Club (GTOC). The new Riders of Kawasaki (ROK) owners club expands the benefits available to owners of street-legal Kawasaki motorcycles. Member benefits include six issues of the new ROK magazine, special promotional packages, 24-hour North American wide roadside assistance program, VIP hospitality at select national events, such as AMA Superbike races, and a membership kit.
This concludes our 2005 Interview with Kawasaki Motorcycles. We would like to thank Kawasaki Canada and Christina De Guzman for allowing us to interview them and for their time. We look forward to our next interview with them.

Kawasaki also wins out very unique and special "Best free candies at the show" award for the 2nd straight year in a row. Their green apple flavoured candies were awesome!
---
Unbiased, helpful, personal, friendly and useful motorcycle resource