Total Motorcycle's interview with Triumph Motorcycle Canada:
by Andrea Le Pard and Mike Le Pard.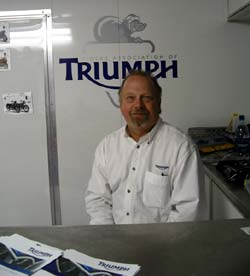 Triumph prides itself on a very long heritage, being the oldest in the motorcycle industry. For those who don't know, Triumph started building motorcycles in 1902.

Total Motorcycle interviewed Chris Ellis, General Manager of Canadian Operations on January 8th at the 2005 Calgary Motorcycle Show. Chris is the perfect embodiment of what today's Triumph is all about: friendly, helpful, passionate and knowledgeable about the product. Total Motorcycle was again very fortunate to steal Chris away from the masses of potential Triumph buyers at the show. We would also like it to be known that Chris Ellis was the only General Manager from any of the motorcycle manufacturers at the Calgary show. Way to go Chris for supporting the Triumph product on the front lines.
TMW: Chris, what sets Triumph apart from the rest of the competition?

Chris: Triumph appeals to a niche market as we produce a specialty product that is not available from any other manufacturer. Our bikes are most recognizably and uniquely British with British attitude and looks. Triumph riders are very loyal to the Triumph brand and many are repeat buyers who rode British bikes when they started riding. A Triumph motorcycle is for the rider who is an individual, as our motorcycles truly express the character and personality of that type of rider.
TMW: What were Triumph's most successful models for 2004?

Chris: 2004 was the best year for Triumph motorcycle sales in North America since it was reinstated in 1991. Our most successful and biggest selling motorcycle group was the modern classic Bonneville line up (Bonneville, Bonneville Black, Bonneville T100). A modern day roadster with a tangible connection to the classic style of times gone by, the Bonneville mixes timeless British engineering with modern technology and thinking.
As for our most successful individual bike, the number one seller would have to be the 2004 Triumph Speedmaster cruiser.

TMW: Out of all of Triumph's 2005 models, which ones are Triumph most excited about and why?

Chris: This is an interesting question. I would speculate that the 2005 Triumph Rocket III could have been the best seller for 2005 since we have already nearly sold out of our stock and it is only January! Even Triumph could not have guessed how hugely successful the Rocket III was going to be or else they would have made more to meet customer demand. As a result, it can't be our best seller in number of units because we do not have enough of them made to top the sales charts. I guess this is not a bad thing because it allows the Rocket III owner to be unique and individual from the rest of the crowd. The Rocket III is again a perfect example of what Triumph is all about: true individuality. The Rocket III has forever defined a complete generation of motorcycles. Everything about it is special; its muscular performance, stunning looks, attention to detail and monumental presence are simply unique. Even though the Rocket 3 weighs in at 320kg (704lbs) it feels light thanks to its advanced engineering.
(TMW note: If you find a Rocket III for sale and you want it, buy it because there are not many unsold models left.)
As was the case in 2004, I expect to again see the 2005 Triumph Speedmaster model to be the biggest single seller. New for 2005 is more low-down torque thanks to its new 865cc, air-cooled, twin cylinder engine. The Speedmaster also features hot rod styling with 'drag' style handlebars, double front discs, wide-set telescopic forks and a black engine finish. It's built for city streets and twisting roads, complete with an engine that inspires and a chassis that excels.
TMW: What is Triumph currently focusing on in the market and why?

Chris: Triumph's triumphant come back success in the motorcycle marketplace is thanks to carefully planned and executed phases and stages. Phase 1 was to again bring merit to the Triumph brand name after being away from the motorcycle business from 1983-1991. Phase 2 was the introduction of the Hinckley-built Triumphs from 1991 to 2004. Phase 3 begins now, where we will focus on a stronger understanding of Triumph branding. (See next question for a more in depth look at Phase 3.)

TMW: What do you foresee Triumph focusing on more in the future?

Chris: Triumph will be focusing on the Phase 3 stage of development. Triumph's Phase 3 (2004+) will help us guide the business through our existing demographic targets and also bring new riders to enjoy the "new" Triumph brand. One of the problems in the past (1991-2004) was that Triumph was looked upon as a great brand name but not a "cool" brand as it was in the past. However, with the introduction of phase 3, innovative design and our British heritage will help bring "cool" back to the brand. Triumph also feels good that our motorcycles are not disposible so riders will keep our motorcycles longer than they would own our competitor's models.

TMW: What things might we expect to see in the future from Triumph?

Chris: We will be designing and producing new and innovate motorcycles. The 2005/2006 Triumph Speed Triple and Triumph Sprint ST are new this year and re-introduce the "cool" concept to our motorcycles and really show of what is to come from Triumph. The new Speed Triple 1050 will be introduced in May 2005 and the Sprint ST 1050 in April 2005.
TMW: Are there any future models in the works?

Chris: Triumph is a very future oriented company. With our Phase 3 approach we are looking to produce some very exciting innovative new models each year. Our current 10 year plan is to introduce 2 new models per year to our line up. Expect 10 new models, 2 per year, for the next 5 years from Triumph!
Triumph has acknowledged the rising increase of motorcycle insurance worldwide and we are keeping these costs in mind for our fellow Triumph riders when designing our new models. Due to increasing future insurance costs for riders, sport bikes may less important to bring to market these days.
As for the cruiser side of our business, we will continue to be focused on larger bikes and engine sizes over 600cc. We feel that the market is not right for bikes less than 600cc in size at this point in time.
Triumph at one time was producing dirt and enduro models, but there are no current plans to produce these types of bikes in the future.

TMW: Are there any changes in the works for any of the current models?

Chris: Triumph will be upgrading our models each year, as we are not happy sitting on an older or outdated design or technology. For example, our 2005 Speed Triple and Sprint ST have undergone significant changes just this year.
TMW: Is there anything else you would like to share with our readers?

Chris: Triumph is a small motorcycle company in terms of the number of bikes produced (just 35,000 per year), but we have a large array of clothing and accessories for our bikes. Our company believes it is important that our riders not only look good and feel good when riding our bikes, but also be safe. Few know this, but Triumph brand accessories are tested just as hard as our motorcycles are. Everything from luggage to clothing and fabrics are assessed by the test riders as the bike is being tested initially.
This concludes our 2005 Interview with Triumph Motorcycles. We would like to thank Triumph Canada and Chris Ellis for allowing us to interview them and for their time. We look forward to our next interview with them.

---
Unbiased, helpful, personal, friendly and useful motorcycle resource