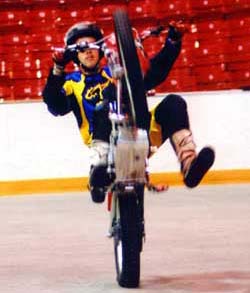 Welcome to the Total Motorcycle Interviews section. We are pleased to present our first hand interviews for you to read and enjoy. As with everything on Total Motorcycle.com you can be assured our interviews will be useful, unbiased and entertaining.
We are always very proud to be invited to interview some of the most important people and manufacturers in the motorcycle industry today. We thank all those who have allowed us to interview them in the past. Thanks for allowing us to take up a few moments of your time to share your information with us and our visitors.
Each interview includes photos, information, and of course any comments and conclusions.
We are happy to write interviews for our many visitors. If you would like Total Motorcycle to consider interviewing you please contact our friendly staff at: Interviews for more information.
TMW INTERVIEW INDEX
Motorcycle Manufacturer Interviews:

2005 Interviews:

– 2005 BMW Motorcycle Canada Interview
– 2005 Buell Motorcycle Canada Interview
– 2005 Ducati Motorcycle Canada Interview
– 2005 Harley-Davidson Motorcycle Canada Interview
– 2005 Honda Motorcycle Canada Interview
– 2005 Kawasaki Motorcycle Canada Interview
– 2005 KTM Motorcycle Canada Interview
– 2005 Suzuki Motorcycle Canada Interview
– 2005 Triumph Motorcycle Canada Interview
– 2005 Yamaha Motorcycle Canada Interview





2004 Interviews:

– 2004 Harley-Davidson Motorcycle Canada Interview
– 2004 Honda Motorcycle Canada Interview
– 2004 Kawasaki Motorcycle Canada Interview
– 2004 Suzuki Motorcycle Canada Interview
– 2004 Triumph Motorcycle Canada Interview
– 2004 Yamaha Motorcycle Canada Interview



People and Team Interviews:

– Team Outlaw's MX Xtreme member Mike McGaw
….Also selected bios of Team Outlaw members: Kris Garwasiuk, Mike Samson

– Canadian National Trials Rider Champion Ryon Bell