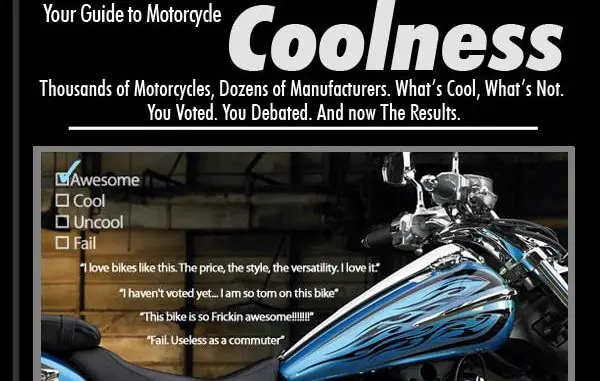 You Voted. You Debated. And now The Results.
Every Friday a new motorcycle will be featured on The Cool Wall for you to discuss, vote and debate on for it's place on the Motorcycle Cool Wall. See the Cool Wall results here.

Click here to Enter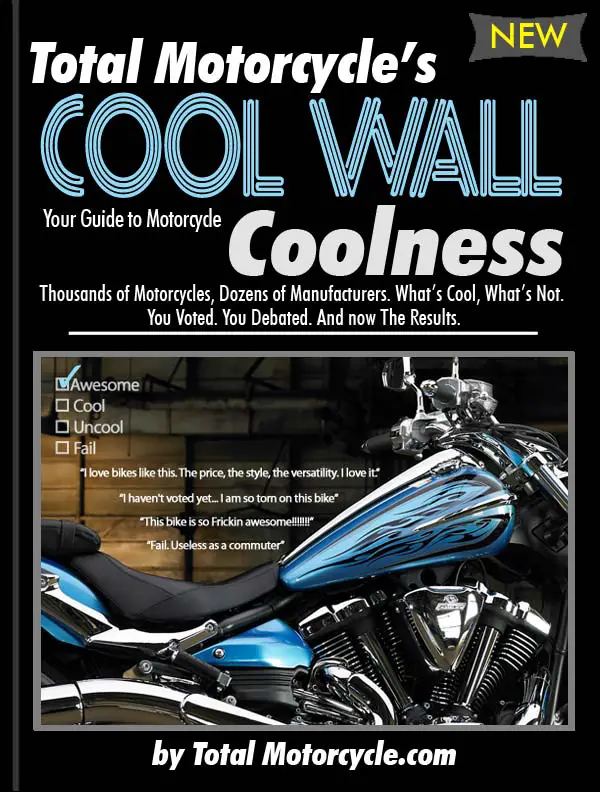 Click here to Enter
Total Motorcycle's Cool Wall.
Your Guide to Motorcycle Coolness.
Thousands of Motorcycles, Dozens of Manufacturers. What's Cool, What's Not.
You Voted. You Debated. And now The Results.
Vote:
Awesome, Cool, Uncool, Fail.
Debate:
"I love bikes like this. The price, the style, the versatility. I love it."
"I haven't voted yet… I am so torn on this bike."
"This bike is so Frickin awesome!!!!!!!!!"
"Fail. Useless as a commuter."
The final Total Motorcycle Cool Wall results are determined by public vote. Have YOUR say in the fate of a model on the Total Motorcycle Cool Wall: just VOTE and DEBATE in the discussion…

-=New models are placed on the TMW Cool Wall every Friday!=-
---
Thanks for making Total Motorcycle your virtual motorcycle destination!
Special thanks to: Aprilia, Benelli, Beta, Bimota, BMW, Buell, Ducati, Harley-Davidson, Honda, Husqvarna, Hyosung, Kawasaki, KTM, KYMCO, Moto Guzzi, MV Agusta, Piaggio, Ridley, Royal Enfield, Suzuki, Triumph, Ural, Vespa, Victory, Yamaha and Zero.