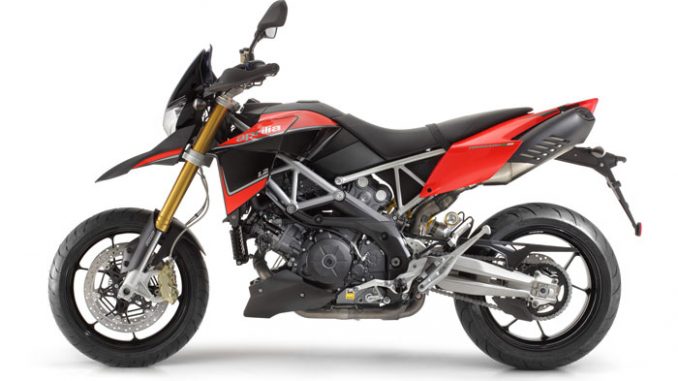 Click photos to enlarge. They make great desktop wallpaper.
2012 Aprilia Dorosoduro 1200 Review

2012 Aprilia Dorosoduro 1200
Dorsoduro 1200 is the benchmark in the maxi motard class. An all-new record breaking twin cylinder powerplant producing an astonishing 130 hp in an incredible light and nimble chassis. With its sleek forms, broad handlebars, superb attention to detail and premium componentry, this motorcycle represents the zenith of the twin-cylinder maximotard class. Dorsoduro 1200 is an explosive cocktail of horsepower, agility and precision that takes the concept of fun riding introduced by the Dorsoduro 750 to the next level.
The heart of the Dorsoduro 1200 is the Aprilia V2 1200cc 90° V-twin engine, which boasts the most advanced technology in the segment. Superlative mechanicals and perfection in terms of chassis design are the hallmarks of all Aprilia machines, and the same is naturally true of the Dorsoduro 1200 which, in addition, also boasts extremely sporty and sophisticated looks, outstanding new levels of finish and trim, and levels of agility and smoothness never experienced before on a twin this size.
With its essential lines oozing pure personality, the unmistakable design of the Dorsoduro 1200 makes it stand out in any crowd. The finish and trim set new standards for exclusiveness, with details such as the painted tail fairing, the two-tone frame and the dual exhaust with black heat shields.
The wind deflector and hand guards offer enhanced wind protection on a bike that is not just nimble in the bends, but is also capable of significant speed.
Naturally, the Dorsoduro 1200 boasts class-beating technical solutions, too. Radial Brembo callipers, hydraulic clutch, Ride by Wire with 3 different engine maps and the Matrix instrument panel with on board computer are all elements setting the Dorsoduro apart as a unique and exclusive project. The Dorsoduro is also available with ABS and Aprilia Traction Control (ATC), for total fun in total safety.
2012 Aprilia Dorosoduro 1200 Model Highlights

EXPLOSIVELY POWERFUL, EXTREMELY AGILE AND PERFORMANCE-FOCUSED, CREATED TO SATISFY EVEN THE MOST DISCERNING OF RIDERS.
A TOTALLY PERSONALISABLE RIDING EXPERIENCE WITH TRIPLE-MAP RIDE BY WIRE. DORSODURO 1200 IS ALSO AVAILABLE WITH ABS AND ATC-APRILIA TRACTION CONTROL.
The most significant characteristics of the Aprilia Dorsoduro 1200 in detail:
– 90° V-twin engine with four valves per cylinder, double overhead camshaft, liquid cooling and twin spark ignition;
– Triple map Ride by Wire technology (with Sport, Touring and Rain maps)
– Electronic fuel injection;
– Mixed gear/chain valve timing system;
– Exhaust system with three-way catalytic converter and oxygen sensor;
– Ultralight modular frame made from tubular steel trellis/aluminium castings offering outstanding torsional stiffness;
– Aluminium saddle mounting;
– Aluminium swingarm with lateral shock absorber;
– Fully adjustable 43 mm upside-down front fork and piggy-back design rear monoshock;
– Brembo racing brake system with radial callipers;
– Lighter three-spoke alloy wheel rims (-2 kg).

DESIGN
Dorsoduro 1200 is a radical, outrageously agile and sporty bike. It makes no concessions whatsoever for ornamentation or for anything not directly functional in achieving total performance and riding pleasure. This is why all body parts are cut down to the bare minimum; just like a proper race machine, the Aprilia Dorsoduro 1200 eliminates anything that is of no use to the rider. No frills, for a bike that prefers to put its superlative mechanicals and componentry on show instead. Every detail is minimised and focused on pure function, such as the hand guards and the motard-style race number panel, which also offers wind protection at higher speeds. These elements complement the pure design of the Dorsoduro 1200 perfectly, with an outstanding attention to detail evident in features such as the two-tone paintwork of the frame, the tail fairing colour-coded with the rest of the body elements and the dual exhaust with black heat shields. Even the 15 litre fuel tank is perfectly integrated into the sleek forms of the Dorsoduro 1200.

THE 1200 cc V90 ENGINE: THE STATE OF THE ART IN TWIN CYLINDER TECHNOLOGY
The Aprilia V90 is a modern, technologically advanced unit with a highly oversquare cylinder geometry for a markedly sporty temperament and smooth power delivery.

Every internal element of the Dorsoduro 1200 has been designed to optimise power delivery and make full use of the incredible 130 hp unleashed by the engine at 8700 rpm. Every single detail is conceived to complement the outrageously acrobatic character of the bike.
– 90° V-twin architecture;
– Triple map Ride by Wire technology (with Sport, Touring and Rain maps);
– Highly oversquare bore/stroke ratio;
– Offset cylinders for maximum lateral compactness;
– Four valves per cylinder;
– Double overhead camshafts driven by a mixed chain/gear valve timing system;
– Twin spark ignition for smooth but full-bore power delivery;
– Electronic fuel injection with dual throttle bodies;
– Stick-coils integrated in spark plug boots;
– Three-way catalytic converter with oxygen sensor;
– Hydraulically operated clutch.
The latest generation injection system uses micro-nebuliser injectors. In conjunction with optimised fluid dynamics, this solution ensures ideal combustion, for an engine that is not only powerful but also extremely clean. Twin spark ignition also contributes to cleaner emissions, as well as ensuring totally smooth power delivery.
Aprilia was the first manufacturer to believe in the potential of Ride by Wire, a highly sophisticated technology that helps the rider extract every ounce of performance from the motorcycle. The electronic throttle management system used in the Aprilia Dorsoduro 1200 represents the current state of the art. Even more precise and sophisticated maps ensure optimised engine management, keeping the engine in the perfect conditions to deliver maximum acceleration at all times for a riding experience unlike anything you've ever seen before. This solution also ensures smoother, fuller power delivery at low and medium engine speeds, for optimised engine efficiency even in low load, partial throttle conditions.
With its triple maps (Rain, Touring and Sport), the bike has three distinct personalities that the rider can choose from at any time to instantaneously suit every possible condition and preference. Simply close the throttle and press a button to choose the desired setting.
SPORT: extreme, for when you want to put yourself to the test with immediate and direct explosive power.
TOURING: smooth, for making full use of the shattering power of the 1200 cc engine in all conditions.
RAIN: balanced, with power reigned in to 100 hp for maximum fun even in poor grip or wet conditions.
With its state-of-art technology, the Aprilia V90 unleashes class-beating levels of power. No other maxi motard comes close to the performance of the Dorsoduro 1200: with 130 hp at 8,700 rpm and a maximum torque of 115 Nm at 7,200 rpm, this engine sets new records for the motard genre. To further emphasise the performance of the engine, a 2-into-1-into-2 exhaust system has been designed specifically for the bike. Made entirely from stainless steel, the generous internal volume of the system ensures a spine-tingling and distinctive sound.

THE FRAME: FEATHER-LIGHT BUT ULTRA-STIFF
True to Aprilia tradition, Dorsoduro 1200 is the most effective, best balanced bike in its class. While tailored for total riding fun, as with all Aprilia bikes, the chassis layout of the Dorsoduro also earns respect for its formidable dynamic balance. With the Dorsoduro, extreme agility does come at the cost of a nervous temperament, and its highly effective chassis layout ensures total precision and a sensation of being directly connected to the front wheel. And this is something that can only be said of very few motards out there.
The mixed frame design, constructed with a sturdy tubular steel trellis mated to lateral aluminium plates, is highly acclaimed by both enthusiasts and experts alike, while the aluminium saddle mounting contributes to lightening the bike. The product of Aprilia's experience in the world Supermoto championship, the frame offers perfect balance in terms of stiffness to deliver supreme handling, even with the explosive power of the 1200 cc V90.
The three-spoke lighter alloy wheel rims want to empasize the handling skills of Dorsoduro 1200. Thanks to the weight reduction compared to the previous component (-2 kg), the harmful gyroscopic effect is attenuated. Dorsoduro 1200 became even more agile, following the rider's cornering orders with the speed of a true benchmark.

SUSPENSION: PERFORMANCE UNDER CONTROL
The suspension of the Dorsoduro 1200 has been designed to fully exploit the incredible performance of the engine and offer the best solutions that anyone could ever desire in an extreme motard. The 43 mm Sachs upside-down fork with shell-cast calliper brackets features adjustable spring preload and hydraulic compression and rebound damping. In addition to permitting total adjustability, this extremely sophisticated component offers class-beating progressiveness and a full 160 mm of wheel travel, in perfect keeping with the supermoto riding style.
The side-mounted Sachs gas shock absorber with separate canister is pivoted directly onto the swingarm in a cantilever configuration and features adjustable spring preload and hydraulic compression and rebound damping. A component allowing experienced riders to explore the full potential of the bike's performance, even on the track. The rear wheel stroke is 155mm, again in line with the supermoto philosophy that aims for an effective, controlled suspension but with a long stroke.

BRAKES: RACING TECHNOLOGY – ALSO AVAILABLE WITH ABS
The Aprilia Dorsoduro 1200 adopts the state of the art in brake technology: at the front are 4-piston radial Brembo callipers gripping 320 mm floating discs. The 240 mm rear disc is also braked by a Brembo calliper – in this case a single piston unit.
Both the front and rear brake systems employ aeronautical grade metal braided hoses, which eliminate the undesirable pressure fluctuations of conventional hoses for maximum braking precision and truly class-beating stopping performance.
Dorsoduro 1200 is also available with a two-channel ABS system, which can be deactivated by the user directly from the instrument panel. This ABS system is specifically calibrated to let the rider fully exploit the power of the brakes and the grip of the tyres in the dry, so as not to detract from the immense fun of this bike.
The Dorsoduro 1200 is also the only maxi-motard available today with traction control: Aprilia Traction Control (ATC), an exclusive traction control system working in conjunction with the sophisticated ABS system, which allows the rider to make full use of the performance of the exuberant 1200 cc engine, to tackle even the most challenging terrain and most difficult conditions in safety.
When active, the system offers three different selectable traction control levels which adapt each of the bike's dynamic parameters to suit the personal needs and preferences of the rider:
Level 1: for an extreme riding experience and maximum fun and adrenaline, when curbing the incredible power of the engine is the last thing on your mind.
Level 2: for total control in all terrain conditions and maximum thrill factor.
Level 3: ideal for tackling challenging conditions, such as slippery roads where grip is poor.

COMPONENTRY: TOP OF THE CLASS
Motards are by definition essential or even spartan. This, however, does not mean having to do without class-beating premium content. Aprilia moves the bar even higher for its rivals with top class features components. The most significant of these are:
– Matrix instrument panel: the mixed digital-analogue instrument panel receives information via the CAN line and, with its own dedicated event log memory, is an integral part of the self-diagnostic system. Particularly compact, with a modern design and considerably reduced weight. All functions are accessible from a control on the handlebar. The LED backlight – white for the analogue area and red for the digital display – has three different brightness settings.

– The anodised aluminium tapered handlebar is an unequivocal reference to competition supermoto bikes. An incredibly light component, designed to guarantee top dynamic control of the bike.

– Ensuring consistently precise engagement and exemplary smoothness, the hydraulic clutch is self-adjusting and, as a result, maintenance-free.

---
2012 Aprilia Dorosoduro 1200 – International Specifications/Technical Details
MSRP Price: TBA
Engine type
Aprilia four-stroke longitudinal 90° V-twin, liquid cooled, double overhead camshafts with mixed gear/chain timing system and four valves per cylinder.
Fuel Unleaded petrol
Bore and stroke 106 x 67.8
Total engine capacity 1197 cc
Compression ratio 12.0 ± 0.5: 1
Maximum power at crankshaft 130 hp (96 kW) at 8,700 rpm
Maximum torque at crankshaft 11.7 Kgm (115 Nm) at 7,200 rpm
Fuel system Integrated engine management system. Injection system with triple map Ride by Wire throttle management: Sport (S), Touring (T), Rain (R)
Ignition Digital electronic ignition integrated with injection system
Starter Electric
Exhaust system 100% stainless steel 2-into-2 exhaust system with dual catalytic converters and oxygen sensor
Alternator 450 W/6000 rpm
Lubrication Wet sump
Gearbox 6 speeds, drive ratio: 14/36, 17/32, 20/30, 22/28, 23/26, 24/25
Clutch Multiplate wet clutch, hydraulically operated
Primary drive Straight cut gears, drive ratio: 40/69
Secondary drive Chain. Drive ratio: 16/40

Chassis
Modular tubular steel frame fastened to aluminium side plates by high strength bolts. Removable rear aluminium subframe
Front suspension 43 mm Sachs upside-down front fork with fully adjustable compression and rebound damping and spring preload. Wheel travel 160 mm.
Rear suspension Aluminium alloy swingarm
Piggy-back design Sachs hydraulic shock absorber with fully adjustable compression and rebound damping and spring preload. Wheel travel 155 mm.

Brakes
Front: Dual 320 mm stainless steel floating discs. Brembo four-piston radial callipers. Metal braided brake hose.
Rear: 240 mm stainless steel disc. Single piston Brembo calliper. Metal braided brake hose. Two channel Continental ABS with Aprilia Traction Control (ATC) (specific version)
Wheel rims Three-spoke aluminium alloy rims
Front: 3.50 X 17″ Rear: 6.00 x 17″
Tyres Radial tubeless tyres; front: 120/70 ZR 17; rear: 180/55 ZR 17
Dimensions Max. length 2248 mm
Max. width 925 mm (at outer edges of hand guards)
Max. height 1205 mm (at instrument panel brow)
Saddle height 870 mm
Wheelbase 1528 mm
Trail 118 mm
Steering angle 27.3°
Tank 15 litres (including 3.5 litre reserve)





---
2012 Aprilia Dorosoduro 1200 – US Specifications/Technical Details
USA MSRP Price: $TBA USD
See international specifications listed above.
---
2012 Aprilia Dorosoduro 1200 – Canada Specifications/Technical Details
Canadian MSRP Price: $TBA CDN
See international specifications listed above.