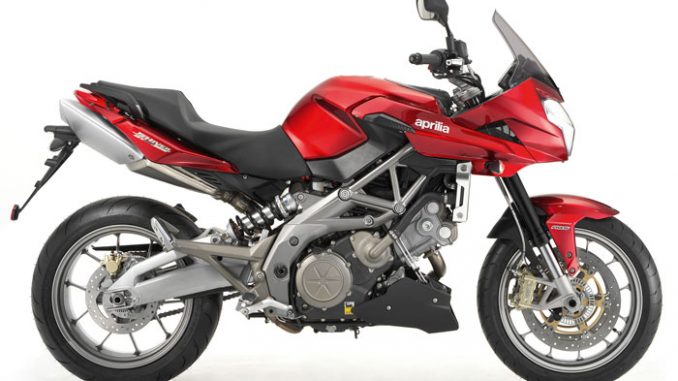 Click photos to enlarge. They make great desktop wallpaper.
2012 Aprilia Shiver 750GT ABS Review

2012 Aprilia Shiver 750GT ABS
INNOVATIVE, VERSATILE, SPORTY AND COMFORTABLE. THANKS TO ITS UNATTAINABLE TECHNOLOGICAL PACKAGE, SHIVER GT 750 HAS NO RIVALS IN THIS SEGMENT AND IS READY TO SATISFY THE MOST DEMANDING MOTORCYCLISTS.
This model offers a twin-cylinder engine with high torque, completely comfortable ergonomics for two persons, excellent aerodynamic protection and a superior chassis that has become a benchmark: these are just a few distinguishing elements offered by Aprilia Shiver GT 750, which provides dynamic quality and technological features, reaching the top of its segment to satisfy the most demanding motorcyclists, following Aprilia's tradition.
The Aprilia Shiver GT 750 raises the technological level of this segment and clearly distinguishes itself from competitors. A second generation ride-by-wire system throttle grip, 3 mapping systems directly controlled by the rider (Sport, Touring and Rain), brakes with radial callipers and ABS, a modular frame linked with steel tubular and aluminium side plates are brand new features for this middleweight engine 'sports touring' bike that makes the Aprilia Shiver GT 750 a superior and unique motorcycle.
The half-fairing gives Shiver GT 750 the chance to reveal the absolute versatility of the Shiver family. Its greater aerodynamic protection studied in wind tunnel experiments in order to offer the right projectivity for motorways, considerably widens the spectrum for the Shiver GT 750 that is set out as a "complete" motorcycle for a truly complete riding experience. Moreover, the new top fairing provides comfortable glove-boxes (one of which can be locked), very useful for storing small objects, it also includes a 12V-plug socket (used to charge mobile phones and to plug a GPS unit).
2012 Aprilia Shiver 750GT ABS Model Highlights

The main features of the new Aprilia Shiver GT 750 are:
– A 90° V twin engine fitted with four valves per cylinder, double overhead camshaft and liquid cooling;
– Ride-by-Wire technology for the electronic throttle control with 3 mapping systems (Sport, Touring and Rain);
– Electronic injection system with cutting-edge injectors;
– Mixed gear/chain timing system;
– A high-torsional strength modular steel frame with aluminium plates;
– Aluminium swingarm with stiffener brace and adjustable lateral shock absorber;
– Upside-down fork with 43-mm stanchions;
– Brakes with front radial callipers;
– latest generation two-channel ABS system
– Front half-fairing with top fairing
– Glove boxes (one fitted with a lock) and a 12V electric socket

DESIGN: A SHAPE TO SERVE POWER

Aprilia SHIVER GT is pure cutting-edge technology proven also by its sharp determined lines; its shape and functions blend to form a perfect bike.

The Aprilia SHIVER GT technical element is also an element of design, giving the motorcycle an aggressive and at the same time elegant look.
The features of the tank-saddle-short tail make this motorcycle even more compact. The rider becomes integral part of the bike, perfectly fitted into a short, agile, sports motorcycle. The short tail is extremely narrowed and includes a double exhaust system with triangular mufflers (creating a visual link with the Shiver). This solution offers more than an aggressive design, providing an excellent symmetric weight distribution.

The lateral shock absorber is not just an aesthetic distinctive element, but has also allowed the design of a rational, compact and effective exhaust system.

The top fairing also gives a family connection with the Naked bike version, nevertheless it does not alter its character, determination and instead gives more functionality in terms of protection and capacity. Optimised in wind tunnel experiments, the SHIVER GT offers the rider and the passenger a comfortable driving experience of a superior motorcycle with improved functions. In fact, the design gives more space for two glove-boxes (one with a lock) which are perfectly fitted into the body of the bike, very useful for storing small objects.
V 90° ENGINE: PURE TECHNOLOGY

Aprilia Shiver GT 750 shares the same technical features with the naked bike version: a modern twin-cylinder V 90° Euro 3 engine, completely designed and developed by Aprilia. This engine is the first of a great series to use a built-in ride-by-wire system, and it has quickly distinguished itself for its dynamic features. With an impressive 95 hp on tap, it is not only the most powerful twin cylinder bike in its class, it also has an extremely generous torque curve right from the bottom of the rev range, setting it on a par in terms of elasticity and urge with larger capacity multicylinder engines and, most importantly, offering smooth and effortless power delivery for enhanced riding pleasure.
It is a generous twin-cylinder engine destined to become the benchmark for mid-size motorcycles. The search for performance to the top of its segment has led to the selection of advanced innovative technological solutions:
– V architecture at 90°;
– Ride-by-wire technology with 3 mapping systems (Sport, Touring and Rain);
– bore-stroke ratio, strongly oversquare;
– four valves per cylinder;
– double overhead camshaft timing system controlled by a mixed chain/gear system;
– electronic injection system with two throttle bodies;
– pipets with built-in Stick-coils;
– three-way catalytic converter and lambda probe;
– hydraulically operated clutch.
It is a perfect engine for this type of bike; its powerful output combined is perfect to meet the demands of the Aprilia Shiver GT 750 rider: an expert rider who not only expects high performance but also wants an easy intuitive riding experience and an ever favouring driving torque that can cut-down the need to use gears, even when fully loaded thanks to the motorbike's elasticity that is beyond comparison.
Its 3-mapping system also offers the chance to changeover between Sport, Touring and Rain, increasing the rider's possibilities and allowing him to find the correct power output in order to cope with different road conditions.

This is where innovation comes into play, as only Aprilia's engineers could apply it first: V2 engine power and plentiful torque are filtered by the Ride-by-Wire system for the best possible output for all types of motorcyclists and for all road conditions. With the Sport mapping system, the engine behaviour is the thrilling sports performance of the Aprilia twin-cylinder engine. The Touring mapping system gives the rider a softer power output for relaxing moments when sports performance is set aside for the pleasure of touring, or when riding with passengers and loads. At last, thanks to a 25% torque reduction, the Rain mapping system eases the rider when starting on slippery roads or when adherence is poor.
CHASSIS

The sophisticated chassis of the Shiver GT 750 is clearly superior to the competition. A modular-type frame (steel frame and aluminium plates) works perfectly with the 43-mm stanchion upside-down fork and a sturdy aluminium swingarm with stiffener brace. Furthermore, the lateral adjustable single shock absorber is another distinctive feature of the Aprilia Shiver GT 750.

Its position gives plenty of space to fit the exhaust system placed under the saddle, giving a very linear performance and a volume that guarantees maximum engine performance. Everything is devised for a bike that is particularly compact and capable of satisfying experienced and non-experienced bikers.
The great chassis architecture of Shiver GT, the easiest bike to ride among competitors, is combined to a superior braking system. The stopping power of the 320 mm discs with radial callipers is complemented by an advanced two channel ABS system developed specifically for this model by Continental for maximum riding safety.
THE CHASSIS: FUNCTIONALITY AND EFFICIENCY

Expert bikers and mechanics have always acknowledged that Aprilia's motorcycles have got the best possible chassis. SHIVER GT 750 proves it and shows how Aprilia was able once more to design an easy and intuitive chassis with incredible effective performance.

The essential choices used for the architecture of the V90 engine led to the realisation of an extremely rational and efficient modular steel tubular frame and aluminium plates. The compact length of the engine, together with the unique lateral position of the shock absorber, made it possible to create a very agile bike;it is not a simple aesthetic habit, but a precise technical choice that frees up space for the exhaust system, hence optimising volume.

The aluminium swingarm with stiffener brace was especially sized to handle uneven stress due to the lateral position of the shock absorber.

SUSPENSION

Upside-down fork with 43-mm stanchions and shell cast calliper mounts offering benchmark smoothness.Its 120-mm travel allows the rider to easily cope with city roads and mountain paths. The lower and higher steering plate are made of forged aluminium.

The lateral shock absorber is pivoted directly onto the swingarm according to the cantilever layout and the spring preload and hydraulic rebound can be adjusted; the rear wheel travel is 130 mm.
BRAKES

The Aprilia SHIVER GT 750 offers the latest state-of-the-art technology for its braking system: radial callipers; a solution that heightens the sportiness of the design. The 320 mm front discs are the same as those used on flagship sports bikes.

The 240 mm rear disc fitted with single piston calliper gives adequate support to the front braking system.

The front and the rear braking systems use metal braid pipes derived from aeronautics that remove the annoying noises emitted by conventional pipes, hence providing the utmost braking precision for a truthful system at its maximum level.

A sophisticated two-channel ABS system allows the SHIVER GT 750 to further increase its active and passive safety level avoiding undesired jams on difficult roads and improving braking performance.
---
2012 Aprilia Shiver 750GT ABS – International Specifications/Technical Details
MSRP Price: TBA
Engine type Aprilia V90 four-stroke longitudinal 90° V-twin engine, liquid cooled, double overhead camshafts with mixed gear/chain timing system, four valves per cylinder. Tri-Map Ride-by-Wire system
Fuel Unleaded gasoline
Bore and stroke 92 x 56.4 mm
Total engine capacity 749.9 cc
Compression ratio 11: 1
Maximum power at crankshaft 95 hp at 9,000 rev/minute
Maximum torque at crankshaft 8.25 kgm at 7,000 rpm
Induction and fuel system Integrated engine management system. Injection system with Ride by Wire and Tri-Map mapping selection
Ignition Digital electronic ignition integrated with injection system.
Starter Electric
Exhaust system 2 into 1 exhaust system in 100% stainless steel with three-way catalytic converter and oxygen sensor
Alternator 450 W at 6,000 rpm
Lubrication Wet sump.

Gearbox
6 speeds, drive ratio:
1st 36/14 (2.57) 2nd 32/17 (1.88) 3rd 30/20 (1.5) 4th 28/22 (1.27) 5° 23/26 (1.13) 6th 24/25 (1.04)
Clutch Hydraulically operated multiplate wet clutch
Primary drive Straight cut gears, drive ratio: 60/31 (1.75)
Secondary drive Chain. Drive ratio: 16/44

Chassis
Detachable steel frame linked with high resistant bolts and side aluminium plates. Removable rear subframe.
Front suspension upside-down fork, stanchions 43. wheel travel 120 mm.
Rear suspension Aluminium alloy swingarm; with swingarm stiffener brace.
Hydraulic shock absorber with adjustable rebound and preload. Wheel travel 130 mm
Brakes Front: Dual 320 mm diam. stainless steel floating discs. Radial callipers with four pistons.
Metal braided brake pipe.
Rear: 240 mm stainless steel disc. Single piston calliper. Metal braided brake pipe.
Two-channel Continental ABS system
Rims Aluminium alloy
Front: 3.50 X 17″ Rear: 6.00 x 17″
Tyres Radials tubeless;
front: 120/70 ZR 17
rear: 180/55 ZR 17

Dimensions
Max. length 2,265 mm
Max. width 800 mm (at handlebar)
Max height 1,210 mm (at the top fairing)
Saddle height 810 mm
Centre to centre distance 1.440 mm
Trail 109 mm
Steering angle 25.7°
Tank 16 lt

Accessories
Tail fairing bag;
Aluminium mirrors;
Clutch lever kit;
Brake lever kit;
Adjustable licence plate holder;
Akrapovich exhausts;
Carbon mudguard;
Carbon start-up key cover;
Semirigid panniers;
Centre stand;
Adjustable shock absorber;


---
2012 Aprilia Shiver 750GT ABS – US Specifications/Technical Details
USA MSRP Price: $TBA USD
See international specifications listed above.
---
2012 Aprilia Shiver 750GT ABS – Canada Specifications/Technical Details
Canadian MSRP Price: $TBA CDN
See international specifications listed above.