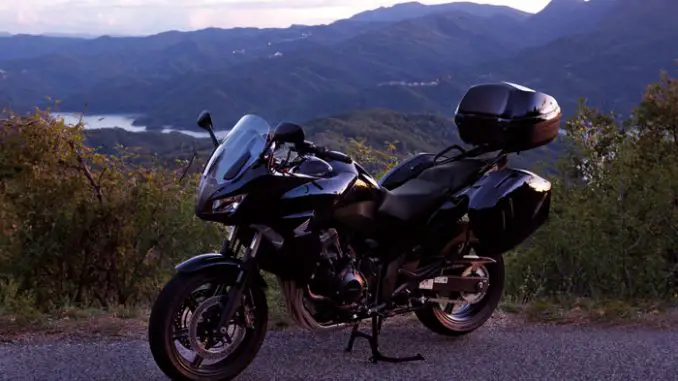 Click photos to enlarge.
They make great desktop images.
– 2012 Honda CBF1000A

2012 Honda CBF1000A Review
The Honda CBF1000 fully expresses the CBF ethos of versatile…

A motorcycle should fit you; you shouldn't have to fit it. That's exactly the thinking behind the do-anything, go-anywhere, user-friendly Honda CBF1000A.

Ask anyone who's ridden one, and they'll tell you that the Honda CBF1000A wins you over every time you ride it. Its 998 cc DOHC inline-four engine with PGM-FI electronic fuel injection is tuned to deliver rich low-to-midrange power as well as high-rpm thrills, and a light but strong aluminum frame plus premium suspension components ensure solid, count-on-it responsiveness where the rubber meets the road. And when your adventure takes you into parts unknown, you know you can depend on Honda's Combined Braking System with ABS for impressive stopping performance.The handlebars are high enough to allow a natural, upright riding position, and the seat height can be adjusted to create a sporty crouch or a more relaxed riding position – and also fit taller or shorter riders. The wide windscreen, too, can be moved up or down for better aerodynamics or improved high-speed wind protection and comfort. Whatever your style of riding, chances are the Honda CBF1000A will fit you like a well-worn pair of riding gloves.

The Honda CBF1000 fully expresses the CBF ethos of versatile motorcycling enjoyment. It was developed to be a sporty performer that would lead its class in stylish practicality and usable power. For 2012, this all-rounder is available in a sophisticated new Sword Silver Metallic colour version.
The specialities of the CBF1000 are not just adjustable components and handling that easily adapts to the rider's skill level, but an impressively linear delivery that provides the power the rider wants exactly when it's needed. Quick cross-city errands are made easy with strong, sporty acceleration that gets the rider out in front of traffic queues. Out-of-town cruising with a passenger and luggage aboard is a smooth, comfortable experience, while sportier solo rides are fun and exhilarating.
With a lightweight aluminium frame, the CBF1000 is agile and easy to handle. A single muffler enhances its sporty looks. Those moving up from a mid-displacement bike or re-entry riders will find it delightfully easy to ride. Seasoned bikers looking for a power-packed all-rounder will be inspired by its precise performance characteristics, luxurious styling and comfort. For anyone looking for a high-quality, high value Honda experience, the CBF1000 is a perfect fit.
2012 Honda CBF1000A Key Features
Compliant suspension and a light but strong aluminum frame ensure crisp handling and sporting competence..

Strong and predictable Combined Braking System with ABS (Anti-lock Braking System) gives you the confidence to explore in all sorts of conditions..

The instrument panel includes a fuel consumption gauge that displays average fuel consumption during a trip as well as indicating real-time fuel economy..

The 998 cc fuel-injected 16-valve engine is tuned for a wide spread of power that's ideal for gruelling adventures or short commutes..

The CBF1000A's easy-to-adjust four-position adjustable windscreen and half fairing provide excellent weather protection without being bulky or confining..

The three-position height-adjustable seat adapts to your needs so you can cross the country in comfort..
Optional tough, weatherproof saddlebags store plenty of gear for all your adventures.


2012 Honda CBF1000A Features and Benefits
Styling

The styling of the CBF1000 is compact and sporty with superior ergonomic design. It expresses its big bike performance capabilities without overstating them. Smooth lines and surfaces emphasise its aerodynamic proficiency. The immediate focus of attention is its sculpted half fairing. Its proportions are designed to provide a superior degree of wind protection at high speed as well as excellent manoeuvrability.
Four-position adjustable windscreen
The clean-cut front profile integrates an aerodynamic adjustable windscreen. This has four possible positions, giving an adjustability range of 120mm. Adjustment is easy and does not require any tools. The lowest position is ideal for short, sporty rides, allowing an intense feel while still reducing fatigue. The highest position reduces wind impact on the upper body, improving comfort on longer journeys. In each position and at any speed, attention to aerodynamics and stability are integral to the design.
Top-quality seat design
The CBF1000 has a three-position adjustable seat with a broad rear and slim, tapered front that give an ideal balance of low height and comfort. The seat can be raised or lowered 15mm from its 795mm-high central position and the handlebars are high enough to allow a natural, upright riding position which adds to both comfort and confidence. The pillion seat is also designed for easy, relaxed touring.
Exclusive light & indicator design
The CBF1000 light arrays emphasise its sporty image as well as providing excellent visibility. The front cowl integrates the same distinctive low-profile line beam headlights as the CBR600RR, as well as a pair of LED-look indicators. At the rear, a striking LED tail-light gives brilliant illumination. The oval-shaped rear indicators are also compact and feature an attractive design derived from the edgy CB1000R.
Sporty instrument panel
A large, central analogue rev counter provides a sporty focal point, surrounded by practical digital readouts. These include an odometer with dual trip meters, a speedometer, a clock, a fuel gauge and indicator lights. It also includes a fuel consumption gauge. This displays average fuel consumption on a trip basis as well as indicating real-time fuel economy and reserve fuel usage.
Engine

CBF models traditionally feature CBR-based engines, and the CBF1000 is no exception. It benefits from all the power of the liquid-cooled, inline-four powerhouse designed for the CBR1000RR with race-winning heritage.
The engine focuses on strong, enjoyable torque rather than top-end power. The compression ratio of 11.2:1 effectively improves both power and efficiency. The emphasis is always on enjoyment of the engine's power in the mid-range where it is most used. A high-revving low to midrange provides quick, powerful rushes of acceleration up to a searing top speed that increases long-distance touring pleasure.
Like its litre-class Naked brother, the CB1000R, the CBF1000 places a huge emphasis on enjoyment, offering full-blooded performance in an accessible and easily manageable package.
Fuel-injected efficiency
To deliver its wide-ranging and long-distance capabilities, the CBF1000 engine is tuned to perform with maximum efficiency. A highly developed Honda PGM-FI system constantly measures data on engine speed, throttle input and operating conditions in order to maintain the best power and throttle response in all conditions. 36mm throttle bodies and 12-hole injectors deliver the ideal fuel atomisation and sharp, responsive performance. The system also contributes to the motorcycle's low fuel consumption. The CBF1000 is extremely fuel efficient and easily sets the standard for fuel economy in its class, making it perfect for low-cost commuting. Combined with its high level of comfort and adaptability for touring, this makes the CBF1000 a great all-round motorcycle.
High-capacity single muffler
The enhanced performance characteristics of the CBF1000 engine are complemented by its exhaust system. This single-sided stainless steel system cuts down on weight and bulk by placing the pre-catalyser in the exhaust pipe and the main catalyser in one large-capacity muffler. The catalysing system itself maintains the optimal air/fuel mixture at all times to keep exhaust emissions to a minimum.
Chassis

The CBF1000 is built around a strong Mono-Backbone frame, tailored to the sporty and easy-handling performance characteristics of the bike. This lightweight and sturdy frame clamps the powerful 998cc engine as a stressed member in a diamond configuration, offering superior strength and rigidity for responsive control. The engine's rear mounts and swingarm pivot are positioned between a pair of strong cast aluminium pivot plates in a solid, rigid configuration that enhances handling. The overall dimensions are compact, adding to the bike's easy riding position and handling. A 1495mm wheelbase creates smooth, effortless high-speed stability, while the overall length and turning radius are kept relatively short for easy manoeuvring.
Smooth comfort and predictable handling are enhanced by top-quality suspension systems. These allow all riders to enjoy a natural, easy feeling of control, regardless of their riding style and level of experience. The 41mm telescopic front fork effortlessly handles uneven road surfaces and allows confident handling to match the motorcycle's performance capabilities. The wide fork span complements the comfortable handlebar position, creating swift, proficient manoeuvring control. For 2010 the front suspension was revised with new fork spring adjusters and quicker compression to give a smooth ride, and a higher rebound damping force for a sporty, responsive feel.
The swingarm is designed for optimum rigidity and cornering control. A responsive Monoshock damper featuring the Honda Multi-Action System (HMAS) with seven-step adjustable spring preload contributes to an optimal balance of compliant behaviour and confidence-building control. This system allows the rider to achieve the best set-up for sporty solo riding or long trips with a passenger and a full load of luggage.
Confident control
The dynamic styling of the CBF1000 is enhanced by black-painted 17″ cast aluminium wheels with an attractive 6-spoke design. Strong and lightweight, they contribute to the responsive feel. A
high priority has been placed on strong, responsive brakes to match the sporty power delivery and inspiring performance.
Front braking is delivered by 2-piston front calipers and large 296mm floating rotors. The 240mm rear disc is gripped by a rigid single-piston caliper.
Combined ABS
The C-ABS version of the CBF1000 is equipped with both the easy control of a Combined Brake System and the extra reassurance of an Antilock Brake System. The CBS effectively balances front and rear braking control for smooth operation. At the same time, the ABS provides extra reassurance and the confidence to build skills in unexpected or extreme situations.
Standard Equipment
The CBF1000 is available in a range of factory options to provide a tailored solution for every lifestyle and riding style. A reduced power (72kW) version allows choice of the engine performance best suited to the rider's preference and experience. There are also versions with small panniers or large panniers as standard. The reduced power version can be combined with small panniers and all versions with ABS.
Background
Since the introduction of the mid-displacement CBF500 and CBF600 in 2004, our CBF motorcycles have built up a reputation for solid, reliable performance and ease of operation. Their initial 'Just Fit' concept set out to provide the ultimate in all-round comfort and adaptability for every rider and every task. The CBF600 in particular, with its dynamic Hornet-based engine, adjustability and all-round versatility, had an immediate appeal. Its satisfying performance has made it a staple of mid-displacement enjoyment, as well as an ideal vehicle for riders of all skill levels to grow towards larger-displacement models.
Rider demand followed for the same 'Just Fit' appeal and fun riding properties combined with the stronger and sportier performance of a litre-class engine. The CBF development team set out to create a versatile motorcycle that would provide an exhilarating and sporty ride in a compact and easily manageable configuration. The engine's performance would be focused where it is most enjoyable and useful for CBF riders – in the low and mid-range. The result was the 2006 CBF1000.
Based around a CBR1000RR engine, tuned for torquey mid-range and strong, enjoyable roll-on acceleration, the applications of the current CBF1000 range from commuting to light two-up touring, and everything in between. Its emphasis lies firmly on fun, the engine's torquey performance combining with a relaxed riding position and easy all-round handling. Powerful and aggressive, the CBF1000 is also beautifully accessible, making it one of the most enjoyable machines in the semi-Naked litre class.

Colours

– Sword Silver Metallic
– Pearl Nightstar Black
– Pearl Cool White
– Pearl Siena Red
Optional equipment
The versatility and sporty styling of the CBF1000 can be enhanced with a range of specially designed accessories from Honda Access Europe. These include:
– An Averto alarm kit
– A colour-matched crankcase ornament set
– A colour-matched rear hugger
– A colour-matched seat cowl
– Pannier colour panel sets
– A carbon-fibre print meter panel
– A pannier stay set
– A rear carrier
– A top box carrier
– A 29L pannier kit
– Colour-matched 33L pannier kits
– Colour-matched 35L and 45L top boxes and top box bracket
– Top box inner bags and mat
– A pannier inner bag set
– A magnetic tank bag
– A cargo net
– A rear maintenance stand
– A mainstand
– A U-lock
– An outdoor motorcycle cover
– A pannier cover set
– A top box cover
– Top box pads
– Tank pads and fuel lid cover
– A knuckle deflector set
– Grip heaters
---
2012 Honda CBF1000A – American Specifications
USD MSRP Price – NA USD
Model not available in the USA
---
2012 Honda CBF1000A – Canada Specifications
Candian MSRP Price – $12,999 CDN
Engine Type Liquid-cooled inline-four
Displacement 998 cc
Bore & Stroke 75 mm x 56.5 mm
Compression Ratio 11.2:1
Valve Train Chain-driven DOHC, 4 valves per cylinder
Fuel Delivery PGM-FI electronic fuel injection
Transmission Six-speed
Final Drive O-ring-sealed chain; 16T/43T
Front Suspension 41 mm cartridge telescopic fork; 108 mm (4.3 inches) travel
Rear Suspension Pro-Link with gas-charged HMAS single shock; 120 mm (4.7 in.) travel
Tires 120/70ZR-17 radial front; 160/60ZR-17 radial rear
Brakes Front dual 296 mm discs with triple-piston calipers; rear 240 mm disc with single-piston caliper. Combined Braking System with ABS (Anti-lock Braking System)
Ground Clearance n/a
Seat Height 795 mm (31.3 in.) adjustable +/- 15 mm (0.6 in.)
Wheelbase 1,495 mm (58.8 in.)
Curb Weight 245 kg (540 lb) including required fluids and full tank of gas – ready to ride
Fuel Capacity 20 litres
Colour Pearl Cool White
Warranty 1 year, unlimited mileage, freely transferable warranty; extended coverage available with Honda Plus
---
2012 Honda NC700XA – European Specifications
EU MSRP Price – TBA
Engine

Type Liquid-cooled 4-stroke DOHC inline-4
Displacement 998cm3
Bore x Stroke 75 x 56.5mm
Compression Ratio 11.2: 1
Max. Power Output 79kW/9,000min-1 (95/1/EC)
Max. Torque 96Nm/6,500min-1 (95/1/EC)
Idling Speed 1,200min-1
Oil Capacity 3.6litres

Fuel System

Carburation PGM-FI
Throttle Bore 36mm
Aircleaner Dry, cartridge-type paper filter
Fuel Tank Capacity 20litres
Fuel Consumption 18.4km/l (52mpg – WMTC Mode**)

Electrical System

Ignition System Computer-controlled digital transistorised with electronic advance
Ignition Timing 5° BTDC (idle) ~ 45° BTDC (7,500min-1)
Sparkplug Type IMR8C-9HES
Starter Electric
Battery Capacity 12V/8.6AH
ACG Output 350W/5,000min-1
Headlight 12V, 55W x 1 (low)/55W x 1 (high)

Drivetrain

Clutch Wet, multiplate with coil springs
Clutch Operation Hydraulic
Transmission Type 6-speed
Primary Reduction 1.6
Gear Ratios 1 2.64
2 1.83
3 1.5
4 1.32
5 1.17
6 1.07
Final Reduction 2.687 (43/16)
Final Drive #530 O-ring sealed chain

Frame

Type Mono-backbone; cast aluminium

Chassis

Dimensions (LxWxH) 2,210 x 780 x 1,220mm
Wheelbase 1,495mm
Caster Angle 26°
Trail 110mm
Turning Radius 2.9m
Seat Height 795mm (±15mm)
Ground Clearance 135mm
Max. Carrying Capacity 195kg

Suspension

Type Front 41mm free valve-type telescopic fork and adjustable spring; 120mm stroke
Rear Gas-charged HMAS damper and adjustable spring and rebound; 120mm axle stroke

Wheels

Type Front Hollow-section 6-spoke cast aluminium
Rear Hollow-section 6-spoke cast aluminium
Rim Size Front 17M/C x MT3.5
Rear 17M/C x MT5
Tyre Size Front 120/70 -ZR17M/C (58W)
Rear 160/60 -ZR17M/C (69W)
Tyre Pressure Front 250kPa
Rear 290kPa (with passenger: 290kPa)

Brakes

Type Front 296 x 4.5mm dual hydraulic disc with 2-piston calipers, floating rotors, sintered metal pads (*3-piston calipers and Combined ABS)
Rear 240 x 5.0mm hydraulic disc with 1-piston caliper, sintered metal pads (*and Combined ABS)

* Please note that the figures provided are results obtained by Honda under standardised testing conditions prescribed by WMTC. Tests are conducted on a rolling road using a standard version of the vehicle with only one rider and no additional optional equipment. Actual fuel consumption may vary depending on how you ride, how you maintain your vehicle, weather, road conditions, tire pressure, installation of accessories, cargo, rider and passenger weight, and other factors.
All specifications are provisional and subject to change without notice.