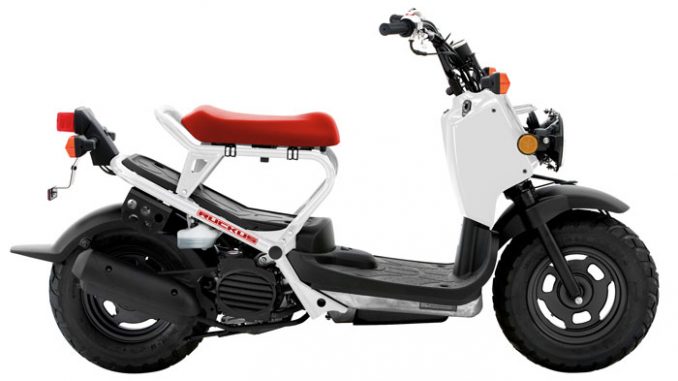 Click photos to enlarge.
They make great desktop images.
– 2012 Honda Ruckus

2012 Honda Ruckus Review
Press the start button, twist the throttle, and go. It really is that easy to get mobile on the radically designed Honda Ruckus.

What could be cooler than an economical scooter? How about one with an extra dose of attitude. The Ruckus® is Honda's bare-knuckle scooter that sets a new standard for cool.
The Honda Ruckus is so nimble, user-friendly and easy to park, you'll want to ride this fun little knock-around scooter everywhere. The quiet 49 cc four-stroke engine can happily run for hours on very little gas, and getting going from a stop is a breeze thanks to the engine's strong low-end torque and the V-Matic automatic transmission that means no shifting, ever. A low seat height and low overall centre of gravity makes the Ruckus easy to handle in the city. And when you want to explore some out-of-the-way places, you'll love the oversize deep-tread tires that grip hard on gravel as well as on pavement. In provinces that allow 14-year-olds to operate scooters, the Ruckus is the perfect way to get a safe start in the sport – its intuitive operation and low maintenance let you hone your skills and build your confidence at your own speed. And experienced scooter riders will love the Ruckus for the same reasons.
There's nothing like it.
One thing is sure about the Ruckus: wherever it goes, it causes a scene. That's because the design is so unique, with wide tires, a bare-bones frame and double headlamps. Underneath it all lies a thrifty 49cc engine that gets you wherever you need to go, without guzzling gas. A V-matic® automatic transmission offers seamless power in and out of traffic. And an electric starter gives you faster get-up-and-go. Add in our legendary reliability, and the Honda Ruckus is as dependable as it is fun.

Stripped-down.

You can't judge a Ruckus by its cover. That's because it doesn't have one. Instead, we gave the Ruckus a minimalist design for that urban-warrior look.

Packs a punch.

Thanks to a liquid-cooled, single-cylinder 49cc engine, the Ruckus gives you all the power you need for local trips or city riding.

Get around on a little gas.

We're not kidding. With the Ruckus, you'll spend less time filling up and more riding around town.
2012 Honda Ruckus Key Features
New for 2012
– New White/Red color joins Black.

Engine / Drivetrain
Lightweight 49 cc four-stroke OHC liquid-cooled single-cylinder engine provides ample power for in-town riding..

Fuel-sipping constant-velocity (CV) carburetor with automatic choke..

Maintenance-free ignition system..

Simple push-button electric starter..

Starter system utilizes the engine's brushless alternator (ACG) for starting, eliminating the need for a separate starter motor. This simple design reduces maintenance and lowers overall weight for even better handling and fuel economy..

Electronic control unit (ECU) provides control for ignition timing, alternator regulator, ACG starter, electric fuel pump and automatic choke..

Compact engine-mounted radiator has aluminum fins for optimal cooling in all riding conditions..

Automatic cam-chain tensioner requires virtually no maintenance..

Ultra-quiet exhaust system..

Automatic Honda V-Matic belt-drive transmission provides spirited acceleration and requires virtually no maintenance.



Chassis / Suspension
Two-piece die-cast aluminum front frame with upper steel rear frame..

Twin-downtube-fork front suspension provides 56 mm (2.2 inches) of plush travel for a well-controlled ride..

Single-side aluminum swingarm with single-shock rear suspension has 66 mm (2.6 inches) of travel for a compliant, comfortable ride..

Front and rear drum brakes offer predictable, powerful stopping..

Oversize tires offer a secure grip on the road..



Additional Features
Well-padded seat boasts a low 735 mm (28.9 inches) seat height for added confidence at stops..

Instrumentation includes analog speedometer and odometer, and indicator lights for fuel, coolant temperature and low/high beam.
Fuel indicator light comes on with 1.1 litres remaining..

Audible turn-signal indicator..

Parking brake..

Helmet holder locks helmet in place under seat..

Backup kickstart lever..

Dual headlights with two 35-watt bulbs. Low/high beams provide ample nighttime illumination..

Maintenance-free battery..

1 year, unlimited mileage, freely transferable warranty.

---
2012 Honda Ruckus – American Specifications
USD MSRP Price – See dealer for pricing in USD
Model: NPS50
ENGINE
Engine Type 49cc liquid-cooled single-cylinder four-stroke It might be just 49cc, but this feisty, lightweight engine has plenty of get-up-and-go power for around-town riding.
Induction 15mm CV carburetor with automatic choke You can count on spot-on throttle response and gas-sipping fuel economy, thanks to the Ruckus? automatic-choke-equipped carburetor.
Ignition CD
Bore And Stroke 37.8mm x 44mm
Compression Ratio 11.9:1

DRIVE TRAIN
Transmission Automatic V-Matic belt drive Honda?s sophisticated, automatic V-Matic™ belt-drive system provides seamless shifting and ample power at any speed.

CHASSIS / SUSPENSION / BRAKES
Front Suspension Twin-downtube fork; 2.2 inches travel
Rear Suspension Single shock; 2.6 inches travel
Front Brake Drum
Rear Brake Drum
Front Tire 120/90-10
Rear Tire 130/90-10

DIMENSIONS
Wheelbase 49.8 inches
Seat Height 29.0 inches The plush, well-padded seat tops out at a low, confidence-inspiring 28.9-inch while also adding to the scooter?s overall rugged urban styling.
Curb Weight 194 pounds (Includes all standard equipment, required fluids and a full tank of fuel-ready to ride)
Fuel Capacity 1.3 gallons
Miles Per Gallon 114 MPG – Honda's fuel economy estimates are based on EPA exhaust emission measurement test procedures and are intended for comparison purposes only. Your actual mileage will vary depending on how you ride, how you maintain your vehicle, weather, road conditions, tire pressure, installation of accessories, cargo, rider and passenger weight, and other factors.

OTHER
Emissions Meets Current CARB and EPA standards.
Available Colors White/Red, Black
Model Id NPS50

FACTORY WARRANTY INFORMATION
Duration One year
Description Transferable, unlimited-mileage limited warranty; extended coverage available with a Honda Protection Plan.
---
2012 Honda Ruckus – Canada Specifications
Candian MSRP Price – $3,069 CDN
Engine Type Liquid-cooled single-cylinder four-stroke
Displacement 49 cc
Bore & Stroke 37.8 mm x 44 mm
Compression Ratio 11.9:1
Valve Train SOHC, 2-valve
Fuel Delivery 18 mm CV with auto choke
Transmission Automatic V-Matic
Final Drive Belt
Front Suspension Twin downtube fork; 56 mm (2.2 in.) travel
Rear Suspension Single shock; 66 mm (2.6 in.) travel
Tires 120/90 – 10 front; 130/90 – 10 rear
Brakes Front drum; rear drum
Ground Clearance n/a
Seat Height 735 mm (28.9 in.)
Wheelbase 1,265 mm (49.8 in.)
Curb Weight 88 kg (194 lb) including required fluids and full tank of gas – ready to ride
Fuel Capacity 5 litres
Colour White/Red, Graphite Black
Warranty 1 year, unlimited mileage, freely transferable warranty; extended coverage available with Honda Plus
---
2012 Honda Ruckus – European Specifications
EU MSRP Price – See dealer for country pricing.
Model not available in Europe
All specifications are provisional and subject to change without notice.