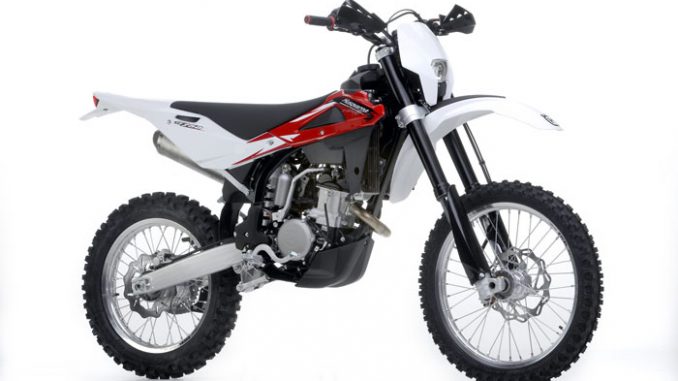 Click photos to enlarge.
They make great desktop images.
– 2012 Husqvarna TE250 Review

2012 Husqvarna TE250
The street-legal 2012 TE250 will feature a low seat height, nearly two inches shorter than before, giving it greater appeal to a wider range of riders. The upgraded Kayaba shock and Leo Vince exhaust improves overall performance on the TE250, which remains an aggressive off-road bike, designed for 90% dirt and 10% street.

Husqvarna TE250: Multiple Enduro World Champion

To win a single world enduro championship is an outstanding achievement, to win two consecutive world championships requires something very special. The 2010 TE 250 victory by Antoine Meo was reinforced by the 2011 world championship series victory by Juha Salminen on the TE 250. To secure back to back championships takes great riders and a strong team but the key ingredient remains a strong, reliable and competitive machine that has the ability to dominate the competition. The 2012 TE 250 offers the latest evolution of this dominant world class 250cc enduro motorcycle.

Upgrades to the fuel injection system combine with frame and suspension enhancements to offer the very best TE 250 in Husqvarna's distinguished history.

2012 Husqvarna TE250 Features and Benefits
The pinnacle of the World E1 Championship has a new name. Husqvarna TE250.
249cc Engine is only 22 kg
Extremely lightweight
Maximum agility
New hubs
Top quality components
Updated frame with Forged Sections
Double map switch on Handlebar
Frame
As with all Husqvarna 2012 versions, the steel chassis ? a mixture of round, oval and rectangular tubing ? is painted black, and has been reinforced at the steering head area with 25CrMo4 chrome-moly steel plates to improve structural rigidity. The Excel hubs are anodised silver, and the new graphics are in-mould, integrated to the plastic structure, making them impervious to repeated power washes. Handlebar has also new clamps.
Engine: lightest in its class.
The 2012 model Husqvarna TE250 single cylinder, twin cam, 4 valve titanium engine, in addition to clocking up numerous victories at the WEC ? the top international championship ? maintains its unbeaten record lightness: at 22 kg it is the lightest 250 cc enduro engine on the market. The 2012 version now has a completely redesigned exhaust system, boosting maximum performance.
Front and rear suspension now Kayaba
Along with the 48 mm forks, the rear monoshock is now also by Kayaba, externally adjustable for low/high speeds in compression and rebound. The setting of the fork has been completely redesigned to match the new shock, with new springs and internal settings.
---
2012 Husqvarna TE250 – North American Specifications/Technical Details
MSRP Price: $7,599 USD
DIMENSIONS/WEIGHT/CAPACITIES:
Wheelbase: 57.0 in.
Overall Length: 88.98 in.
Overall Width: 32.28 in.
Seat Height: 35.8 in.
Rake: 26.9 degrees
Trail: 4.20 in.
Ground Clearance: 11.42 in.
Curb Weight (no gas): 246 lbs.
Fuel Capacity: 2.25 gallons
Oil Capacity: 0.95 quarts
FRAME:
Chromoly single tube frame cradle utilizes rounded-rectangle elliptical tubing for maximum strength and durability.
SUSPENSION:
FORK – Kayaba 48mm closed-cartridge fork featuring 11.8 inches of front wheel travel. Upside down (USD) telescopic fork features compression and rebound adjustment.
SHOCK – Kayaba Progressive "Soft Damp" hydraulic single shock with 11.6 inches of travel. Features adjustable spring preload and fully-adjustable rebound and dual (high/low-speed) compression damping.
BRAKES:
Front: Braking 260mm wave rotor, Brembo dual-piston floating caliper; Hydraulic actuation.
Rear: Braking 240mm wave rotor, Brembo single piston floating caliper; Hydraulic actuation.
RIMS/TIRES:
Front: 1.60×21 Excel rim, 90/90-21
Rear: 2.15×18 Excel rim, 140/90-18
ELECTRICAL:
Battery: 12 V-7Ah
Head Light: 35 W
Pilot Light: 5 W
Tail Light: LED type
Turn Signals: 10 W
ENGINE:
Type: Single-cylinder dual overhead cam (DOHC) four-stoke
Head: 4 titanium valves in radial arrangement operated by DOHC
Displacement: 249.5cc
Bore x Stroke: 79 x 50.9mm
Compression Ratio: 13.6:1
Starting: Electric and kick start
Clutch: Wet multi-plate with hydraulic control
Cooling: Liquid, 2 radiators with electric fan
IGNITION: Electronic with adjustable advance.
FUEL SYSTEM: EFI with Mikuni D42 throttle body
LUBRICATION: Wet sump with lobe oil pump, cartridge and oil filters
TRANSMISSION: 6 speed
Ratios:
1st 30/14
2nd 28/16
3rd 29/20
4th 27/22
5th 25/24
6th 22/27
---
2012 Husqvarna TE250 – Australian Specifications/Technical Details
AU MSRP Price: See dealer for pricing.
Engine
Type Single cylinder, 4-stroke, DOHC, 4 valve
Bore 79.0 mm
Stroke 50.9 mm
Displacement 249.5 cc
Compression ratio 13.6 : 1
Starting Electric and kick
Cooling Liquid-cooled
Radiator 2
Lubrication Dry sump with two oil pump rotors and cartridge filter
Ignition C.D.I. electronic, with adjustable advance
Spark plug type NGK CR 9EB
Spark plug gap 0.7 mm
Fuel systen Electronic injection feed, throttle body MIKUNI D42
Clutch Wet, multi-plate type, hydraulic control
Driving disc number 7
Driven disc number 6
Chassis
Type Steel single tube cradle with steel round tubes; light alloy rear frame
Front suspension Kayaba Upside-Down" telescopic hydraulic fork with advanced axle; compression and rebound stroke adjustment
Fork leg diameter 48 mm
Fork travel 300 mm
Rear suspension Progressive "Soft Damp" type with single hydraulic shock absorber; spring preload adjustment, compression and rebound adjustment (compression stroke: double adjustment)
Rear wheel travel 296 mm
Front brake 260 mm BREMBO fixed disc "wave" type with hydraulic control and floating caliper
Rear brake 240 mm BREMBO floating disc "wave" type with hydraulic control and floating caliper
Rim front 1.60″ x 21″, light alloy
Rim rear 2.15″ x 18″, light alloy
Tyre front 90/90-21″ MICHELIN Enduro Competition 3
Tyre rear 140/80-18″ MICHELIN Enduro Competition 3
---
2012 Husqvarna TE250 – International Specifications/Technical Details
MSRP Price: See dealer for pricing.

Dimensions, weight, capacities
Wheelbase57.87in
Overall length88.98in
Overall width32.28in
Overall height50.79in
Seat height37.40in
Min. ground clearance11.42in
Trail4.17in
Steering pipe inclination26,5°
Kerb weight, without fuel238.1lb / 108kg
Fuel tank capacityU.S. Gallons 2.25 / Imp. Gallons 1.87
Transmission oilU.S. Gallons 0.95 / Imp. Gallons 0.79
Engine
TypeSingle cylinder, four stroke
Bore3.11in
Stroke2in
Displacement15.22cu.in / 249,5cc
Compression ratio13.6:1
StartingElectric and kick start (with automatic decompressor)
CoolingLiquid cooled
Water radiator No. 2
Lubrication
TypeWet sump with lobe oil pump and cartridge filter
Ignition
TypeElectronic, inductive discharge, with adjustable advance (digital control)
Spark plug typeNGK CR9Eb
Spark plug gap0.0315in
Fuel system
TypeElectronic fuel injection
Brand and typeMikuni D42
Clutch
TypeWet, multiplate type; hydraulic control
Number of driving discs7
Number of driven discs6
Transmission
TypeConstant mesh gear type
Number of gears6
Secondary drive
Transmission sprocketTeeth 13
Rear wheel sprocketTeeth 40
Transmission ratio3,076
Driving chain
Manufacturer and typeD.I.D. 520 V6-OR / Regina 135ORC6-OOC (5/8″x¼")
Frame
TypeSteel single tube cradle; alloy rear frame
Front suspension
TypeUpside-Down telescopic hydraulic fork with advanced axle; compression and rebound adjustment
Fork legs dia.1.89in
Travel on legs axis11.8in
Front fork manufacturerKayaba
Rear suspension
TypeProgressive "Soft Damp" type with single hydraulic shock absorber; spring preload adjustment, compression (double adjustment) and rebound adjustment
Wheel travel11.6in
Shock absorber manufacturerKayaba
Brakes
FrontFixed disc, "Wave" type, with hydraulic control and double Ø28 piston floating caliper
Disc dia.10.24in
Hydraulic control brandBrembo
Brake disc brandBraking
RearFixed disc, "Wave" type, with hydraulic control and floating caliper
Disc dia.9.45in
Wheels
FrontLight alloy
Size1.6 x 21″
BrandExcel
RearLight alloy
Size2,15″ x 18″
Tires
FrontMichelin Competition 3 / Enduro Pirelli MT83 Scorpion
Size90/90-21″
RearMichelin Competition 3 / Enduro Pirelli MT83 Scorpion
Size120/90-18″
Internal ratios
1st2,142 (30/14)
2nd1,750 (28/16)
3rd1,450 (29/20)
4th1,227 (27/22)
5th1,041 (25/24)
6th0,884 (22/27)
Primary drive
Engine sprocketTeeth 17
Clutch gearTeeth 54
Transmission ratio3,176
Electrical equipment
Voltage12V
Headlight35W
Pilot light5W
Tail light"LED" type
turn signals10w
Battery12 V-7Ah
Timing system Type4 titanium valves, in a radial arrangement, operated through bowls by two overhead camshafts driven by a combined chain/gears system