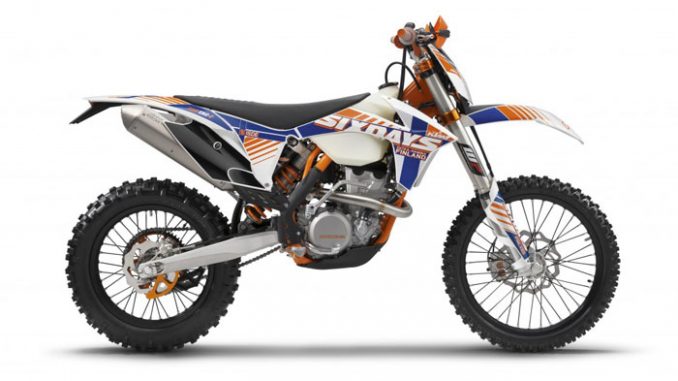 Click photos to enlarge.
They make great desktop images.
– 2012 KTM 500 EXC Six Days

2012 KTM 500 EXC Six Days Review
500 EXC Six Days: LEGENDARY
The 500 EXC Six Days is "ready to race " for the world's largest enduro competition, the "International Six Days Enduro". Six days in succession, over a thousand offroad kilometres, 40 hours in the saddle – a gruelling test, not only for the rider. A whole package of high-quality special options makes the 500 EXC Six Days fit for this ruthless contest, in which more than half the starters bank on KTM every year. 500 EXC Six Days Six Days – the genuine article with the orange powder-coated frame of the KTM Factory Team.eam.
2012 KTM 500 EXC Six Days Features and Benefits
NOW WITH AN EVEN MORE SUPERIOR CHASSIS

NEW FRAME
The completely revamped frame made from high-quality chrome-molybdenum steel is characterised by even greater lateral stiffness. Furthermore, it is even better at absorbing jolts introduced by the suspension system, whereby the simple handling and comfort of the 500 EXC have been further optimised.
NEW SWINGARM, NEW PDS, NEW SETTING
The 500 EXC's new, lighter, cast aluminium swingarm accommodates the shock absorber more centrally, in order to load the swing arms more evenly. The new, 7 mm (0.28 in) longer PDS shock absorber with adjustable rebound and high/low-speed compression damping, and a new setting is installed more flatly, so providing even more progression.
TELESCOPIC FORK, NEW SETTING
The 500 EXC is equipped with the latest WP upside-down fork with wider adjustment ranges and a new setting. The sensitive responsiveness and outstanding damping of the open-cartridge fork with 48 mm (1.89 in) outer tubes are a perfect complement for the 500 EXC's simple handling and precision.
NEW WHEELS
Practically unbeatable in terms of weight and stability, the new wheels have CNC-machined hubs, new black-anodised rims from Giant, black zinc/nickel-coated spokes and ultra-light aluminium nipples. They reduce the unsprung and gyroscopic masses, hence bolstering the simple handling of the 500 EXC.

NOW WITH EVEN MORE PERFORMANCE

NEW ENGINE
With the 500 EXC's newly developed engine, KTM engineers have created a new dimension: The power unit has been redesigned from scratch and is now more compact, lighter and more powerful than before. Reduced reciprocating weight and a balancer shaft minimise vibration.
NEW CYLINDER HEAD
All ports and the combustion chamber have been redesigned in the OHC cylinder head of the 500 EXC's new engine. The new camshaft actuates four valves via lightweight rocker arms. High-quality titanium valves are used on the intake side. As before, the cylinder head cover mounted at an angle simplifies service work.
NEW CYLINDER AND PISTON
The 500 EXC's cylinder has been further developed especially for the new engine configuration. The new, 15 % lighter forged piston minimises reciprocating weight and optimises durability at high engine speeds. New, nitrided piston rings ensure highest levels of resistance to wear.
NEW ENGINE CASE
The 500 EXC's new engine case weighs almost 2 kg (4 lb.) less than its predecessor, although it offers better resistance to damage due to stone impact or falls. This has been achieved by using a high-strength, elastic aluminium alloy and changing from sand-casting to die-casting.
NEW BALANCER SHAFT
The 500 EXC's new, laterally located balancer shaft not only eliminates vibration, but also serves as the drive for the water pump. This intelligent multi-functionality contributes to the compactness and low weight of the 450 EXC's new engine.
NEW OIL CIRCUIT
The 500 EXC's new engine is equipped with a common oil circuit for engine and transmission, and two oil pumps. A pressure pump lubricates the engine, while a suction pump draws oil from the crankcase, using it to lubricate the transmission and the clutch. At the same time and in conjunction with a steel diaphragm, negative pressure arises in the casing, which boosts the engine power.
NEW EFI/EMS
The newly developed Keihin engine management system with electronic fuel injection ensures spontaneous responsiveness from the engine. Various engine characteristics can be activated with an optional map select switch.
NEW CLUTCH
The 500 EXC's newly developed clutch, with a robust steel cage and transmission-friendly back-damping, makes use of a spring washer for the first time instead of the customary conical springs, hence substantially reducing the operating force. The hydraulic actuation mechanism from Brembo® facilitates sensitive modulation of the clutch.
NEW SILENCER
The 500 EXC's new, improved silencer featuring a special Six Days coating not only offers greater volume and a new design, it also reduces noise levels to the stricter standards of the future.

NOW EVEN MORE ERGONOMIC

BODYWORK
The 500 EXC's new bodywork with the very slim seat and spoiler lines, plus excellent contact points, perfects the bike's ergonomics, making handling even simpler and more precise. The longer rear fender protects the rider even more effectively from swirled up stones.

SPECIAL OPTIONS

EQUIPMENT
• Map select switch on the handlebars for selecting different engine management mappings

• Camel SXS seat for improved long-distance comfort

• Engine guard made of high-strength plastic for protecting engine case and frame down tubes

• Radiator fan for optimising temperature control under extreme loads

• CNC-machined, orange-anodised triple clamps for high-precision clamping of the fork tubes in favour of optimum sliding of the telescopic fork

• Knock-out wheel spindle for easier removal of the front wheel

• Full brake disc at the rear for improved heat resistance and therefore reduced pad wear

• Rear brake disc protector for protecting the brake disc from mechanical damage

• Quick-change brake pad securing bolts at the rear for quicker changing of brake pads without tools

• Aluminium rear sprocket with riveted-on steel ring gear for a combination of reduced weight and increased durability

• Wheels with black-anodised, extremely robust Giant rims and spokes with a high-quality, black tin-nickel coating.

• The same design as the KTM factory bikes thanks to Six Days graphics, orange powder-coated frame, orange anodised triple clamps, orange anodised handlebars and anthracite anodised silencer

---
2012 KTM 500 EXC Six Days – International Specifications/Technical Details
Europe MSRP Price: 7,595.00 GBP*

Engine
Engine type Single cylinder, 4-stroke
Displacement 510.4 cc
Bore/stroke 95/72 mm
Compression ratio 11,8:1
Starter/battery Kick- and electric starter / 12V 4Ah
Transmission 6 gears
Carburetor Keihin EFI, flow restrictor 42 mm
Control 4 V / OHC with rocker levers
Lubrication Pressure lubrication with 2 oil pumps
Gear ratios 14:36 17:32 19:28 22:26 24:23 26:21
Primary ratio 32:76
Final drive 14:50 (13:50)
Cooling Liquid cooling
Clutch Wet multi-disc clutch, Brembo hydraulics
Ignition Keihin EMS

Chassis
Frame Central double-cradle-type 25CrMo4
Subframe Aluminium
Handlebar Neken, Aluminium Ø 28/22 mm
Front suspension WP-USD Ø 48 mm
Rear suspension WP-PDS shock absorber
Suspension travel front/rear 300/335 mm
Front/rear brakes Disc brake Ø 260/220 mm
Front/rear rims 1.60 x 21"; 2.15 x 18" Excel
Front/rear tires 90/90-21"; 140/80-18"
Chain X-Ring 5/8 x 1/4″
Silencer Aluminium
Steering head angle 63.5°
Wheel base 1,482±10 mm
Ground clearance 345 mm
Seat height 970 mm
Tank capacity, approx. 9.5 l
Weight, without fuel, approx. 111.5 kg
* Manufacturer's suggested retail price (MSRP), the actual sale prices can vary.

---
2012 KTM 500 EXC Six Days – American and Canadian Specifications/Technical Details
US MSRP Price: See KTM dealer for pricing.

Model may not be available in USA or Canada.