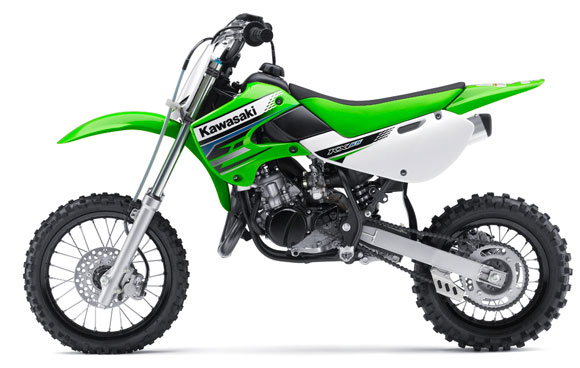 Back to 2012 Kawasaki Motorcycle Model Review Page
Click photos to enlarge.
They make great desktop images.
– 2012 Kawasaki KX65

2012 Kawasaki KX65 Review
Kawasaki's line of KX™s is a great place for a spirited youngster to get a taste for competitive riding. The KX65, with its powerful two-stroke engine, lightweight chassis, disc brakes, long travel – and a size that fits young riders' growing bodies – is a fitting way for children to get started on the path to motocross glory.
Time to Get Serious
The Kawasaki KX™65 is a great place for riders to get their first taste of competitive riding. With its powerful two-stroke engine, lightweight chassis, disc brakes, long travel suspension – and a compact size that fits young racers– the KX65 is a fitting motorcycle on which to take that first step on the path to motocross glory.
The KX65's liquid-cooled, 64cc engine produces an incredible level of power for its small displacement. The smooth-shifting transmission and manual clutch helps transfer that power into the ground. The swingarm of its semi-double-cradle steel frame is equipped with Kawasaki's legendary UNI-TRAK® linkage system, which alters leverage on the rear shock as the suspension is compressed, so that small bumps receive light damping and larger bumps receive progressively firmer damping for a smoother ride and better control. Both the shock and fork boast four-way adjustable rebound damping for optimal handling. Lightweight black aluminum rims reduce unsprung weight to help improve suspension action, and offer the same aggressive look as the rims on the larger KX models. Both wheels feature hydraulic disc brakes that not only provide great stopping power but require little maintenance and simplify wheel removal.

Younger riders who race their KX65 at designated events are eligible to receive support from Team Green™, Kawasaki's amateur racing support program. Each year, Team Green provides regional support vehicles and highly trained technicians at more than 100 events, offering technical information and assistance to those who race Kawasaki products. Kawasaki also offers a comprehensive contingency program for amateur and professional riders who place well at designated events.
2012 Kawasaki KX65 Features and Benefits
At A Glance…
– 64cc two-stroke engine with digital ignition offers ideal timing for better throttle response throughout the rev range
– An electrofusion-coated cylinder with advanced exhaust and transfer ports for increased power and performance at higher rpm
– Six-speed transmission offers positive action and rugged durability; hard chrome-finished shift fork ends resist wear
– High-tensile steel frame offers exceptional torsional rigidity for excellent handling with a reinforced down tube for increased strength and durability
– Uni-Trak® rear suspension offers progressively increasing spring and damping strength as the suspension compresses for a more controlled ride
– Front and rear disc brakes are light, powerful and resist fading
– Industry-leading amateur racing support through Team Green™

64cc Two-stroke Engine
– Digital ignition offers ideal timing for optimal throttle response throughout the rev range
– Ignition rotor features rare-earth magnets, making it smaller, lighter and more durable. Its low inertial moment improves low-rpm response
– High capacity ignition coil delivers a higher secondary voltage for a hotter spark, and the punchier response improves acceleration
– Connecting rod big-end bearing features a cage for added durability
– Primary gear is secured using a lock-nut to help reduce mechanical noise
– The oil seal of the left crankcase has a stopper for increased engine reliability
– Metafoam gaskets are used for the generator cover, water pump cover and water pump elbow for improved sealing

Electrofusion Cylinder
– Advanced exhaust and transfer ports increase power and performance at higher rpm
– Bridge between exhaust ports is machined for increased reliability and resistance to wear and seizure
– Lightweight cylinder liner transfers heat efficiently for cooler running

Liquid Cooling
– Large radiator provides more consistent engine temperatures, keeping power output strong throughout the moto
– Cooling system offers greater reliability and less engine wear

24mm Mikuni Carburetor
– Feeds a four-petal reed valve for excellent throttle response
– Allows the engine to produce more power and torque at all rpm

Six-speed Transmission
– Positive action and rugged durability
– Hard chrome-finished shift-fork ends resist wear
– Manual clutch mechanism mirrors larger KX models
– Clutch cover gasket made of metal-carbon composite material

High-tensile Steel Frame
– Exceptional torsional rigidity for excellent handling
– Reinforced downtube adds strength and durability
– Engine and chassis bolts feature rust-resistant coating

Front Fork
– Four-position rebound-damping adjustment accommodates different riding styles and terrain

UNI-TRAK® Rear Suspension
– Rising-rate action allows a more controlled ride as the suspension compresses

Nitrogen-charged Shock
– Four-way adjustable rebound damping offers a variety of settings for various track conditions
– External reservoir helps maintain consistent damping
– Rebuildable aluminum body

Aluminum Swingarm
– Forged aluminum rocker arm reduces weight and improves durability

Front and Rear Disc Brakes – Light and powerful
– Ergonomic front brake lever shape offers better feel
– Resist fading
– Require less lever pressure

Lightweight Aluminum Rims
– Black aluminum rims provide the same aggressive look as the rims on larger KX models
– Reduce unsprung weight for improved suspension action

Detachable Aluminum Silencer
– Silencer is removable, and packing is replaceable
– Oval shape mimics the styling of larger-displacement KX models


---
2012 Kawasaki KX65 – USA Specifications/Technical Details
US MSRP Price: $3,549.00 USD

Engine Two-stroke single

Displacement 64cc

Bore x Stroke 44.5 x 41.6mm

Cooling System Liquid

Carburetion Mikuni VM24SS

Induction Four-petal reed valve

Compression ratio 8.4:1

Ignition Digital CDI

Transmission Six-speed

Final drive Chain

Frame Type Semi-double-cradle, high-tensile steel

Rake/Trail 27 degrees / 2.4 in.

Front suspension / wheel travel 33mm leading axle conventional fork with four-position rebound damping adjustment/ 8.3 in.

Rear suspension / wheel travel UNI-TRAK® single shock system with 0-3 turn rebound damping adjustment and fully adjustable spring preload / 9.4

Front Tire Size 60/100×14

Rear Tire Size 80/100×12

Front brakes / rear brakes Hydraulic disc / Disc

Overall length 62.6 in.

Overall width 29.9 in.

Overall height 37.6 in.

Ground clearance 12.0

Seat height 29.9 in.

Curb weight 132.2 lbs.

Fuel capacity 1.0 gal.

Wheelbase 44.1 in.

Color Choices Lime Green






---
2012 Kawasaki KX65 – Canadian Specifications/Technical Details
Canada MSRP Price: See Canadian Kawasaki Dealer for pricing.

ENGINE
Displacement 64 cc
Type Liquid-cooled, 2-stroke Single
Bore and Stroke 44.5 x 41.6 mm
Compression Ratio 8.4:1
Carburetor Mikuni VM24SS
Induction 4-petal reed valve
Ignition Digital CDI
Lubrication Pre-mix (32:1)

DRIVETRAIN
Primary Drive Gear
Final Drive Chain
Primary Reduction Ratio 3.500 (77/22)
Gear Ratios: 1st 2.846 (37/13)
2nd 2.125 (34/16)
3rd 1.722 (31/18)
4th 1.428 (30/21)
5th 1.217 (28/23)
Transmission 6-speed, return
6th 1.083 (26/24)
Final Reduction Ratio 3.615 (47/13)
Clutch Wet multi-disc, manual

FRAME
Suspension: Front 33 mm telescopic fork, 4-click adjustable rebound damping
Suspension: Rear Bottom-link Uni-Trak with gas-charged shock fully adjustable spring preload, and 4-click rebound damping
Wheel Travel: (Front, Rear) 210 mm, 240 mm
Tires: (Front, Rear) 60/100-14, 80/100-12
Caster (Rake) 27°
Trail 60 mm
Type Semi double cradle, High-tensile steel with detachable left-side rear section

BRAKES
Rear Single-piston caliper, 180 mm disc
Front Single-piston caliper, 180 mm disc

DIMENSIONS
Overall Width 760 mm
Overall Length 1,590 mm
Overall Height 955 mm
Wheelbase 1,120 mm
Ground Clearance 305 mm
Seat Height 760 mm
Curb Mass** 60 kg (132.3 lbs)
Fuel Capacity 3.8 litres
** Includes all necessary materials and fluids to operate correctly, full tank of fuel (more than 90% of capacity) and tool kit (if supplied)

DETAILS
Colour Lime Green
MSRP* TBA
* The Manufacturer's Suggested Retail Price does not include freight, pre-delivery inspection or applicable taxes. The final price is at the discretion of the dealer. Prices and Specifications are subject to change without prior notice.

The specifications mentioned here apply to and have been achieved by production models under standard operating conditions. We intend only to give a fair description of the vehicle and its performance capabilities but these specifications may not apply to every machine supplied for sale. Kawasaki Heavy Industries, Ltd. reserves the right to alter specifications without prior notice.

Equipment illustrated and specifications may vary to meet individual markets. Available colours may vary by market.