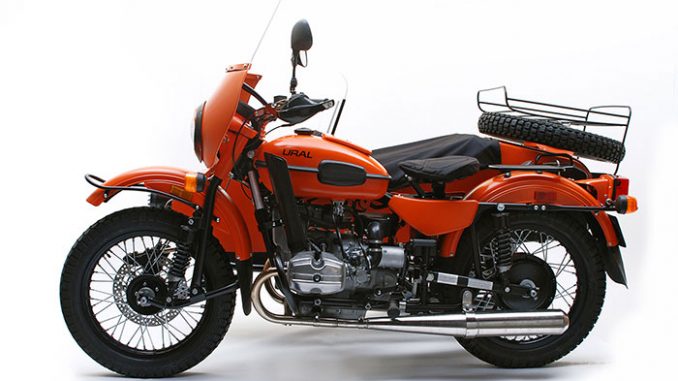 Click photos to enlarge.
They make great desktop images.
2012 Ural Yamal LE Review

2012 Ural Yamal LE
Snow, and ice-and better yet-permafrost as far as the eyes can see. They call it the Yamal Peninsula, which translates as the end of the Earth. A peninsula in Russia, which is known for being nothing short of inhospitable, barren, and perpetually frozen. What a perfect namesake then for a Russian icebreaker. These ships spend their days forging paths through the impasse that is the frozen Arctic Ocean, just north of Siberia. Heavy, rugged, and focused intently on their mission, these boats are truly one of a kind.
When we chose our inspiration for the 2012 limited edition, we struck upon the brilliance of the Yamal. A vessel designed to conquer any impasse, a vessel that may not always make sense, but one which—when speaking to the right people—is absolutely necessary. Our bikes are much like this strange breed of sea-going vessel: durable, dependable, and able to conquer what typical motorcycles cannot.
Our limited edition Ural Yamal is spec'd with its own double hull like the boat: we've weather proofed the bottom and the lower portion of the sidecar body and the fenders for additional protection. We powder coated it flat orange—the Ural Yamal can be spotted anywhere. And to defeat the long nights as you travel from waypoint to waypoint, we included additional lighting. Knobby spare tire, and hand guards round out the mission capability of the Ural Yamal. An impasse may come in other shapes and sizes beyond weather and topography, so our Yamal also includes an oar—which can double as a defensive tool or your last hope of survival on thin ice… you never know. Finally, the sea-going Yamal is unforgettable with its menacing teeth. We thought teeth made absolute sense for Ural. And yes, they come with the bike.
The 2012 Ural Yamal—the only motorcycle that comes with an oar.
Total built for U.S.: 50
Availability: Nationwide November 2012
MSRP: $14,250

2012 Ural Yamal LE Features and Benefits
The Heart & Brakes
Reliable, stout, and proven, the boxer layout could be the last engine you ever ride. Air cooled, and elegant, this motor is the heart of every Ural we build. Additionally, updated for the modern world, the Ural Yamal will stop with ease—Brembo full floating disc on the front—and give you plenty of feedback courtesy of the Sachs suspension.

Knobby Spare & Oar
Find yourself suddenly in over your head? No worries, the Yamal comes with a knobby spare tire, and if that isn't enough to get you out of trouble, the Ural Yamal also comes with an oar—more than likely the only motorcycle ever factory-equipped with one.

Additional Perks
The Ural Yamal is outfitted with the teeth of its namesake, two fog lights mounted on the sidecar bumper, the flat orange powder coat meets 3M coating at the bottom of most surfaces, and both rider and passenger get the comfort of fairing and windscreen. And last but not least the Ural Yamal is based on the Gear-Up, so you'll have two wheel drive at your disposal.
---
2012 Ural Yamal LE – North American Specifications
USA MSRP Price – $14,250 USD
Canada MSRP Price – $14,649 CDN
MSRP: $14,250*
Dimensions (LxWxH): 101.6″ x 66.9″ x 43.3″
Seat Height: 30.9″
Road clearance: 5.9″
Dry Weight: 739 lbs
Recommended max speed: 62 mph
Engine: OHV Air-cooled, 4 stroke, opposed twin cylinder
Bore & Stroke: 78×78 (mm)
Compression Ratio: 8.6:1
Displacement: 749cc
Rated HP @ 5600 RPM: 40
Rated Torque @ 4600 RPM: 38 ft-lbs
Fuel System: Carbureted, dual Keihin L22AA, 32mm
Clutch: Dry, dual disk
Alternator Max Output: 55amp, 770 watts
Starting: Electric & Kick starter
Transmission: 4 forward, 1 reverse
Final Drive: Shaft drive
Recommended Fuel: 91 Octane Unleaded
Tank Capacity: 5.0 gallons
Front Brakes: Brembo with full floating disk
Rear Brakes: Mechanical drum
Sidecar Brakes: Mechanical drum
Ignition System: Full electronic C.D.I.
Front Suspension: Leading link w/Sachs hydraulic shock absorbers
Rear Suspension: Sachs hydraulic shock absorbers
Wheel Size(front, rear, and sidecar): 19″
Wheel Type: Aluminum, steel spokes, cast alum. hubs
Miles per Gallon: 26-33 mpg
Trunk Volume: 2.9 cubic ft
Color: Flat Orange with black 3M undercoating in key areas
Special features: Rider fairing and passenger windshield, dual accessory front mounted fog lights, handguards, knobby spare tire, accessory paddle, "Yamal teeth" decal, LE badging, on demand 2WD
Warranty: 2 years parts and labor, unlimited mileage
*MSRP excluding tax, license, registration, delivery, and dealer-installed options. Dealer prices may vary

All specifications are provisional and subject to change without notice.