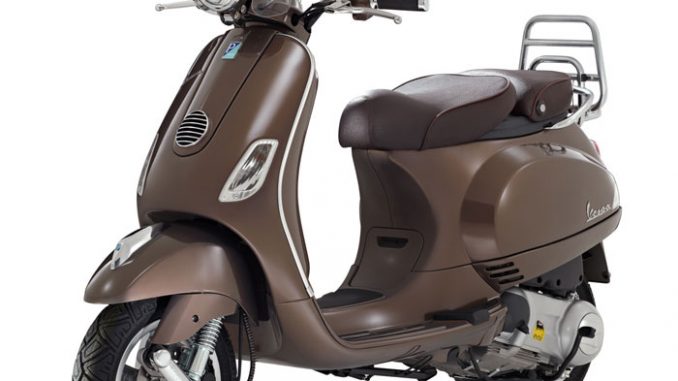 Click photos to enlarge. They make great desktop wallpaper.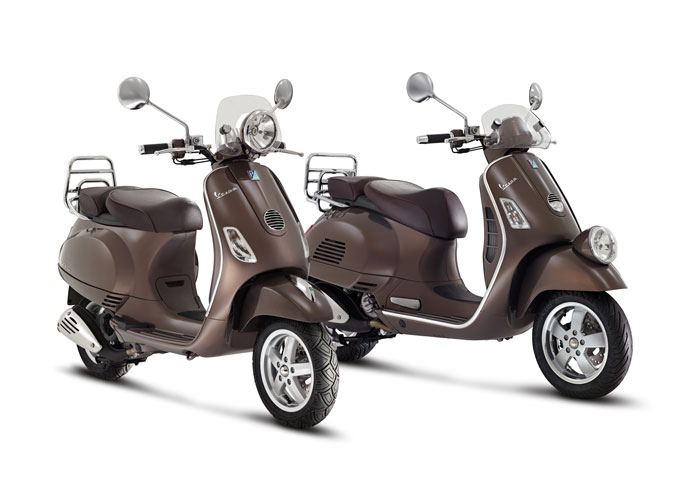 2012 Vespa Vie della Moda Family

2012 Vespa GTS Touring 300 Review

2012 Vespa GTS Touring 300
TOURING SPECIAL EDITION
Style and comfort in timeless lines: the Vespa Touring versions are inspired by the legend of touring on a Vespa.
The 2012 GTS 300 Touring Special Edition, available for the mighty Vespa GTS draws inspiration from the thousands of specially equipped Vespas for touring that have taken entire generations on road trips all over the world. This is a range dedicated to the love for touring, with a proper mix between unmistakeable Vespa style and the practicality of a vehicle which can leave the city limits behind and set out on medium range touring.
Vespa GTS Touring 300, in the elegant "Marrone Terra di Toscana" colouring, presents itself as the Vespa for medium range touring thanks to its state of the art single cylinder 300 cc electronic injection engine which is characterised by a power of 22 HP and its high level of torque (22.3 Nm) reached at low rpms. On the road, these numbers translate into great flexibility and low speed pick-up that are always able to guarantee silky smooth and easy riding.

The GTS Touring's single cylinder engine is extremely environmentally friendly, fully complying with the strictest emissions regulations thanks to the catalytic converter system and the advanced SAS secondary air system in addition to the state of the art global design.
The finishings of the Touring Special Edition are designed to enhance the Vespa line: the standard chrome finish luggage racks on the front and back ends, increase the load capacity of the vehicle quite considerably; the rounded transparent headlight fairing embraces the Vespa's eye with a touch of style and increased protection for the rider. The new saddle with new design thermobonding complements the vehicle thanks to colour-coding with the body colour.

A design element which further enhances the refined style of this Vespa is the colouring of the side plastic panels which embrace the lower part of the vehicle, colour-coded with the bodyshell in Marrone Terra di Toscana.

The powerful GTS 300 has now been given the "Touring" treatment to create a model which is perfect for mid-to-long range travel and finished in "Marrone terra di Toscana" a stunningly rich metallic brown.  The fitment of the chrome front and rear luggage racks give the GTS enhanced luggage carrying capacity and the fly screen gives added protection and improved looks.

POWERFUL, SPORTY, AND OH-SO STYLISH.
The Vespa GTS 300 is an uncompromising fusion of breathtaking performance, technical superiority and classic Vespa design. The GTS 300 has 12" alloy wheels, front & rear disc brakes and a liquid cooled engine with electronic fuel injection.
2012 Vespa GTS Touring 300 Model Highlights

The "Touring" badge proudly flaunted on the shield back plate alongside the glove box identifies the new Special Edition and accentuates the sophistication and elegance of the Vespa GTS.
TOP SPEED: 129 KM/H
FUEL CONSUMPTION: 27-29 KM/L
SLEEK, SMOOTH, FAST
TOP SPEED: 80 MPH
GAS MILEAGE: 65-70 MPG

---
2012 Vespa GTS Touring 300 – International Specifications/Technical Details
MSRP Price: TBA
Engine QUASAR 4-stroke single cylinder, 4 valves, electronic injection, catalytic converter
Engine capacity 278cc
Bore x Stroke 75mm x 63mm
Max. power at crankshaft 15.8 kW at 7,500 rpm – 21.5 hp
Max torque 22.3 Nm at 5,000 rpm
Fuel system Port Injected
Cooling Liquid
Starter Electric
Transmission CVT with torque server
Clutch Automatic dry centrifugal clutch with vibration dampers
Load bearing structure Sheet metal body with welded reinforcements
Front suspension Single link arm with coil spring and dual-action hydraulic shock absorber
Rear suspension Coil springs with adjustable preload (4 positions) and 2 dual-action hydraulic shock
absorbers
Front brake Hydraulically operated 220mm stainless steel disc
Rear brake Hydraulically operated 220mm stainless steel disc
Front tyre Tubeless 120/70 – 12″
Rear tyre Tubeless 130/70 – 12″
Length/ Width/Wheelbase 1,930/755/1,370mm
Seat height 790mm
Fuel tank capacity 9.2 litres
Emissions compliance Euro



---
2012 Vespa GTS Touring 300 – US Specifications/Technical Details
USA MSRP Price: $5,999 USD
ENGINE TYPE
Single cylinder four-stroke four-valve
CYLINDER CAPACITY
278 cc
BORE X STROKE
75 mm x 63 mm
MAX POWER AT SHAFT
15.8 kW at 7,500 rpm (22 hp)
MAX TORQUE
22.3 Nm at 5,000 rpm
MAX SPEED
80 mph
FUEL TANK CAPACITY
2.4
GAS MILEAGE
65-70 mpg
DISTRIBUTION
Chain driven SOHC (Single OverHead Camshaft)
COOLING SYSTEM
Liquid
LUBRICATION
Wet sump, chain-driven lobe pump
IGNITION
Electronic
GEARS
Automatic CVT with torque server
CLUTCH
Automatic dry centrifuge with damper
CHASSIS
Load-bearing sheet steel chassis
FRONT SUSPENSION
Single arm, dual-chamber hydraulic shock absorber
REAR SUSPENSION
Helical spring with adjustable 4-position pre-load
FRONT BRAKE
200 mm disc
REAR BRAKE
200 mm disc
FRONT TIRE
Tubeless 120/70-12″
REAR TIRE
Tubeless 130/70-12″
LENGTH
76.4″
WIDTH
29.7″
WHEELBASE
54.9″
SEAT HEIGHT
31.1″
DRY WEIGHT
326
TYPE APPROVAL
EPA and CARB
COLORS
Bronze, Dragon Red, Gray, Midnight Blue, Volcano Black
---
2012 Vespa GTS Touring 300 – Canada Specifications/Technical Details
Canadian MSRP Price: $6,745 CDN
ENGINE TYPE
Single cylinder four-stroke four-valve
CYLINDER CAPACITY
278 cc
BORE X STROKE
75 mm x 63 mm
MAX POWER AT SHAFT
21.1 cv at 7,500 rpm
MAX TORQUE
16.4 ft.lbs at 5,000 rpm
MAX SPEED
129 km/h
FUEL TANK CAPACITY
9.0 liters
FUEL CONSUMPTION
27-29 km/l
DISTRIBUTION
Chain driven SOHC (Single OverHead Camshaft)
COOLING SYSTEM
Liquid
LUBRICATION
Wet sump, chain-driven lobe pump
IGNITION
Electronic
GEARS
Automatic CVT with torque server
CLUTCH
Automatic dry centrifuge with damper
CHASSIS
Load-bearing sheet steel chassis
FRONT SUSPENSION
Single arm, dual-chamber hydraulic shock absorber
REAR SUSPENSION
Helical spring with adjustable 4-position pre-load
FRONT BRAKE
200 mm disc
REAR BRAKE
200 mm disc
FRONT TIRE
Tubeless 120/70, 12″
REAR TIRE
Tubeless 130/70, 12″
LENGTH
1940 mm
WIDTH
755 mm
WHEELBASE
1395 mm
SEAT HEIGHT
790 mm
DRY WEIGHT
148 kg
TYPE APPROVAL
EPA and CARB
COLORS
Bronze, Dragon Red, Gray, Midnight Blue, Black