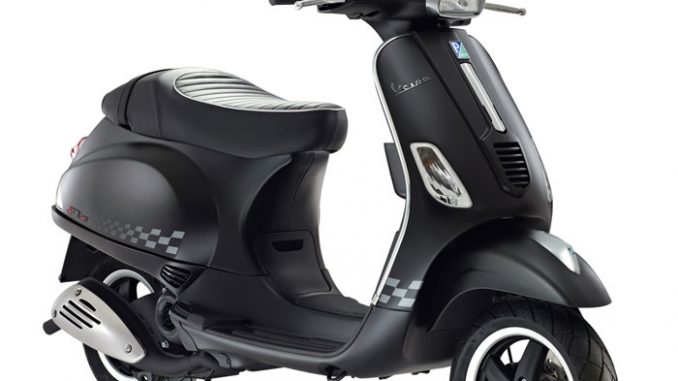 Click photos to enlarge. They make great desktop wallpaper.
2012 Vespa S 125 Review

2012 Vespa S 125
SPORT SPECIAL EDITION
Vespa S 125 Sport brings out the sport spirit of Vespa with strictly minimalist aesthetics which, thanks to its small body, are reminiscent of the 1970s circa models. The simple yet eye-catching livery of the Vespa S Sport emphasises its clean, restrained forms.
The dedicated graphics and the saddle, single seat for the 50 version, with white piping and thermobonding, convey a further sporty touch. The black wheels rims enhance the Vespa S Sport's essential elegance even more, now sporting the bold new Nero Abisso colouring.
The Sport Special Edition of the Vespa embodies the values of style, comfort, safety and sportiness of the most widely spread scooter in the world while citing legendary models such as the 1955 Vespa GS 150, the 1965 180 SS and the T5 "Pole Position" from 1985.

Even sportier and more aggressive today, the Vespa GTS SuperSport and Vespa S Sport are objects of pure desire.
Since its earliest days, there have always been sports versions of the Vespa, which were frequently used in both circuit racing and in major off-road competitions. The Sport versions of the Vespa GTS Super and Vespa S offer a modern interpretation of this extraordinary competition heritage, which has written unforgettable chapters in Vespa history.
2012 Vespa S 125 Model Highlights

The Vespa Sport special edition is recognisable at first glance by a few distinctive and common characteristics such as the Vespa badge and the "S" on the front shield of the GTS Super.

The burnished "Sport" plates on the S Sport and "Super Sport" on the GTS Super leg shield back plates, make this special edition stand out even more.

The suspension gains a distinctive racing red finish for the front spring, a motorsports detail that makes the front view of the Vespa GTS Super and Vespa S even more aggressive. An aggressive front cowl emphasises the sporty character of the Sport edition Vespas.

---
2012 Vespa S 125 – International Specifications/Technical Details
MSRP Price: TBA
TBA soon.


---
2012 Vespa S 125 – US Specifications/Technical Details
USA MSRP Price: $TBA USD
See international specifications listed above.
---
2012 Vespa S 125 – Canada Specifications/Technical Details
Canadian MSRP Price: $TBA CDN
See international specifications listed above.