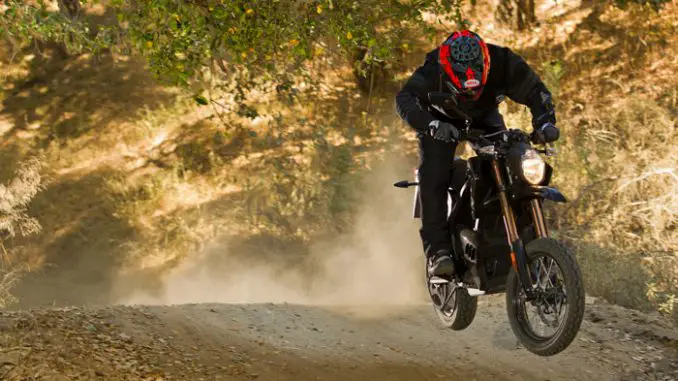 Click photos to enlarge.
They make great desktop images.
– 2012 Zero DS ZF9

2012 Zero DS ZF9 Review
The Zero DS combines innovation with passion to deliver the world's most versatile electric motorcycle. Designed to be agile in the dirt and quick on the street, the Zero DS represents a new kind of freedom.

Blast down a gravel road or a dusty trail. When you're ready, stealthily pass from the wild to the civilized as you arrive at your destination. The Zero DS is tough when you demand it and distinguished when required. Its edgy, yet sophisticated, appearance is highlighted by an eye catching twin spar frame that is both rigid and lightweight.

Powered by the most advanced powertrain in the industry, the Zero DS is a fully electric motorcycle that can handle any surface you throw at it. Overcoming obstacles and maintaining control is effortless due to its fully adjustable suspension and rugged wheel set. Under technical riding conditions, Zero's optimized direct drive system delivers astonishing responsiveness with the twist of your wrist. As with Zero's entire model line, the 2012 Zero DS costs only cents to recharge and, with its maintenance-free powertrain, it is one of the most economical motorcycles to own and operate.



2012 Zero DS ZF9 Key Features
What's new for 2012
The entirely revamped 2012 Zero DS is built off the platform of the highly innovative and new 2012 Zero S. Similarly, the Zero DS is capable of 112 miles in the EPA's UDDS range test. It features a completely new powertrain that includes a brushless motor capable of achieving speeds of up to 80 mph, new state of the art battery cell technology, regenerative braking and a power pack that is designed to last the life of the motorcycle. Offering customers the ability to select the range they need, the new ZF6 and ZF9 power pack configurations give riders the ability to respectively achieve 75 miles and 112 miles according to the EPA UDDS. Highlighting the new powertrain is sleek new venting and bodywork to keep the maintenance free and air cooled system operating at moderate temperatures. Revised frame geometry, new optimized Zero designed rotors and a larger front brake master cylinder give the Zero DS better handling and more stopping power than ever before.

The 2012 Zero DS is visually distinct from its predecessors with new additions to the bodywork, components and graphics. Built around a black high-end aircraft grade aluminum frame, it features more robust laced-spoke wheels, lower gearing intended for mountainous terrain and is offered with the option of a chain drive. Refining the appearance of the front end, the Zero DS now features a more contemporary headlight that gives the overall motorcycle a sleek new look.

2012 Zero DS ZF9 Features and Benefits

Development of the Zero DS
The Zero DS is built on the foundation of the Zero S and incorporates technology from Zero's highly durable off-road motorcycles. The wheels are designed to be particularly lightweight and strong. In the dirt or on the street the dual sport tires maintain a tight grip and a specially engineered suspension system absorbs the bumps. The result is a dual sport motorcycle that is ready for any surface you can throw at it.


Game Changing Z-Force™ Technology: 100+ Mi Range / 300,000+ Mi on a Power Pack

The 2012 Zero DS leverages a completely new battery cell chemistry and configuration. Not only does the ZF9 power pack enable riders to go beyond 100 miles, it is also designed to last the life of the motorcycle. The result of cutting edge research and development, each cell in the power pack is individually controlled and monitored at all times to ensure maximum health. The integrated onboard charger minimizes charge time and can work in parallel with Zero's quick charge accessories to cut charge times by as much as 75%. What's this all mean? Simply put, the Zero DS is the leader for production electric motorcycles in acceleration, range, recharge times and longevity.

– Available in two configurations: ZF6 (75 mi) and ZF9 (112 mi)
– State of the art new power pack configurations and cell chemistry ?Cells last 3,000 full charge-discharge cycles before hitting 80% capacity, yielding as much as 302,000 miles on the original power pack
– Up to 95% higher energy density power packs that yield significant range and performance advantages
– Elegant new low resistance and highly robust cell interconnect technology

– New battery management system with enhanced 24/7 cell monitoring and a 92% reduction in power consumption
– New, higher voltage power system that allows the motor to run cooler and with more RPMs than ever before
– Scalable quick-charge options available to cut recharge times by as much as 75%
– Isolated power systems and 12 volt system for running accessories
– Onboard charger that uses a specially developed charge profile


Brushless Motor and Regenerative Breaking: 80 mph Top Speed

A compact and powerful brushless motor provides riders with exhilarating acceleration to a top speed of 80 mph. Completely air cooled, the motor is designed to provide riders with years of fun minus the need for any regular maintenance. When slowing down, the motor works with a new brushless motor controller to recharge the power pack.

– Completely new maintenance-free, clean, forced-air cooled brushless motor
– Increased torque and broader power band for much stronger acceleration
– Regenerative braking recharges the power pack when decelerating


Frame and Bodywork: Lightweight and Stealthy

Aircraft grade aluminum is exclusively used in the construction of the lightweight and rigid Zero DS twin spar frame. One look at the frame and it speaks for itself. It is aggressive, strong and one of the main reasons that the Zero DS can take on anything in an urban environment. Designed to have a low center of gravity, the Zero DS is highly maneuverable and responsive. The body is completed using bold new bodywork to give it a contemporary, aggressive and naked look. The 2012 frame is designed to accommodate a rider and passenger with an optional accessory.

– Frame and bodywork designed from the ground up by Zero Motorcycles
– Ability to accommodate a passenger with an optional accessory
– Better handling with refined frame geometry for 2012
– Extremely rigid and lightweight black twin spar aircraft grade aluminum frame
– Designed to have a low center of gravity for better maneuverability and responsiveness
– Sleek new headlight and turn signals
– New scoop for ventilating the fully air cooled powertrain
– New trunk-pan and belt guard


Wheels and Brakes: Robust and Responsive

The Zero DS wheels are engineered to minimize unsprung weight and reduce rotating mass. Developed specifically for the Zero DS, the lightweight construction includes custom hubs, spokes, and rotors. To maximize overall wheel strength the hub is configured to use straight pull spokes. The resulting wheel is lighter, stronger and more responsive.

– New and more robust black wheels ?High strength/lightweight straight pull spokes
– Aggressive profile dual sport tires

– Brakes are more precise, easier to modulate and require less effort ?Zero designed rotors for optimized performance and reduced unsprung weight
– Larger front master cylinder bore size for increased stopping power
– Steel braided lines for superior lever feel and more precise brake modulation
– High performance compound brake pads

Suspension: The Magic Ride

The suspension on the Zero DS was developed by Zero to take advantage of the motorcycle's lightweight design. Its inverted front fork is among the lightest in the industry and can be externally adjusted to dial in compression and rebound damping. A rigid double diamond rear swing arm keeps the wheel planted using a custom rear shock with a fully adjustable spring preload and easily tuned damping. The smooth suspension combines with the silence of the powertrain to yield an exhilarating ride that needs to be experienced to be understood.

– Robust triple-clamps for improved bearing pre-loading and durability
– Specialized fork and shock internals
– Steel stanchions for increased strength, rigidity and control
– Unique double diamond aircraft grade aluminum rear swingarm for reduced weight and increased torsional rigidity
– Front adjustments: Compression and rebound damping
– Rear adjustments: Spring preload, compression and rebound damping


Dash and Controls: Focus on the Ride

The dash is designed by Zero to quickly and accurately provide information on speed, charge and motor temperature. For 2012, the Zero DS allows riders to set the motorcycle's performance to either Sport or Eco.

– Sport / Eco switch to allow riders to select motorcycle performance
– New high intensity headlight
– Exceptionally accurate charge indicator
– New and innovative State of Charge (SOC) algorithm
– Ergonomic and durable switch gear (for operation of lights, turn signals, etc.)
– Keyed ignition switch and steering lock for improved security and peace of mind
– More comfortable seat to accommodate longer rides


Gearing: Maintenance Free Belt Drive

Featuring a clutchless direct drive, the Zero DS is geared for rapid acceleration and increased efficiency. Using a maintenance free belt system, the Zero DS is able to achieve minimal frictional losses. This increases its overall range and channels power more efficiently into speed. The result is a motorcycle that is quick and responsive.
•New maintenance free and virtually silent belt drive system
•Clutchless one speed that simplifies operation
•Geared for rapid acceleration and maximum efficiency
•Minimal maintenance
•A chain drive accessory is available

---
2012 Zero DS ZF9 – Specifications and Technical Details
US MSRP Price: $ 13,995 USD
Europe MSRP Price: €13,995 Euro

Range
City (EPA UDDS) 112 miles (180 km)
Highway (commuting, 70mph) 62 miles (100 km)

Motor
Type High efficiency, double-stator axial flux permanent magnet, brushless motor with integrated forced air cooling
Controller High efficiency, 420 amp, 3-phase brushless controller with re-generative deceleration
Top speed (max) 80 mph (129 km/h)
Top speed (sustained) 70 mph (113 km/h)

Power System
Type Z-Force™ patented Li-Ion intelligent power pack
Maximum capacity 9.0 kWh
Nominal capacity 7.9 kWh
Estimated pack life to 80% (city) 302,000 miles (487,000 km)
Charger type 1kW, integrated
Charge time (standard) 9.0 hours (100% charged) / 8.0 hours (95% charged)
Quick 2x charger time (accessory) 4.9 hours (100% charged) / 4.0 hours (95% charged)
Quick 3x charger time (accessory) 3.1 hours (100% charged) / 2.7 hours (95% charged)
Quick 4x charger time (accessory) 2.4 hours (100% charged) / 2.0 hours (95% charged)
Input Standard 110V or 220V

Drivetrain
Transmission Clutchless one speed
Final drive 132T / 25T, Poly Chain® GT® Carbon™ belt
Final drive (accessory) 73T / 13T, 420 chain

Chassis / Suspension / Brakes
Front suspension 38mm inverted forks with adjustable compression and rebound damping
Rear suspension Direct-link shock with adjustable spring preload, compression and rebound damping
Front suspension travel 9.44 inches (240 mm)
Rear suspension travel 7.69 inches (195 mm)
Front brakes 2 piston hydraulic, 310×4 mm floating disc
Rear brakes 1 piston hydraulic, 220×4 mm disc
Front tire 100/80-17
Rear tire 110/90-16
Front wheel 2.50×17
Rear wheel 3.00×16

Dimensions
Wheel base 57.3 inches (1455 mm)
Seat height (standard) 34.8 inches (883 mm)
Low seat height (accessory) 32.8 inches (832 mm)
Rake 25.3 degrees
Trail 3.5 inches (89 mm)

Weight
Frame 22 pounds (10 kg)
Curb weight 341 pounds (155 kg)
GVWR 681 pounds (309 kg)
Carrying capacity 340 pounds (154 kg)

Economy
Typical cost to charge $0.95
Equivalent fuel economy (city) 480 MPGe (0.49 liters/100km)
Equivalent fuel economy (highway) 267 MPGe (0.88 liters/100km)



Specifications are subject to change without notice. Imagery may not reflect most current product specifications. Zero Motorcycles reserves the right to make improvements and/or design changes without any obligation to previously sold, assembled or fabricated equipment.

---
2012 Zero DS ZF9 – Press Release
ZERO MOTORCYCLES DELIVERS 2012 MODEL LINE WITH OVER 100 MILES RANGE,
MORE POWER AND NEW "LIFE OF MOTORCYCLE" POWER PACK
– Game-Changing New Motorcycles to Begin Shipping in February 2012 –
SANTA CRUZ, Calif. (November 8, 2011) – Zero Motorcycles today announced its 2012 model line that includes a revolutionary new powertrain, models capable of exceeding 100 miles range, a power pack designed to last the life of the motorcycle and top speeds of up to 88 mph. Stealthy looking and contemporary, every model has been transformed to be faster, go further and, in the spirit of all two wheeled enthusiasts, to be more fun than ever before. Innovating at an exceptional pace, Zero Motorcycles plans to begin delivery of its complete 2012 model line in February 2012. This will mark the first time in transportation history that a mass production electric motorcycle capable of exceeding 100 miles range will be available for consumers to own.
Zero's new Z-Forcetm power pack uses a completely new battery cell chemistry and configuration that is up to 95% more energy dense and is rated to 3,000 complete charge cycles before hitting 80% capacity. This means that a Zero S could travel as much as 308,000 miles on its original power pack. All Zero's on and off-road motorcycles leverage the new technology meaning that the power pack is designed to exceed the longevity expected of any conventional motorcycle. The result is a complete electric motorcycle line that offers owners exhilarating rides while saving on gas and virtually all routine powertrain maintenance.
"The 2012 model line is truly game changing. It marks the first time in history that riders can actually own an electric motorcycle that is capable of exceeding 100 miles of range on a single charge," said Scot Harden, VP of Global Marketing of Zero Motorcycles. "Every model in the lineup goes faster, further and is more fun than ever before. These are not concepts. In less than three months, riders can see and purchase 2012 models at authorized Zero Motorcycles dealers."
The Zero S, a street fighter, and Zero DS, a dual sport, are both available in a 6 or 9 kWh configuration. As measured by the EPA UDDS, the Zero S is capable of respectively achieving 76 or 114 miles. Both motorcycles offer a higher top speed, with the Zero DS hitting 80 mph and the Zero S topping out at 88 mph. Perhaps more importantly, both motorcycles offer a broad torque band and stealthy acceleration from 0 rpm that makes them incredibly fun to ride. In addition, all the street models, including the Zero XU, feature new brushless motors and regenerative braking that allow riders to recoup energy during deceleration. The Zero XU, a motorcycle designed for inner city riding, now uses the same maintenance-free belt drive system as the Zero S and Zero DS. Brushless air-cooled motors, life of motorcycle power packs and belt drive systems make Zero's lineup of street models just about the world's easiest to own form of transportation.
If you are interested in opening up new off-road riding possibilities with a nearly silent dirt bike, Zero has two models that are better looking and faster than ever before to meet your needs. For 2012, Zero streamlined its off-road model line. The Zero X, designed for trail riding, is now exclusively available with lights and is street-legal. With 33% more overall power and 75% greater range, it now uses the same championship winning powertrain as the Zero MX. Built for motocross riding and now exclusively available for off-road only, the Zero MX also received more power and offers riders the ability to accelerate harder and hit higher top speeds. Both off-road models have a bold new design that speaks to their more aggressive and longer lasting powertrain.
Pricing information:
Each Zero Motorcycles model is 100% electric and, as a result, is sometimes applicable to receive government rebates or credits. Zero sells its motorcycles through dealerships and, in states or countries without dealerships, sells motorcycles through its website. Each motorcycle comes with a two year limited warranty and will begin shipping in February. Zero and its dealers will accept pre-orders from customers who would like to secure a new 2012 electric motorcycle. The complete pricing for each model is below.
Zero S
MSRP: (ZF6) $11,495* | €11,495**
MSRP: (ZF9) $13,995* | €13,995**
Zero DS
MSRP: (ZF6) $11,495* | €11,495**
MSRP: (ZF9) $13,995* | €13,995**
Zero XU
MSRP: $7,695* | €7,695**
Zero X
MSRP: $9,945* | €9,945**
Zero MX
MSRP: $9,495* | €9,495**
*Does not include local shipping, applicable taxes, PDI, or road registration fees.
**Includes Product, Shipping, and VAT. Does not include PDI or road registration fees.
About Zero Motorcycles

Zero Motorcycles is committed to transforming the motorcycling experience by bringing to market highly innovative electric motorcycles that offer exceptional value and performance. Zero is powered by innovation, driven by passion, guided by integrity, and measured by results. Through extensive research, insight and experience, Zero combines the art and science of motorcycle development to create and manufacture products that excite consumers and inspire brand loyalty. Zero is determined to be the pre-eminent global electric motorcycle company.