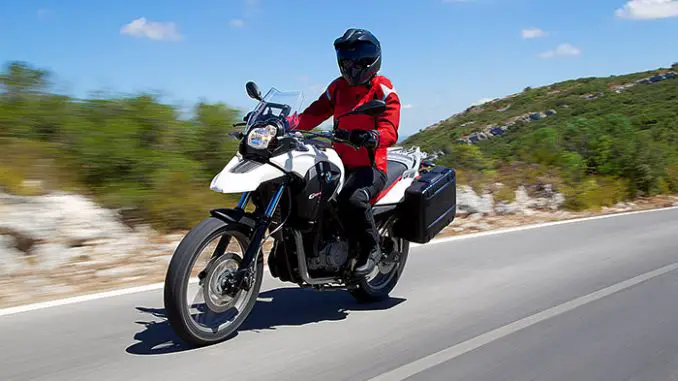 Click photos to enlarge. Our big, clean bike pics make great desktop wallpaper.
2013 BMW G650GS Review

2013 BMW G650GS
Why not? That's the motto of the G 650 GS. Whether in town or on the gravel track: with this machine you have every terrain under control, and you get more than your money's worth when it comes to riding fun, too.
The G 650 GS continues the success story of BMW Motorrad's single cylinder engines in impressive fashion – with a solid output of 50 hp at 6500 rpm and a maximum torque of 44 ft-lb at 5000 rpm. The bike offers absolutely sensational fuel consumption levels: 74 mpg, at a constant 55 mph.
The ride feel on the G 650 GS is thrilling, too – wherever you're going. Whether on the road or over rough terrain – the reliable, tried-and-tested chassis with central spring strut on the swinging fork ensures crisp handling. Membership of the enduro family is highlighted in this new machine with the upright seating position and an impressive 6.7″ of spring travel at the front with 6.5″ at the rear. The moderate standard seat height of 31.5″ and the lowered suspension option make this experience accessible to virtually anyone.
The G 650 GS is robust, powerful and yet still extremely light, weighing just 423 lbs wet weight (with a full tank). With its low fuel consumption and simple handling, it is not just ideal for beginning motorcyclists. Its slim, athletic stature in a youthful and typically enduro-style design stands for uncomplicated riding pleasure and pure fun. Even the paint finish is a real eye-catcher – whether in Sunset Yellow or Aura White.
The available accessories for the new BMW enduro include comfortable hand protectors, aluminum engine guard, a high windshield and practical side cases.
The factory installed options make the machine a touch safer still: a center stand makes for improved stability, and the heated grips provide a more solid grasp in cold weather conditions.
With the G 650 GS you will simply have fun. So just get on and off you go: why not?

The new G 650 GS provides levels of performance, smoothness and economy that have never been produced before by a single cylinder engine. In BMW Motorrad's quest to prove that we are the most innovative manufacturer, the G 650 GS has a top quality assortment of accessories available, including the option of ABS and heated grips. With low suspension as an option and at an affordable price, the versatile G 650 GS is prepared for anything from the city to the open country.
2013 BMW G650GS Features and Benefits
Factory Fit Options:
Heated Grips
Seat Height Reduction
Anti-Theft Alarm System
Main Centre Stand (not available with option 499)
Power Socket

Standard Factory Equipment: Special Features
Detachable Windshield for off road use
BMW Motorrad ABS as Standard.

Engine/Driveline
Complete Stainless Steel exhaust system
Chain Drive
BMW engine management with twin-spark ignition system
Closed loop 3 way catalytic converter
4 valve cylinder head
Single cylinder engine, water cooled

Running Gear
Adjustable rear rebound damping
Telescopic front fork with fork stabiliser
Braided steel brake hoses
Side stand with starter inhibit
Chain guard
Cast Aluminium wheels
Hydraulic rear spring preload adjuster
Single disk brake front and rear

Electronics
Speedometer with total and trip odometers, rev counter and clock
Permanent headlamp beam
Equipment
Toolkit
Windshield
Integral ignition and switch and steering lock
Side stand
Luggage rack
One key system for igntion, steering, fuel filler cap and storage compartment locks
Cockpit fairing fixed to frame
Lockable storage compartment at rear
2013 BMW G650GS Key Features

The bike offers absolutely sensational fuel consumption levels: 74 mpg, at a constant 55 mph. 3.2 litres of regular petrol to 100 km.
From model year 2013 the BMW G 650 GS is available in the following new paint finish:

– Sunset yellow
The paint finish Orange red is no longer available.
---
2013 BMW G650GS – USA Specifications/Technical Details
US MSRP Price: $7,850 (including ABS)
Engine
Type Water-cooled, single-cylinder 4-stroke engine, four valves, two overhead camshafts, dry sump lubrication
Bore x stroke 100 mm x 83 mm
Capacity 652 cc
Rated output 50 hp (37 kW) at 6,500 rpm
Max. torque 44 lb/ft (60 Nm) at 5,000 rpm
Compression ratio 11.5 : 1
Mixture control / engine management Electronic intake pipe injection / BMW engine management, twin-spark ignition
Emission control Closed-loop 3-way catalytic converter, emission standard EU-3
Performance / fuel consumption
Maximum speed 106 mph
Fuel consumption per 100 km at constant 90 km/h 74 mpg, at a constant 55 mph
Fuel consumption per 100 km at constant 120 km/h
Fuel type Unleaded regular
Electrical system
Alternator three-phase alternator 400 W
Battery 12 V / 12 Ah
Power transmission
Clutch Multiple-disc clutch in oil bath, mechanically operated
Gearbox Constant mesh 5-speed gearbox integrated into crankcase
Drive Endless O-ring chain with shock damping in rear wheel hub
Chassis / brakes
Frame Bridge-type steel section frame with bolted-on rear section
Front wheel location / suspension Telescopic fork, Ø 41 mm, fork stabilizer
Rear wheel location / suspension Box-section steel dual swing arm, central spring strut operated by lever system, spring pre-load hydraulically adjustable (continuously variable) at handwheel, rebound damping adjustable
Suspension travel front / rear 6.7/6.5 inches (170 mm/165 mm);
5.5/5.1 inches (140 mm/130 mm) with lowered suspension
Wheelbase 58.2 inches (1,477 mm)
Castor 4.5 inches (113 mm)
Steering head angle 61.9°
Wheels Cast aluminum
Rim, front 2,50 x 19″
Rim, rear 3.50 x 17″
Tyres, front 110/80 R19 59V
Tyres, rear 140/80 R17 69V
Brake, front Single disc, diameter 300 mm, double-piston floating caliper
Brake, rear Single disc, diameter 240 mm, single-piston floating caliper
ABS STANDARD (can be switched off)
Dimensions / weights
Length 85 inches (2,165 mm)
Width (incl. mirrors) 36 inches (920 mm)
Height (excl. mirrors) 55 inches (1,390 mm)
Seat height, unladen weight 31.5 inches Standard; variable seat heights available between 30.3 inches and 33.1 inches (available as accessories and/or factory options, see an authorized BMW Motorrad dealer)
Inner leg curve, unladen weight 71.3 inches Standard; variable inner leg curve (inseam) between 68.9 and 74.4 inches (seats available as accessories and/or factory options, see an authorized BMW Motorrad dealer)
Unladen weight, road ready, fully fuelled 1) 423 lbs (192 kg)
Dry weight 2) 386 lbs (175 kg)
Permitted total weight 838 lbs (380 kg)
Payload (with standard equipment) 415 lbs (188 kg)
Usable tank volume 3.7 gallons (14.0 liters)
Reserve Approx. 1 gallon (4.0 liters)
" Technical data relate to the unladen weight (DIN)
" 1) According to guideline 93/93/EWG with all fluids, fuelled with at least 90% of usable tank volume
" 2) Unladen weight without fluids
---
2013 BMW G650GS – Canadian Specifications/Technical Details
Canada MSRP Price: See dealer for Pricing.
Engine
Type Water-cooled, single-cylinder 4-stroke engine, four valves, two overhead camshafts, dry sump lubrication
Bore x stroke 100 mm x 83 mm
Capacity 652 cc
Rated output 35 kW (48 hp) at 6,500 rpm
(output reduction to 25 kW (34 hp) at 6,500 rpm possible)
Max. torque 60 Nm at 5,000 rpm
(with output reduction: 47 Nm at 4,500 rpm)
Compression ratio 11.5 : 1
Mixture control / engine management Electronic intake pipe injection / BMW engine management, twin-spark ignition
Emission control Closed-loop 3-way catalytic converter, emission standard EU-3
Performance / fuel consumption
Maximum speed approx. 170 km/h
(with output reduction: approx. 145 km/h)
Fuel consumption per 100 km at constant 90 km/h 3.2 l
Fuel consumption per 100 km at constant 120 km/h 4.3 l
Fuel type Unleaded regular, minimum octane rating 91 (RON)
Electrical system
Alternator three-phase alternator 400 W
Battery 12 V / 12 Ah
Power transmission
Clutch Multiple-disc clutch in oil bath, mechanically operated
Gearbox Constant mesh 5-speed gearbox integrated into crankcase
Drive Endless O-ring chain with shock damping in rear wheel hub
Chassis / brakes
Frame Bridge-type steel section frame with bolted-on rear section
Front wheel location / suspension Telescopic fork, Ø 41 mm, fork stabiliser
Rear wheel location / suspension Box-section steel dual swing arm, central spring strut operated by lever system, spring pre-load hydraulically adjustable (continuously variable) at handwheel, rebound damping adjustable
Suspension travel front / rear 170 mm / 165 mm
(lowered suspension 140 mm / 130 mm)
Wheelbase 1,477 mm
Castor 113 mm
Steering head angle 61.9°
Wheels Cast aluminium
Rim, front 2,50 x 19″
Rim, rear 3.50 x 17″
Tyres, front 110/80 R19 59V
Tyres, rear 140/80 R17 69V
Brake, front Single disc, diameter 300 mm, double-piston floating caliper
Brake, rear Single disc, diameter 240 mm, single-piston floating caliper
ABS Optional extra: BMW Motorrad ABS (can be switched off)
Dimensions / weights
Length 2,165 mm
Width (incl. mirrors) 920 mm
Height (excl. mirrors) 1,390 mm
Seat height, unladen weight 780 mm (lowered suspension 770 mm; high seat: 820 mm)
Inner leg curve, unladen weight 1,770 mm (lowered suspension 1,710 mm; high seat: 1,850 mm)
Unladen weight, road ready, fully fuelled 1) 192 kg
Dry weight 2) 175 kg
Permitted total weight 380 kg
Payload (with standard equipment) 188 kg
Usable tank volume 14.0 l
Reserve approx. 4.0 l
" Technical data relate to the unladen weight (DIN)
" 1) According to Directive 93/93/EEC with all fluids, fuelled to at least 90% of usable fuel tank
" 2) Unladen weight without fluids
---
2013 BMW G650GS – Europe Specifications/Technical Details
European MSRP Price: £6,195.00

Engine
Type Water-cooled, single-cylinder 4-stroke engine, four valves, two overheads camshafts, dry sump lubrication
Bore x stroke 100mm x 83mm
Capacity 652cc
Rated output 48hp at 6,500 rpm (output reduction to 34 hp at 6,500 rpm possible)
Max. torque 60 Nm at 5,000 rpm (with output reduction: 47 Nm at 4,500rpm)
Compression ratio 11.5:1
Mixture control / engine management Electronic intake pipe injection/BMW engine management, twin spark ignition
Emission control Closed-loop 3-way catalytic converter, emission standard EU-3
Performance / fuel consumption
Maximum speed Approximately 170 km/h (with output reduction: approx 145 km/h)
Fuel consumption per 100 km at constant 90 km/h 3.2 litres
Fuel consumption per 100 km at constant 120 km/h 4.3 litres
Fuel type Unleaded regular, minimum octane rating 91 (RON)
Electrical System
Alternator Three-phase alternator 400W
Battery 12 V/ 12 Ah
Power transmission
Clutch Multiple-disc clutch in oil bath, mechanically operated
Gearbox Constant mesh 5-speed gearbox integrated into crankcase
Drive Endless O-ring chain with shock damping in rear wheel hub
Chassis / brakes
Frame Bridge-type steel section frame with bolted on rear section
Front wheel location / suspension Telescopic fork, 41mm diameter, fork stabiliser
Rear wheel location / suspension Box-section steel dual swing-arm, central spring strut operated by lever system, spring pre-load hydraulically adjustable (continuously variable) at hand wheel, rebound damping adjustable
Suspension travel front / rear 170 mm/165 mm (lowered suspension 140mm/130mm)
Wheelbase 1,477 mm
Castor 113 mm
Steering head angle 61.9 deg.
Wheels Cast aluminium
Rim, Front 2.50 x 19″
Rim, rear 3.50 x 17″
Tyre, front 110/80 R19 59V
Tyre, rear 140/80 R17 69V
Brake, front Single disc, diameter 300 mm, double piston floating caliper
Brake, rear Single disc, diameter 240 mm, single piston floating caliper
ABS As Standard: BMW Motorrad ABS (can be switched off).
Dimensions / weights
Length 2,165 mm
Width (incl. mirrors) 920 mm
Height (excl. mirrors) 1,390 mm
Seat height, unladen weight 780 mm
Inner leg curve, unladen weight 1,770 mm (lowered suspension 1,710 mm, high seat 1,850 mm
Unladen weight, road ready, fully fueled 192 kg
Dry weight 175 kg
Permitted total weight 380 kg
Payload (with standard equipment) 188 kg
Usable tank volume 14 litres
Reserve approx 4 litres