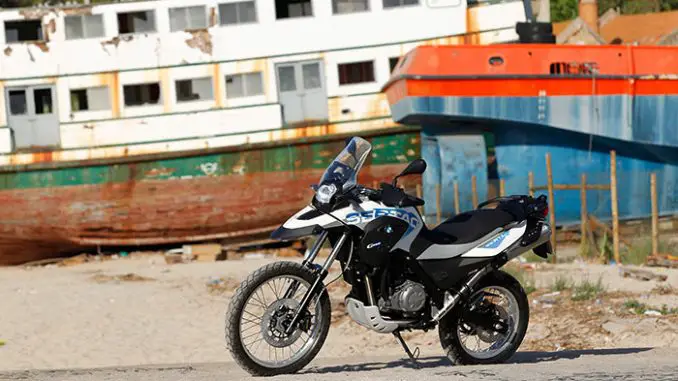 Click photos to enlarge. Our big, clean bike pics make great desktop wallpaper.
2013 BMW G650GS Sertao Review

2013 BMW G650GS Sertao
Power, robustness and agility combined with maximum control. This is what the G 650 GS Serṭo stands for Рa machine designed to master even the most adventurous forays into off-road terrain. Naturally its outstanding ride characteristics not only make it excel here but also in everyday riding on country roads or in city traffic.
No wonder – with these technical features: The engine generates 50 hp at 6500 rpm and a maximum torque of 44 lb/ft at 5000 rpm. Fuel consumption is sensationally low at 74 mpg at a constant 55 mph and thanks to its extremely low weight of 423 lbs with full tank the bike handles easily in every situation.
The G 650 GS Sertão is a thrilling bike to look at, too. The exclusive color design is classic in Aura white/Arroy blue while remaining modern at the same time. The luggage carrier is in black and the seat in black/grey.
Enduro fans will also enjoy the wide range of equipment. Thanks to standard ABS the braking performance of the G 650 GS Sertão reaches a new level on wet asphalt. Apart from riding safety, a high level of comfort is ensured by the optional heated grips and the power socket which ensures untroubled travel feeling on long distance rides. The equipment features are rounded off by the original BMW Motorrad alarm system.
All this makes the G 650 GS Sertão a versatile Enduro which calls out for adventure, like the exciting desert of Brazil after which it was named. Let yourself in for adventure!
The unstoppable G 650 GS has been transformed from a fantastic on-road to an extreme off-road motorcycle. With a brand new paint work and an outstanding range of features as standard, the immense Sertao edition puts the G 650 GS in a new light.
The special edition model comes with a larger front wheel to soak up the pot holes and difficult terrain, a high windshield, aluminium engine guard and hand protectors for enhanced rider and motorcycle protection and spoked wheels front and rear to cope with the difficult terrain. With all these standard features combined with the extreme agility, smoothness and economy of the standard G 650 GS, the superb Sertao is the perfect contender for your next bike.

2013 BMW G650GS Sertao Key Features
Factory Fit Options:

Anti-Theft Alarm System
Power Socket

Standard Factory Equipment: Special Features
Spoke Wheels
High Windshield
Aluminium Engine Guard
Handguards
Heated Grips
BMW Motorrad ABS as Standard.

Engine/Driveline
Single cylinder engine, water cooled
4 valve cylinder head
Closed loop 3 way catalytic converter
BMW engine management with twin-spark ignition system
Chain Drive
Complete Stainless Steel exhaust system

Running Gear
Adjustable rear rebound damping
Telescopic front fork with fork stabiliser
Braided steel brake hoses
Side stand with starter inhibit
Chain guard
Cast Aluminium wheels
Hydraulic rear spring preload adjuster
Single disk brake front and rear

Electronics
Speedometer with total and trip odometers, rev counter and clock
Permanent headlamp beam
Equipment
Toolkit
Windshield
Integral ignition and switch and steering lock
Side stand
Luggage rack
One key system for igntion, steering, fuel filler cap and storage compartment locks
Cockpit fairing fixed to frame
Lockable storage compartment at rear
---
2013 BMW G650GS Sertao – USA Specifications/Technical Details
US MSRP Price: $8,650 (including ABS)
Engine
Type Water-cooled, single-cylinder 4-stroke engine, four valves, two overhead camshafts, dry sump lubrication
Bore x stroke 100 mm x 83 mm
Capacity 652 cc
Rated output 50 hp (37 kW) at 6,500 rpm
Max. torque 44 lb/ft (60 Nm) at 5,000 rpm
Compression ratio 11.5 : 1
Mixture control / engine management Electronic intake pipe injection / BMW engine management, twin-spark ignition
Emission control Closed-loop 3-way catalytic converter, emission standard EU-3
Performance / fuel consumption
Maximum speed 106 mph
Fuel consumption per 100 km at constant 90 km/h 74 mpg, at a constant 55 mph
Fuel consumption per 100 km at constant 120 km/h n/a
Fuel type Regular unleaded
Electrical system
Alternator three-phase alternator 400 W
Battery 12 V / 12 Ah
Power transmission
Clutch Multiple-disc clutch in oil bath, mechanically operated
Gearbox Constant mesh 5-speed gearbox integrated into crankcase
Drive Endless O-ring chain with shock damping in rear wheel hub
Chassis / brakes
Frame Bridge-type steel section frame with bolted-on rear section
Front wheel location / suspension Telescopic fork, Ø 41 mm, fork stabilizer
Rear wheel location / suspension Box-section steel dual swing arm, central spring strut operated by lever system, spring preload hydraulically adjustable (continuously variable) at handwheel, rebound damping adjustable
Suspension travel front / rear 8.3″/8.3″
Wheelbase 58.4 inches
Castor 4.8 inches
Steering head angle 61,9°
Wheels Wire spoke wheels
Rim, front 1,60 x 21″
Rim, rear 3,00 x 17″
Tyres, front 90/90 R21 54S
Tyres, rear 130/80 R17 65S
Brake, front Floating single disc, diameter 300 mm, double-piston floating caliper
Brake, rear Single disc, diameter 240 mm, single-piston floating caliper
ABS 1) BMW Motorrad ABS (can be switched off)
Dimensions / weights
Length 86.0 inches
Width (incl. mirrors) 36.2 inches
Height (excl. mirrors) 56.7 inches
Seat height, unladen weight 33.9″ (high seat: 35.4″ special accessory)
Inner leg curve, unladen weight
Unladen weight, road ready, fully fuelled 2) 425 lbs
Dry weight 3) 390 lbs
Permitted total weight 838 lbs
Payload (with standard equipment) 412 lbs
Usable tank volume 3.7 gallons
Reserve appx. 1 gallon
" Technical data relate to the unladen weight (DIN)
" 1) optional extra
" 2) According to guideline 93/93/EWG with all fluids, fuelled with at least 90% of usable tank volume
" 3) Unladen weight without fluids
---
2013 BMW G650GS Sertao – Canadian Specifications/Technical Details
Canada MSRP Price: See dealer for Pricing.
Engine
Type Water-cooled, single-cylinder 4-stroke engine, four valves, two overhead camshafts, dry sump lubrication
Bore x stroke 100 mm x 83 mm
Capacity 652 cc
Rated output 35 kW (48 hp) at 6,500 rpm (output reduction to 25 kW (34 hp) at 6,500 rpm possible)
Max. torque 60 Nm at 5,000 rpm (with output reduction: 47 Nm at 4,500 rpm)
Compression ratio 11.5 : 1
Mixture control / engine management Electronic intake pipe injection / BMW engine management, twin-spark ignition
Emission control Closed-loop 3-way catalytic converter, emission standard EU-3
Performance / fuel consumption
Maximum speed approx. 170 km/h (with output reduction: approx. 145 km/h)
Fuel consumption per 100 km at constant 90 km/h 3.2 l
Fuel consumption per 100 km at constant 120 km/h 4.3 l
Fuel type Unleaded regular, minimum octane rating 91 (RON)
Electrical system
Alternator three-phase alternator 400 W
Battery 12 V / 12 Ah
Power transmission
Clutch Multiple-disc clutch in oil bath, mechanically operated
Gearbox Constant mesh 5-speed gearbox integrated into crankcase
Drive Endless O-ring chain with shock damping in rear wheel hub
Chassis / brakes
Frame Bridge-type steel section frame with bolted-on rear section
Front wheel location / suspension Telescopic fork, Ø 41 mm, fork stabiliser
Rear wheel location / suspension Box-section steel dual swing arm, central spring strut operated by lever system, spring pre-load hydraulically adjustable (continuously variable) at handwheel, rebound damping adjustable
Suspension travel front / rear 210 mm / 210 mm
Wheelbase 1,484 mm
Castor 123 mm
Steering head angle 61,9°
Wheels Wire spoke wheels
Rim, front 1,60 x 21″
Rim, rear 3,00 x 17″
Tyres, front 90/90 R21 54S
Tyres, rear 130/80 R17 65S
Brake, front Floating single disc, diameter 300 mm, double-piston floating caliper
Brake, rear Single disc, diameter 240 mm, single-piston floating caliper
ABS 1) BMW Motorrad ABS (can be switched off)
Dimensions / weights
Length 2.185 mm
Width (incl. mirrors) 920 mm
Height (excl. mirrors) 1,440 mm
Seat height, unladen weight 860 mm (high seat: 900 mm (special accessory))
Inner leg curve, unladen weight 1.770 mm (lowered suspension: 1.710 mm, high seat: 1.850 mm)
Unladen weight, road ready, fully fuelled 2) 193 kg
Dry weight 3) 177 kg
Permitted total weight 380 kg
Payload (with standard equipment) 187 kg
Usable tank volume 14,0 l
Reserve ca. 4,0 l
" Technical data relate to the unladen weight (DIN)
" 1) optional extra
" 2) According to Directive 93/93/EEC with all fluids, fuelled to at least 90% of usable fuel tank
" 3) Unladen weight without fluids
---
2013 BMW G650GS Sertao – Europe Specifications/Technical Details
European MSRP Price: £6,695.00 on the road

Engine
Type Water-cooled, single-cylinder 4-stroke engine, four valves, two overhead camshafts, dry sump lubrication
Bore x stroke 100 mm x 83 mm
Capacity 652 cc
Rated output 35 kW (48 hp) at 6,500 rpm (output reduction to 25 kW (34 hp) at 6,500 rpm possible)
Max. torque 60 Nm at 5,000 rpm (with output reduction: 47 Nm at 4,500 rpm)
Compression ratio 11.5 : 1
Mixture control / engine management Electronic intake pipe injection / BMW engine management, twin-spark ignition
Emission control Closed-loop 3-way catalytic converter, emission standard EU-3
Performance / fuel consumption
Maximum speed approx. 170 km/h (with output reduction: approx. 145 km/h)
Fuel consumption per 100 km at constant 90 km/h 3.2 l
Fuel consumption per 100 km at constant 120 km/h 4.3 l
Fuel type Unleaded regular, minimum octane rating 91 (RON)
Electrical system
Alternator three-phase alternator 400 W
Battery 12 V / 12 Ah
Power transmission
Clutch Multiple-disc clutch in oil bath, mechanically operated
Gearbox Constant mesh 5-speed gearbox integrated into crankcase
Drive Endless O-ring chain with shock damping in rear wheel hub
Chassis / brakes
Frame Bridge-type steel section frame with bolted-on rear section
Front wheel location / suspension Telescopic fork, Ø 41 mm, fork stabiliser
Rear wheel location / suspension Box-section steel dual swing arm, central spring strut operated by lever system, spring pre-load hydraulically adjustable (continuously variable) at handwheel, rebound damping adjustable
Suspension travel front / rear 210 mm / 210 mm
Wheelbase 1,484 mm
Castor 123 mm
Steering head angle 61,9°
Wheels Wire spoke wheels
Rim, front 1,60 x 21″
Rim, rear 3,00 x 17″
Tyres, front 90/90 R21 54S
Tyres, rear 130/80 R17 65S
Brake, front Floating single disc, diameter 300 mm, double-piston floating caliper
Brake, rear Single disc, diameter 240 mm, single-piston floating caliper
ABS 1) BMW Motorrad ABS (can be switched off)
Dimensions / weights
Length 2.185 mm
Width (incl. mirrors) 920 mm
Height (excl. mirrors) 1,440 mm
Seat height, unladen weight 860 mm (high seat: 900 mm (special accessory))
Inner leg curve, unladen weight 1.770 mm (lowered suspension: 1.710 mm, high seat: 1.850 mm)
Unladen weight, road ready, fully fuelled 2) 193 kg
Dry weight 3) 177 kg
Permitted total weight 380 kg
Payload (with standard equipment) 187 kg
Usable tank volume 14,0 l
Reserve ca. 4,0 l
" Technical data relate to the unladen weight (DIN)
" 1) optional extra
" 2) According to Directive 93/93/EEC with all fluids, fuelled to at least 90% of usable fuel tank
" 3) Unladen weight without fluids