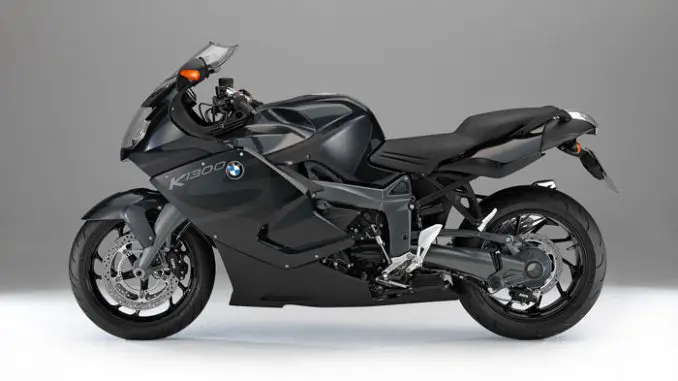 Click photos to enlarge. Our big, clean bike pics make great desktop wallpaper.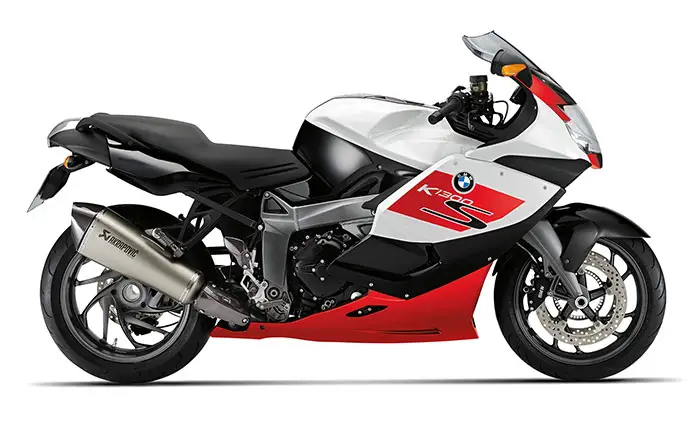 2013 BMW K1300S (Special 30th Anniversary Edition Shown)


2013 BMW K1300S Review

2013 BMW K1300S
The interceptor. The athlete. Aerodynamic, avant-garde. Do you know of another sporty bike with this profile? A bike that develops such pulling power with 175 bhp that it take the heat out of many a 200 bhp bike? But a bike you can still take out on a quick trip simply because it has great everyday suitability? At the same time a technological treat?
The reasons: 140 Nm from 1,293 cc – and at 8,250 rpm too. With a throaty sound from a cool, hexagonal tube. With catalytic converter and exhaust valve. And with fuel consumption and exhaust emission values which would suit many a machine with half the dynamic performance.
With this jet, the whole concept of speed moves into a new dimension. This in-line 4-cylinder delivers its power in such a way that you can almost feel it when standing still. That's because within the engine speed ranges in which you move more than 80% of the time – i.e. the lower and medium speed ranges – it delivers performance from the first yard. The real thing. And in terms of safety features, this machine is unique: ABS as standard with ASC and ESA optional. And the extras are amazing: race through the gears with the automatic shift function, pure racing in view with the 2D dashboard.
Extreme power. Thrilling acceleration. Instant responses across the rev range. Welcome to the ultimate sports tourer – the new BMW K 1300 S.
Its styling alone promises speed and performance. And with an output of 175hp and 140Nm of torque, speed and performance is exactly what you get. Your heart races with the engine all the way up to 11,000 rpm. And yet you remain completely calm, thanks­ to a highly practical design, outstanding safety features and a chassis that is a marvel of precision engineering. If you want to be the best, there's no room for half measures.
The designers of the BMW K 1300 S were very clear about their aims: even more power, even more performance. The result is a machine that combines the excitement of a track bike with the practical features needed for long-distance riding on the road, such as the famous BMW Motorrad Duolever and BMW Motorrad ABS.
The K 1300 S is also available with ESA II Electronic Suspension Adjustment as an option, allowing you to modify the suspension set-up depending on the load you are carrying.

The BMW K1300S: supreme power with the sportiest of understatement. Why not try it out right away!

The 2013 the BMW K 1300 S is available in the following new paint finish:

•Sapphire black metallic/Dark graphite metallic. The paint finish Magma red/Sapphire black metallic is no longer available.

2013 BMW K1300S Features and Benefits
Colour Options:
" Titan Silver Metallic – NEW
" Sapphire black metallic / Dark graphite metallic

Factory Fit Options:
Luggage Grid
ESA II (Electronic Suspension Adjustment II)
Heated Grips
Tyre Pressure Control
On Board Computer
Anti Theft Alarm System
ASC (Automatic Stability Control)
Low Seat (790mm)
Gear Shift Assist
Dynamic Package (Tyre Pressure Control & ASC)

Standard Factory Equipment:

Special Features
BMW Motorrad ABS as standard

Engine/Driveline
4 Cylinder in line engine, mounted across the frame and inclined at 55 Deg.
4 Valve cylinder heads
6 Speed gearbox
Stainless steel exhaust system
Digital engine management
Closed loop 3 way catalytic converter with oxygen sensor
Shaft drive

Running Gear
Prop stand with starter inhibit
Continuously adjustable rear rebound damping
BMW Motorrad duolever front suspension and paralever (EVO) rear suspension
Cast Aluminium wheels
Twin disk front brake (EVO, 320mm dia.)
Cast Aluminium single swing arm
Single disk rear brake
Sports wheel, 190/55 ZR17
Hydraulic rear spring preload adjuster

Electronics
Info flat screen (digital clock, gear indicator, fuel gauge, coolant temperature and cruising range indicator, total and 2 trip odometers, service interval indicator)
Power socket
Hazard warning flasher
Permanent headlamp beam
Free-form surface headlights
Electronic immobiliser

Equipment
Adjustable handbrake and clutch lever
Integral ignition switch and steering lock
One piece seat
One key system for ignition, steering, fuel filler cap and seat lock
Storage compartment with tool kit
---
2013 BMW K1300S – USA Specifications/Technical Details
US MSRP Price: $15,555 (including ABS)
Engine
Type Water-cooled 4-stroke in-line four-cylinder-engine, four valves per cylinder, two overhead camshafts, dry sump lubrication
Bore x stroke 80 mm x 64,3 mm
Capacity 1.293 ccm
Rated output 175 hp (129 KW) at 9,250 rpm
Max. torque 103 ft-lb (140 Nm) at 8,250 rpm
Compression ratio 13.0 : 1
Mixture control / engine management Electronic intake pipe injection/digital engine management including knock sensor (BMS-K)
Emission control Closed-loop 3-way catalytic converter, emission standard EU-3
Performance / fuel consumption
Maximum speed Over 125 mph
Fuel consumption per 100 km at constant 90 km/h 50 mpg, at a constant 55 mph
Fuel consumption per 100 km at constant 120 km/h
Fuel type Unleaded premium only.
Electrical system
Alternator three-phase alternator 580 W
Battery 12 V / 12 Ah, maintenance-free
Power transmission
Clutch Multiple-disc clutch in oil bath, hydraulically operated
Gearbox Constant mesh 6-speed gearbox
Drive Shaft drive
Chassis / brakes
Frame Bridge-type frame, cast aluminum, load-bearing engine
Front wheel location / suspension BMW Motorrad Duolever; central spring strut
Rear wheel location / suspension Cast aluminum single-sided swing arm with BMW Motorrad Paralever; central spring strut with lever system, spring pre-load adjustable hydraulically (continuously variable) at handwheel, adjustable rebound damping
Suspension travel front / rear 4.5/5.3 inches (115 mm/135 mm)
Wheelbase 62.4 inches (1,585 mm)
Castor 4.1 inches (104.4 mm)
Steering head angle 60,4°
Wheels Cast aluminum
Rim, front 3,50 x 17″
Rim, rear 6,00 x 17″
Tyres, front 120/70 ZR 17
Tyres, rear 190/55 ZR 17
Brake, front Twin disc, floating brake discs, diameter 320 mm, 4-piston fixed calipers
Brake, rear Single disc brake, diameter 265 mm, double-piston floating caliper
ABS STANDARD (part integral, can be switched off)
Dimensions / weights
Length 85.9 inches (2,182 mm)
Width (incl. mirrors) 35.6 inches (905 mm)
Height (excl. mirrors) 48 inches (1,221 mm)
Seat height, unladen weight 32.3 inches Standard; optional seat height 31.1 inches (available as accessory and/or factory option, see an authorized BMW Motorrad dealer)
Inner leg curve, unladen weight 71.3 inches Standard; optional inner leg curve (inseam) 68.9 inches (seat available as accessories and/or factory option, see an authorized BMW Motorrad dealer)
Unladen weight, road ready, fully fuelled 1) 560 lbs (254 kg)
Dry weight 2) 503 lbs (228 kg)
Permitted total weight 1,014 lbs (460 kg)
Payload (with standard equipment) 573 lbs (206 kg)
Usable tank volume 5 gallons (19.0 liters)
Reserve Approx. 1 gallon (4.0 liters)
" Technical data relate to the unladen weight (DIN)
" 1) According to guideline 93/93/EWG with all fluids, fuelled with at least 90% of usable tank volume
" 2) Unladen weight without fluids
---
2013 BMW K1300S – Canadian Specifications/Technical Details
Canada MSRP Price: See dealer for Pricing.
Engine
Type Water-cooled 4-stroke in-line four-cylinder-engine, four valves per cylinder, two overhead camshafts, dry sump lubrication
Bore x stroke 80 mm x 64,3 mm
Capacity 1.293 ccm
Rated output 129 kW (175 hp) at 9,250 rpm
Max. torque 140 Nm at 8,250 rpm
Compression ratio 13,0 : 1
Mixture control / engine management Electronic intake pipe injection/digital engine management including knock sensor (BMS-K)
Emission control Closed-loop 3-way catalytic converter, emission standard EU-3
Performance / fuel consumption
Maximum speed Over 200 km/h
Fuel consumption per 100 km at constant 90 km/h 4,7 l
Fuel consumption per 100 km at constant 120 km/h 5,3 l
Fuel type Unleaded premium, octane number 98 (RON), automatic knock control permits operation with minimum octane number 95 (RON).
Electrical system
Alternator three-phase alternator 580 W
Battery 12 V / 12 Ah, maintenance-free
Power transmission
Clutch Multiple-disc clutch in oil bath, hydraulically operated
Gearbox Constant mesh 6-speed gearbox
Drive Shaft drive
Chassis / brakes
Frame Bridge-type frame, cast aluminium, load-bearing engine
Front wheel location / suspension BMW Motorrad Duolever; central spring strut
Rear wheel location / suspension Cast aluminium single-sided swing arm with BMW Motorrad Paralever; central spring strut with lever system, spring pre-load adjustable hydraulically (continuously variable) at handwheel, adjustable rebound damping
Suspension travel front / rear 115 mm / 135 mm
Wheelbase 1.585 mm
Castor 104,4 mm
Steering head angle 60,4°
Wheels Cast aluminium
Rim, front 3,50 x 17″
Rim, rear 6,00 x 17″
Tyres, front 120/70 ZR 17
Tyres, rear 190/55 ZR 17
Brake, front Twin disc, floating brake discs, diameter 320 mm, 4-piston fixed calipers
Brake, rear Single disc brake, diameter 265 mm, double-piston floating caliper
ABS Standard equipment: BMW Motorrad Integral ABS (part-integral)
Dimensions / weights
Length 2.182 mm
Width (incl. mirrors) 905 mm
Height (excl. mirrors) 1.221 mm
Seat height, unladen weight 820 mm (low seat: 790 mm)
Inner leg curve, unladen weight 1,810 mm (low seat: 1,750 mm)
Unladen weight, road ready, fully fuelled 1) 254 kg
Dry weight 2) 228 kg
Permitted total weight 460 kg
Payload (with standard equipment) 206 kg
Usable tank volume 19 litres
Reserve approx. 4.0 litres
" Technical data relate to the unladen weight (DIN)
" 1) According to Directive 93/93/EEC with all fluids, fuelled to at least 90% of usable fuel tank
" 2) Unladen weight without fluids
---
2013 BMW K1300S – Europe Specifications/Technical Details
European MSRP Price: £12,295.00

Engine
Type Water-cooled 4-stroke in-line four-cylinder-engine, four valves per cylinder, two overhead camshafts, dry sump lubrication
Bore x stroke 80 mm x 64,3 mm
Capacity 1.293 cc
Rated output 129 kW (175 hp) at 9,250 rpm
Max. torque 140 Nm at 8,250 rpm
Compression ratio 13,0 : 1
Mixture control / engine management Electronic intake pipe injection/digital engine management including knock sensor (BMS-K)
Emission control Closed-loop 3-way catalytic converter, emission standard EU-3
Performance / fuel consumption
Maximum speed Over 200 km/h
Fuel consumption per 100 km at constant 90 km/h 4,7 l
Fuel consumption per 100 km at constant 120 km/h 5,3 l
Fuel type Unleaded premium, octane number 98 (RON), automatic knock control permits operation with minimum octane number 95 (RON).
Electrical System
Alternator three-phase alternator 580 W
Battery 12 V / 14 Ah, maintenance-free
Power transmission
Clutch Multiple-disc clutch in oil bath, hydraulically operated
Gearbox Constant mesh 6-speed gearbox
Drive Shaft drive
Chassis / brakes
Frame Bridge-type frame, cast aluminium, load-bearing engine
Front wheel location / suspension BMW Motorrad Duolever; central spring strut
Rear wheel location / suspension Cast aluminium single-sided swing arm with BMW Motorrad Paralever; central spring strut with lever system, spring pre-load adjustable hydraulically (continuously variable) at handwheel, adjustable rebound damping
Suspension travel front / rear 115 mm / 135 mm
Wheelbase 1.585 mm
Castor 104,4 mm
Steering head angle 60,4°
Wheels Cast aluminium
Rim, Front 3,50 x 17″
Rim, rear 6,00 x 17″
Tyre, front 120/70 ZR 17
Tyre, rear 190/55 ZR 17
Brake, front Twin disc, floating brake discs, diameter 320 mm, 4-piston fixed calipers
Brake, rear Single disc brake, diameter 265 mm, double-piston floating caliper
ABS As Standard: BMW Motorrad ABS
Dimensions / weights
Length 2.182 mm
Width (incl. mirrors) 905 mm
Height (excl. mirrors) 1.221 mm
Seat height, unladen weight 820 mm (low seat: 790 mm)
Inner leg curve, unladen weight 1,810 mm (low seat: 1,750 mm)
Unladen weight, road ready, fully fueled 254 kg
Dry weight 228 kg
Permitted total weight 460 kg
Payload (with standard equipment) 206 kg
Usable tank volume 19 litres
Reserve approx. 4.0 litres