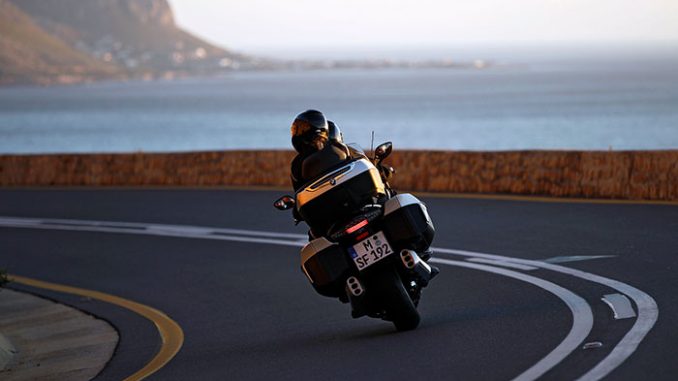 Click photos to enlarge. Our big, clean bike pics make great desktop wallpaper.
2013 BMW K1600GTL Review

2013 BMW K1600GTL
When luxury is freed of constraint, it moves to a new level. At the very top of this evolution is the K 1600 GTL – a high-class touring bike like none before it. With the most compact and efficient in-line 6-cylinder engine ever installed in a series production motorcycle.
The ergonomics of the K 1600 GTL are designed for long trips and leave nothing to be desired for rider or passenger in terms of comfort. The slim design in the area of the rider's seat and the fact that the handlebars reach far back allows a relaxed seating position – for hours and over hundreds of miles. The passenger enjoys a sizable seating area and a comfortable backrest.
Available for the first time in a motorcycle: the adaptive headlight (special equipment feature) – a revolution which matches the visionary front section of the K 1600 GTL and provides the very highest level of active safety.
The GTL makes luxury easy. This is because its unique chassis provides excellent handling. With a direct ride feel due to the ground-breaking Duolever front suspension. At the rear, it is the Paralever that put's the power of the engine onto the road, The optional ESA II (Electronic Suspension Adjustment) ensures that the GTL always glides smoothly since the systems allows the damping and suspension to be adapted according to situation and preference at the press of a button.
Every detail is designed for maximum riding pleasure. A motorcycle for people who are looking for a new kind of supremacy.
The K 1600 GTL. UNSTOPPABLE TOUR.
The BMW K 1600 GTL brings a new dimension to luxury touring – blending smooth power from the brand new six-cylinder engine with class-leading comfort the GTL is luxury. Rider and pillion passenger benefit from a relaxed, upright seating position, excellent wind protection and plenty of room for both riders and luggage, which makes long distances more enjoyable than ever. The ergonomic design is geared towards maximum comfort and features a single-section, dual-level seat unit, rider footrests which are further forward and lower, and handlebars which reach further back towards the rider. The standard top box featuring an integrated back rest rounds off the range of comfort features for the pillion passenger. The K 1600 GTL sets a new benchmark in luxury motorcycle touring.

2013 BMW K1600GTL Features and Benefits
Factory Fit Options:

LED Additional Fog Light
Electronic Suspension Adjustment (ESA)
High Seat
Anit-Theft Alarm System and Central Locking System
Comfort Package (LED Additional Fog Light, ESA, Anti-Theft Alarm and Central Locking System)

Standard Factory Equipment: Special Features

Cruise Control
Seat Heating
Heated Grips
Electrically adjustable windshield
Colour coded pannier cases
Detachable colour coded topcase
Comfort Windshield
Comfort Footrests
Xenon Headlight
Power Modes (Rain,Road and Dynamic)
E-gas (ride-by-wire throttle)
LED Indicators
BMW Motorrad integral ABS (Partial) as Standard

Engine/Driveline
6 cylinder in line engine, mounted across frame
4 valve cylinder head
Fuel grade 95 RON
Stainless steel exhaust system
6 Speed gearbox
Shaft drive
2 Closed loop 3 way catalytic converter EU-4
Digital engine management (BMS-KP2)
E-gas

Running Gear
Slipper clutch
BMW Motorrad integral ABS (Partial)
BMW Motorrad duolever front suspension and paralever (EVO) rear suspension
Twin disk front brake (EVO, 320mm dia.)
Single disk rear brake
Hydraulic rear spring preload adjuster
Side stand with engine cut out
Continually adjustable rear rebound damping
Braided brake hose
Braided clutch hose
Cast aluminium wheels

Electronics
Electronic immobiliser
Hazard warning flasher
LED Indicators
LED Tail light
Brake pad renewal indicator
Info flat screen (digital clock, gear indicator, fuel gauge, coolant temperature and cruising range indicator, total and 2 trip odometer, service interval indicator), display on board computer: remaining distance, average consumption 2x, average speed
Seat heating
Cruise control
Xenon headlight
Power modes
Audio system with preparation for GPS
Heated grips
Power socket

Equipment
Electrically adjustable windshield
One key system for ignition, steering, fuel filler cap, pannier case, storage compartment, top case and dual seat locks
Adjustable handbrake and clutch lever
Centre stand
Comfort footrests
Comfort windshield
One piece seat bench
Chrome body kit
Detachable colour coded topcase
Colour coded pannier cases
Integral ignition switch and steering lock
Storage compartment with toolkit under seat
2013 BMW K1600GTL Key Features

The 2013 the BMW K 1600 GTL is available in the following new paint finishes:

• Dark graphite metallic
• Damask red metallic
The paint finish Royal blue metallic is no longer available.

In the 5.7-inch TFT colour screen on the instrument panel, there is now an optional digital speed display or the logo "6".
---
2013 BMW K1600GTL – USA Specifications/Technical Details
US MSRP Price: $23,650 (including ABS)
Engine
Type Oil-/watercooled 4-stroke in-line 6-cylinder engine, two overhead camshafts, four valves per cylinder
Bore x stroke 72 mm x 67.5 mm
Capacity 1,649 cc
Rated output 160 hp (118 kw) at 7,750 rpm
Max. torque 129 lb/ft (175 Nm) at 5,250 rpm
Compression ratio 12.2 : 1
Mixture control / engine management Electronic intake pipe injection, digital engine management (BMS-X)
Emission control Closed-loop 3-way catalytic converter, emission standard EU-3
Performance / fuel consumption
Maximum speed Over 125 mph
Fuel consumption per 100 km at constant 90 km/h 52 mpg, at a constant 55 mph
Fuel consumption per 100 km at constant 120 km/h 41 mpg, at a constant 75 mph
Fuel type Premium Unleaded

Electrical system
Alternator three-phase alternator 580 W
Battery 12 V / 19 Ah, maintenance-free
Power transmission
Clutch Multi-plate clutch in oil bath, hydraulic activation
Gearbox 6-speed, helical gears
Drive Enclosed driveshaft

Chassis / brakes
Frame Bridge-type frame, cast aluminium, load-bearing engine
Front wheel location / suspension BMW Motorrad Duolever; central spring strut
Rear wheel location / suspension BMW Motorrad Paralever
Suspension travel front / rear 4.9 / 5.3 inches (125mm / 135 mm)
Wheelbase 66.1 inches (1,680 mm)
Castor 4.3 inches (108.4 mm)
Steering head angle 62.2°
Wheels Cast aluminium wheels
Rim, front 3.50 x 17 inches
Rim, rear 6.00 x 17 inches
Tyres, front 120/70 ZR 17
Tyres, rear 190/55 ZR 17
Brake, front Dual disc brake, diameter 320 mm, 4-piston fixed calipers
Brake, rear Single disc brake, diameter 320 mm, double-piston caliper
ABS STANDARD (part-integral)

Dimensions / weights
Length 97.9 inches
Width (incl. mirrors) 39.4 inches
Height (excl. mirrors) 57.7 inches
Seat height, unladen weight 29.5 inches (with motorcycles accessories or -equipment variable heights available between 29.5 inches and 31.9/32.6 inches)
Inner leg curve, unladen weight 67.7 inches (with motorcycles accessories or -equipment variable heights available between 72.0 inches and 72.0/73.6 inches)
Unladen weight, road ready, fully fuelled 1) 768 lbs
Dry weight 2) 708 lbs
Permitted total weight 1,234 lbs
Payload (with standard equipment) 467 lbs
Usable tank volume 7 gallons
Reserve Approx. 1 gallon
" Technical data relate to the unladen weight (DIN)
" 1) According to guideline 93/93/EWG with all fluids, fuelled with at least 90% of usable tank volume, (GT without panniers)
" 2) Unladen weight without fluids (GT without panniers)
---
2013 BMW K1600GTL – Canadian Specifications/Technical Details
Canada MSRP Price: See dealer for Pricing.
Engine
Type Oil-/watercooled 4-stroke in-line 6-cylinder engine, two overhead camshafts, four valves per cylinder
Bore x stroke 72 mm x 67,5 mm
Capacity 1.649 cc
Rated output 118 kw at 7.750 rpm
Max. torque 175 Nm at 5.250 rpm
Compression ratio 12,2 : 1
Mixture control / engine management Electronic intake pipe injection, digital engine management (BMS-X)
Emission control Closed-loop 3-way catalytic converter, emission standard EU-3
Performance / fuel consumption
Maximum speed Over 200 km/h
Fuel consumption per 100 km at constant 90 km/h 4.6 l
Fuel consumption per 100 km at constant 120 km/h 5.9 l
Fuel type Unleaded super, octane number 95 (RON)
Electrical system
Alternator three-phase alternator 580 W
Battery 12 V / 19 Ah, maintenance-free
Power transmission
Clutch Multiple-disc clutch in oil bath
Gearbox 6-speed, helical, gearbox
Drive Cardan shaft
Chassis / brakes
Frame Bridge-type frame, cast aluminium, load-bearing engine
Front wheel location / suspension BMW Motorrad Duolever; central spring strut
Rear wheel location / suspension BMW Motorrad Paralever
Suspension travel front / rear 125mm /135 mm
Wheelbase 1,680 mm
Castor 108.4 mm
Steering head angle 62.2°
Wheels Cast aluminium wheels
Rim, front 3,50 x 17″
Rim, rear 6.00 x 17″
Tyres, front 120/70 ZR 17
Tyres, rear 190/55 ZR 17
Brake, front Dual disc brake, diameter 320 mm, 4-piston fixed calipers
Brake, rear Single disc brake, diameter 320 mm, double-piston caliper
ABS Series: BMW Motorrad Integral ABS (part-integral)
Dimensions / weights
Length 2,489mm
Width (incl. mirrors) 1,000 mm
Height (excl. mirrors) 1,465 mm
Seat height, unladen weight 750 mm (high seat bench 780 mm)
Inner leg curve, unladen weight 1,720 mm (high seat bench 1,770 mm)
Unladen weight, road ready, fully fuelled 1) 348 kg
Dry weight 2) 321 kg
Permitted total weight 560 kg
Payload (with standard equipment) 212 kg
Usable tank volume 26,5 l
Reserve 4,0 l
" Technical data relate to the unladen weight (DIN)
" 1) According to guideline 93/93/EWG with all fluids, fuelled with at least 90% of usable tank volume, (GT without panniers)
" 2) Unladen weight without fluids (GT without panniers)
---
2013 BMW K1600GTL – Europe Specifications/Technical Details
European MSRP Price: £17,390.00

Engine
Type Oil/watercooled 4-stroke in-line 6-cylinder engine, two overhead camshafts, four valves per cylinder
Bore x stroke 72mm x 67.5mm
Capacity 1,649cc
Rated output 160hp at 7,750rpm
Max. torque 175 Nm at 5,250rpm
Compression ratio 12.2:1
Mixture control / engine management Electronic intake pipe injection, digital engine management (BMS-X)
Emission control Closed loop 3-way catalytic converter, emission standard EU-3
Performance / fuel consumption
Maximum speed Over 200km/h
Fuel consumption per 100 km at constant 90 km/h 4.6L
Fuel consumption per 100 km at constant 120 km/h 5.9L
Fuel type Unleaded super, octane 95 (RON)
Electrical System
Alternator three-phase alternator 580 W
Battery 12 V/19 Ah, maintenance free
Power transmission
Clutch Multiple disc clutch in oil bath
Gearbox 6-speed, helical, gearbox
Drive Cardan Shaft
Chassis / brakes
Frame Bridge-type frame, cast aluminium, load-bearing engine
Front wheel location / suspension BMW Motorrad Duolever; central spring strut
Rear wheel location / suspension
Suspension travel front / rear 125mm/135mm
Wheelbase 1,680mm
Castor 108.4mm
Steering head angle 62.2 degree
Wheels Aluminium
Rim, Front 3.50 x 17″
Rim, rear 6.00 x 17″
Tyre, front 120/70 ZR17
Tyre, rear 190/55 ZR17
Brake, front Dual disc brake, diameter 320mm, 4-piston fixed calipers
Brake, rear Single disc brake, diameter 320mm, double piston caliper
ABS BMW Motorrad Integral ABS (part-integral) as Standard.
Dimensions / weights
Length 2,489mm
Width (incl. mirrors) 1,000mm
Height (excl. mirrors) 1,465mm
Seat height, unladen weight 750mm (high seat bench: 780mm)
Inner leg curve, unladen weight 1,720mm (high seat bench: 1,770mm)
Unladen weight, road ready, fully fueled 348kg
Dry weight 321kg
Permitted total weight 560kg
Payload (with standard equipment) 212kg
Usable tank volume 26.5L
Reserve 4L