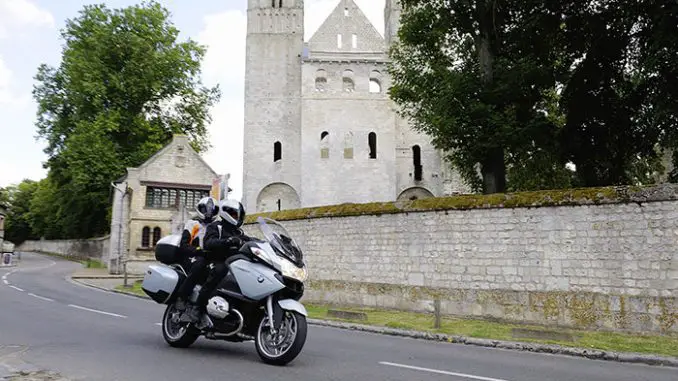 Click photos to enlarge. Our big, clean bike pics make great desktop wallpaper.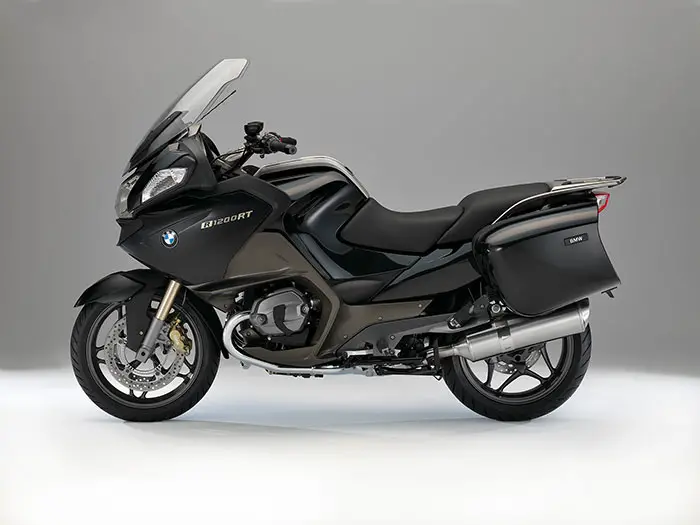 2013 BMW R1200RT – Special 90th Anniversary Model Shown
2013 BMW R1200RT Review

2013 BMW R1200RT
As far as 2-cylinder fans are concerned, first-class touring has a memorable abbreviation – and it's been around for 30 years: RT. For long-haul travelers there can hardly be any other term which has always stood for perfectly conceived motorcycling concept from start to finish: excellent wind and weather protection, optimum ergonomics, highly convenient operation combined with a top-class chassis fitted with the unique optional extras ASC and ESA II*.
In the touring segment, these features probably define the ultimate benchmark of innovation. Even though the R 1200 RT cuts a superb figure everywhere with its dynamic new design, everything about it sends out the message: built to cover thousands of miles, preferably in one go.
Then there is this fascinating mixture of distinctive engine and big bike dynamics. The characteristic "boxer" supremacy has been further enhanced in the current version: the engine's crowning glory is now the radial DOHC** valve operating system from the HP2 Sport, though here designed for greater torque and without any loss of running smoothness: maximum torque 88 ft-lb at 6000 rpm, rated output still at 110 hp. This means a tangible increase in thrust from the lower engine speed range through to above the medium range. The new valve control in the exhaust system ensures a discreet but more dynamic sound.
And in terms of comfort, the bike boasts a new audio system available as an optional extra, with the innovative operating concept Multi-Controller carrying out virtually all commands from a single unit.
So there's only one thing you have to do yourself – drop by for a test ride.
The new BMW R 1200 RT has everything you would look for on a long ­journey: comfort, practicality and speed. It handles the twisting roads north of the border with incredible agility, while its redesigned fairing offers excellent protection for both rider and pillion passenger against wind, rain and air turbulence.
The punchy new boxer engine delivers generous amounts of torque, for instant responses right through the rev range. The new DOHC (double overhead camshaft) valve operating system from the HP2 Sport delivers a maximum torque of 120 Nm at 6000 rpm and a rated output of 110hp.
And in terms of comfort, the bike boasts a new audio system with built-in radio and mp3 player available as an optional extra, with the innovative operating concept Multi-Controller carrying out virtually all commands from a roller wheel on the left grip.

*ESA II = Electronic Suspension Adjustment. Electronic spring mount and spring rate adjustment
** DOHC = Double Overhead Camshaft, two overhead camshafts per cylinder
2013 BMW R1200RT Features and Benefits
Factory Fit Options:

Colour Option Cost: Light Magnesium Metallic/Magnesium Beige Metallic
Preparation Audiosystem
On Board Computer with Oil Level Warning
Anti-Theft Alarm System
ASC (Automatic Stability Control)
Additional Power Socket
Chrome Exhaust
Riders Low Seat (780-800mm)
ESA II (Electronic Suspension Adjustment II) (Not available with Seat Height Reduction)
Seat Height Reduction (750mm)
Seat Heating
Heated Grips
Tyre Pressure Control
Cruise Control
Audiosystem (with Bluetooth interface)

Dynamic Package (Tyre Pressure Control and ASC) £430.00
Comfort Package (Heated Grips, On-board Computer with oil level warning light and Additional Power Socket) £385.00

Standard Factory Equipment: Special Features
BMW Motorrad ABS as Standard.

Engine/Driveline
BMW Motorrad ABS as Standard.
Air/oil cooled flat twin four stroke engine with DOHC 4 Valve cylinder heads
Magnesium cylinder head covers
Digital engine management with twin-spark ignition system
Closed loop 3 way catalytic converter with oxygen sensor
6 Speed gearbox
Shaft drive
Stainless steel exhaust

Running Gear
BMW Motorrad Integral ABS (partial)
BMW Motorrad paralever and telelever
Twin disk front brake (EVO, 320mm dia.)
Single disk rear brake
Hydraulic rear spring preload adjuster
Spoke cast wheels
Prop stand with starter inhibit
Braided steel brake hoses
Braided steel clutch hoses
Rear suspension strut with travel dependent damping

Electronics
Permanent headlamp beam
Revolution Counter
Electronic immobiliser
Low beam headlamp height adjustment
Info flat screen (digital clock, gear indicator, fuel gauge, coolant temperature and cruising range indicator total 2 trip odometers and service indicator)
Instrument cluster with speedometer and revolution counter
Free form surface headlights
Power socket
Hazard warning flasher
Equipment
Toolkit
One key system for ignition, steering, fuel filler cap and dual seat and helmet locks
Luggage rack
Adjustable handbrake and clutch lever
Centre Stand (not with seat height reduction)
Integral pannier cases (colour coded)
Integral ignition switch and steering lock
Storage compartment (lockable)
Windshield on fairing with electric position adjustment
Two section dual seat
---
2013 BMW R1200RT – USA Specifications/Technical Details
US MSRP Price: $17,350 (including ABS)
Engine
Type Air/oil-cooled flat twin ('Boxer') 4-stroke engine, two camshafts and four radially aligned valves per cylinder, central balancer shaft
Bore x stroke 101 mm x 73 mm
Capacity 1,170 cc
Rated output 110 hp (81 kW) at 7,750 rpm
Max. torque 89 ft-lb (120 Nm) at 6,000 rpm
Compression ratio 12.0 : 1
Mixture control / engine management Electronic intake pipe injection / BMS-K+ digital engine management with overrun fuel cut-off, twin spark ignition
Emission control Closed-loop 3-way catalytic converter, emission standard EU-3
Performance / fuel consumption
Maximum speed Over 125 mph
Fuel consumption per 100 km at constant 90 km/h 57 mpg, at a constant 55 mph
Fuel consumption per 100 km at constant 120 km/h
Fuel type Unleaded super and premium.
Electrical system
Alternator three-phase alternator 720 W
Battery 12 V / 19 Ah, maintenance-free
Power transmission
Clutch Single dry plate clutch, hydraulically operated
Gearbox Constant mesh 6-speed gearbox with helical gear teeth
Drive Shaft drive
Chassis / brakes
Frame Two-section frame consisting of front and rear sections, load-bearing engine-gearbox unit
Front wheel location / suspension BMW Motorrad Telelever; stanchion diameter 35 mm, central spring strut
Rear wheel location / suspension Cast aluminum single-sided swing arm with BMW Motorrad Paralever; WAD strut (travel-related damping), spring preload hydraulically adjustable (continuously variable) at handwheel, rebound damping adjustable
Suspension travel front / rear 4.7/5.3 inches (120 mm/135 mm)
Wheelbase 58.4 inches (1,485 mm)
Castor 4.5 inches (116 mm)
Steering head angle 63.8°
Wheels Cast aluminum wheels
Rim, front 3.50 x 17″
Rim, rear 5.50 x 17″
Tyres, front 120/70 ZR 17
Tyres, rear 180/55 ZR 17
Brake, front Dual disc brake, floating brake discs, diameter 320 mm, four-piston fixed calipers
Brake, rear Single disc brake, diameter 265 mm, double-piston floating caliper
ABS STANDARD (part integral)
Dimensions / weights
Length 87.8 inches (2,230 mm)
Width (incl. mirrors) 35.6 inches (905 mm) inc. panniers: 38.5 inches (980 mm)
Height (excl. mirrors) 56.3 inches (1,430 mm)
Seat height, unladen weight 32.3/33.1 inches (adjustable seat height) Standard; variable seat heights available between 29.5 inches and 33.1 inches (available as accessories and/or factory options, see an authorized BMW Motorrad dealer)
Inner leg curve, unladen weight 74.0/75.6 inches (adjustable seat height) Standard; variable inner leg curve (inseam) between 68.9 and 75.6 inches (seats available as accessories and/or factory options, see an authorized BMW Motorrad dealer)
Unladen weight, road ready, fully fuelled 1) 580 lbs (259 kg)
Dry weight 2) 514 lbs (233)
Permitted total weight 1,091 lbs (495 kg)
Payload (with standard equipment) 520 lbs (236 kg)
Usable tank volume 6.6 gallons (25.0 liters)
Reserve Approx. 1 gallon (4.0 liters)
" Technical data relate to the unladen weight (DIN)
" 1) According to guideline 93/93/EWG with all fluids, fuelled with at least 90% of usable tank volume (without panniers)
" 2) Unladen weight without fluids (without panniers)
---
2013 BMW R1200RT – Canadian Specifications/Technical Details
Canada MSRP Price: See dealer for Pricing.
Engine
Type Air/oil-cooled flat twin ('Boxer') 4-stroke engine, two camshafts and four radially aligned valves per cylinder, central balancer shaft
Bore x stroke 101 mm x 73 mm
Capacity 1,170 cc
Rated output 81 kW (110 hp) at 7,750 rpm
Max. torque 120 Nm at 6,000 rpm
Compression ratio 12.0 : 1
Mixture control / engine management Electronic intake pipe injection / BMS-K+ digital engine management with overrun fuel cut-off, twin spark ignition
Emission control Closed-loop 3-way catalytic converter, emission standard EU-3
Performance / fuel consumption
Maximum speed over 200 km/h
Fuel consumption per 100 km at constant 90 km/h 4.1 l
Fuel consumption per 100 km at constant 120 km/h 5.2 l
Fuel type Unleaded super and premium, octane number 95-98 (RON)
(knock sensor; rated output at 98 RON)
Electrical system
Alternator three-phase alternator 720 W
Battery 12 V / 19 Ah, maintenance-free
Power transmission
Clutch Single dry plate clutch, hydraulically operated
Gearbox Constant mesh 6-speed gearbox with helical gear teeth
Drive Shaft drive
Chassis / brakes
Frame Two-section frame consisting of front and rear sections, load-bearing engine-gearbox unit
Front wheel location / suspension BMW Motorrad Telelever; stanchion diameter 35 mm, central spring strut
Rear wheel location / suspension Cast aluminium single-sided swing arm with BMW Motorrad Paralever; WAD strut (travel-related damping), spring pre-load hydraulically adjustable (continuously variable) at handwheel, rebound damping adjustable
Suspension travel front / rear 120 mm / 135 mm
Wheelbase 1,485 mm
Castor 116 mm
Steering head angle 63.8°
Wheels Cast aluminium wheels
Rim, front 3.50 x 17″
Rim, rear 5.50 x 17″
Tyres, front 120/70 ZR 17
Tyres, rear 180/55 ZR 17
Brake, front Dual disc brake, floating brake discs, diameter 320 mm, four-piston fixed calipers
Brake, rear Single disc brake, diameter 265 mm, double-piston floating caliper
ABS BMW Motorrad Integral ABS (part-integral)
Dimensions / weights
Length 2,230 mm
Width (incl. mirrors) 905 mm (incl. panniers: 980 mm)
Height (excl. mirrors) 1,430 mm
Seat height, unladen weight 820 / 840 mm (low seat: 780 / 800 mm, extra low seat (one-piece): 765 mm, lowered suspension: 750 mm, comfort seat: 785 mm)
Inner leg curve, unladen weight 1,880 / 1,920 mm (low seat: 1,800 / 1,840 mm, extra low seat (one-piece): 1,780 mm, lowered suspension: 1,750 mm, comfort seat: 1,820 mm)
Unladen weight, road ready, fully fuelled 1) 263 kg
Dry weight 2) 233 kg
Permitted total weight 495 kg
Payload (with standard equipment) 232 kg
Usable tank volume 25 l
Reserve approx. 4.0 l
" Technical data relate to the unladen weight (DIN)
" 1) According to guideline 93/93/EWG with all fluids, fuelled with at least 90% of usable tank volume (without panniers)
" 2) Unladen weight without fluids (without panniers)
---
2013 BMW R1200RT – Europe Specifications/Technical Details
European MSRP Price: £12,695.00 on the road

Engine
Type Air/oil-cooled flat twin ('Boxer') 4-stroke, two camshafts and four radially alighned valves per cylinder
Bore x stroke 101 mm x 73 mm
Capacity 1,170 cc
Rated output 81 kW (110 hp) at 7,750 rpm
Max. torque 120 Nm at 6,000 rpm
Compression ratio 12.0 : 1
Mixture control / engine management Electronic intake pipe injection/BMS-K digital engine management with overrun fuel cut-off, twin-spark ignition
Emission control Closed-loop 3-way catalytic converter, emission standard EU-3
Performance / fuel consumption
Maximum speed Over 200 km/h
Fuel consumption per 100 km at constant 90 km/h 4.1 l
Fuel consumption per 100 km at constant 120 km/h 5.2 l
Fuel type Unleaded super and premium, octane rumber 95-98 (RON), (knock sensor' rated output at 98 RON)
Electrical System
Alternator three-phase alternator 720 W
Battery 12 V / 19 Ah, maintenance-free
Power transmission
Clutch Single dry plate clutch, hydraulically operated
Gearbox Constant mesh 6-speed gearbox
Drive Shaft drive
Chassis / brakes
Frame Two-section frame consisting of front and rear sections, load bearing engine-gearbox unit
Front wheel location / suspension BMW Motorrad Telelever; stanchion diameter 35 mm, central spring strut
Rear wheel location / suspension Cast aluminium single-sided swing arm with BMW Motorrad Paralever; WAD strut (travel-related damping), spring pre-load hydraulically adjustable (continuously variable) at handwheel, rebound damping adjustable
Suspension travel front / rear 120 mm / 135 mm
Wheelbase 1,485 mm
Castor 116 mm
Steering head angle 63.8°
Wheels Cast aluminium
Rim, Front 3.50 x 17″
Rim, rear 5.50 x 17″
Tyre, front 120/70 ZR 17
Tyre, rear 180/55 ZR 17
Brake, front Dual disc brake, floating brake discs, 320 mm diameter, four-piston fixed calipers
Brake, rear Single disc brake, diameter 265 mm, double-piston floating caliper
ABS As Standard. BMW Motorrad Integral ABS (part-integral).
Dimensions / weights
Length 2,230 mm
Width (incl. mirrors) 905 mm (incl. panniers: 980 mm)
Height (excl. mirrors) 1,430 mm
Seat height, unladen weight 820 / 840 mm (low seat: 780 / 800 mm, extra low seat (one-piece): 765 mm, lowered suspension: 750 mm, comfort seat: 785 mm)
Inner leg curve, unladen weight 1,880 / 1,920 mm (low seat: 1,800 / 1,840 mm, extra low seat (one-piece): 1,780 mm, lowered suspension: 1,750 mm, comfort seat: 1,820mm)
Unladen weight, road ready, fully fueled 259 kg
Dry weight 229 kg
Permitted total weight 495 kg
Payload (with standard equipment) 236 kg
Usable tank volume 25.0 l
Reserve approx. 4.0 l