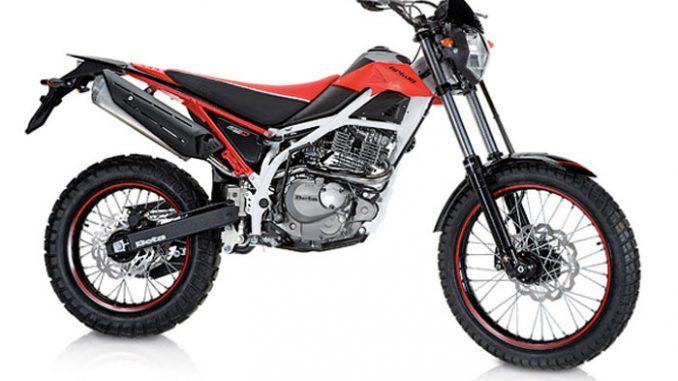 Click photos to enlarge. Our big, clean bike pics make great desktop wallpaper.
2013 Beta Urban 200 Special Review

2013 Beta Urban 200 Special
The URBAN becomes SPECIAL

Beta's new "road-bike" which has been on the market for a few months already has a certain following with city motorcyclists thanks to its deliberately minimal-fun look.
The Milan trade show is an ideal opportunity to present this bike to the public, as well as the SPECIAL, a version with great visual impact in its styling, clearly made for people who love the personalised touch.
The URBAN grew out of a clear idea: to create a city scrambler. It is simple to use and can be equipped over time with accessories to personalise it according to each rider's taste.
Riding around the city on a daily basis on a small two-wheeled vehicle means avoiding lines at traffic lights, always finding a parking spot and easily zipping through alleys where other vehicles can't fit because of their width.
To whom is the URBAN suited? There is no specific group of users.
Its "minimal" appearance ensures that everyone, especially novices, will have excellent control and an immediate feeling of confidence. Those with experience can try small spins and jumps (to be done cautiously).
The height of the seat and its weight (101 kg for the 125 and 110 kg for the 200) make this Beta perfect for women, too.
And finally, the URBAN is also appealing for that seasoned motorcyclist who is looking for an easy-to-operate alternative to a scooter, to park next to his/her "official" bike.
THE SPECIAL VERSION

In order to meet the needs of people who love to drive an "elitist" vehicle, Beta has equipped the URBAN with a series of special accessories and has modified the cycle parts and the engine.
From an aesthetic point of view, Beta designers are offering a white frame in contrast with the red-painted rear frame. And the seat and handlebar grips are still two-toned and rims are black.
Other special features include a new higher-performance stainless steel exhaust system, new wheel hubs in light alloy with diamond-edged finish, aluminium handlebars and a pair of daisy-type brake discs (front and rear).
This description is limited to the main modifications. There are also other important differences… that we will let you discover yourselves.
2013 Beta Urban 200 Special – Features
ACCESSORIES FOR THE URBAN

Let's not forget that many accessories are already available for the Urban:

– Side bag (cod. 20.11225.000) + kit for fastening bag to the bike
Designed for Beta by Tucano Urbano, this bag is made of heavy polyester with self-repairing zippers and rainproof cover. It has an anti-theft cable, pleats to increase the capacity, leather trim and refractive inserts. Very practical as it can be carried by the handle or over the shoulder.

This bag is equipped with a frame to be anchored to the Urban's frame.
– Black parcel rack (cod. 20.11226.000).
– Pair of handguards (cod. 20.12804.000).
– Top case (cod. 11.15920.000) designed for the URBAN and complete with support plate.
Two other accessories are coming soon: a racing licence holder and a front shield.

MAIN TECHNICAL INFORMATION

The two URBANs 125 -200 are equipped with 4-stroke, Euro 3 engines and have the same cycle parts: trellis frame, suspension developed and calibrated to maximize comfort and the driving feel, brakes that can withstand the constant, unavoidable stress caused by congested traffic (they have floating callipers), aluminium wheels, 19" in the front and 16" in the rear. The seat is well padded.

Another plus offered by the URBAN is its extremely low fuel consumption, an important feature at a time when it seems that the price of fuel keeps going up. With the 125cc version you get more than 28Km/l. The 200cc version uses a little more. The tank holds 6 litres.

---
2013 Beta Urban 200 Special – International Specifications/Technical Details
MSRP Price: See dealer for pricing
CHASSIS
Front suspension Hydraulic fork with ø38 mm shaft
Rear suspension Monoshock with adjustable spring preload
Shock absorber stroke 63 mm
Front wheel travel 170 mm
Rear wheel travel 185 mm
Front brake wave brake disc ø245 mm
Rear brake wave brake disc ø220 mm
Front rim 1,85 x 19
Rear rim 2,15 x 16
Front tyre 80/100 – 19 M/C
Rear tyre 120/90 – 16 M/C

ENGINE
Type Single-cylinder, 4-stroke, air cooled, S.O.H.C.
Bore 66,0 mm
Stroke 58,2 mm
Displacement 199cc
Compression ratio 9,4:1
Carburettor Mikuni BST 31 42AD
Feeding Unleaded gasoline
Starter Electric and mechanical starter
Lubrication forced with pump
Ignition Electronic
Spark plug NGK DR8EA – DENSO X24ESR-U
Clutch Wet multi-disc clutch
Primary trasmission Z. 19/60
Gear box 5 speed
Secondary trasmission Z 15/41
Engine oil SAE 15W/50 (850cc)

*specifications subject to change without notice.